Be prepared for this year's flu season.
Streamline and Automate Your Appointments Online,
with a Virtual Appointment Software.
Introducing your new digital pharmacy assistant. With BCPhA's online booking tool, your patients can securely and conveniently book appointments for the upcoming flu season 24/7. 
For your pharmacy improve time management, workflow, and keep your patients and pharmacy staff safe by minimizing patient contact. 
We have partnered with a local BC company to streamline and customize the system so that you are ready to take bookings immediately and have taken care of most of the setup work.  The application is ready to go out of the box, or feel free to make custom configurations as well to meet your pharmacies requirements.  Then input your appointment schedule and you are ready to go!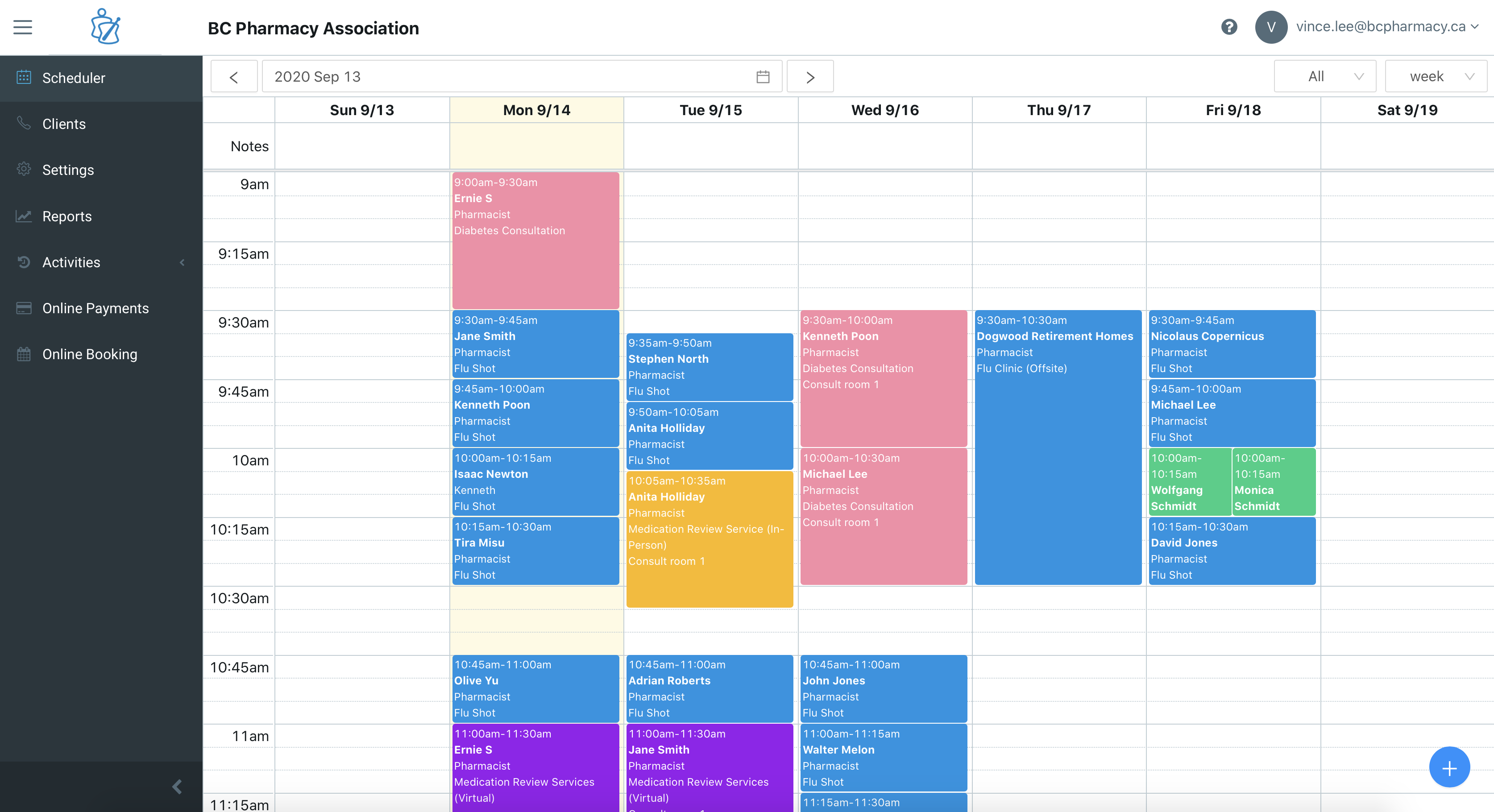 Smarter Patient Care means Better Patient Care
Accept online bookings 24/7. No more missed bookings from after hours or missed calls.
Let patients book and cancel appointments online instantly. Reduce missed bookings and save your front-desk time on the phone so your staff can spend more time serving patients.
No website?  No problem!  Put a poster up in your pharmacy with your custom booking web link and update your profile on the Immunize BC Flu Locator (click here to download our poster templates and find out how to setup your ImmunizeBC profile).
Have a website? Post the web link on your website or create a QR code.
Let's book an appointment.
Protecting patients and our pharmacy team by minimizing contact time
COVID-19 Pre-Screening
Assessing your patients' potential COVID-19 symptoms or exposure ahead of entry to the pharmacy is extremely important. We want to provide a safe environment for your staff, patients and families.
In an effort to protect our valuable pharmacy team members, we have integrated our BCPhA COVID-19 screening tool.  Patients will automatically be sent an email and text message reminder 24-hours before their appointment and will be asked to complete this before they arrive.  Pharmacists can view real-time if this has been completed and passed.  If they did not pass, they will be prompted to cancel and reschedule their appointment.  See real-time if they did not complete the form at the click of a button send a template reminder about the appointment and requirement to complete the form.
If you want patients to complete the COVID-19 screening before they even book an appointment, this is available to you as well.
Vaccine Screening for Consent
Immediately after a patient chooses an appointment for a flu vaccine they will be prompt to complete a BCPhA Vaccine Screening for consent form.  Patients will have the opportunity to read and complete the form.  Upon arrival, the pharmacist can streamline the verbal consent process and enter additional pharmacy information real-time digitally as well.  Again, view the form online real-time, send reminders and keep digitally and printer-friendly.
Patients without email or text?
There are patients that have landlines only and no email or text.  No problem!  You can book people from the backend on their behalf in-person or over the phone.  Add a note in the patient's appointment with their contact details and call them for COVID-19 pre-screening that morning and also use the BCPhA Consent for Influenza Vaccination- Verbal to receive verbal consent before they arrive.
Family bookings
One family member looking to make appointments for their family?  Yes, they can do that as well.  They can create one user account and with that account they can make bookings for multiple family members.  They can complete the COVID-19 pre-screening and vaccine screening forms online as a parent, guardian, or legal representative.  
Built in Vancouver, for pharmacists, partnered with the Association
The BC Pharmacy Association understands that pharmacies are busy, and we wanted to build a tool for pharmacists that would help drive efficiency and improve the workflow. The online booking tool takes care of most of the administrative work in your pharmacy; automatically fills in forms so you can streamline your process and focus on patient care. 
We are also able to build custom forms to meet your organization's needs whether it's for BC or for across Canada, we can help.  Please contact vince.lee@bcpharmacy.ca if you want to build a custom-solution to meet your needs.
Accessing the Application
There is no software to download, everything is accessed through a web browser.  It's that easy.
There are some basic requirements:
1.    You will need to use Chrome or Safari.  Other browsers are not fully supported.  Please also ensure you have the latest updates installed.
2.    You can log in from a computer, tablet or smartphone.  You can have more than one session at a time, but we recommend that if two people are logged in at the same time only one should be making edits such as booking an appointment or filling in a form to avoid double booking or over-writing edits to a form if both are completing the same patient form at the same time.
3.    You need internet access to access this application.  
 
Additional Corporate Member Benefit
The system is ready to go and basic setup is intuitive and streamlined and our Step-by-Step Setup Guide makes it even easier.  But, we know it's busy in your pharmacy and some additional support helps.  As an added benefit for Corporate members, book a 30-minute virtual one-on-one session with one of our BCPhA Member Services staff to get real-time training and become an expert even faster.  Group classes also available upon request.
Pricing Breakdown
Start bringing your service online today. Accept bookings online or in-person.
✓ Unlimited online bookings
✓ Automated email reminders
✓ Automated SMS text reminders*
✓ Digital and printer-friendly BCPhA COVID-19 pre-screening forms
✓ Digital and printer-friendly BCPhA Flu Vaccination screening forms
✓ Dashboards to streamline your information
✓ Printable daily schedule for the busy flu season
✓ PIPEDA / PIPA compliant
✓ Made in Canada
✓ Servers in Canada
✓ Available 24/7
✓ BCPhA member support
✓ Log in from multiple devices
✓ Additional user licenses only $10/month
Seasonal

Member
Exclusive Rate
$24.75/mo
@ flu season**

Non-members
$49.50/month
@ flu season**

Yearly

Member
Exclusive Rate
$19.50/mo
@ 12 months

Non-members
$39/month
@ 12 months**
Need additional licenses?
For the flu season, most pharmacies will only need one license.  If you are planning to provide concurrent appointments (two patients at a time or appointments that are in 5-minute intervals), you'll need an additional license.  Additional licenses are only $10/month per license.  Please contact vince.lee@bcpharmacy.ca to set this up.
Purchase today and be one of the first to get access starting September 21.
*SMS text reminders are automatically sent 24-hours before the appointment including a link to any required forms that need to be completed. You can also send SMS reminders on demand. There is a limit of 300 SMS text messages per month. Add another 300 SMS text messages per month for $6/month.  Patients also receive an automated email immediately upon booking or cancelling 24-hours before the appointment, so you can also turn off the SMS feature to avoid overage fees.
**We define flu season as any time starting September 2020 up until January 31, 2021 for $99 or approximately $24.75/month for four months (e.g., if you sign up September 18, 2020, your service will end January 31, 2021, or if you sign up October 2, 2020, your service will also end January 31, 2021). If you continue with the service month-by-month, it is $24.75/month. Both these exclusive rates are offered on a limited-time basis only.
Questions?
If you have any questions, please feel free to contact us at vince.lee@bcpharmacy.ca. We would be happy to answer any questions you have.