Streamline and Automate Your Appointments Online,
with a Virtual Appointment Software.
Introducing your new digital pharmacy assistant. With BCPhA's online booking tool, your patients can securely and conveniently book appointments for pharmacy services 24/7.
Reduce calls, improve time management and workflow, and keep your patients and pharmacy staff safe by minimizing patient contact.
We have partnered with a local BC company to streamline and customize the system so that you are ready to take bookings immediately and have taken care of most of the setup work. The application is ready to go out of the box or feel free to make custom configurations as well to meet your pharmacy's requirements. Then input your appointment schedule and you are ready to go.
Most pharmacies practice about a week before launch, some have launched overnight.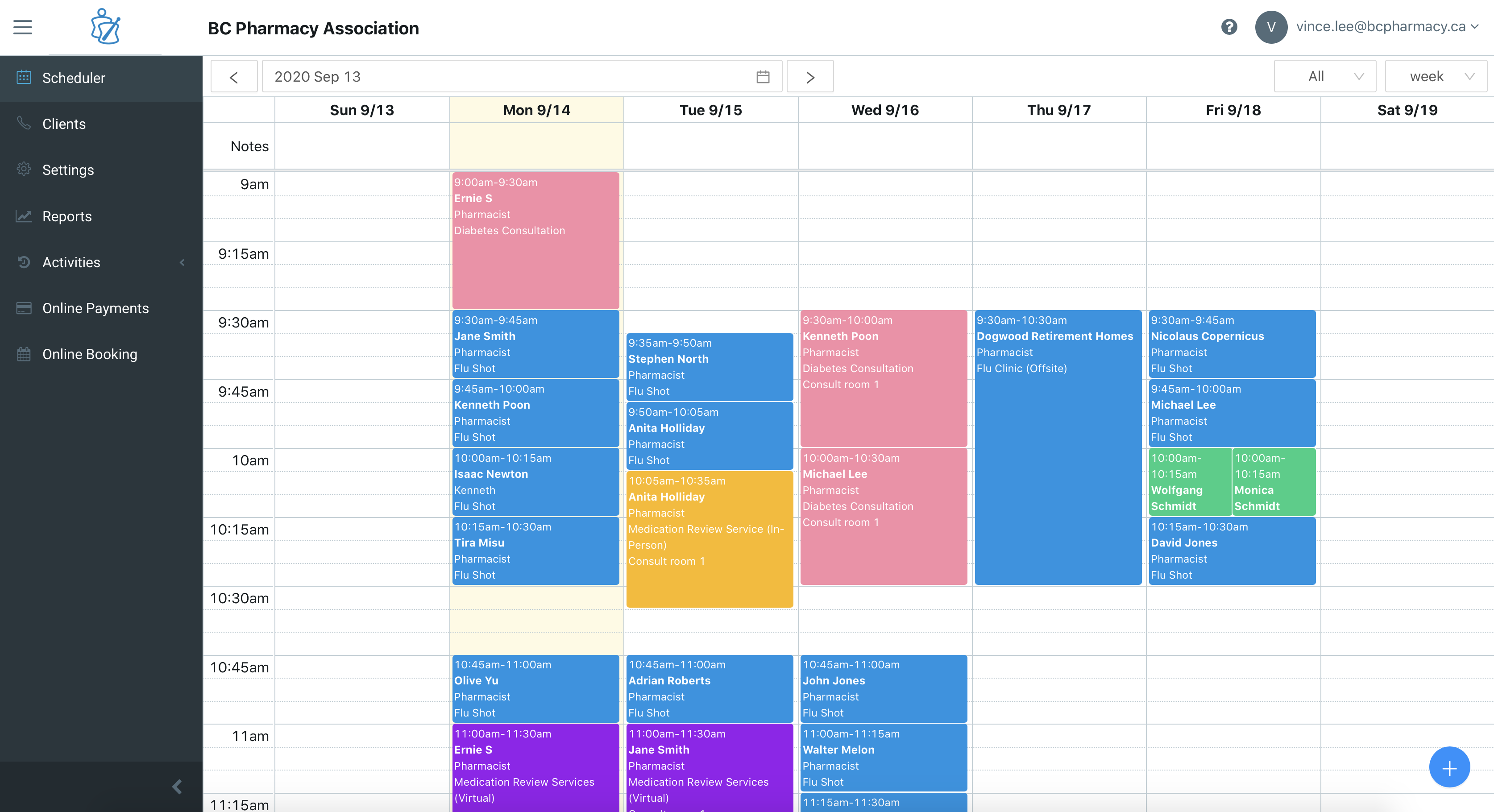 Trusted by over 300 pharmacists across Canada.
Our 300+ pharmacists using this tool from coast-to-coast have booked over 80,000 appointments during the 2020 flu season after two months.
What members are saying about this tool:
"We have been live for 3 days and the response has been fantastic. Very easy to use. It has made operations 100% more manageable." - Curtis
"I'm a 'one man operation" with no assistants/techs. It has simplified my life significantly. Patients can navigate the bookings with ease. The vaccine screening questionnaires are helpful as patients don't need to spend time filling it out at the counter" - Victor
"I would definitely recommend the booking tool to other pharmacy managers. It has made our most difficult flu shot season that much easier, and allows our patients to manage their appointments from the safety of their homes." - Vanessa
"...It is true that not everyone will use the tool online. But the majority will book themselves and their family online. It has simplified our lives that much more. If another independent pharmacy wants a crash course on this booking tool, let me know and you'll learn how it all works in 5-minutes. Three words: Use this tool. Worth every toonie." - Eugene
"It has been fantastic. It was very simple to set up and use. It has aided both our staff and customers in the booking process. It has saved our staff a great deal of time. If it could answer the phone it would be magic." - Alan
Examples of a few members using our booking tool:
Smarter Patient Care means Better Patient Care
Accept online bookings 24/7. No more missed bookings from after-hours or missed calls. Turn on inventory control and waitlist features to further enhance your workflow.
Let patients book and cancel appointments online instantly. Reduce missed bookings and save your front-desk time on the phone so your staff can spend more time serving patients.
Members using this tool include a link on their website, social media channels, update their voice mail system to inform your patients and even place a poster up at their dispensary and outside of their pharmacy so your patients can take advantage of this tool.
And, turn on inventory control to manage different appointment availabilities. Out of stock? Let the waitlist feature collect names for services rather than fielding a voice message.