Trusted by hundreds of pharmacists across Canada
Our online booking platform has supported up to 400 pharmacies and over 1,000 pharmacists across Canada.
What members are saying about this tool:
We have been live for 3 days and the response has been fantastic. Very easy to use. It has made operations 100% more manageable." - Curtis
"I'm a 'one man operation" with no assistants/techs. It has simplified my life significantly. Patients can navigate the bookings with ease. The vaccine screening questionnaires are helpful as patients don't need to spend time filling it out at the counter" - Victor
"I would definitely recommend the booking tool to other pharmacy managers. It has made our most difficult flu shot season that much easier, and allows our patients to manage their appointments from the safety of their homes." - Vanessa
"...not every patient will use the tool online. But the majority will book themselves and their family online. It has simplified our lives that much more. If another independent pharmacy wants a crash course on this booking tool, let me know and you'll learn how it all works in 5-minutes. Three words: Use this tool. Worth every toonie." - Eugene
"It has been fantastic. It was very simple to set up and use. It has aided both our staff and customers in the booking process. It has saved our staff a great deal of time. If it could answer the phone it would be magic." - Alan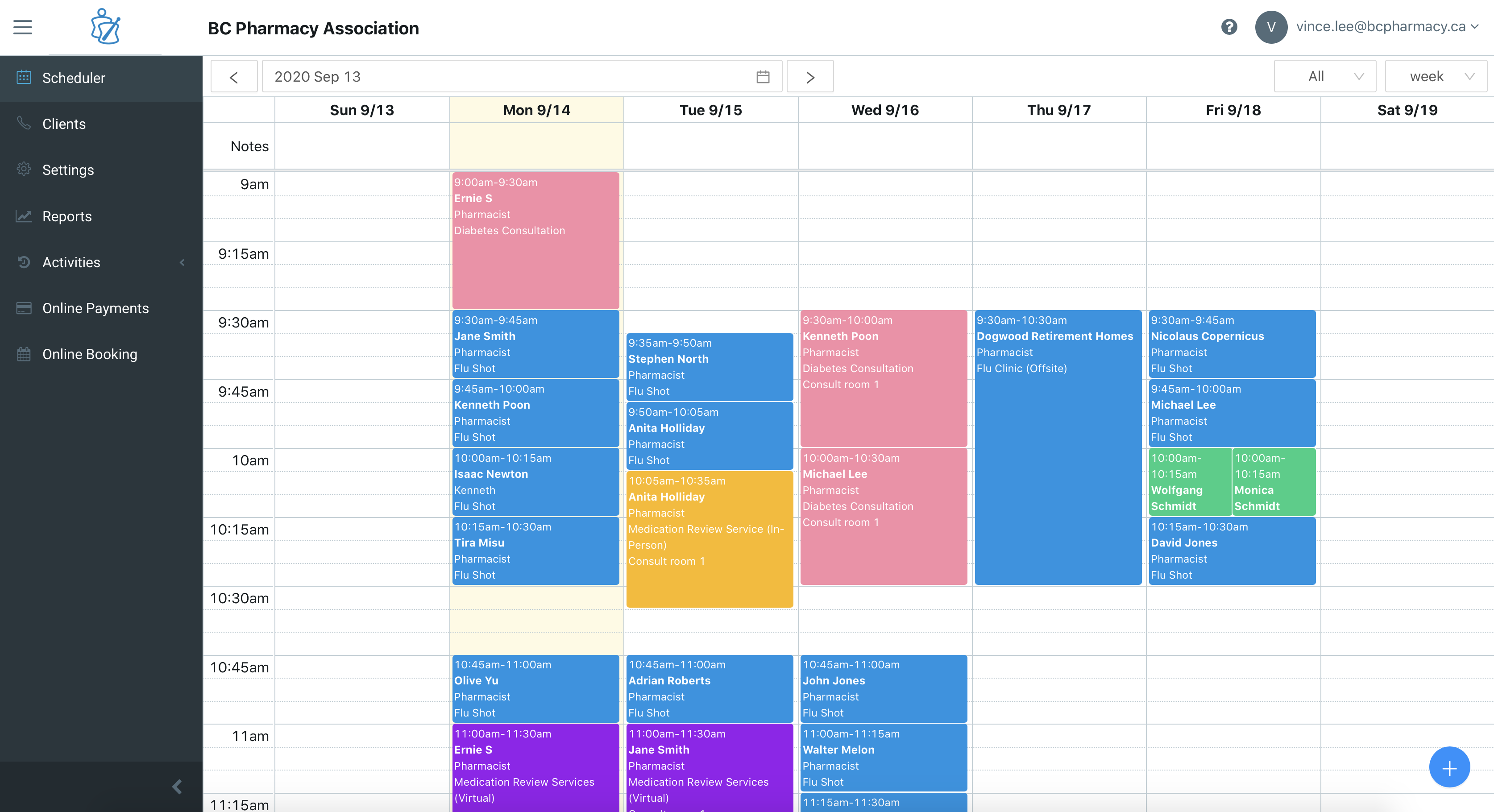 Streamlined for Vaccination Programs
Inventory control to limit the appointment bookings real-time to avoid overbooking
Online consent/screening forms for flu or COVID-19 vaccinations
Save time with the new bulk print functionality so you can print all your daily forms at the click of a button.
Screen for COVID-19 symptoms a day before the appointment
Automated email and SMS reminders to patients
Advance waitlist features
Eligibility criteria settings to control bookings:

Age range or year of birth
No other vaccinations within 14 days of appointment
Specific employment sectors
Specific health conditions
And really anything you would like!
Sign Up Today
Monthly commitment and ready to go immediately. *Please allow 1 - 3 business days to receive your setup and access confirmation email
Putting Your Pharmacy in the Forefront
Starting in late September, we will be rolling out a centralized search functionality where patient can search by city and date and find all pharmacies on the BCPhA Online Booking Platform that have available bookings. The hardest thing is to increase your visibility so patients know you have an appointments available. This new feature will definitely increase your visibility and ultimately mean far more bookings. Your pharmacy will truly be in the forefront!