Developed to Meet the Needs of Pharmacies Today
Our online booking platform support hundreds of pharmacists during the recent flu season and now COVID-19 vaccinations.
Features on this platform were created to meet the demands of pharmacies as immunizers fighting the COVID-19 pandemic rather than focusing on nice to have features you might use in the future, so we are able to keep the pricing much lower than competitors. There's no hidden setup fees and no surprise monthly usage bills based on number of appointments that end up being more than you expect.
We have two rate plans to choose from at $34/month and $49/month. You can book unlimited appointments and add as many services as you like at no extra cost with either plan. The $34 plan includes all the standard features while the $49 plan includes additional premium features and the COVID-19 module.
Our online booking platform is ready to go out of the box. Just set the eligibility requirements for your province (e.g., age, sector), add inventory for the vaccine, add work times and then take appointments and waitlists immediately.
Have control to make configurations to suit your needs and also have the ability to update the eligibility criteria real-time to meet the demand of COVID-19 vaccinations. Just click, edit and save.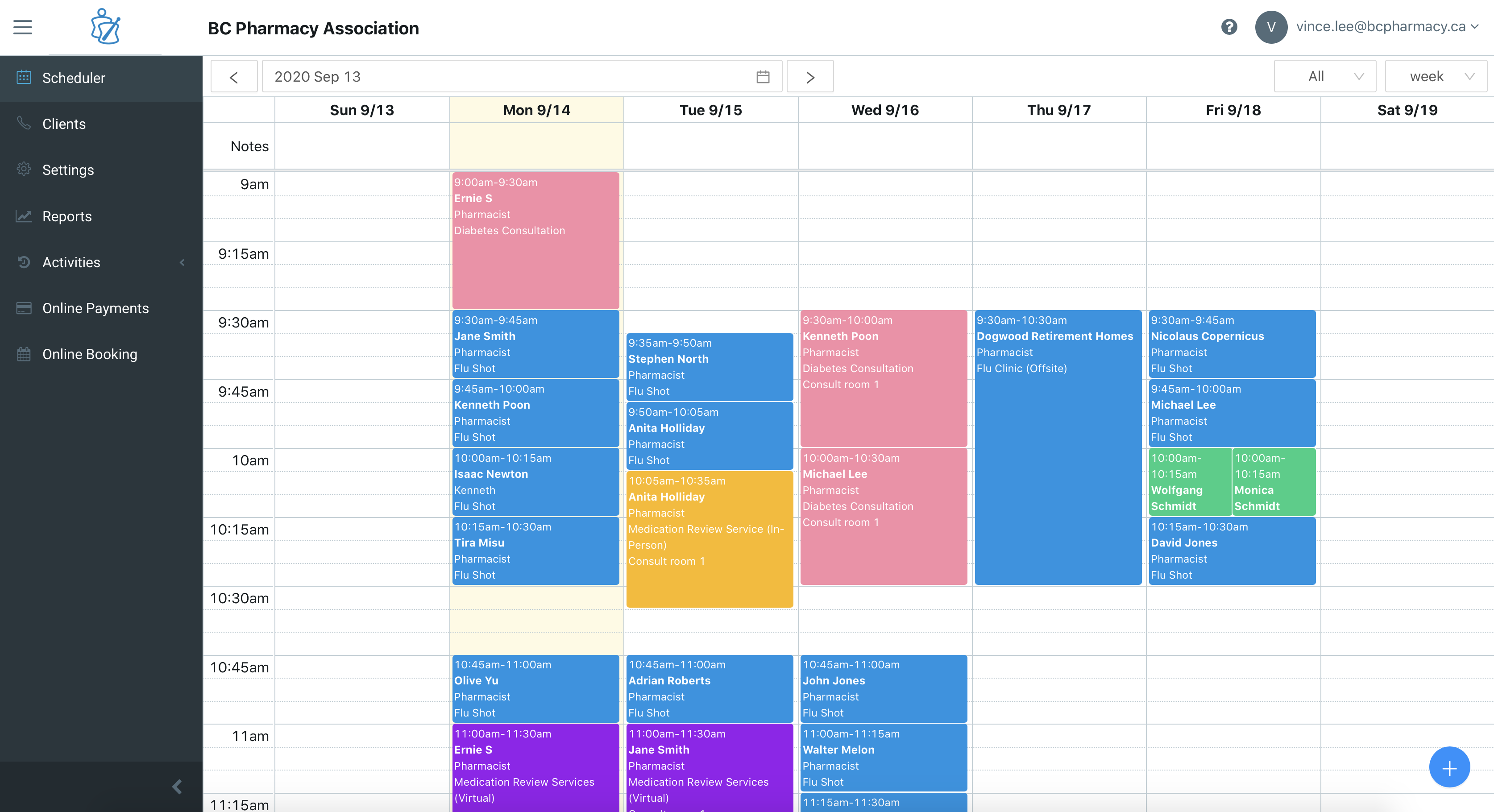 Sign Up Today
Monthly commitment and ready to go immediately. *Please allow 1 - 3 business days to receive your setup and access confirmation email
Streamlined for COVID-19 Vaccinations
All online booking applications will help you reduce calls by allowing your patients to book and cancel online. Our platform has additional COVID-19 tools to meet the different demands of all provinces to further improve workflow and save you time by:
Set any eligibility criteria to control bookings and the waitlist

Age range or year of birth
No other vaccinations within 14 days of appointment
Specific employment sectors
Specific health conditions
And really anything you would like!

Set inventory control to limit the appointment bookings real-time to avoid overbooking
Require patients to complete screening/consent forms online in advance

Forms to meet your Province's needs

Consent forms are auto-filled and formatted based on all the information patients provide online. Then view the form online, enter pharmacy information then print or save as a PDF.
Screen for COVID-19 symptoms a day before the appointment, where patients are reminded automatically by SMS and email
Set a running waitlist or once you run out of time slots or inventory, the service will automatically convert to waitlist mode
We were at the forefront of pharmacies offering COVID-19 vaccinations in Canada, launching in Alberta March 4. In days, we booked thousands of appointments and many more collected by waitlists without a hitch. By mid-March, we started accepting COVID-19 vaccination appointments at over several pharmacies in Alberta, Ontario, New Brunswick and Manitoba and expect to be live across Canada soon.
Like the recent flu season supporting over 250 pharmacy teams and hundreds of pharmacists, we expect to receive a lot of fantastic feedback in continuing to expand the application to meet your needs for COVID-19 vaccinations in pharmacies across Canada.
Trusted by hundreds of pharmacists across Canada.
Our hundreds of pharmacists using this tool from coast-to-coast have booked over 80,000 appointments during the 2020 flu season after two months.
What members are saying about this tool:
"We have been live for 3 days and the response has been fantastic. Very easy to use. It has made operations 100% more manageable." - Curtis
"I'm a 'one man operation" with no assistants/techs. It has simplified my life significantly. Patients can navigate the bookings with ease. The vaccine screening questionnaires are helpful as patients don't need to spend time filling it out at the counter" - Victor
"I would definitely recommend the booking tool to other pharmacy managers. It has made our most difficult flu shot season that much easier, and allows our patients to manage their appointments from the safety of their homes." - Vanessa
"...It is true that not everyone will use the tool online. But the majority will book themselves and their family online. It has simplified our lives that much more. If another independent pharmacy wants a crash course on this booking tool, let me know and you'll learn how it all works in 5-minutes. Three words: Use this tool. Worth every toonie." - Eugene
"It has been fantastic. It was very simple to set up and use. It has aided both our staff and customers in the booking process. It has saved our staff a great deal of time. If it could answer the phone it would be magic." - Alan
Examples of a few members using our booking tool: