Three Directors are to be elected for a three-year term. You may choose to vote for up to three (3) candidates. The candidates are:
Brady, Josh
Gray, Michelle
Gutenberg, Linda
Huitema, Mike
Lee, Sammy
Mehmood, Kashif
Omelchuk, Curtis (John)
Power, Kylee
Rizzardo, Bryan
Saad, Omar
Sangha, Bob
Candidate biographies are listed below according to their order on the ballot.
Brady, Josh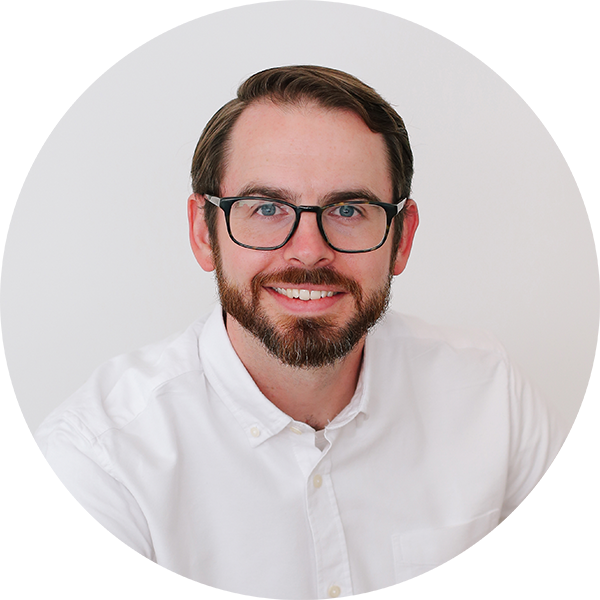 Pharmacy Manager and Owner, Pivot Rx (Vernon)
Josh Brady graduated from Dalhousie University with a degree in Biochemistry before becoming a member of the innovative University of Waterloo School of Pharmacy co-op program, graduating in the Vanguard class of 2011. After practicing in the long term care division of a high functioning and well respected independent pharmacy, Josh relocated to the interior of B.C. for a new experience. Building on his long term care experience, Josh's next career step was to become the pharmacy manager of a Remedy's Rx long-term care pharmacy, before moving over to Shoppers Drug Mart to gain experience in the community pharmacy practice.
Pulling insights and innovations from community, long term care and management roles, Josh and his business partners opened up their own community pharmacy at the end of 2020. Pivot Rx is an independent pharmacy with a patient centered approach to care. Always a strong advocate for the pharmacist's role in improving patient outcomes, Josh hopes to be able to push forward evidence-informed initiatives and learning from other jurisdictions to expand pharmacists scope and improve the quality and access to care for patients in B.C.
An avid skier and outdoorsman, Josh now calls Vernon, B.C. home with his wife and young son.
Gray, Michelle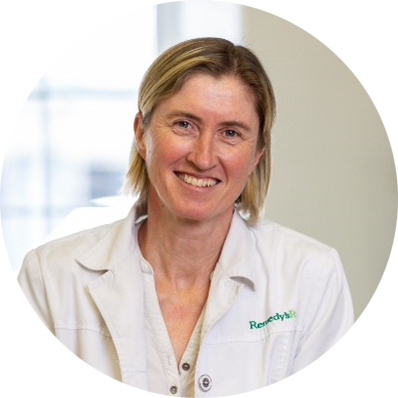 Pharmacy Manager, Gray's Compounding Pharmacy (Kimberley)
Michelle Gray graduated from the University of British Columbia in 1997. She started her career as the Zellers Pharmacy Manager in Cranbrook. She joined a small independent pharmacy, Medicine Centre in Kimberley in 2002 and took on the role of starting a non-sterile compounding service. She went to Houston, Texas to start her compound training with PCCA. Eventually, the independent pharmacy was sold to Shoppers Drug Mart in 2006.
Michelle then became an associate owner of Shoppers Drug Mart for 3 years in Cranbrook. This training was invaluable for her next step in opening her independent compounding pharmacy back in Kimberley in 2013. Gray's Compounding Pharmacy has been in operation for 8 years now. Michelle is passionate about serving her customers with an in-depth, whole health approach.
When not at work, she enjoys spending time with her 3 kids, exchange student, husband, and dogs. She enjoys the great outdoors from telemark skiing in the winter to hiking and golfing in the summer.
Gutenberg, Linda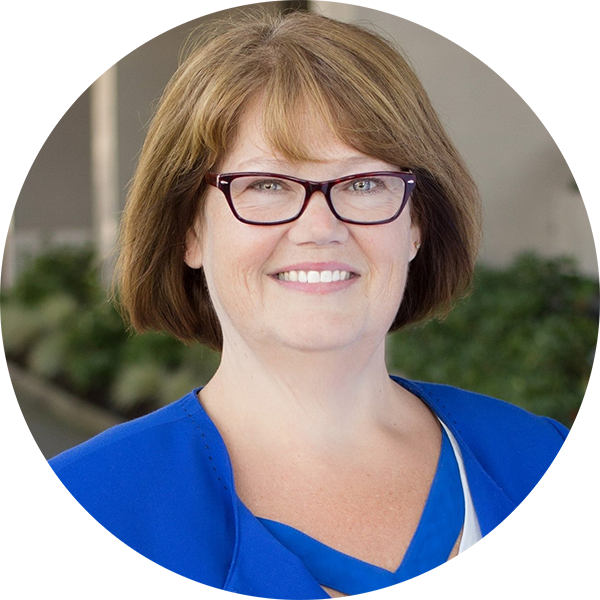 Pharmacy Manager, Heart Pharmacy Shelbourne IDA (Victoria)
Pharmacist with 35 years experience at multiple levels of Pharmacy Practice, including community pharmacy in urban and rural settings, Head Office experience with a multi store owner of independent Pharmacies, as well as a corporate chain, and experience working with the BC Pharmacy Association as a staff member.
I am currently working in Victoria with the Heart Group of IDA pharmacies and am enjoying getting back to basics and providing exceptional pharmacy care to the community. I am a past board member as well as Past President of the BC Pharmacy Association Board.
I believe that my experience at all levels of community pharmacy will bring a well rounded approach to the Board of the Association and my previous experience collaborating with Government will add to the existing experience on the Board. I would appreciate your support in the upcoming election.
Huitema, Mike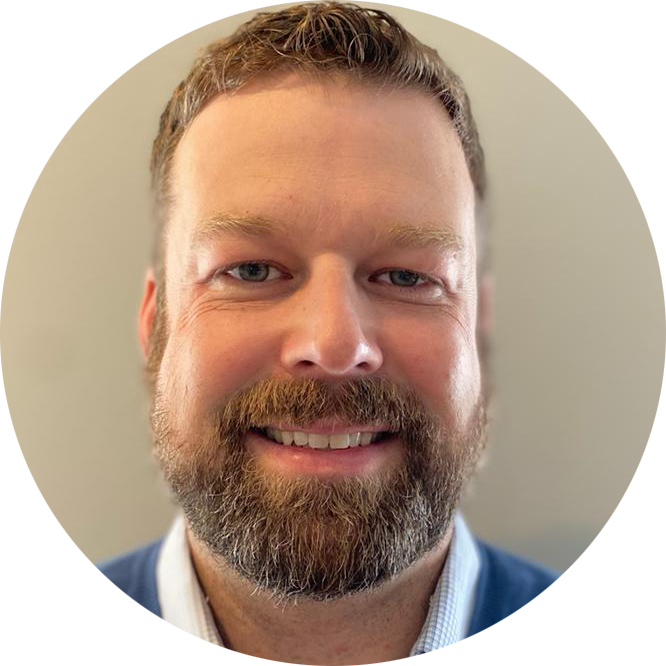 Associate-Owner, Shoppers Drug Mart 248 (Salmon Arm)
Mike Huitema graduated from the University of Alberta with a BSc in Pharmacy in 2007. Growing up with both parents owning various small businesses, Mike has been involved in small community business his whole life. After graduating from university, he lived and practiced in Kamloops for 13 years, and has recently moved to Salmon Arm to continue his career as associate-owner at Shoppers Drug Mart there.
Mike is an active Certified Diabetic Educator and regularly teaches students about diabetes as part of the foot care nurse certification. Mike is particularly passionate about antibiotics and preventing antibiotic resistance. He enjoys giving lectures to student nurses at Thompson Rivers University about antibiotic medications and how to use them responsibly in the health-care setting. For the past 12 years he has been a preceptor in the Structured Practice Education Program (SPEP) with UBC.
He has been involved in the Kamloops community by helping coordinate pharmacists' response to help those displaced by wildfires and raising money for local YWCA women's shelters for the past 11 years. In his spare time, he enjoys spending time with his wife and three children.
Lee, Sammy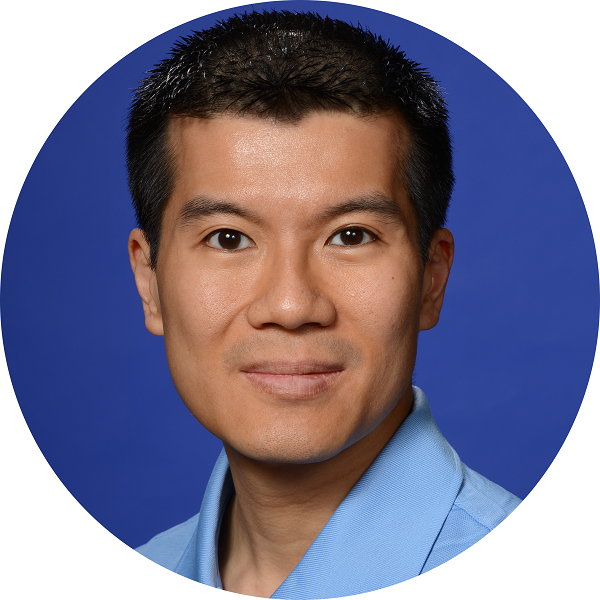 Regional Manager, Pharmacy Operations, Save on Foods (Vancouver)
Changes in the pharmacy profession continue to accelerate, imposing challenges and creating new opportunities. As a pharmacist for over 20 years, Sammy's passion has been to enhance patient care, support expanded scope of practice, encourage workplace innovation, and strengthen economic viability. The Association has made great progress in advancing our profession, especially during the pandemic. We need to continue to work with government and other stakeholders to advocate expanding our role in healthcare.
Sammy has worked across different communities from a pharmacist floater to pharmacy manager. He has been a regional pharmacy manager for most of his career, overseeing operations, pharmacy technology, and merchandising support for community pharmacies in the Lower Mainland, Okanagan and Vancouver Island. He remains involved in community practice and maintains his injection and other certifications.
Sammy currently serves on a volunteer committee with the BC College of Pharmacists, and has been on working committees with the BCPhA in the past. He also completed his MBA from Queen's University and holds a CPA designation. When not at work, his leisure time includes spending time with family, cycling and running. Sammy's experience and vision can contribute to the BCPhA's mandates and respectfully asks for your support.
Mehmood, Kashif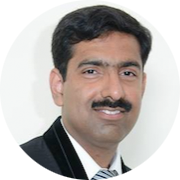 Pharmacy Manager/Owner, Clayton Heights Care First Pharmacy (Surrey)
Kashif Mehmood completed his Pharm.D from Riphah International University Islamabad, Pakistan in 2010. In 2012, as the recipient of UNBC's Graduate Teaching Assistant Award, Kashif immigrated to Canada. He is co-author of two research papers published in American peer-reviewed journals. Kashif graduated from UNBC with his MSc (Chemistry) in 2014.
In 2014, Kashif started as a compounding pharmacy assistant in Prince George. As a Pharmacy Assistant, Kashif completed his qualifying exams and training to become a registered pharmacist in BC in 2017. He worked as a pharmacist at SAVE-ON-FOODS Prince George and then Rexall White Rock. Kashif is an experienced compounding pharmacist who currently owns and manages Clayton Heights Care First Pharmacy (compounding pharmacy) in Surrey, BC.
During COVID-19 pharmacists played a vital role in the protection of their communities. Kashif immunized the public with COVID vaccines at his pharmacy and at Fraser health clinics. Kashif supports the fair and equitable distribution of vaccines. He believes the scope of pharmacists should be extended, including pharmacist prescribing.
Kashif understands the unique healthcare and pharmacy specific issues in both rural and urban communities. Kashif will represent you, and will exhaust all of his efforts for the betterment of the pharmacy profession.
Omelchuk, Curtis (John)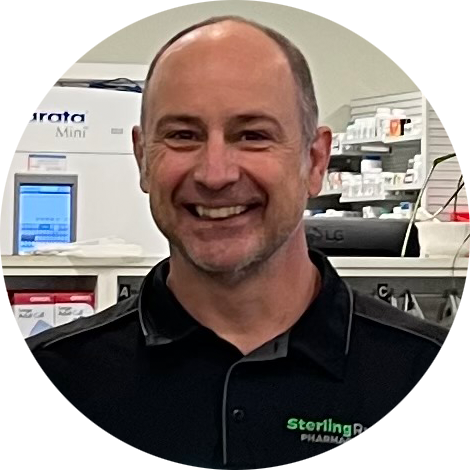 Pharmacy Owner/manager SterlingRx Pharmacy (Vernon)
I have been thinking about running for a director position for BCPHA for several years. I feel now is the time as I am able to dedicate more time to this role. I am an independent pharmacy owner who is actively involved as a dispensing pharmacist every day. I see what is happening to the profession and stand with all the pharmacists demanding more. We should as a profession have a stronger voice, we are underutilized, we should be prescribing. We all know pharmacists in BC can do more! I am certain the BCPHA is working toward this but I feel the members are not receiving enough communication as to what is happening and where we stand.
These are my mains goals: to get pharmacy services comparable to other provinces and to improve communication so general members are aware of what is being done.
Qualifications:
BSc(pharmacy) UBC 1996
Owner/Pharmacy Manager SterlingRx Pharmacy Oct 2012 – present
PCCA Compounding Member
C4 HRT Compounding Specialist designation
Remedy'sRx National Advisory Committee 2015-2021
Remedy'sRx National Ambassador Award 2015
College Of Pharmacists Approval Committee 2020 – Present
BCPHA Corporate member

Power, Kylee
Pharmacy Manager, Central Drugs – Lantzville
Owner, The Central Drug Stores Ltd. (Nanaimo)
Born and raised in Nanaimo, Kylee began her career in pharmacy 15 years ago as a pharmacy assistant. After graduating from Pharmacy at UBC in 2010, she returned to Nanaimo and is currently manager of Central Drugs in Lantzville and a member of the ownership group with The Central Drug Stores Ltd, an independent pharmacy group with 7 locations in the Nanaimo area.
"After giving birth to my second child in February 2020, I returned to work 6 weeks later to join my staff in facing the COVID-19 pandemic. I am amazed at the resilience and willingness to rise to the challenge I have seen from my pharmacy colleagues. I have been motivated by them and the advocacy for the profession I have seen from the BCPHA. As a member of the board, I hope to strengthen the Association's advocacy for community pharmacy which includes reevaluating reimbursement models, decreasing administrative burden, and expanding services to support pharmacists. As an owner of an independent pharmacy, I recognize how regulatory compliance issues impact pharmacies, minimizing pharmacist's ability to provide the best care possible. I hope through advocacy with the government, pharmacists are able to practice at the top of their profession."
Rizzardo, Bryan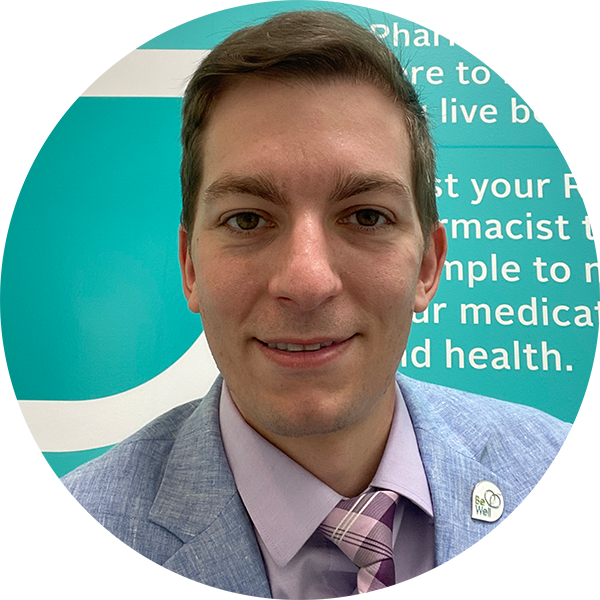 Regional Director, Rexall Canada (Vancouver)
Bryan graduated from the UBC Pharmacy Program in 2010 and has held a variety of roles with Rexall from relief pharmacist to manager to director/district leader, a role he has held for the past 6 years. As director, he currently has broad responsibilities including the oversight of total store operations for 22 locations, dealing with pharmacy practice issues, and working closely with stakeholders in community pilots. He believes that pharmacists should embrace and practice to their full scope while utilizing technology to improve patient health outcomes.
The COVID-19 pandemic has highlighted the vital role pharmacies play in improving the lives and health of our communities while also demonstrating the importance of expanded professional scope. As the most accessible healthcare professional, Bryan believes that we need to advocate for additional expanded scope (prescribing, ordering lab tests, smoking care plans, and injection administration of non-vaccine related medications) in order to showcase the full potential pharmacists have to offer, while ensuring that we are appropriately compensated for the value we bring to our patients and the healthcare system.
Bryan looks forward to advocating for the advancement of the profession and asks for your support in electing him to represent you.
Saad, Omar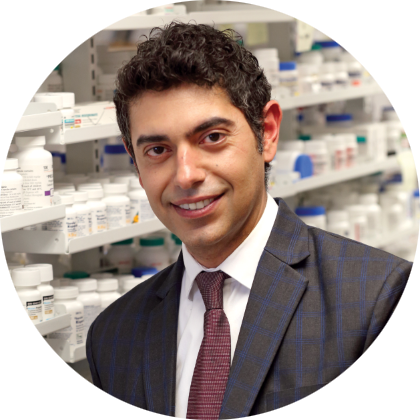 Vice President, Strategy and Innovation, CareRx Integrated Pharmacy (Vancouver)
Omar has been a pharmacist for 15 years, practising in various settings from Community, Hospital, Biotechnology and Long-Term Care across the Country and brings a unique broad perspective on Pharmacy Practice. He has a track record of commitment to his profession and community through contributions on BC College of Pharmacists Committees, facilitating courses at UBC and his past role on the Board of Directors with AIDS Vancouver.
Omar resides in Vancouver, and is currently Vice-President, Strategy and Innovation with CareRx, dedicated to enhancing medication management solutions to our most vulnerable populations residing in Long-Term Care, Mental Health and Group Homes.
Omar is also appointed to the National Seniors Council, providing recommendations to Federal Government on matters related to the Health and Well-Being of Seniors.
"Since the beginning of 2020, we have seen our practice evolve as we dealt with two public health emergencies, and received high recognition as a profession. Now is the time to continue this momentum and advocate with regulators to achieve better health outcomes in our communities through supporting the most accessible Health-Care Professionals, Pharmacists and Pharmacy Technicians. I am committed to being a strong voice and ask for your support in this upcoming election."
Sangha, Bob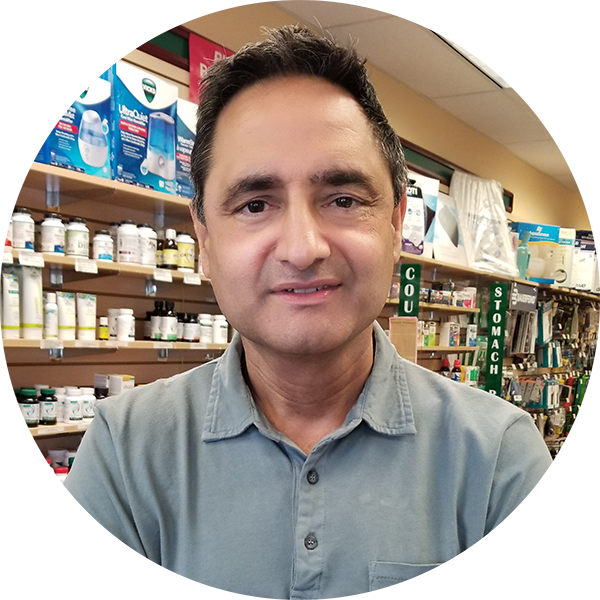 Pharmacy Manager/Owner, Surlang Medicine Centre Pharmacy (Langley)
During 37 years of practise, I have worked as a pharmacist and manager with the corporate structure at London Drugs and Loblaws. Since 1993, I have been an owner/operator/manager of several retail pharmacies. As of 2006, I am the owner/operator of a successful compounding pharmacy in the Fraser Valley (Surlang Medicine Centre Pharmacy).
In my business, we have earned a reputation within our local community and local health professionals as a reliable source of knowledge and expertise to solve complicated pharmaceutical requests.
Furthermore, I would like to strongly advocate for all pharmacists, including independents, to be recognized for the vital role they play in the health-care of British Columbians, including remuneration for cognitive services and expanding prescribing rights similar to those of Alberta.
I have been on the board of directors for UniPHARM for the past two years, and have been a member in good standing with the BC Pharmacy Association for decades.
My passion and love for the profession is something I take pride in, and it would be an honour to serve on the Board. With your support in the upcoming election, I look forward to having the opportunity to do exactly that.
Instructions for completing Ballots:
Please follow the link sent to you via email to access the Simply Voting website. Please also check your junk folder in case it goes there as well.