BCPhA eTraining is here
for your professional development!
Earning your annual 15 hours of continuing education credits has never been easier or more cost-effective. Online courses are self-directed and you can complete at times that are convenient for you.
Our eTraining programs are designed to provide you with further knowledge and confidence to continue to improve your level of patient care, while meeting your annual CE requirements. As a BCPhA member, enjoy more than 80 courses with more being added throughout the year.
Non-members can access all the courses in our publicly accessible course catalogue. Premium courses are available for purchase and discounted for members.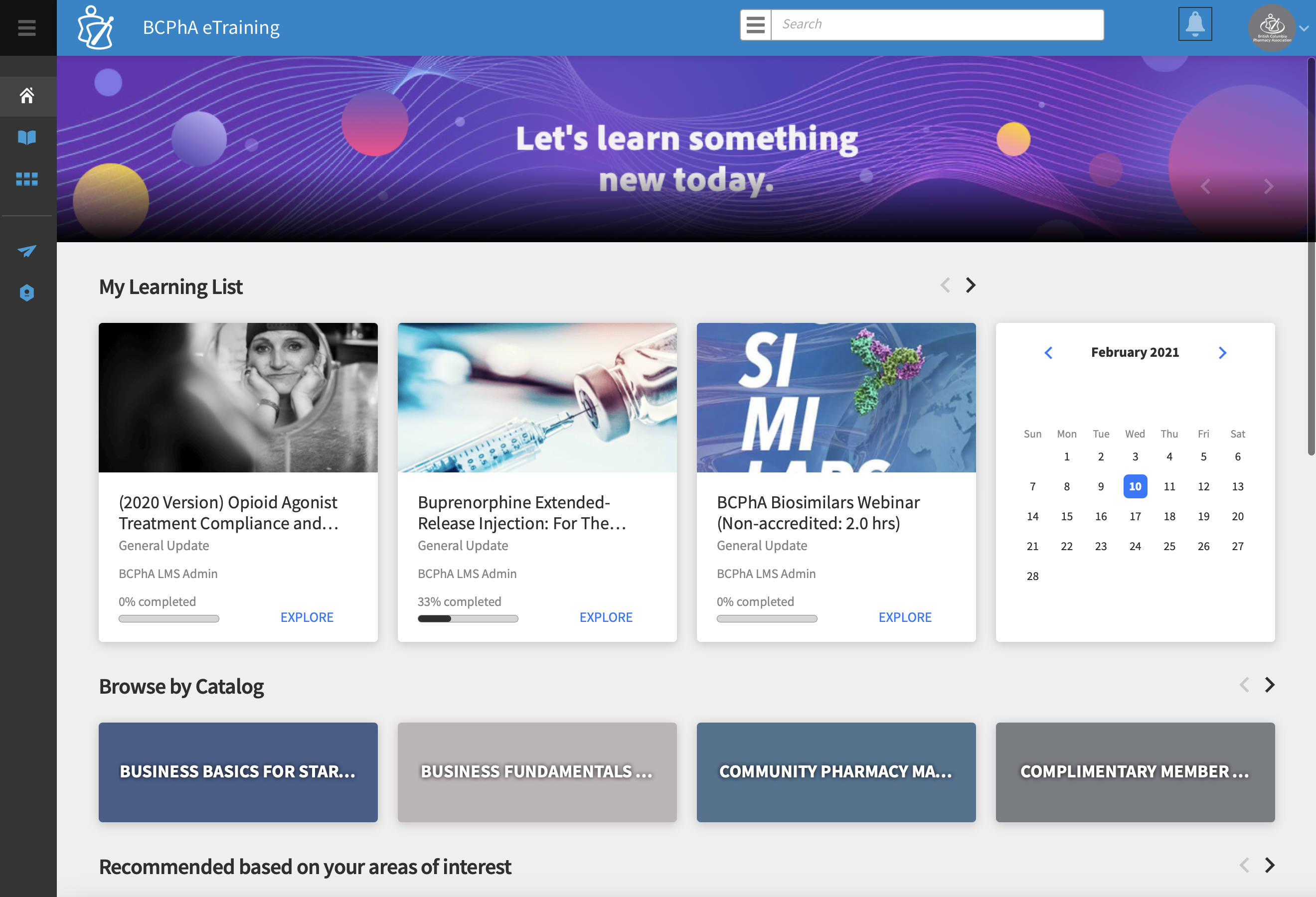 Log In Account
If you do not have an account, please complete this sign up form.
Supported Browsers
Chrome
Internet Explorer
Safari
Please note Firefox users: Adobe Captivate Prime currently does not support Firefox. We have asked Adobe to support Firefox, but unfortunately this is not something they are planning on doing at this time. Please fill out this form if you are a Firefox user as we want to petition Adobe to add Firefox as a supported browser.
Publicly accessible courses
Biosimilars Course
Biologics and Biosimilars Course
Modernized Reference Drug Program
New PharmaCare Plan W program for First Nations Health Authority patients
Opioids in Chronic Non-Cancer Pain
Maintenance Medication Policy
Influenza and High Dose Trivalent
Proton Pump Inhibitors
Intranasal Administration
Non-Insulin Glucose Lowering Medications for Type 2 Diabetes
COPD Update: Focus On Inhaled Medications
Transforming Health Benefits for First Nations in B.C.
Complimentary member courses
Our eTraining portal has over 80 courses included with general membership and is guaranteed to help you complete your PDAP requirements all in one place. Some of the most popular courses that pharmacists across the province are taking include:
COVID-19 and the Opioid Crisis
COVID-19 Safety Plans - Roles and Responsibilities
2020-2021 Influenza Update: What community pharmacists
Immunization In The "New Normal".
Professional Services: Adapting Prescriptions
Pacific Blue Cross Pharmacy Provider Agreement FAQ
Understanding asymptomatic bacteriuria & UTI
The role of pharmacists in responding to B.C.'s provincial overdose crisis
An Update on Two Tracks In Pharmacogenomics: Research & myDNA Consumer Offering
Medical Beneficiary and Pharmaceutical Services Division
Update on PharmaCare
Pharmacy's Hottest Topics: 2017
Set the standard: Gardasil 9
Social media and the workplace
Common primary care questions about IUDs
Immunosenescence, Inflammaging, and Influenza
Two monologues don't make a dialogue: A taste of optimal communication
Keep on motoring: Looking under the hood of Parkinson's drug therapy
Smoking Cessation: Practical Implementation
The Pharmacist's Role in Self-Care
Pharmacists in COPD Management
Women's Health Update
Keeping Seniors Healthy Through Vaccination
Update on Ministry of Health Priorities 2016
Private Payers: 2015 in Review - the Good, the Bad and the Very Expensive
Issues and Topics in Pharmacy Practice and Regulation
Genomics for Precision Drug Therapy in the Community Pharmacy - Phase 1 results
Medication Management for Patients on Psychiatric Medications
Expanded Access to Publicly Funded Vaccines
Resume Guide for Pharmacists
The future of pharmacy: Student presentations
I NEVER AGREED TO THAT! A Health Care Consent or Privacy Consent? What You Need and When You Need It
Joint Action on Joints
Frequency of Dispensing

There is a Patient Behind Every Prescription

Practical Considerations for Cannabis Dosing and Administration

An update from the Minister of Health 2019

An update from the College of Pharmacists of BC 2019

Biosimilars: An advanced therapy that benefits patients, the healthcare system and society

Opioid use disorder: Choosing between OAT pharmacotherapy
Premium courses
Business Basics: Unpack the Facets of Pharmacy Ownership
Business Basics: Unpack the Facets of Independent Pharmacy Ownership in Canada, presented by Rxownership and Desson Consulting. Learn about the key elements of a business plan; the difference between an acquisition, buyout or starting a new pharmacy; valuations and financial planning; pharmacy design; and an overview of legal considerations.
Publicly Funded Vaccinations in B.C.
This course is not accredited.
Learn everything you need to know about B.C.'s publicly funded vaccines and how you can help to increase public vaccination as a pharmacist, by completing this on-line e-training program.
There is a significant increase in recognition in having community pharmacists as a logical immunization provider. With over 580,000 influenza vaccinations provided by community pharmacists in 2016/17 influenza season, a substantial increase from 39,000 in 2009, community pharmacists have a prominent role in the provision of publicly funded vaccines. As a community immunization provider, pharmacists have the opportunity to practise to their full scope.
Travel Medicine Program
34.0 CEUs (CCCEP accredited)
The goal of this course is to prepare you to write the ISTM certification exam, and it will equip you to conduct pre-travel risk assessments, provide travel advice around prevention, immunization, chemoprophylaxis, and self-treatment, as well as recognize post-travel infections and refer to specialists or emergency care when necessary.