An adverse drug event (ADE) is an injury resulting from appropriate or inappropriate use of a medication. Adverse drug events include cases of adverse drug reaction, allergy, non-adherence, drug interaction, and sub- or supra-therapeutic dosing. PharmaNet displays firsthand, standardized records of ADEs identified in the acute care setting, allowing B.C. pharmacists to better evaluate prescriptions for patient safety.
The BC Pharmacy Association will be hosting a webinar on April 7, 2022 with Dr. Corinne Hohl regarding ADE types, patient outcomes through communications of ADEs and application of ADE alerts.
Learning objectives
After participating in this webinar, participants will be better able to:
Describe adverse drug event types and impact on healthcare use​
Describe patient outcomes achieved through communication of adverse drug events​
Interpret the information transmitted in an ADE alert on PharmaNet ​
Identify healthcare providers to contact for ADE alert clarification​
Apply intervention codes to ADE alerts to dispensed medications
About the Speaker: Dr. Corinne Hohl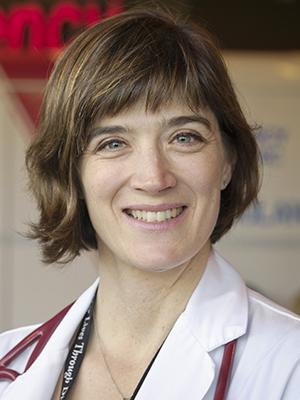 Dr. Corinne Hohl is a scientist at the Centre for Clinical Epidemiology and Evaluation (C2E2) and an associate professor in the Department of Emergency Medicine at the University of British Columbia (UBC). She practices emergency medicine at Vancouver General Hospital, and is a member of the Canadian Drug Safety and Effectiveness Research Network and the Canadian Network for Advanced Interdisciplinary Methods for Comparative Effectiveness Research. In 2020, she became the Chair of the Canadian COVID-19 Emergency Department Rapid Response Network.

Dr. Hohl's main research interests are in emergency medicine, drug safety and effectiveness, adverse drug event surveillance, COVID-19 and pandemic preparedness. Together with her team, she has developed interventions to improve the recognition and treatment of patients affected by adverse drug events in emergency departments. She is presently working on a randomized controlled trial to understand whether automated communication of adverse drug event information using a software called ActionADE prevents re-exposures to medications that previously caused harm. Implementation of ActionADE will provide better data for research in drug safety and effectiveness, and post-marketing surveillance of prescribed medications. For her work on adverse drug events, she was awarded a Best Paper Award from the American College of Emergency Physicians in 2011, and a New Investigator Award from the Canadian Institutes of Health Research in 2012. Dr. Hohl was awarded the Teacher of the Year Award in 2013 by the UBC Fellows of The Royal College of Physicians of Canada Emergency Medicine Residency Program. UBC awarded Dr. Hohl with an Excellence in Early Career Mentorship award in 2019.
Learning Hours
This program is non-accredited. Total learning hours is estimated at 1.0 hours.
Participants will receive a letter of participation after completion of the survey at the end of the webinar.
Registration Information
This event is complimentary to members. The fee for non-members is $50.
Registration closes an hour prior to the start of the webinar, at 5:00 PM. On the day of the webinar, you will receive a link to the webinar by email. The email will come from noreply@zoom.us and could be in your junk folder.
Please Note: A BCPhA account is required to register for this event. If you do not have a login account or if you are unsure if you have a login, please fill out the Account Creation Form and a member of the BCPhA team will contact you. Accounts can be created free of charge with valid College registration.