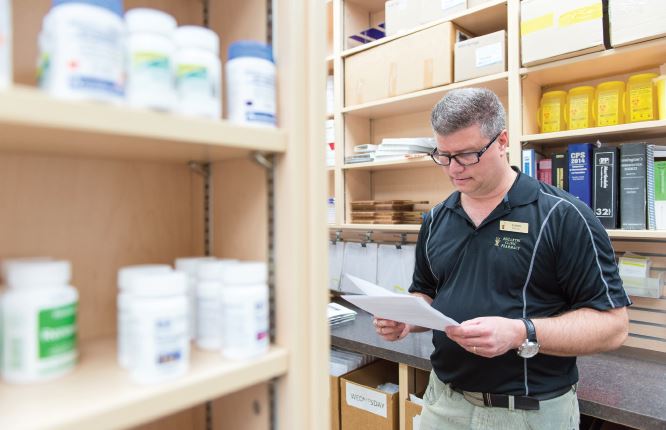 Todd Dew, Pharmacy Manager with Hogarth's Clinic Pharmacy in Vernon, keeps abreast of legislation and updated information on practice changes.
The BC Pharmacy Association, in partnership with the College of Pharmacists of BC, is currently developing a new training program for community pharmacy managers to ensure regulatory compliance, encourage best practices and offer overall guidance and support for this important pharmacy role.
In addition to providing good pharmaceutical care, pharmacy managers are obligated to perform significant responsibilities, specified mainly in the Pharmacy Operations and Drug Scheduling Act (PODSA) bylaws. Pharmacy managers have the duty to personally manage and be responsible for the effective operation of the pharmacy, including developing and maintaining an efficient workplace, ensuring adequate staffing and ensuring that quality products and services are provided to meet patient needs.
Under its mandate of public protection, the Board of the College of Pharmacists of BC has approved the development of requirements and training tools for community pharmacy managers. Currently, there are no other Canadian training programs available that focus solely on the duties and responsibilities that pharmacy managers are accountable for. This gap in training has led to a lack of clarity that may sometimes cause pharmacy managers to operate in ways that fail to meet the College legislation and standards.
The accredited online program will be designed to provide managers with the support and resources necessary to reinforce the knowledge and skills required of a pharmacy manager, which ultimately gives them the confidence and assurance to be compliant in their own practice. The program is expected to be available to members on the BCPhA's website by mid-2018.
In anticipation of this upcoming program, the BCPhA will share a series of useful tips and resources for becoming an effective community pharmacy manager. Watch for more helpful information in future issues of The Tablet.
1. Know your duties and responsibilities as a pharmacy manager before you undertake the role and during the time you hold a position as a pharmacy manager.
Did you know that pharmacy managers have been held accountable in incidents even if they were not directly involved? The College of Pharmacists of BC's Inquiry committee has identified that, in many cases, individuals in these roles lacked understanding of their responsibilities and obligations as a pharmacy manager, leading to a lack of policies and procedures. This in turn led to multiple errors and public complaints.
2. Know where to find the relevant legislation and resources for information about being a pharmacy manager.
Pharmacy managers can find all relevant legislative requirements, standards and policies governing the responsibilities of a pharmacy manager on the College's website at bcpharmacists.org. Make sure you read and understand these and keep up-to-date with practice changes and guidance from the College, which sends updates through email notices and its ReadLinks. Contact the College at (604) 733-2440 (1-800-663-1940) or email legislation@bcpharmacists.org if you have questions regarding legislation or policies or prp@bcpharmacists.org for general inquiries on pharmacy practice.
3. Know what it means to have your name on the pharmacy license and what you are attesting to.
Is your name on the pharmacy license? The Pharmacy Operations and Drug Scheduling Act (PODSA) section 11 states that a pharmacist's name listed as manager in a pharmacy license indicates that pharmacist must personally manage and be responsible for the operation of the pharmacy. The pharmacy license is conspicuously displayed in the pharmacy to the public. You are attesting to the public that you responsible for the actual management and operation of the pharmacy as per legislation (i.e. PODSA, Health Professions Act (HPA) and their regulations, College bylaws and policies).
4. Be active. Know the day-to-day operations in your pharmacy.
PODSA bylaw section 18(2)(a) states that the manager must actively participate in the day-to-day management of the pharmacy. This doesn't mean you have to be there 24/7 but you cannot manage a pharmacy if you aren't aware of the ongoing operations of the pharmacy. Be involved. Be responsible for ensuring the policies and procedures are developed, implemented and maintained in the operations of your pharmacy and that all your staff are trained in their duties and are aware of these procedures.
5. Keep your pharmacy's operational information up-to-date and report any changes to the College.
A pharmacy manager must report changes to the pharmacy's operational information to the College, such as hours of operations and lock-and-leave hours, pharmacy staff roster (new hires and terminations) and types of pharmacy services provided (e.g. opioid agonist treatment services, compounding, injection/intranasal drug administration, etc.). Do this through the pharmacy portal after logging into your eServices account – check it out and keep it updated. Problems logging in? Contact the College at eServices@bcpharmacists.org.