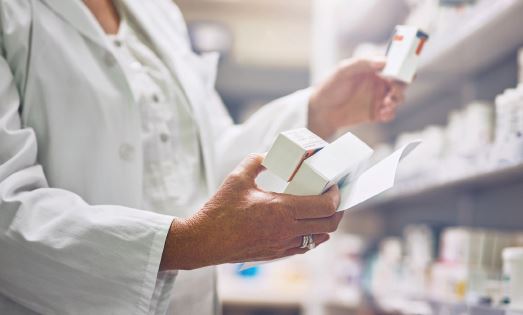 Biologic drugs are used to treat medical conditions including anemia, diabetes, inflammatory bowel disease, psoriasis, rheumatoid arthritis, hormone deficiency and some forms of cancer. A biosimilar, previously known in Canada as a subsequent entry biologic, is a drug demonstrated to be highly similar to a current biologic drug (known as the reference biologic drug or innovator). Biosimilars are approved based on a thorough comparison to a reference drug. Extrapolation is often used for the biosimilar's indications where clinical studies were not done; the biosimilar may be authorized for all or some of the indications of the reference biologic drug.
At the time of authorization, the safety information in the product monograph for a biosimilar is based on information in the monograph of its reference drug biologic. Due to the size, complexity and natural variability of biologic drugs, and because biologic drugs are made in living cells rather than with chemicals, a biosimilar can be shown to be similar, but not identical, to its innovator.
It's important to note that biosimilars are not the same as generic drugs, which contain small, chemically synthesized molecules and are comprised of identical medicinal ingredients to their brand name counterparts.
Specific manufacturing processes for existing biologics are the proprietary information of the originating pharmaceutical company and therefore cannot be duplicated. Biologics are highly dependent on the process used to create them; even small changes in the manufacturing process can alter their structure and potentially affect their efficacy and safety. Health Canada's guidance document states that biosimilars are new drugs that are not declared to be pharmaceutically or therapeutically equivalent to their reference biologic drug.
In Canada, the interchangeability of two products rests with each province.
The College of Pharmacists of BC's drug interchangeability update states: "Information regarding subsequent entry biologics is emerging. Until further evidence is available, the pharmacist should consult with Health Canada and the Manufacturer." Upon follow-up, College compliance officer Mark Chan states that unless a pharmacist has evidence to back up the College's interchangeability definition for the drug and is prepared to defend their decision amongst a panel of their peers, should it be needed, the most reasonable course of action would be to follow Health Canada's advice.
Health Canada recommends that a decision to switch a patient being treated with a reference biologic drug to a biosimilar should be made by the treating physician in consultation with the patient and taking into account available clinical evidence. In a recent national survey conducted by the Alliance for Safe Biologic Medicines, a majority of Canadian physicians have stated they are open to substituting biosimilars for non-medical reasons, only when they are the ultimate decision maker for their patients. Pharmacists are in an ideal position to contribute to this decision by collaborating with their patients' physicians on appropriate substitution opportunities.
A major benefit of biosimilars is reduced treatment costs, with about 20 to 40 per cent in savings for most products and 15 per cent in savings for biosimilar insulin. However, there are considerations for costs beyond the basic product price, including potential effects on clinician and patient workload. For a treatment naïve patient who hasn't had either the innovator product or biosimilar in the past, there is no reason not to start a patient on the biosimilar. For non-naïve patients, who have had the innovator biologic, switching to a biosimilar can be done safely in many cases.
Certainly, one needs to assess each situation individually and such a switch should only be made when appropriate. The number of biosimilars is expanding and similar, yet not identical, risks could be associated with changing to a biosimilar. Pharmacists should not automatically substitute these products, but rather conduct an appropriate assessment in consultation with the prescriber before making changes. Consent for change should be clearly documented.