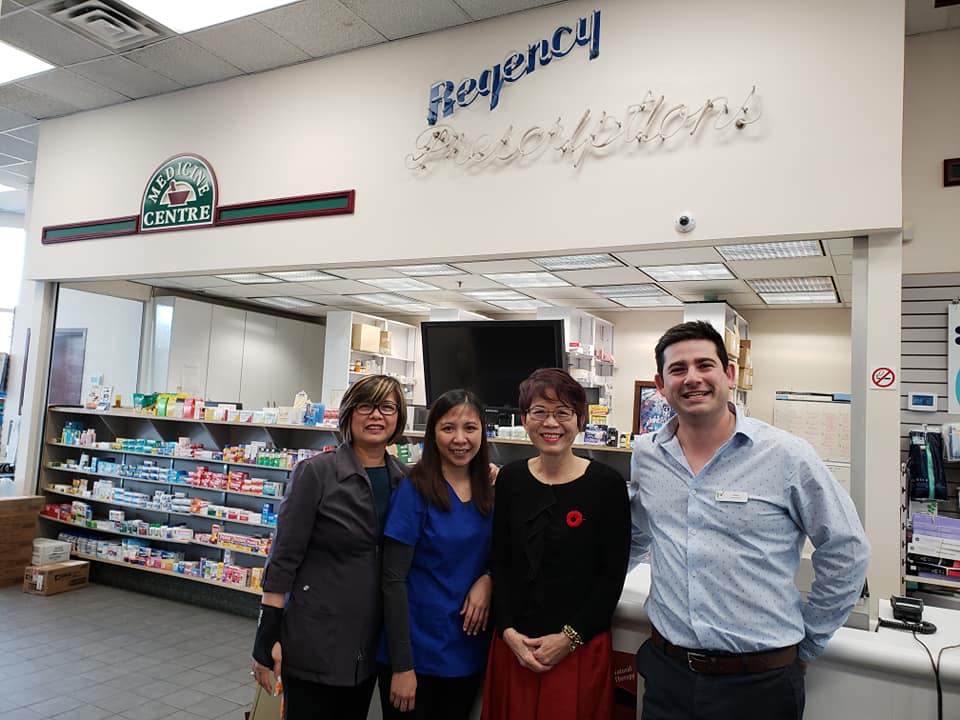 MLA Teresa Wat (second from right) poses with pharmacy manager Adam Smollan (far right) at Regency Medicine Centre located at 6091 Gilbert Rd. in Richmond after getting her flu shot in November, 2019.
The BC Pharmacy Association has revamped its MLA Outreach Program and has given nearly two dozen pharmacy tours to MLAs since March, when the association launched the "Take your MLA to work" program.
In late October we kicked off outreach to MLAs for their flu shots and so far have had requests from 20 MLAs, including four cabinet ministers. This is the third year all MLAs in British Columbia have been invited to visit community pharmacies for their flu vaccine and the numbers have been extremely positive.
In the last flu season, nearly a third of all MLAs reported that they chose a community pharmacy as the place to receive their flu shots.
The progress being made through the MLA program is substantial. Several of the MLAs expressed interest in attending the same pharmacies they received flu shots from in previous years due to the connections they have made with the pharmacists.
Many of them, who previously admitted to having no knowledge of pharmacy practice in the past, have now received opportunities to be educated in the one-on-one interactions with pharmacists generated by these visits.
This participation in hosting provincial MLAs to pharmacies continues to offer excellent government relations opportunities, in addition to offering substantial learning experiences to educate pharmacists on how legislative decision makers think.
Our efforts haven't slowed down. The BCPhA will continue outreach with tours this year to reach more MLAs, particularly MLAs within the governing New Democratic Party, in addition to local community leaders.
Get involved with the MLA program
If you are interested in learning more about the outreach program, or in hosting an MLA at your pharmacy, please contact BCPhA director of communications Angie Gaddy at (604) 269-2863 or by email at angie.gaddy@bcpharmacy.ca.