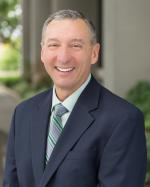 March 7, 2018 - Derek Desrosiers will be retiring from his position as Director of Pharmacy Practice Support at the end of May 2018.
Well-known in community pharmacy not only in British Columbia, but across Canada, Desrosiers has been a frontline pharmacist, pharmacy manager, worked in the wholesale and banner part of the pharmacy business, and has served as the president of the BC Pharmacy Association (BCPhA) six times. He has been a director and president of the Canadian Foundation for Pharmacy and has worked for the Association twice, most recently coming four years ago to take his current director role.
Drawing on his decades of past career accomplishments, Desrosiers is a fierce supporter of the future direction of pharmacy care in B.C. – to expand the scope of clinical pharmacy services, using the skills and expertise of pharmacists to advance health care in B.C.
In his role, he has been in constant communication with government leaders and regulatory bodies, advocating for increased opportunities for pharmacists and fewer barriers to providing comprehensive, high-quality care for patients across the province.
For members, he and his team have developed training, addressed member questions about third-party payer policies, product supply issues, audits and the business side of pharmacy.
Desrosiers has earned the recognition of his peers, receiving the Pillar of Pharmacy Award, the BCPhA's Lifetime Achievement Award in 2017 and was among those selected for the 2018 Leaders in Pharmacy.
While officially retiring at the end of May, he will continue to do some project work for the Association, most notably on the pharmacogenomics research project working with the BCPhA, Genome BC and the University of British Columbia.
-30-
For more information or to schedule an interview, contact:
Angie Gaddy
Director, Communications
(604) 269-2863
angie.gaddy@bcpharmacy.ca