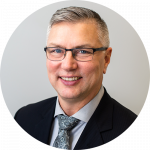 The B.C. Ministry of Health is conducting a survey of pharmacists to gain insight into how to proceed with a major redesign of the current medication review service model. This survey will remain open until June 2, 2022 and is currently the only available opportunity for pharmacist input. I am asking all pharmacists to take the time to complete this very important survey before the time elapses.
Like most pharmacists in B.C., I have been completing medication reviews since the model's inception. I have also worked collaboratively with nephrologists, family physicians, nurses, dieticians, and other healthcare providers within primary care clinics for over a decade. The medication review services model was the initial platform that allowed myself and my community pharmacist colleagues to work on primary care teams within B.C., including chronic kidney disease clinics, BC Transplant post-op clinics, and multiple family physician clinics. These collaborative relationships with various healthcare providers resulted in improved patient care and stronger interprofessional communication.
Over the years, we have developed a standardized practice model that can be formatted to work well in any of these diverse working environments; however, the original medication review services program was not created to properly support comprehensive medication management services in our communities, and this is now an opportunity to change the program to support the "beyond dispensing" services community pharmacists are willing and able to perform.
I would like to make the following recommendations for all to consider when completing the survey.
1. Ensure the new program does NOT restrict medication management services to a limited number of patient groups.  
The current proposals are for mental health, pain management and deprescribing for patients over 65yrs old. This severely restricts the program and many complex care patients would not qualify for these very important services.
For example, chronic kidney disease patients, recent hospital discharges, diabetic patients, heart disease patients, and patients with autoimmune diseases (clearly not an exhaustive list).
2. Ensure the process is open and transparent to address not only creating a long-term sustainable funding model to support community pharmacists in this role but to ensure there is discussion around all the aspects of performing these services.
Such as: the required training, the documentation process, the audit process, the communication process between pharmacist, patient and extended healthcare team, and the consent requirements.
3. Use substantiated data from all resources and jurisdictions to determine the fair and reasonable compensation for all forms of medication reviews currently being done and those being proposed in the future.
Examine what is working well in the current model and what needs to be altered for the new proposed version.
Support Ministry of Health project initiatives and funding for pharmacist led interventions that lead to improved patient outcomes and reduced burden on the health care system.
4. Prioritize the importance of patient access and the creation of a model that encourages ALL community pharmacists to perform these comprehensive medication management services in their communities.
With the intent of maximizing the impact for all the complex care patients in our province.
All community pharmacists are clinical pharmacists who have the foundation of knowledge and expertise to perform these services and contribute to positive patient outcomes.
5. Encourage discussion and policy development around virtual medication review services to align with our physician collaborative team partners.
There has been discussion about modifying the community pharmacy funding model for decades, yet the core funding is still based on dispensing, which will likely continue for many years. A viable, sustainable funding model has not been put forward that would realistically advance the pharmacy profession in this direction – a model that would reduce the reliability on dispensing fee income and incentivize comprehensive clinical pharmacy services.
This is an opportunity for the BC Ministry of Health to take the first step in that direction. Properly formatted, this could allow all community pharmacists to perform medication reviews in the pharmacy and to have an opportunity to work in collaborative, primary care clinics to offer medication management services and provide quality care to our patients.
The success of a program like this would further the NAPRA goal for community pharmacists to provide comprehensive medication management to all patients in the province and it would allow community pharmacists to work at the full scope of their practice and improve job satisfaction. The past few years have highlighted the benefits of both maximizing the expertise of community pharmacists to reduce the burden on our healthcare system and utilizing the extended reach of pharmacies to gain quick and reliable access to patients in every corner of our province.
Greg Wheeler
Member, Board of Directors
BC Pharmacy Association
BC PharmaCare Medication Review Services: Pharmacist Survey
Please visit the following link to access the Ministry of Health's survey on BC PharmaCare Medication Review Services.
This survey will take 5 to 10 minutes to complete. There are 12 questions. The survey opens on May 3, 2022 and closes on June 2, 2022.