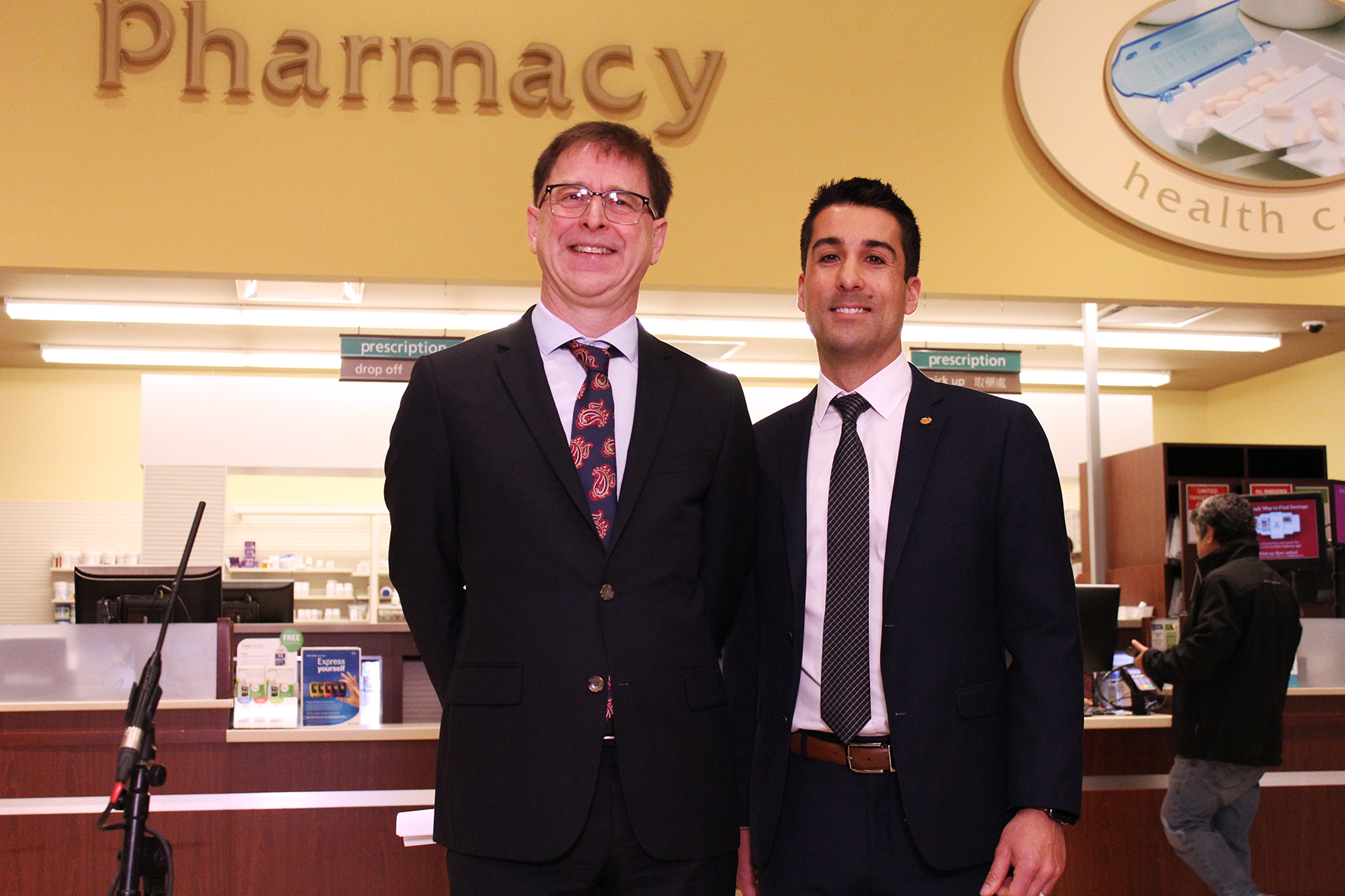 Health Minister Adrian Dix stands with BC Pharmacy Association president Keith Shaw to mark the passage of one year since PharmaCare deductibles were reduced for lower-income patients.
VANCOUVER—B.C.'s Health Minister Adrian Dix paired up with the BC Pharmacy Association early in the new year to mark the first year of reduced or eliminated PharmaCare deductibles for those in low-income categories.
Speaking alongside BCPhA president Keith Shaw on Jan. 2 at the Safeway Pharmacy #4931 on Kingsway in Vancouver, Dix applauded pharmacists for their presence on the frontlines of medication affordability. The event was organized and held jointly by the provincial government and the BCPhA.
"I want to thank all the incredible staff here at Safeway and all the pharmacists who do such extraordinary work every day in British Columbia in all kinds of ways in helping people get well," Dix says.
"Here at Safeway and in other places that includes support for opioid therapies that are helping people get well in a time when they really need that. And the extraordinary personal service provided by community pharmacists. It's an incredible part of our health care system."
On Jan. 1, 2019, the B.C. government introduced changes to reduce or eliminate deductibles for families earning less than $45,000 per year. Dix said in just three months following the changes, more than 88,000 additional British Columbians were able to save on costs of their medications.
"Before we made these changes, if you made $28,000 a year, you would pay the first $600 of your prescription drug costs. If you think about how expensive, in terms of costs, this community is to live in, that's an extraordinary amount," Dix says.
"The result of that, and we proved this through evidence, is that many people chose not to get the prescription drugs they need."
Now, Dix says, those patients can more easily afford their medications.
Keith Shaw, president of the BC Pharmacy Association, thanked pharmacists for their crucial role in making the changes seamless for patients.
"I've been a pharmacist for more than 15 years and I can tell you that affordability is top of mind for all my patients," Shaw says. "I know our patients appreciate the extra care and attention that we pay to help them ensure their medicines are right for them, and that they know why their medicine costs what they do."
The event was covered by British Columbia media outlets, including Global TV, the CBC and CTV.