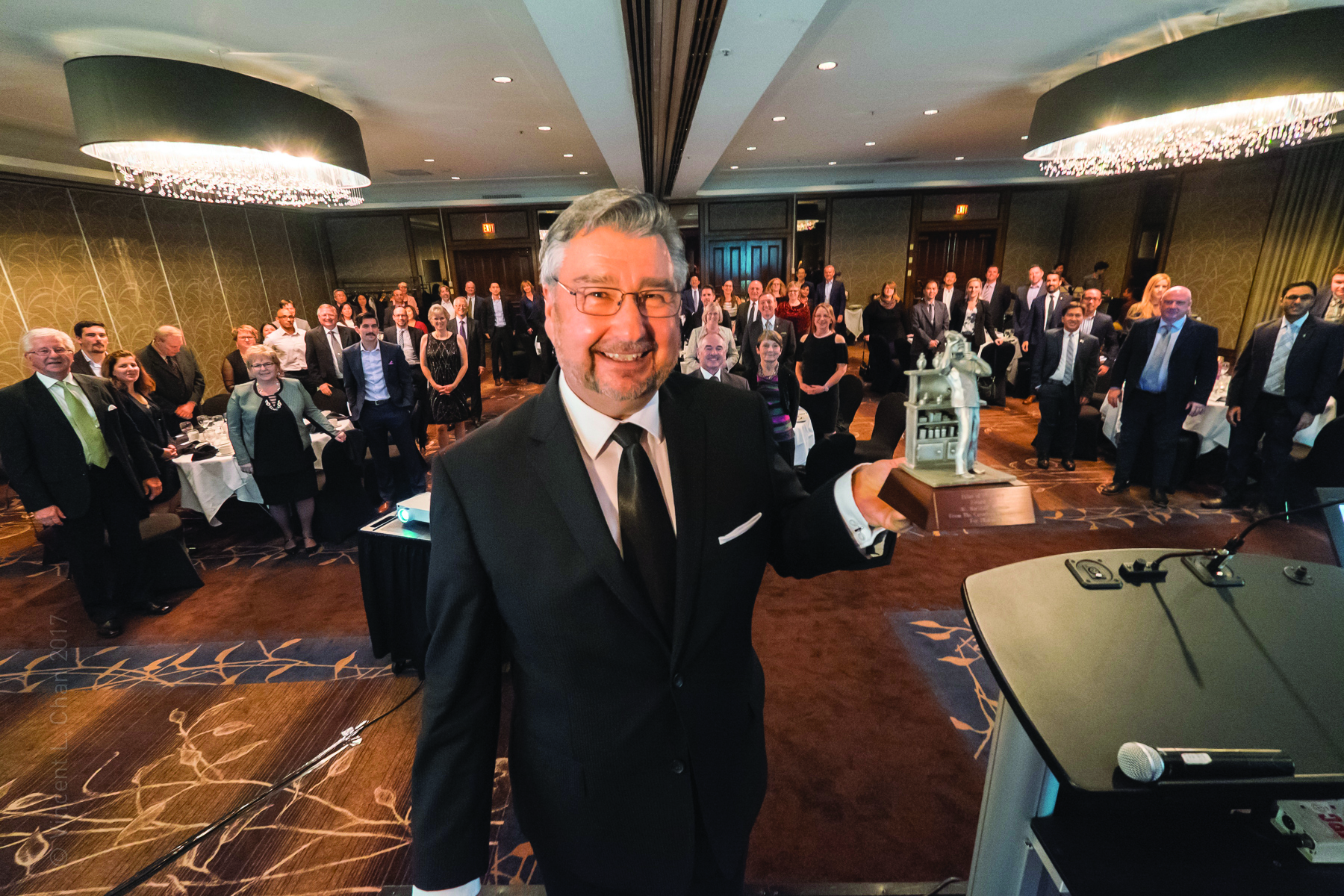 Former College of Pharmacists of BC Registrar Marshall Moleschi was presented with the Pillar of Pharmacy Award in the fall 2017.
Marshall Moleschi joins a distinguished list of Canadian pharmacy leaders recognized for their life-long commitment to the profession with the Pillar of Pharmacy Award.
Honored with this year's award by the Canadian Foundation for Pharmacy (CFP) at gala events in both Vancouver and Toronto in November, Moleschi was lauded by friends and colleagues for his many accomplishments over more than 40 years in the profession.
"It was wonderful to see Marshall honoured for the amazing contributions he has made to pharmacy right across Canada and in particular, here in B.C.,"
says CFP President Derek Desrosiers.
"While most pharmacists do not realize it, they are benefitting from the work he has done."
Moleschi worked with the College of Pharmacists of BC to pioneer telepharmacy services, which helped revolutionize care in remote areas. As registrar of both the B.C. and Ontario colleges of pharmacy, he also expedited the expansion of pharmacist services and inspired pharmacists and technicians to practice to their full scope.
The speakers throughout the event highlighted Marshall's ability to develop and foster long-term relationships that allowed him to move pharmacy's collective agenda forward within the broader health-care system.
"Marshall worked tirelessly to raise the profile of the profession from simply medication dispensers to medication experts that make a positive difference in patients' lives every day," says Suzanne Solven, executive director at Pacific Blue Cross. "He empowered pharmacists to get out from behind the pharmacy counter and interact with other health-care professionals in the team."
B.C. College Registrar Bob Nakagawa noted that Moleschi was a true leader in the profession who could "navigate the gray" in order to advance the wellness of the population through better pharmacy services. "A gentleman in every sense of the word, Marshall is always there to work with others to make things better — a true Pillar of Pharmacy."
Longtime friend and colleague Marnie Mitchell, a consultant and former CEO of the BC Pharmacy Association, said as she listened to the speakers, she realized that her experiences of working with Moleschi were shared by many. "His collaborative style, his ability to solve problems in a variety of health-care settings, and perhaps above all, his passion for helping all pharmacists get to their own standards
for patient care."
When accepting his award, this year's honouree spoke to the many people who shared his vision throughout the years. "There have been a lot of changes to the pharmacy framework since I started out and I think the future has never been brighter," says Moleschi.
For more information on the Pillar of Pharmacy Award, go to www.cfpnet.ca/grants-awards.