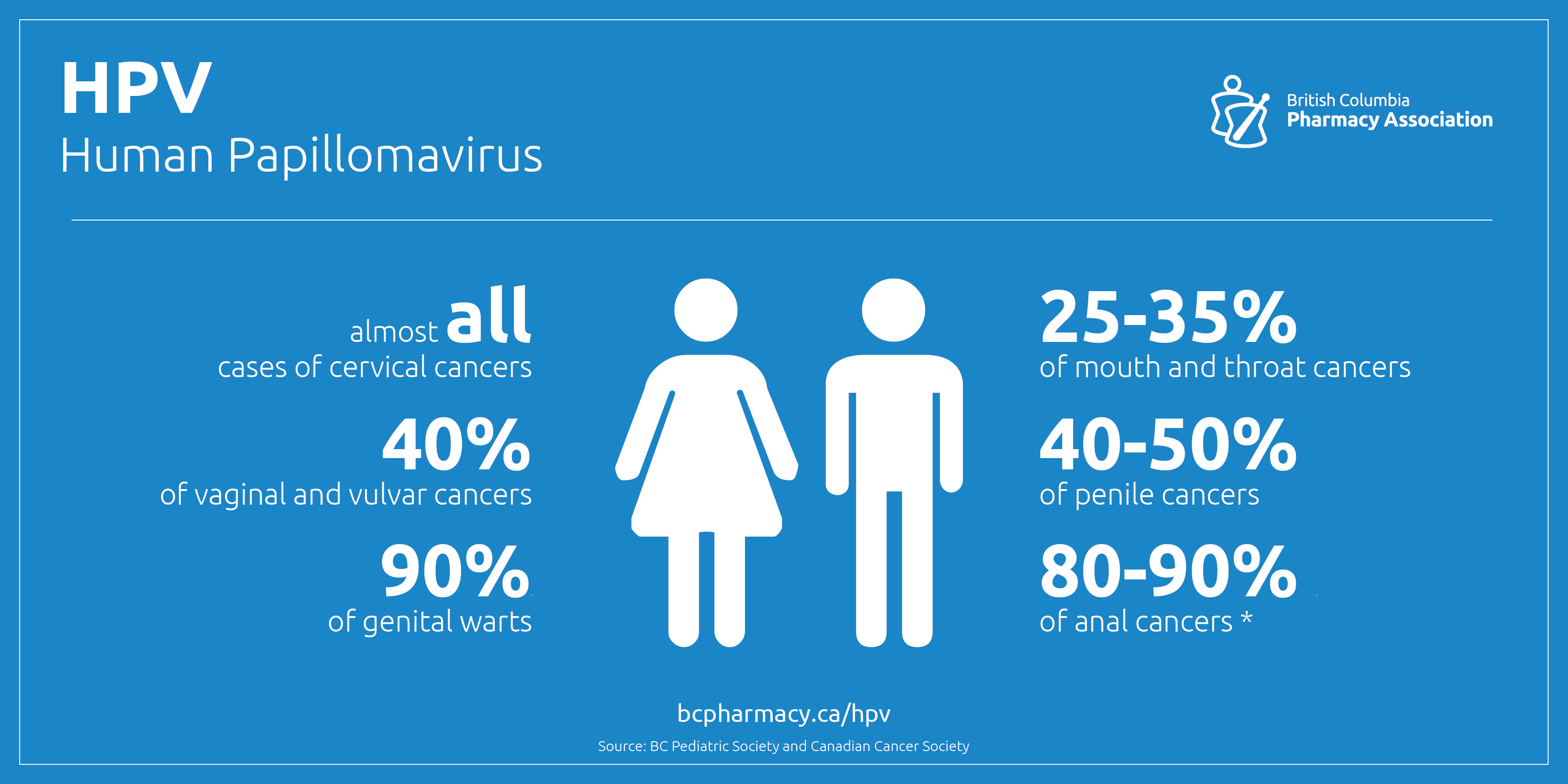 HPV is one of the most common sexually transmitted infections (STIs). Three out of 4 sexually active people will get HPV at some point in their lives. Anyone who has any kind of sexual activity with another person involving oral, genital or anal contact can get HPV. Sexual intercourse is not necessary to get infected. The more sexual partners you have the higher the risk of being infected with HPV. Men who have sex with men are also at higher risk of HPV infection.
Between October 1 to 7, 2018, HPV Awareness Week sets out to increase worldwide understanding of HPV and how it affects us.
What are the symptoms?
Most people infected with HPV do not show any signs or symptoms and can pass the virus on to others without even knowing it. Most often an HPV infection will clear on its own. For some people, HPV will not go away and cells infected with the virus can become cancerous over time.
Every year in B.C. approximately:
200 women will get cervical cancer and 50 will die from the disease
6,000 women will develop high risk changes to the cervix which are precancerous
Over 500,000 women will undergo Pap tests and over 20,000 will need further follow-up which may include additional Pap tests and other procedures to stop cancer of the cervix from developing
110 people will get anal cancer and 20 will die from the disease
5,500 people will develop genital warts
What can you do to protect yourself?
The HPV vaccines protect against infection from certain types of human papillomavirus (HPV) that cause cancers of the anus, cervix, mouth and throat, penis, vagina, and vulva as well as genital warts. There are 2 HPV vaccines available in Canada: Cervarix® (HPV2) and Gardasil®9 (HPV9). The vaccines are approved by Health Canada, with HPV9 approved for use in both sexes, and HPV2 approved for use only in females.
The HPV9 vaccine is provided free to girls and boys in grade 6. The vaccine is being offered to boys in grade 6 for the first time starting in September 2017.
Females born in 1994 or later who were not immunized in the school-based program, or did not complete their vaccine series, can also get the HPV9 vaccine.
The HPV9 vaccine is also provided free to individuals 9 to 26 years of age who are:
HIV positive
Transgender
Males who have sex with males, including those who may not yet be sexually active and are questioning their sexual orientation
Males who are street involved
Other males eligible for the HPV9 vaccine include those:
9 to 18 years of age in the care of the Ministry of Children and Family Development
In youth custody services centres
Contact your pharmacist to get immunized.
Questions?
Please contact communications@bcpharmacy.ca if you have any questions.