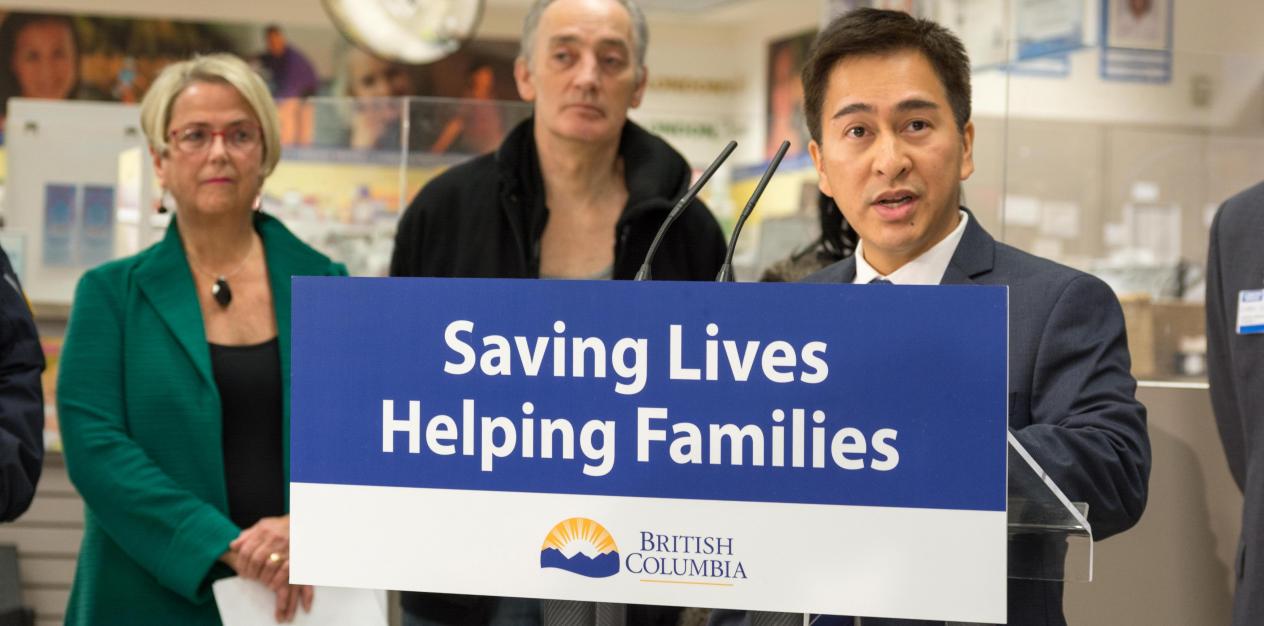 BC Pharmacy Association President Alex Dar Santos addresses the media for the announcement of free Take Home Naloxone kits at community pharmacies. Minister of Mental Health and Addictions Judy Darcy (left) looks on.
As drug overdose deaths continue to rise, B.C.'s community pharmacies are taking a stand in being part of the solution in the province's opioid crisis. A staggering 1,200 deaths were attributed to drug overdoses this year, according to a November B.C. Coroners Service report, up from 607 at this time in 2016. And the numbers continue to rise.

In a joint announcement on Dec. 20, 2017, the BC Pharmacy Association partnered with the Ministry of Mental Health and Addictions, stating the province would make life-saving naloxone kits available at community pharmacies throughout B.C. for those people at risk of overdose or likely to witness an overdose.
Held at London Drugs Pharmacy in New Westminster, Dr. Jane Buxton of the BC Centre for Disease Control, Alex Dar Santos from the BC Pharmacy Association and Chris Chiew of London Drugs Pharmacy joined in the announcement.
Since the announcement, requests from community pharmacies to register as a distribution site peaked at more than 50 inquiries in just a few weeks. Now more than 250 community pharmacies (and growing) across the province will provide free naloxone kits to those in need.
In extensive consultation with the BC Centre for Disease Control, the BC Pharmacy Association (BCPhA) had been advocating for community pharmacies to be added as distribution points for the Take Home Naloxone (THN) Kit across B.C., making the life-saving kit available to high risk individuals at the community pharmacy level. The program was developed by the BC Centre for Disease Control in 2012 to provide training and naloxone kits to people at risk of opioid overdose.
According to the BC Centre for Disease Control, the kits will be provided free of charge to:

• Individuals at risk of an opioid overdose
• Individuals likely to witness and respond to an overdose such as a family or friend of someone at risk

"B.C. pharmacies play a significant role in being a part of the solution in the opioid crisis as one of the most accessible health-care providers in nearly every community across the province. Pharmacists are trained, experienced and knowledgeable not only in medication but in providing an essential health-care service to our patients and to our community," says Geraldine Vance, CEO of the BC Pharmacy Association. "Providing the life-saving naloxone kit from the community pharmacy level to treat opioid overdose is an important step in dealing with the current crisis."
Participating pharmacies are to ensure they have trained pharmacists on how to use the kits, provide patient training and consultation and manage re-orders as needed. More than 1,900 kits were distributed since the announcement with additional re-orders already being submitted.
Naloxone at your local pharmacy
To find a pharmacy that provides the free Take Home Naloxone kit near you, visit Toward the Heart Pharmacy Finder. Community pharmacies will be listed in the same section of the website and will be regularly updated.
For more information
Pharmacies wishing to participate in the program should contact Derek Desrosiers, Director, Pharmacy Practice Support at the BC Pharmacy Association, for information on registration, logistical questions and distribution details.

More information and resources are available at the College of Pharmacists of BC.

The BC Take Home Naloxone program provides extensive resources for sites participating in the THN program, for health professionals and for individuals at risk.