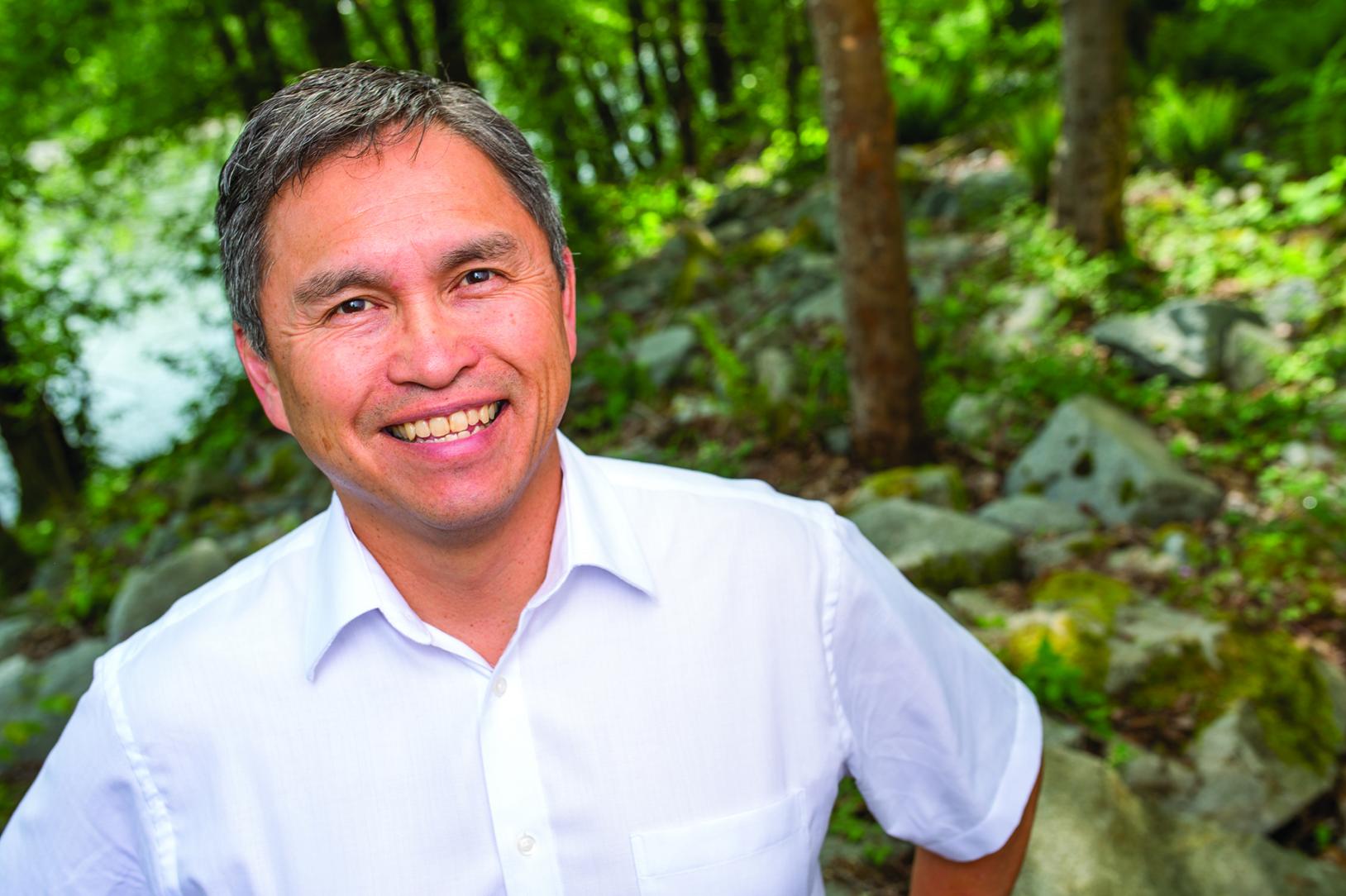 Joe Gallagher is Coast Salish, of Tla'Amin First Nation ancestry and serves as CEO of the First Nations Health Authority (FNHA). Over the past decade, Gallagher was a lead negotiator in the successful transfer of federal health services to First Nations control. This work – a first for Canada – led to the formation of the FNHA, and Gallagher has led the organization since its inception in 2012.
A senior health leader for the past 10 years, Gallagher has more than 25 years of experience in community development, intergovernmental affairs and negotiations. Throughout his career, he has worked with all levels of government, First Nations communities and organizations in both rural and urban settings.
Gallagher holds a degree from the University of Victoria and promotes First Nations teachings and perspectives of health and wellness. He holds the ancestral name Kwunuhmen, "One with vision."
The Tablet asked Gallagher about his views on First Nations health care in Canada and how community pharmacists fit into this landscape.
Your work led to the transfer of First Nations health services from the federal government to the newly created FNHA in 2012. Why was this transfer so important?
The transfer was important because it enables First Nations decision-making related to the health and wellness services in their communities. The transfer of services from Health Canada is only one part of the picture. As a provincial body, FNHA has a strong interest and ability to focus on a First Nations population health agenda, and therefore, also has the opportunity to influence the provincial conversation about First Nations health and orient the strategic direction of health care in B.C. as it relates to First Nations.
There was a recognition by both provincial and federal levels of government that they cannot address the gaps in health outcomes of First Nations peoples without First Nations being directly involved. There was agreement that the creation of a First Nations institution built by First Nations for First Nations is the way forward.
What has been the greatest achievement of the FNHA since its inception?
Some achievements in our first three years of operations have included improved service standards in areas such as emergency response and health benefits (formerly Non-Insured Health Benefits). The province-wide declaration on cultural safety and humility, and shifting the narrative paradigm from sickness to wellness in many conversations, through championing the First Nations Perspective on Health and Wellness, are some more examples.
Innovative partnerships that are having transformative impact include our growing relationship with the Coroners Services of British Columbia and increasing their cultural safety by respecting First Nations customs around death and dying. The FNHA is in a unique position in that we can partner with regional health authorities, the provincial and federal government, as well as tertiary health institutions and innovate for better health services for First Nations and Aboriginal peoples in B.C. Ultimately, the flexibility and opportunity for First Nations to design and deliver local health services that will meet their needs and create a more integrated health system on the ground is a big step in the right direction.
What are the priorities for the FNHA in the next five to 10 years?
FNHA's priorities start and end with enhancing First Nations decision-making for health and wellness at the individual, family, Nation and population health levels. An important part of this work is shifting the axis of control from providers back to families as well as reinvigorating our traditional practices, which kept us well for thousands of years.
As an organization we are focused on becoming the best health and wellness partner we can be for individuals, families and our provincial and federal partners. To achieve this, we must make progress on improving the quality of health-care services for First Nations, both those that we deliver and those that are accessed by First Nations through the provincial system. A key FNHA lever to increasing quality is to hardwire cultural safety and humility into health care for all British Columbians.
In July 2015, all B.C. health authority CEOs signed a Declaration of Commitment to advance cultural humility and cultural safety within their health service organizations. The declaration gave us all permission to act. Partnerships with professional associations and colleges are fundamental to hardwiring cultural safety skills into our greater health system.
Transformation of health programs and services and the seamless integration with provincial services is necessary and exciting work. We have strong regional and community networks, and enabling agreements will set the stage for this next phase of transformation and innovation.
What role do community pharmacists play in the lives of First Nations people?
Pharmacists and pharmacy technicians are one of the first points of contact for health care, making their role a key touch point for many clients. Pharmacists have an estimated 2,953 interactions with First Nations clients per day.
Are there any unique challenges with First Nations health care that pharmacists can help with?
Pharmacists can improve the provision of culturally safe health services to First Nations clients by learning about colonization, residential schools, systemic racism, discrimination, stereotypes, health inequities and the social determinants of health, and its impact on First Nations people.
San'yas Indigenous Cultural Safety (ICS) training is an eight-hour online course provided by the Provincial Health Services Authority (PHSA). Nearly 28,000 people in B.C. have completed the training, but only 158 pharmacists and pharmacy staff have opted in on the course.