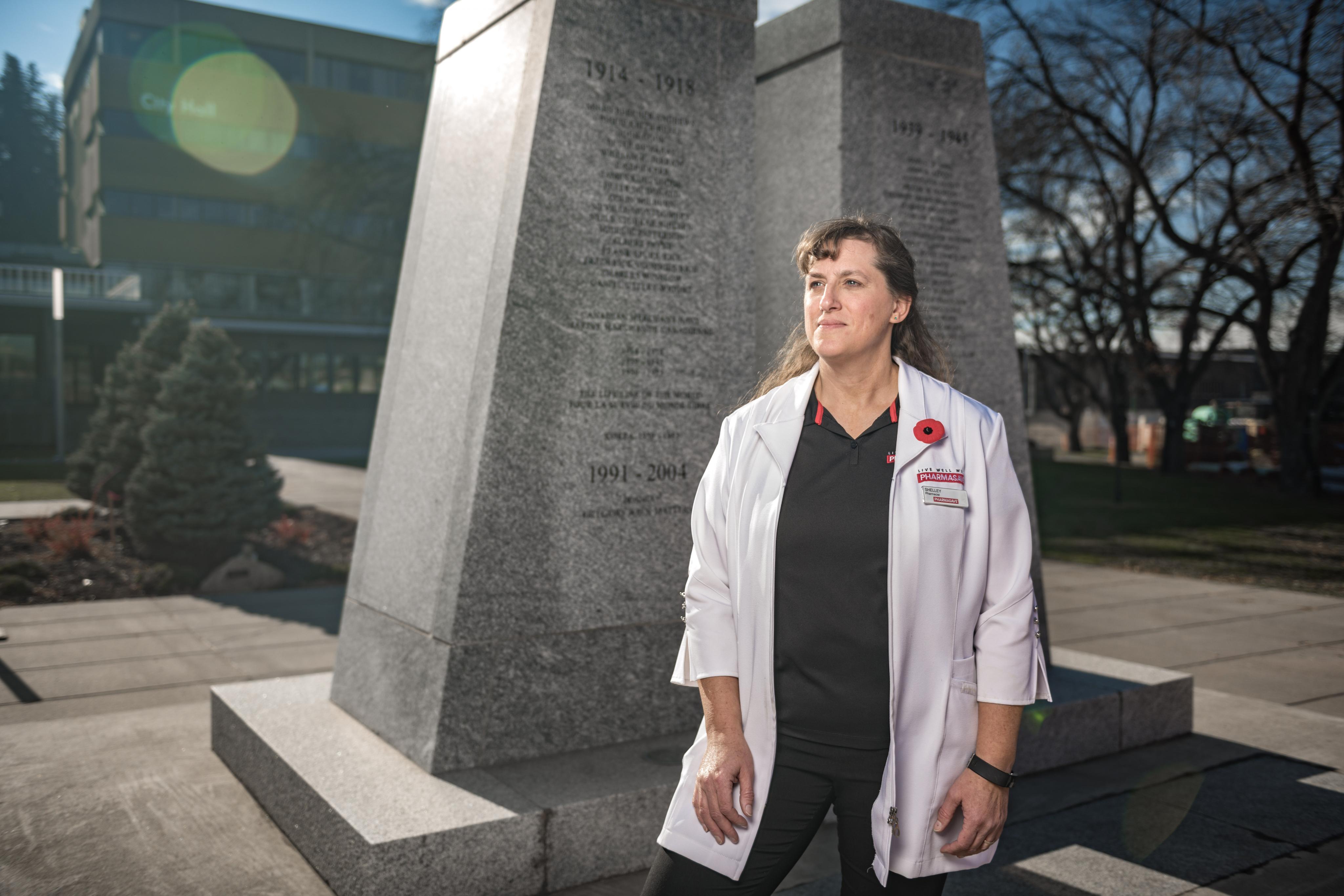 Pharmacist Shelley Hempstead in front of the cenotaph in Prince George. Hempstead was a pharmacist officer with the Canadian Armed Forced, has served on a six-month United Nations tour in Croatia, and now practices as a pharmacist in Prince George.
While 50-year-old Shelley Hempstead holds many titles in her life – pharmacist, wife, mother, volunteer – there is one in particular that sets her apart from the average Canadian: veteran. A member of the Canadian Armed Forces from 1986-1996, Hempstead served her country and her fellow CAF members as a military pharmacist, serving at several army bases in Eastern Canada, as well as on a six-month United Nations tour in Croatia during the Yugoslav Wars.
An aspiring biochemist as a teen, she changed her course after a summer job with the Canadian Army Reserve opened her eyes to a career in the military. After reviewing the military's available career options, she settled on pharmacy, altering her application to the University of British Columbia just days before the deadline.
After a busy several years of education, in which she learned how to become both a pharmacist and an officer, Hempstead left B.C. for her first posting in Quebec, followed by stints in Petawawa, Ontario and Ottawa, before ultimately leaving the military and returning to her home province. Now a part-time pharmacist in Prince George and mother to three active children, aged 11 to 16, Hempstead displays her army veteran license plates proudly: "When we come up to Remembrance Day, it means a whole lot more to me now."
You joined the Canadian Armed Forces as a student. What was this experience like?
I spent two years at Okanagan College studying biochemistry before transferring to UBC. I jumped into the second year of pharmacy, and it was a little bit of a rude awakening, but I discovered I really like dealing with people and being able to help them. The military doesn't train pharmacists directly, so I would attend pharmacy school during the school year and then spend summers training as an officer, doing basic officer training, second language training and medical assistant officer training.
What role does a pharmacist play within the military?
There are a number of different roles to serve within the military -- at a base hospital, where you provide in and outpatient pharmacy, as well as at health clinics. Pharmacy officers are responsible for the medical supply and equipment system, so I learned a lot about medical-related products you wouldn't normally learn about as a community pharmacist, such as x-ray technology. I also offered training to medics on how the medical supply system worked, and taught pharmacy math. Pharmacy officers can also work in a medical depot, where medical supplies and equipment are managed and distributed to bases within Canada, as well as units deployed into the field, which at my time included places like the Persian Gulf, Rwanda, Somalia and Croatia.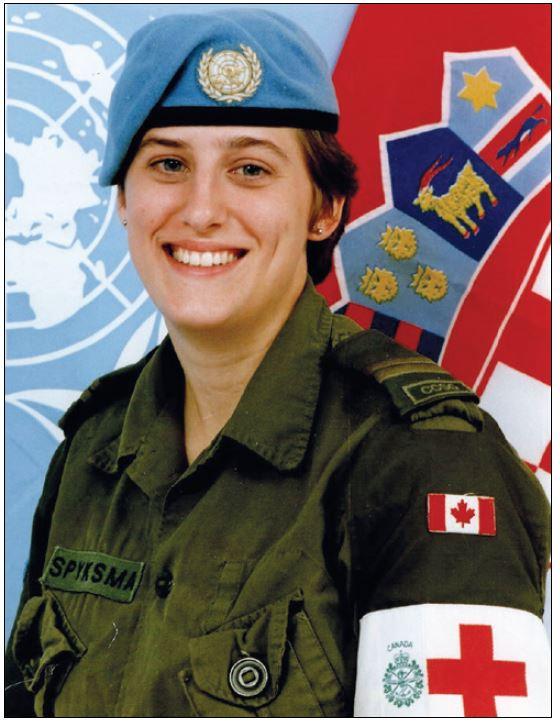 You spent six months serving in Croatia. What was your role?
I did a six-month tour to Croatia in 1993 with the United Nations Protection Force, which was a peacekeeping force during the Yugoslav Wars. It was a very interesting learning experience, seeing what goes on in UN operations. We were there to help demilitarize the area between Croatia and Serbia, and there were many different countries involved – about 30-50 at any given time. My team and I were there to provide pharmacy and medical supplies support. Sometimes we Canadians would help out some of the other countries that had troops there but few resources. While I was not working on the front lines, I did once have to go to Sarajevo to survey the medical supply needs in our Forward Surgical Hospital and was accompanied from the airport to the base by two armoured personnel carriers. We had to wear flak jackets, helmets, the whole nine yards.
What led you to leave the army?
When I joined up, for every month of education I received, it was agreed I would pay back with two months of service. So a total of 24 months of education equaled 48 months of service. When I got out it had been six years, so I felt I had served more than my time. When I met my future husband, who was not in the military, we wanted to decide where we would live rather than have the military decide for us.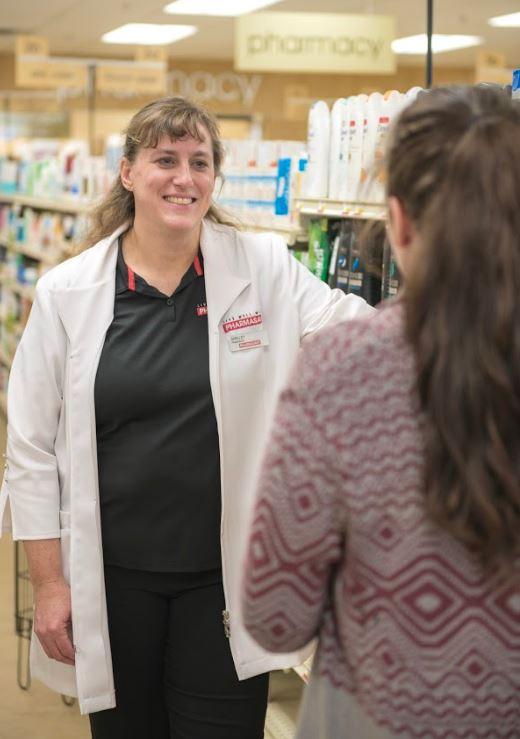 How is it different to practice as a community pharmacist?
There is a huge difference between the military and the civilian world as the patient population is completely different. In the military, everyone is fairly healthy, all adults, and predominantly male (although there were more and more females joining). I never had to charge anybody for anything, although there was still a definite formulary for dispensing drugs. When I began working in the community, processing prescriptions through all the different drug plans was a very big difference, as well as working with children, seniors, and people who are very ill. Although with this being said, I have found that moving from one community to another, or even from one pharmacy to the next in the same town can be quite different!
You have chosen to work as a part-time pharmacist since having your first child 16 years ago. Why is this an important decision for you?
These days, I generally work about one to two days a week, as well as filling in for others during their vacation time. I feel that in pharmacy there is way too much change to stay away for any significant time. You have to be in it to keep up. It feels good to be able to help people and get things sorted out for them, such as trying to get a drug paid for or giving people their vaccines. There is a preventive aspect of health care to pharmacy that I really enjoy.
What does it mean to be a veteran, more than 20 years later?
I don't think about it all of the time, but I do feel very proud of my role. I never went to any Remembrance Day parades or services growing up, but now I go every year. And if it's asked for veterans to stand, I will stand proudly. When I went to get my veterans' license plate, I had very young children, and I think it was surprising to a lot of people that a young woman with young children could be a veteran.