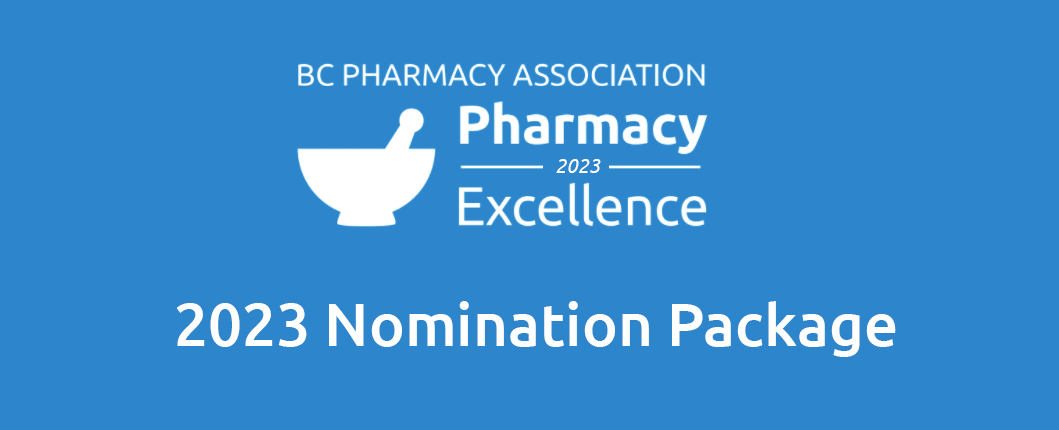 Nomination period has been extended to Sept. 30, 2023
Nominate a deserving pharmacist! 
Pharmacists are health-care professionals who play a critical role in promoting the health and wellbeing of their patients, often going above and beyond their duties to ensure that patients receive the best possible care.
By nominating a pharmacist for an award, you can help to recognize their hard work, dedication, and exceptional contributions to the profession.
This year, the BC Pharmacy Association plans to return to an in-person awards gala event! More details to come.
Frequently Asked Questions
The nomination period for the 2023 Pharmacy Excellence Awards is from March 10 to May 31, 2023.
Excellence in Patient Care Award: This award is presented to a pharmacist who has demonstrated ongoing excellence in patient care in their professional practice.
Ben Gant Innovative Practice Award: This award is presented to a pharmacist who has demonstrated significant innovation in their respective practice and/or the profession.
Murray Dykeman Mentorship Award: This award recognizes a pharmacist who has demonstrated outstanding mentorship to those early in their pharmacy career.
Pharmacy Leadership Award: This award recognizes a pharmacist who has demonstrated commitment to leading the profession and its people forward and has made significant contributions to the profession of pharmacy.
Collaborative Care Award: This award recognizes a pharmacist who has worked to create strong collaboration with other health-care providers. In doing so, they have promoted the value of pharmacists and have successfully advocated for the role of pharmacists in the primary health-care team.
New Practitioner Award: This award recognizes a pharmacist within their first five years of practice. The nominee has demonstrated impact and commitment to the pharmacy profession by advancing their practice.
Bowl of Hygeia Award: A pharmacist with an outstanding record of public and community service.
Friend of Pharmacy Award: A non-pharmacist who has worked with and promoted the value and role of pharmacists within the health-care team.
Winners for each category, other than Friend of Pharmacy, must be an active member of the BC Pharmacy Association.
Yes. You can nominate as many individuals as you would like. You must submit a nomination package for each individual nominee.
Judges are looking for evidence that shows how a nominee has gone above and beyond their role as a pharmacist - from involvement in the community to excellence in patient care to advocating for the profession or mentoring young pharmacists. The winning nomination packages have multiple supporting letters, often from patients and other health-care team members (including pharmacy colleagues) community organizations, leaders, educators or researchers. For the Friend of Pharmacy Award, judges look for examples from more than one nominator, and typically these are from pharmacists. This could mean multiple pharmacists, pharmacy technicians or assistants, nurses, patients or other organizations.
The awards will be presented during the BCPhA's Award Gala Event to take place in fall 2023.
If you have questions regarding the awards or nomination process, please email awards@bcpharmacy.ca or contact Devyani Basoodetsing at (604) 269-2884.