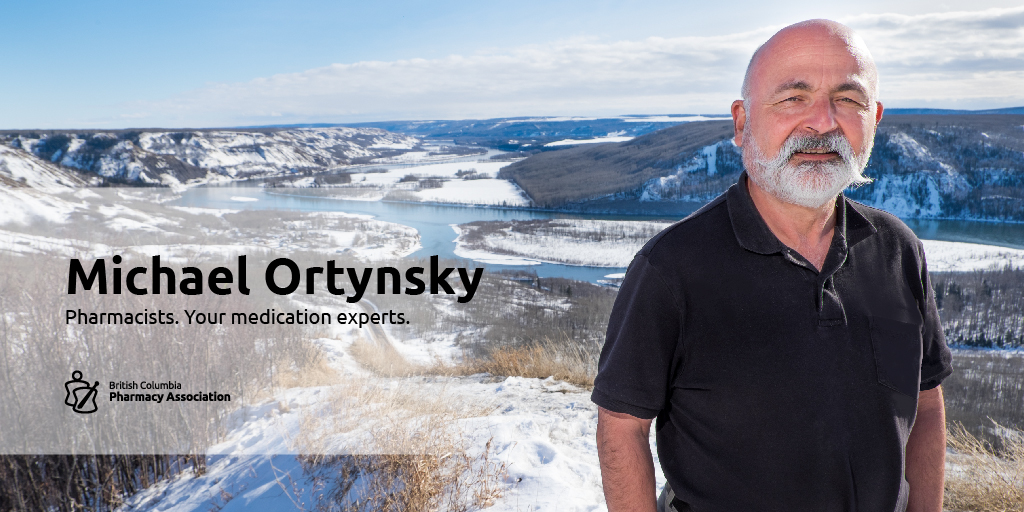 Michael Ortynsky remembers the day when he made the decision to follow in the footsteps of his father and headed north to begin his career in pharmacy. Based in the "energetic city" of Fort St. John, Michael learned to love rural life. So much so that over the past 35 years, he opened pharmacies throughout rural parts of the province – Keremeos, Tumbler Ridge and West Kelowna. Today, Fort St. John is a natural resource base comprised of oil, mining, forestry and agriculture with a population of 20,000. "We may be small, but we have one of the most integrated health-care communities out here," he says.
Why I became a pharmacist
The son of a pharmacist, Michael followed in his father's footsteps. Both studied at UBC and both moved up north to pursue pharmacy. Michael started as a manager at Boots Drugstores in McKenzie, B.C. in 1981 before moving to Fort St. John eight years later to help with another pharmacy. In 2000, he decided to purchase a closed community pharmacy, in the back of a hardware store in the small town of Tumbler Ridge. There were two physicians but no pharmacy and he thought, "Why should people have to travel two hours in bad weather to get health care?" It grew from its original 400-square- foot size to 1,400 square feet and was renamed Fort St. John Pharmacy and Wellness Centre and is still going strong today.
Rural health brings people closer together
"When people see you trying to help others, they are going to notice," Michael says. And notice they did. Michael wanted to make sure that young pharmacist talent would be nurtured and rewarded, and in a small community like Fort St. John, it was important to keep that talent close to home. He developed a business model to not only train young pharmacists, but to offer them shares in the pharmacy, encouraging them to stay and be rewarded as they moved up the line. Nurses later joined and set up a home foot care practice as well as a travel medicine clinic.
"We weren't even hiring at the time. But we saw what our community needed and like-minded folks wanted to join so that they could offer more healthcare services," he says. "It made sense."
What is a typical day for a pharmacist?
"Much like every other pharmacy out there, be they in rural or urban centres, it is the same on the inside. But on the outside, it's what you make of it," he says.
Pharmacists are seen as a valuable health-care resource, but in a rural setting they are involved more frequently and actively. For example, the opioid crisis knows no boundaries.
"We've been invited to participate in community committee meetings to talk about the opioid crisis and to advance potential solutions that include physicians, ambulatory staff, law enforcement, you name it. You don't get that level of participation in larger cities," Michael says.
Rural health builds 360 degree skill set
"When you are based in a rural setting, you really build a skill set that helps you to be self sufficient, even more so than you would be comfortable in doing," Michael says. "It's like swimming with the sharks. You don't know much about it until you do it but that's the beauty. You're more inclined to try stuff when you are in a rural setting."
Think Rural Health. Think Pharmacists.