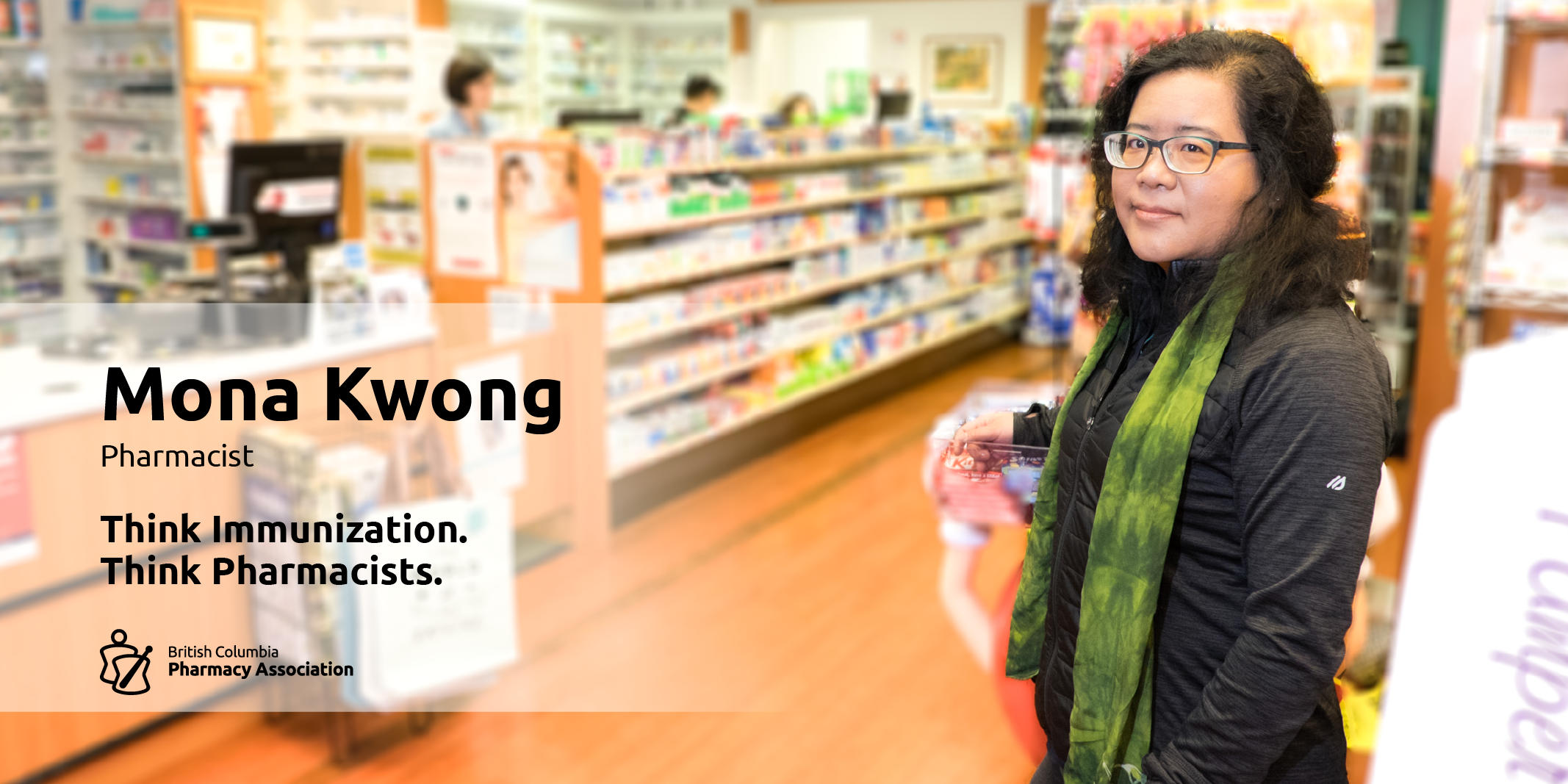 "…where everyone knows your name," chimes the song from the television show Cheers. That is exactly what the cozy Pharmasave on Howe Street seems to be saying when you first enter the door. Mona Kwong breaks into a smile every time the door opens, from recognizing a familiar face to greeting a newly arrived tourist. "Our store is like a community hub. People want to come back, even several times a day because it's so comfortable, like your neighbourhood bar," Mona says, laughing.
Why I became a pharmacist
Mona reminisces the time when she was in her second year in university and was placed, by mistake, into a fourth-year university training location affiliated with her current store. "In the first 10 minutes, the instructor asked the University of British Columbia to return me. I didn't even know how to counsel. I was so scared," she says.
Perhaps it was fate, but Mona remained at the pharmacy making it one of the best decisions she ever made. Mona later had the opportunity to invest in the Pharmasave Howe Street location, which she now owns and has run for the past 15 years. "I got placed in error and ended up with a store."
Immunizations provided by community pharmacists
Mona recalled the time when the H1N1 flu epidemic broke out in 2009, and a call for trainers to teach pharmacists how to give injections was a turning point in stopping the virus from spreading. Mona had previous training on how to use a needle and applied that learning to one of the longest running injection certification programs still offered by the BC Pharmacy Association. "At the beginning, it was a critical time to learn something new. It's been 10 years, and now it's a day-to-day expectation for today's pharmacists to know how to properly inject."
Learning how to properly inject a person adds to patient care, not just protection for the flu.
"I remember advocating for a methadone patient who missed numerous specialist appointments, and he was in tears because it was unusual for him to miss appointments. I called the specialist and asked his office, that if he came in right now, would he be able to see the specialist." It was only after speaking to the specialist, Mona found out he had a tumor that affected his cognitive ability. The physician didn't know this and thanked them for advocating for someone that he had assumed was missing appointments because of his addiction.
"We continue to advocate and educate others to not be afraid around stigmas such as HIV, mental health, addictions and opioids," she says.
Providing immunizations across a spectrum of health categories helps provide patients a wider safety net in building up their immune health.
Why my community stands out
In a four-block radius near her pharmacy, Mona treats her patients by walking to several community housing complexes, such as the McLaren Housing Society dedicated to providing housing and support services for families and individuals living with HIV/AIDS.
"A lot of our patients see us as a small town pharmacy in a big city hub," she says. "Just get to know us. We can help."
Think Immunization. Think Community. Think Pharmacists.