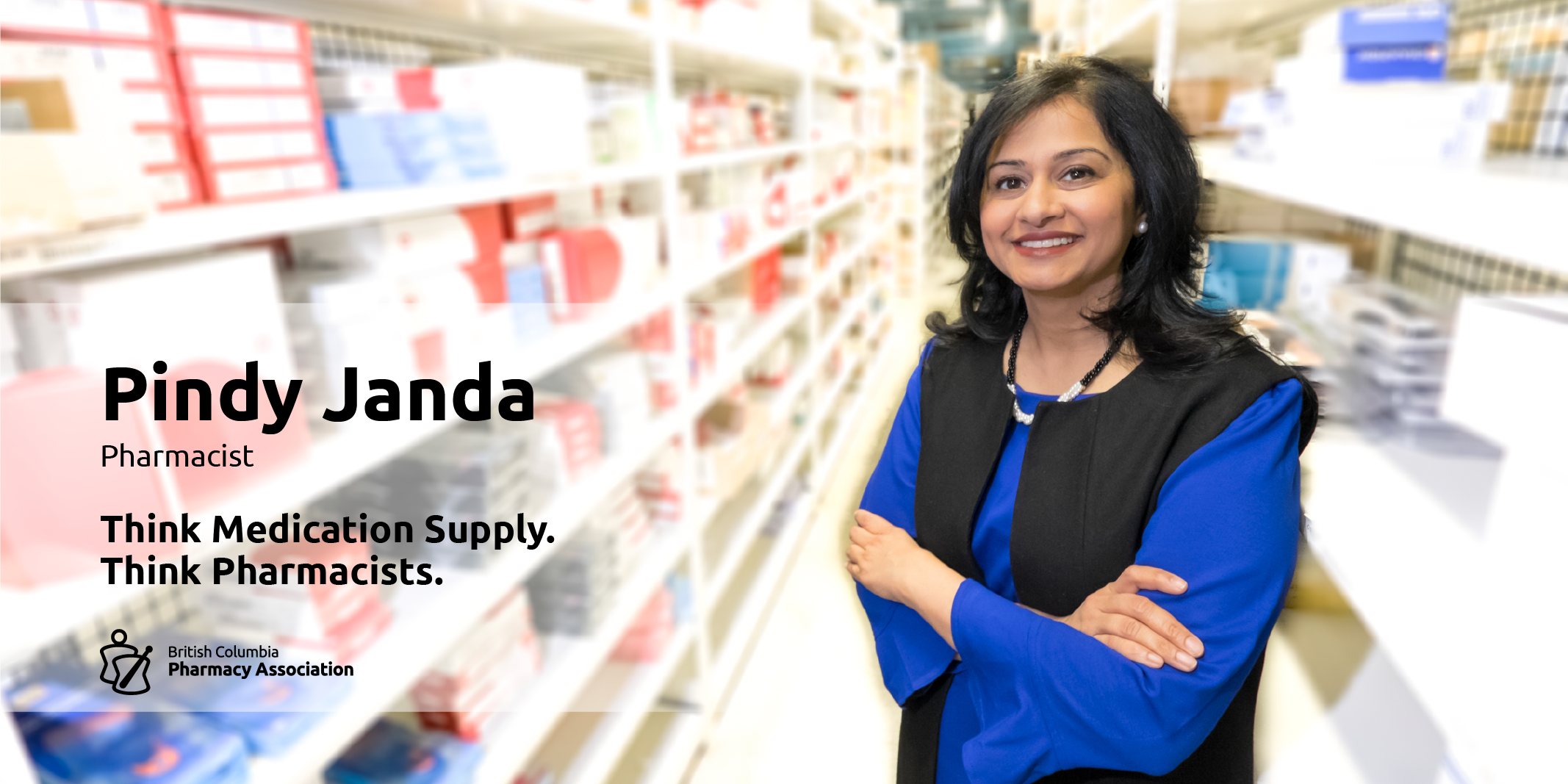 Pindy Janda looks upon rows and rows of thousands of medications, health products and medical supplies in a vast warehouse in Richmond. Working in retail business development for Imperial Distributors Canada Inc., Pindy liaises directly with owner/operator pharmacists to support their practice, and in turn, support their patients. "Our main goal is to ensure distribution channels to pharmacies are uninterrupted, to provide medicine and healthcare products to patients throughout our communities," says Pindy, with an infectious energy in her voice.
Why I became a pharmacist
Pindy entered a life in pharmacy almost by accident. While sitting with friends at the University of British Columbia undergraduate library, she realized that she might not be accepted into medical school. Knowing that she wanted to be in the health-care sector, she applied to UBC's Faculty of Pharmaceutical Sciences and was accepted. That acceptance became the start of a rewarding career. Working as a pharmacy assistant for B.C.-based London Drugs during her last two years of schooling, Pindy was confident that pharmacy was the right fit and couldn't be happier.
Graduating in 1997, Pindy continued working as a pharmacist for more than 18 years before switching careers to pharmaceutical sales, then consulting and finally to distribution. "I understand both sides of the coin. I come from the pharmacy side so I know who my patients are, what they need and how important it is to speak to them from a pharmacist perspective," she says.
Living in the sandwich generation
Like most of her patients, Pindy knows what it is like to be living in the 'sandwich generation'. Patients in their 40's and 50's with children at home and caring for aging parents are the new norm and are often juggling the health-care needs of others and themselves. She, too, can relate to their day-to-day lives, with children of her own and parents who need help. As a South Asian, she also understands different cultural needs of many British Columbians.
"I've worked in various communities throughout B.C. and see a multi-ethnic spectrum - different cultures, second languages, newly arrived immigrants, indigenous people," Pindy says. "To me, everyone is treated the same. I am a people person. I love helping people."
Access to medicine
Pindy pores through her list of orders, ensuring the latest industry and formulary updates have been applied. One by one, Pindy works with Imperial's pharmaceutical buyers to ensure that pharmacies throughout British Columbia have adequate supply of much-needed medicine for their patients. "I know that our patients are our most valued customers. My goal is to ensure we meet their needs and to take care of their health. That's what keeps me going everyday."
Think Medication Supply. Think Pharmacists.