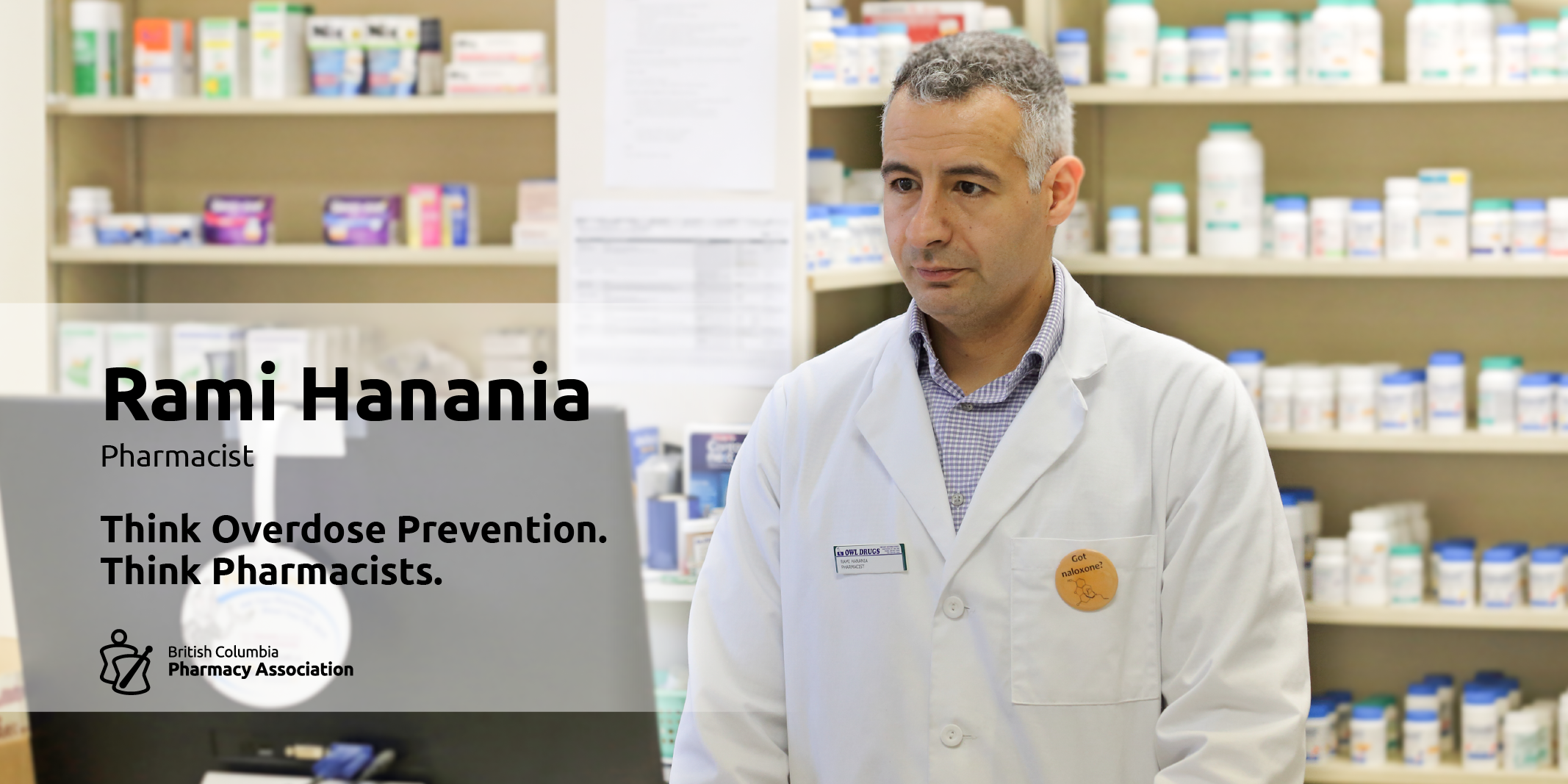 Rami Hanania's eyes light up, his voice soft but urgent, encouraging his customers to feel welcome at the Owl Pharmacy on the corner of Main and East Hastings in Vancouver's Downtown Eastside.
"On a typical day, I see patients on a daily basis and I know what they are going through, many of them undergoing addiction and withdrawal symptoms," he says. "I see they are isolated, many of them homeless. They just want to talk, to be understood, to get help."
Rami makes sure patients who are still using street drugs are given a kit with clean needles, gloves, wipes and disposal bin for used needles to help prevent the spread of transmissible diseases. He provides free take home naloxone kits and makes sure patients are trained to use them.
Why I became a pharmacist
Born on the West Bank of Jerusalem, Rami grew up already knowing what a border was. But it was during his early years, he experienced enormous respect in the pharmacy field. His father, a pharmacist, would take Rami to a factory that made medications for the pharmacy. He would spend his days watching how medications were developed, mixing formulas, and interacting with the staff. His father treated everyone with respect. Today, Rami feels the same way. "You need to build trust with your community. Trust then builds the relationship. Respect your patients, and they will respect you."
Addiction is not your fault
Rami's career as a pharmacist has been a long journey. Rami was 17 years old when his father died of cancer. Being independent was encouraged, so Rami left Jerusalem to study overseas, finally graduating from Drake University in Des Moines, Iowa in 2000. One of his first jobs was working at a hospital pharmacy in an ER setting. "It was one of the most rewarding experiences, but it also gave me a firsthand view of seeing people at their worst," he says. Working on all floors, Rami saw patients in cardiac arrest, overdoses, traumas, and even death. He was also face-to-face with addiction. On a personal level, Rami went into the deepest, darkest corner of his life, suffering from his own addiction and watching his own brother go through the same.
"Addiction is not your fault. People don't understand what is happening to them as it takes over your mind, so they try to hide it. You are a victim," he says, while giving a knowing nod to patients who enter the pharmacy, empathetic to their needs. "The only way to build the pharmacist-patient relationship is to make friends, be vulnerable, learn about the addiction and at the same time, learn about yourself. We can make a difference on the streets."
Each community is unique
Whether working in the Downtown Eastside pharmacy or in affluent Coal Harbour, Rami answers questions ranging from getting the flu shots to adjusting methadone dosages for patients.
"Before, patients only wanted their next hit. Today, they are more aware of counseling and services. Pharmacists can see them every day, offer a table, a cup of coffee, a place to talk and monitor their symptoms. We can show we make a difference by engaging with our patients," he says.
Rami recognizes a customer entering the pharmacy, excuses himself and welcomes the patient, wrapping an arm around their shoulder, as if meeting an old friend.
Think Overdose Prevention. Think Pharmacists.