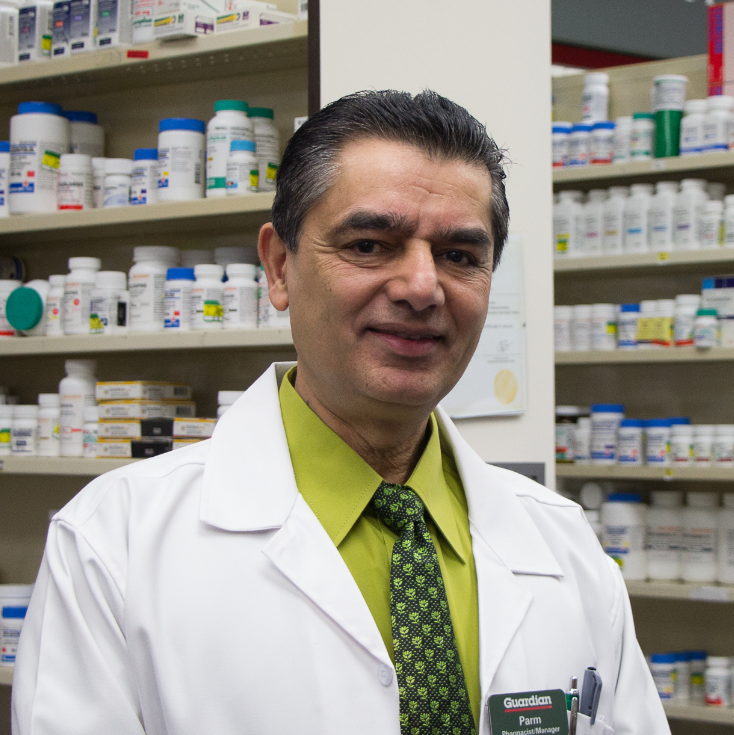 Parm Johal has shaped his life around the wise words of his father, spoken when Parm was just a young boy and new immigrant to Canada.
"Things were challenging as newcomers," says Johal, who emigrated with his family from India to small-town Squamish. "I remember him sitting down and saying, 'This is your new country. Make sure you respect it, become a good citizen and give back to your new community.'"
Taking those words to heart many years ago, Johal has dedicated his life to serving his family, his community and his patients.
"I always wanted to be in a field where I can connect with other people and make a difference in the lives of others," Johal says. "Pharmacy is an integral part of the community. We are often the first and perhaps the most trusted point of contact for people facing adversity and health challenges."
While Johal spent the majority of his childhood in Richmond, the draw of small town life for the budding pharmacy professional pulled him and his family back to Squamish in the 1980s where he opened his first independent pharmacy and immersed himself into community life.
"Community service has been the hallmark of Parm's storied pharmacy career," says Derek Dyck, Johal's long-term friend and business associate.
In addition to becoming an integral member of the primary care team for Squamish residents, Johal committed himself to community service, volunteering for a wide variety of initiatives from Big Brothers Big Sisters of Squamish and the Squamish Recreation Commission to the Squamish Credit Union and the Chamber of Commerce. A passionate tennis aficionado, he also spearheaded the sleepy mountain town's very first tennis club.
While the active pharmacist and business owner was genuinely interested in the many associations he took part in, a more important motivator for him was all about making meaningful connections.
"Pharmacy is an integral part of the community. We are often the first and perhaps the most trusted point of contact for people facing adversity and health challenges."
"Volunteering is the ultimate exercise in democracy," says Johal. "When you volunteer, you vote everyday about the type of community you want to live in."
After putting his whole heart into the Squamish community, a new and exciting business opportunity brought him and his family, including three growing boys, to Port Coquitlam in 2001, where he took over as owner of independent shop Wilson Pharmacy.
Responding to the unique needs of the Tri-Cities community, Johal soon became one of the area's biggest supporters of both mental health and senior care services, partnering with such organizations as New View Society, Coast Mental Health, and R.J. Kent (a residential community for seniors), to mention a few. In addition to providing personalized pharmaceutical services in store, Johal has been known to visit nearby senior patients within minutes of distress, make hospital visits, meet with family members of those fallen ill, open the pharmacy after hours and even make home deliveries of not just medications but also food and other necessities, if needed.
"I am constantly showered with compliments, from the senior residents, on the service provided by Wilson Pharmacy and how their lives are made so much easier by having a pharmacy that responds to their needs and concerns in a timely manner and with care and compassion," says Marg Gordon, R.J. Kent's general manager.
Nearby physician Dr. Stephen Barron echoes Gordon's sentiments when it comes to his elderly patients, noting that since taking over Wilson Pharmacy, Johal has worked tirelessly to address the needs of his neighbourhood's large population of seniors, introducing medication compounding, blister packaging, patient counselling, medication reviews and home delivery.
Johal has a strong sense of duty and commitment to the community, notes Dr. Barron. "Parm is particularly respectful to my housebound frail, elderly patients and frequently personally delivers medication to them on short notice or after hours."
As a father to now four sons, Johal is humbled by the fact that he has had the opportunity to not only live by his own father's words, but instill these life values into his own children, two of which have followed in his professional footsteps. His eldest son and BCPhA's 2016 New Practitioner Award winner, Ajit Johal, has enhanced and expanded clinical services as an integral business partner at Wilson Pharmacy. His third son, Aman, has just completed his second year of pharmacy at UBC.
"There are people that leave footprints on our lives, and hopefully I've left a really positive footprint on their lives," Johal notes.
With his best years in the business still ahead of him, Johal looks towards the future with hope and passion.
"As we continue to challenge new frontiers in remunerations and expand our scope of practice and continue to enhance the collaborative model in working with other members of the health-care team, we as pharmacists will continue to play a prominent role in not just providing pharmaceutical and health-care services, but also in controlling the costs of health-care."