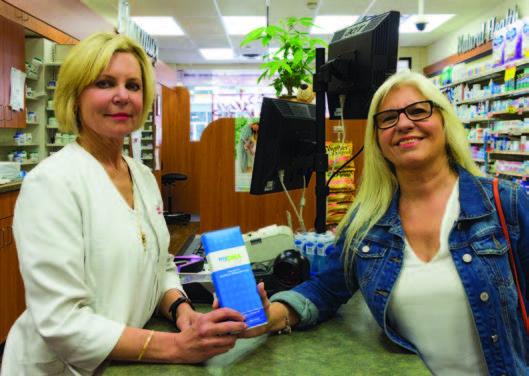 After a partial knee replacement surgery eight years ago, Eveline de la Giroday had tried all sorts of anti-inflammatory medication hoping for pain relief.
The once active Vancouver resident — an enthusiast for baseball, downhill skiing, hang gliding and heli skiing before her surgery — had tried diclofenac, Tylenol 3, ibuprofen, naproxen and more.
"They were so harsh on my stomach," she says. It was trial and error as she searched for medications that would relieve her pain, and she wasn't sure if many actually worked for her. "I've tried the gamut. I'm not willing to put that many drugs in my system."
So when de la Giroday heard from her community pharmacist about a DNA test that could let her know which drugs would work for her and in what dosage, she jumped at the chance. On June 5, de la Giroday became the first Canadian patient to purchase a myDNA test from her community pharmacist.
"I'm hoping I'll find out a little more on what works for me," says de la Giroday, who stopped all medication to get a baseline of what pain medications she needs.
Earlier this year, the BC Pharmacy Association and myDNA launched RxOme Pharmacogenomics Canada, a joint venture between the two companies to make a commercial pharmacogenomic (PGx) program available to Canadian pharmacies.
The myDNA program enables pharmacists to offer patients a self-administered PGx test that will provide more insight into their genetic makeup and how it impacts drug metabolism. Test interpretations done by myDNA are returned to the pharmacists in the form of a personalized patient report, which the pharmacist will review with the patient. If any drug-related problems are identified the pharmacist will work with the patient and physician to find a solution. In June, 15
community pharmacies across B.C. were already selling the test and more pharmacies continue to come on board.
"When I saw it come through, I said I need to get on board with this," says pharmacist Nelli Jakac, who owns the Cambie Pharmasave and was the first pharmacy to launch the service in June. She approached patients like de la Giroday who had complex medication issues and might benefit from the service.
When Jakac tells patients about the service — $199 for a single myDNA medication report test kit and $269 for a multi-medication report test kit — many have to be educated on how this service is different than other DNA tests that might predict for cancers or tell them their ancestry.
Once they understand this can help them with their medications, she says it's a no-brainer.
"They're excited," Jakac says. "They say, 'Why am I putting something in my body if I'm not getting any therapeutic effect and I'm only getting the bad side effects?' "
Pharmacists who sign up for the program go through standardized training to deliver all aspects of the program and many are focused on helping patients who are on multiple medications that can be impacted by genetics. These include drugs for mental health, cardiovascular health, pain and reflux. All of which come with potential side effects.
Pharmacists, says Jakac, are the natural leaders in offering this service, which is the way of the future. As the medication experts, pharmacists know how to manage recommendations arising out of the myDNA reports, something that patients or prescribers haven't been trained to do.
"We have to get with the times," Jakac says. "I can see that with the way technology evolves, in five years the patient will be made to do these tests first. Then they'll go to the doctor with these results before they're prescribed anything."
She encourages her pharmacist peers to take up the service.
"Pharmacists have to start doing things," she says. "Pharmacy isn't the way it used to be. You've got to be a little innovative and think outside of the box."
Written by Angie Gaddy