Srinivasa Rao Sadasivuni is a pharmacist serving the community of Sechelt on the Sunshine Coast. Rao immigrated to Toronto in 2007. After spending a year completing his qualification exams to practice as a pharmacist, he moved to the Sunshine Coast in 2008 to seek a quieter lifestyle. He is currently working in the Sechelt Pharmasave, where he uses his academic background to teach the community about the importance of medication and its adherence.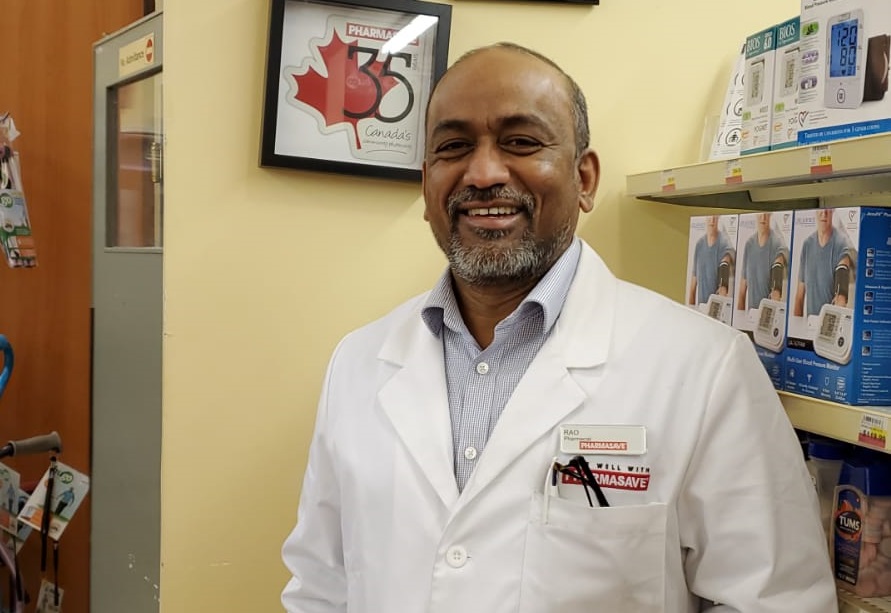 Srinivasa Rao Sadasivuni works at Sechelt Pharmasave, where he uses his academic background to teach the community about the importance of medication and its adherence.
1) What are some of the characteristics of the Sechelt patient population?
Rao: Most of our population is a mix of seniors and First Nations. The teaching experience I had as an associate professor of pharmacy in India and Africa before I moved to Canada, and the clinical experience I gained as a part-time hospital pharmacist in the local Sechelt Hospital helped me in striking an amicable connection with the seniors and the First Nations community, many of whom are often older than 85 and some with socio-economic challenges and require a unique approach to explaining their medications to them.
I try to step in by liaising between the patients and their doctors, as the doctors are mostly busy and may not see their patients as often as I would. On a personal front, I often follow up with my patients or their family members to ensure compliance of their medications.
For the First Nations population, I often work with their community nurse to ensure they receive their medications appropriately and in a timely manner.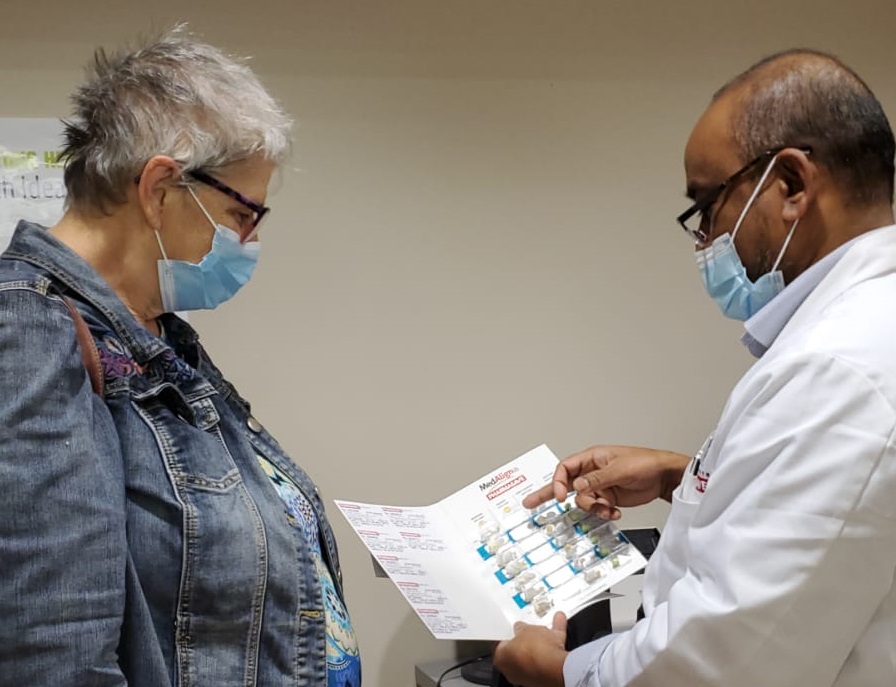 Rao (right) explains to a patient how to use a compliance pack of medications.
2) Could you describe something unique that your pharmacy offers your community?
Rao: When Medical Assistance in Dying (MAiD) program had first become available in 2016, most MAiD cases on the Sunshine Coast had been carried out in the Sechelt Hospital setting. As time progressed, requests from patients to have this service available in the community grew as they wanted to spend their last moments in their homes surrounded by their loved ones.
Therefore, Vancouver Coastal Health began looking for a community pharmacy willing to dispense the required medications, as the hospital pharmacy did not have the ability to dispense for the community.
It was a very challenging and sensitive decision to participate in this program due to personal beliefs and ethical implications of the program. However, due to our strong commitment to help and serve the community, our pharmacy was able to arrange for regular dispensing of required medications for the MAiD procedure to be carried out in the community. As far as I know, ours is the only pharmacy on the Coast offering the MAiD kits since February 2017.
It gives me immense professional and personal satisfaction when family members of our clients, who have chosen MAiD, visit our pharmacy and express their gratitude for the services we provided. Knowing we have played a part in allowing a person to pass peacefully without further suffering is at the heart of the reason for my undertaking this task.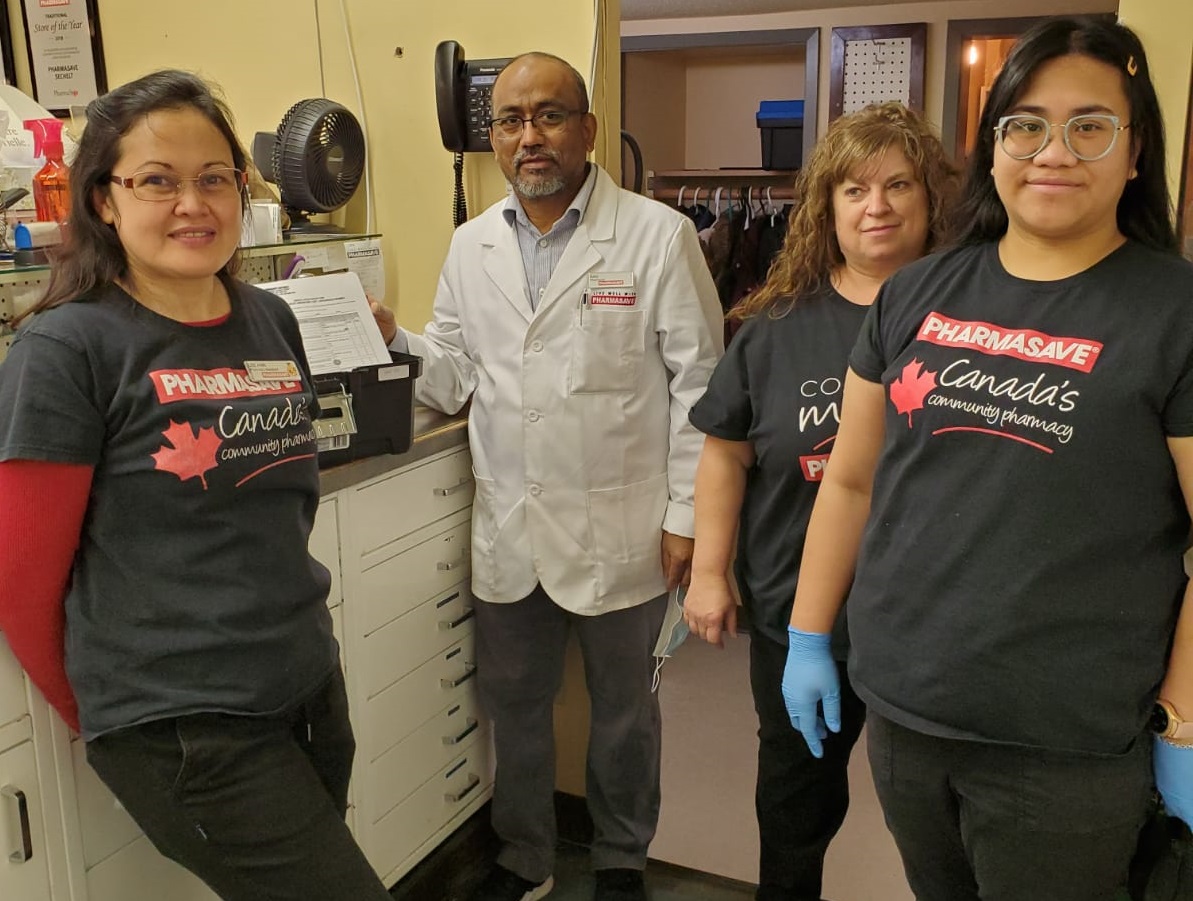 Rao (centre left) poses with members of his pharmacy team at Sechelt Pharmasave.
3) How has your pharmacy adapted to COVID-19?
Rao: One of the things that came with the pandemic is the added responsibility on the pharmacists to be proactive in addressing the needs and concerns of the community that is under a lot of stress and anxiety. Pharmacists now must spend more time with the customers answering all kinds of questions. Many of them have questions about COVID-19 and its vaccine availability and their safety.
Our pharmacists have also been offering all publicly funded vaccinations despite the COVID-19 pandemic restrictions.
We have embraced the opportunity provided by the College of Pharmacists of BC to provide enough medication supplies to our patients through clinical services to ensure adequate supply of medications during this pandemic.
4) What are you most thankful to your patients for?
Rao: I am thankful to my patients for the trust they repose in our services and being loyal to our pharmacy. Their loyalty and trust in our services is the lifeline of our pharmacy.