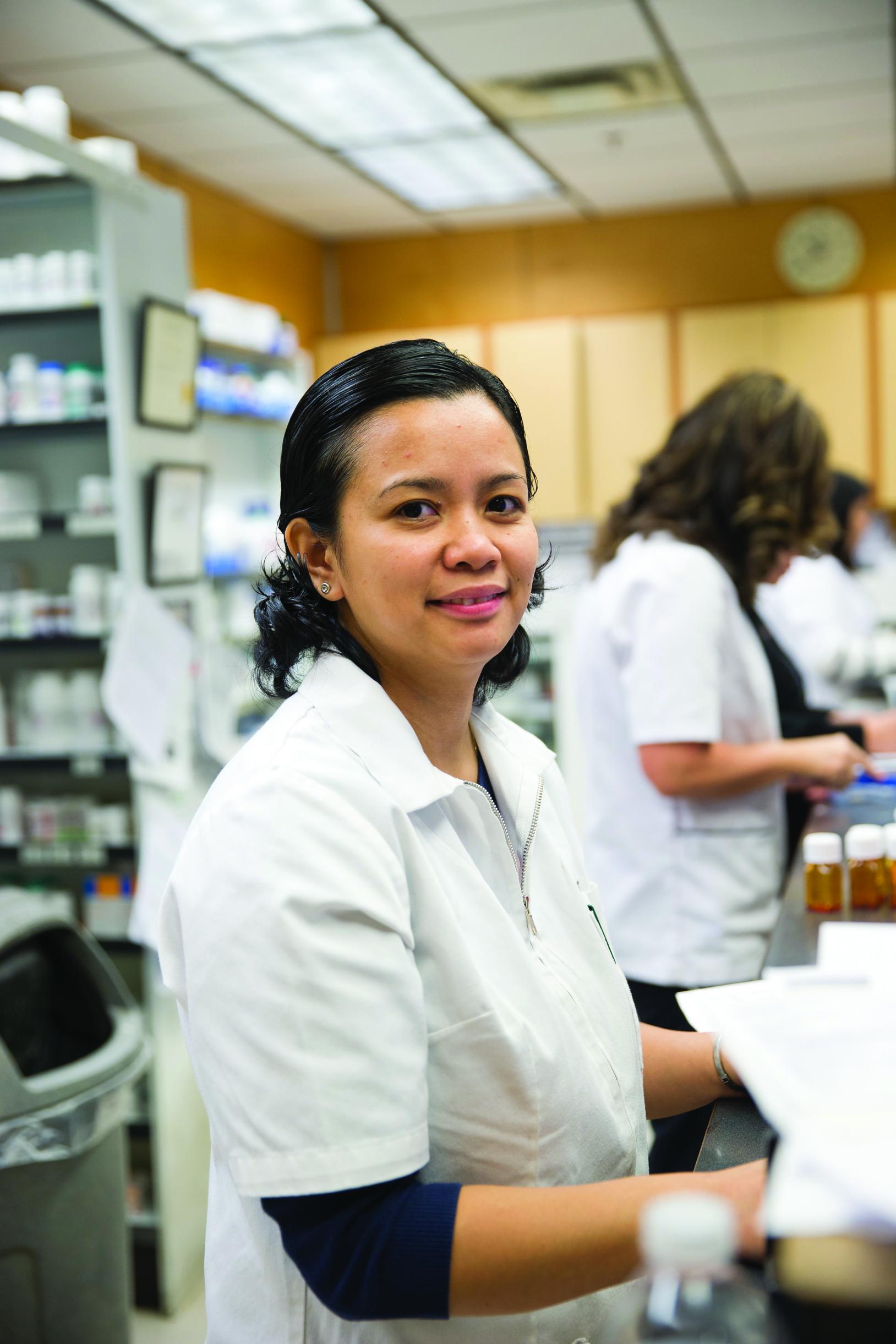 Emigrating from the densely populated Quezon City in the Philippines, Maricor Del Rosario chose an unlikely place to build her pharmacy career 13 years ago – the small town of Williams Lake, B.C. But while the Save-On-Foods pharmacy manager traded the urban jungle for the great outdoors, Del Rosario has enjoyed a thriving career faced with opportunity and challenge.
Overseeing a team of five, she serves as a key pharmacy liaison for several of the community's vital health-care programs and volunteers as a member of the BC Pharmacy Association's pharmacogenomics research project.
Del Rosario's true mettle as a community leader was revealed this past summer, when a series of devastating wildfires ripped through the region in July 2017, causing an overwhelming demand for urgent medical supplies. One of the last pharmacists to leave the area and the first to return following an emergency evacuation order, Del Rosario ensured residents had access to vital medications.
What was it like to provide pharmacy care amidst the B.C. wildfire crisis?
If you were to ask what has been the most memorable time of my career, it was definitely this past summer. It was really tough for us because there was a long stretch where we were wondering what was going to happen to us. We were already caring for the patients of a nearby town that had been evacuated and many people were ordering medications, in preparation to leave. We were filling two to three days' worth of prescriptions in less than a day. We stayed until the last possible day before we were ordered to evacuate, and I returned several days early after the evacuative notice had been lifted to prepare for returning patients. Looking back on that time, we had the option to leave earlier. But we stayed until we could service everyone in town who was in need. My team is amazing; working above and beyond to finish everyone's prescriptions, even after all of the other pharmacies had closed. It was also great to be part of the team at Save-On-Foods that rallied together to provide disaster relief support through the Canadian Red Cross.
What first led you into pharmacy?
I actually wanted to become a doctor and I figured pharmacy was a good pre-med course to study, at the University of the Philippines. When life circumstances changed my career plans, I pursued pharmacy with passion, which ultimately led me to Canada. Right after I graduated in 2004, I packed up and moved to Vancouver with several of my student pharmacy colleagues. We did the IPG program through the University of Toronto, and after several student positions with the Save-On-Foods pharmacies within Prince George, I took a position with the company in Williams Lake and have been there ever since.
What do you enjoy most about practicing in a small town?
I really love working in a small town because you have the opportunity to get to know everybody on a personal level. You become friends with them and build relationships that allows for deeper insight into their health and overall life – it's not just a customer or patient relationship.
Aside from your recent crisis management role, what have been some of your greatest accomplishments?
One of my greatest accomplishments is my partnership with our local dialysis clinic. I see the patients every three months for a full medication reconciliation, and get to know them and all of their habits. Having the opportunity to review their medications directly means we're able to work together to build a better understanding of how their medication, as well as diet, affects their overall health.
We're also excited about our newest partnership with Interior Health and Axis Family Resources' voluntary withdrawal management program, serving as the pharmacy on call for outpatients requiring follow-up medications, such as methadone. These services are life changing and it's a privilege to be involved. To be able to ask a patient how they are feeling and coping, that kind of connection has an impact on how they view their overall health care.
What developments do you hope to see within the pharmacy industry in the future?
What I would like to see in the future is a more clinical approach to pharmaceutical care, where we as pharmacists have more direct access to patients' lab work so that recommendations can be given to their doctors and we can more fully participate as members of a collaborative health-care team.