British Columbia's community pharmacists were first given authority to administer vaccinations by injection in 2009 during the H1N1 pandemic. Pharmacists were integral to the province's response to that pandemic. Since then pharmacists have played a key role in provincial immunization campaigns, notably the annual flu vaccination program.
This year, B.C. pharmacists administered more than one million flu vaccines, and our pharmacists are widely recognized as having played an essential role in ensuring British Columbians were protected against the flu.
B.C.'s COVID-19 vaccine program is currently underway and community pharmacists have already been providing vaccines in the province's long term care facilities and in clinics that have been held to immunize health-care workers.
No additional credentials have been needed for pharmacists to provide the COVID vaccines, although completion of British Columbia Centre for Disease Control COVID-19 vaccine education modules has generally been recommended. Any immunizers in the province will need to be certified by the applicable health-care regulatory body and have met injection training requirements. Currently, more than 4,700 B.C. pharmacists are authorized to provide vaccines by injection.
Community pharmacists will be involved in the broader public immunization campaign. The details of the province-wide mass clinics is expected to be released by the government in the coming days. The BC Pharmacy Association has been in on-going discussions with provincial Public Health and the Ministry of Health about the role pharmacists can and should play in the vaccine roll-out program.
B.C.'s pharmacists support the government's plans for large-scale immunization clinics. However, they also believe community pharmacies should be utilized to extend the number of immunizations that can be delivered in the shortest amount of time possible.
The BCPhA and all pharmacists and pharmacies in the province are anxious to do their part in responding the COVID-19 pandemic.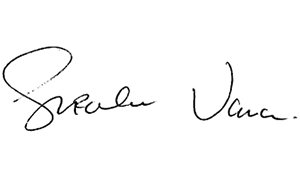 Geraldine Vance
CEO
BC Pharmacy Association