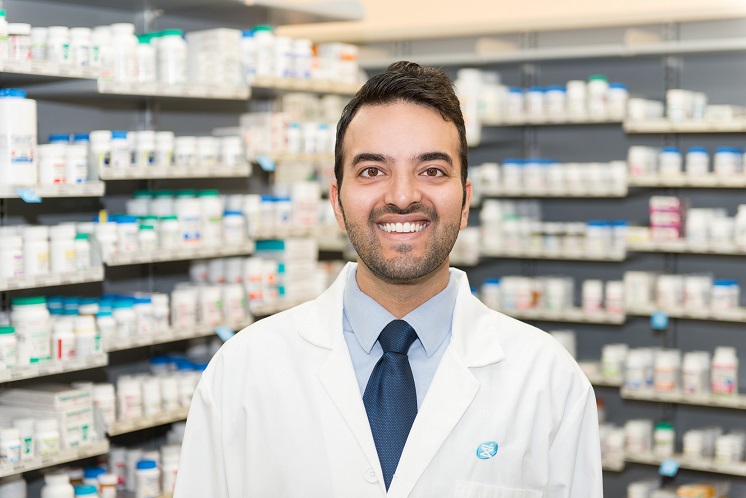 Anoop Khurana, associate owner and pharmacy manager at the Shoppers Drug Mart located at Hastings and Slocan in East Vancouver, last year began offering a rare clinical service to further enhance care for his many diabetes patients. The service provides monofilament testing for neuropathy in the feet, a potentially very serious side effect of diabetes that, over time, leads to loss of sensation, and, in worst case scenarios, foot amputation.
More than 30 BC residents have been recommended to see a physician for the treatment or assessment of a potentially cancerous mole, thanks to an innovative new clinic held at 10 London Drugs pharmacy locations this summer.
From June 15 to July 16, the pharmacy chain offered one-on-one personal skin checker clinics as part of a pilot program, using Vancouver-based MetaOptima's non-invasive MoleScope device and partnering with both a local dermatologist (to offer patients a quick diagnosis) and cosmetic brand La Roche-Posay.
"This clinic was timely and topical," says Suzanne Han, pharmacist and manager of managed care at London Drugs. "In summer people are out in the sun, and we wanted to remind patients about the importance of regular mole checks and proper sun protection."
As more BC residents continue to seek enhanced services from their local pharmacy, many pharmacies are offering unique clinical programs like mole checking, cardiovascular health coaching, strep throat programs and diabetes clinics. These programs are designed to improve health awareness, build customer loyalty and alleviate the burden on the province's overloaded health-care system.
London Drugs' skin checker clinic helps address the dangerous and growing problem of skin cancers in BC. According to the Canadian Skin Cancer Foundation, one in every three cancers diagnosed worldwide is a skin cancer, with more than 80,000 cases of diagnosed skin cancer in Canada every year. More than 5,000 of those cases represent the most critical form of skin cancer – melanoma.
Apart from receiving immediate positive feedback from patients, who learned about the free skin checker clinics in-store and registered for an appointment online, London Drugs was pleased to play an essential part in this important service offering. Of the 148 patients who attended, 10 per cent were recommended for future follow-up and 12 per cent were notified that a physical exam and/or biopsy-excision was required.
"At London Drugs, we've always been proactive in our approach to wellness," says Han. "We look for unique services to offer our patients that seem to be
of value."
While London Drugs is currently considering the possibility of returning – and expanding – the skin checker clinic next year, the company is kept busy with a regular rotation of specialty service offerings throughout the year. These include clinics for osteoporosis, flu, smoking cessation, cardiovascular health, and, most recently, oral health, offered for its second year this past spring, to coincide with the Canadian Dental Association's National Oral Health Month in April.
Met with an overwhelmingly positive response in its initial pilot year in 2015, London Drugs decided to bring back its oral health clinic to select Lower Mainland pharmacy locations in 2016, but added a $25 session fee (with $5 donated to the BC Cancer Foundation).
Utilizing the VELscope, a hand-held detection device developed by the BC Cancer Agency, a health professional inspected patients in-store for oral tissue abnormalities. Out of the 155 patients seen this year, seven per cent required a reassessment, nearly half of which were referred to the Next Gen Oral Dysplasia Clinic, managed by the BC Oral Cancer Prevention Program at both UBC and the Pacific Oral Health Centre in Surrey. Twenty per cent of patients were referred to the specialty clinic, many of which were smokers, later required a biopsy.
"There are common risk factors known around oral cancers," notes Han. "We as pharmacists need to practice within our scope and partner with other health professionals to make these unique services available throughout the community."
Following a successful strep throat pilot program at select Shoppers Drug Mart locations from October 2015 to March 2016, several locations chose to continue offering the simple, yet effective, service to clients year-round.
Jina Sarkis-Dina, associate owner and pharmacy manager at a Coquitlam Shoppers Drug Mart, has seen the positive impact of this added service. "We found an immediate benefit to patients, and it helped in our optimization of patient care," says Sarkis-Dina. "I think this type of service is a definite benefit to the health-care system."
While the need for strep testing is less over summer, during the busy cold and flu season throughout the winter months this type of service can be a huge time saver for both patients and doctors' offices. Rather than waiting in a crowded medical clinic, patients can be immediately swabbed by a pharmacist to determine whether their sore throat is a simple viral infection or a more persistent bacterial infection requiring a physician-prescribed antibiotic.
The service is offered in conjunction with the virtual health-care clinic, Medeo, which has produced the added benefit of increased referral patients at her busy pharmacy, says Sarkis-Dina.
"We're seeing both scenarios," she says. "Those patients that weren't able to see a doctor and are walking in, and those that have read online about the service and are referred to our pharmacy by Medeo physicians. To me, this is one of the many ways that we can further our role as pharmacists in the health-care system; it's all about collaboration with other health professionals."
Anoop Khurana, associate owner and pharmacy manager at the Shoppers Drug Mart located at Hastings and Slocan in East Vancouver, wholeheartedly agrees with colleague Sarkis-Dina.
Khurana is a certified diabetes educator and for several years his pharmacy has been offering monthly diabetes clinics. But last year, at the suggestion of David Pavan, pharmacy operations specialist with Shoppers Drug Mart and BCPhA Board member, Khurana began offering a rare clinical service to further enhance care for his many diabetes patients – monofilament testing for neuropathy in the feet. This potentially very serious side effect of diabetes, over time, leads to loss of sensation, and, in worst case scenarios, foot amputation.
"Unfortunately, even when patients are managing their diabetes well, the disease can worsen," Khurana says. "I definitely saw the value in this service, and that pharmacists were uniquely positioned to provide it for patients."
The service has been popular with diabetes patients, eager to manage their progressive disease, says Khurana, who has received very positive feedback, as well as a steady stream of booked appointments. Khurana, who offers his diabetes services at no cost to patients, believes increased clinical services are not only essential for enhanced patient care, but also results in long-term loyalty from patients who trust and rely on their community pharmacy.
"As pharmacists, we're becoming better equipped to manage overall care for patients more than ever before," says Khurana. "It's about finding an unmet need in the community, and then collaborating with other health-care providers to have the whole team advocating for the patient."