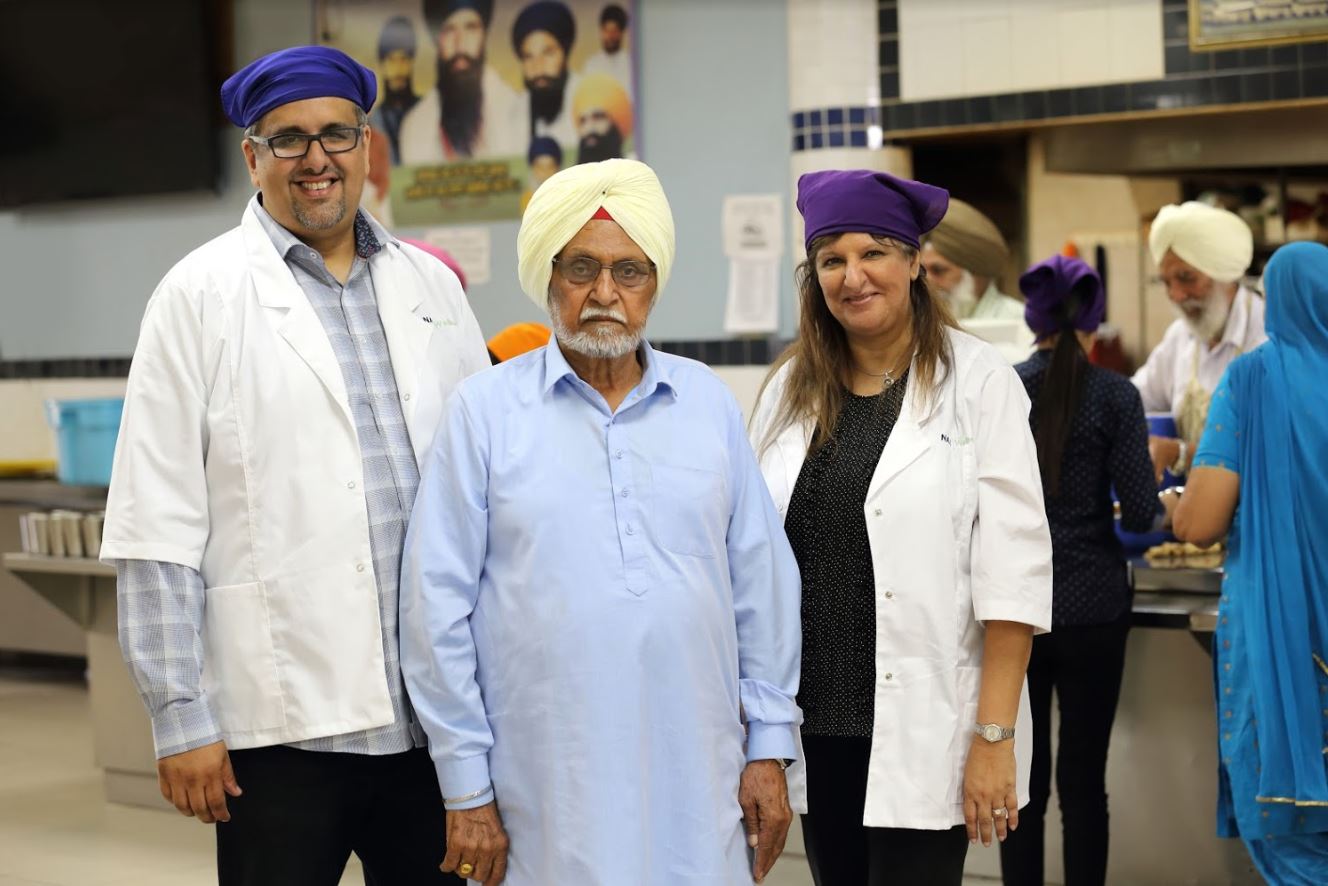 Zahid Merali, Patient Kirpal Dhinsa and Nafisa Merali at Guru Nanak Sikh Gurdwara in Surrey. Dhinsa is a diabetes patient.
Independent pharmacy chain Naz Wellness Pharmacy Group offers diabetes care to Lower Mainland's South Asian community
Pharmacist and business owner Nafisa Merali walks through the doors of her Surrey-based pharmacy, Naz's Pharmacy, and immediately recognizes a patient, stopping to ask how they are doing. The popular pharmacy, located at 72nd Avenue and 125th Street is brimming with a steady stream of patients, many lining up for free glucose testing and counselling, at times blocking the entrance.
Located in a tiny neighbourhood strip mall across from a South Asian grocery store, the cozy pharmacy has become a pillar of health and wellness to the Surrey community, where many patients struggle with the negative effects of diabetes, high blood pressure and heart disease, among other illnesses. In fact, according to Fraser Health's South Asian Health Institute (SAHI), South Asians are two to three times more likely to develop heart and kidney disease, stroke and diabetes 10 years earlier in comparison to other ethnic groups.
"Every day, our goal is to educate patients and guide them in their journey to health and wellbeing," says Nafisa "We have witnessed firsthand the difference that proper education, diet and medication can make in the lives of not only our patients struggling with diabetes and high blood pressure, but to their entire families, who now have a healthy member of the family again. It really is an honour to be a part of making that difference."
Nafisa has been specializing in diabetes care, pharmacy and general wellness since opening her first pharmacy in 1995. A throwback to her family's former business in her native Africa, the pharmacist came up with the name Naz Prescription Plus Pharmacy – a combination of the first initials of the family's three children. Over the next 20 years, in partnership with her brother Zahid, the pair grew their respective independent pharmacies, now named Naz Wellness Pharmacy Group, to include 13 locations across the Lower Mainland.
As a bulwark to the South Asian community, Nafisa recalls how this unique specialization began in 1991, as a pharmacist learning the ropes in her first job after graduation. She started in a predominantly South Asian community, with residents from Punjabi, Muslim and Hindu ethnic backgrounds. Coming from Africa, Nafisa realized she needed to understand her community's needs. Many of her patients couldn't speak English and she couldn't speak Punjabi or Hindi.
As a community pharmacist, it was up to her to learn the language of the people in her neighbourhood. She practiced speaking Punjabi and Hindi with her staff, picking up common phrases and expressions that would help her to build a common ground with her patients. Opening the doors to better communications and understanding of her patients' backgrounds made a huge difference. She learned about their culture, from eating habits to lifestyle, and quickly understood that a number of her patients demonstrated the most common risk factors for the diseases that affected them – diabetes, high blood pressure and heart disease. According to a 2016 South Asian Health Report published by Fraser Health, it was found that a number of common factors contributed to the community's disproportionate representation of these chronic conditions, including high sugar intake, poor exercise habits and an unbalanced diet.
"I saw a gap where most education was catered to Canadian foods, not taking into account a very different diet and understanding of the health risks," says Nafisa. "Most of my patients didn't even know what a blood sugar test was. I had to do something and give back to the community."
And fill the gap she did. Early on in her career, Nafisa volunteered to understand the health of her community and saw a need to increase awareness of diabetes and heart disease. She visited different temples and mosques, community centres and health units, encouraging them to let her run teaching programs that specifically focused on the South Asian diet and lifestyle. She looked into developing an outreach program that included free clinics offering not only diabetes education, but also information on cholesterol, osteoporosis, flu vaccinations and travel health. These programs have continued to run for more than 25 years.
When Nafisa reached out to the leader of one of the largest temples in North America, the Guru Nanak Sikh Gurdwara in Surrey eight years ago, to ask if her pharmacy could hold onsite blood screening and diabetes counselling, she also noticed that the meals served contributed to diabetes risk.
A local temple or Sikh gurdwara can serve hundreds of daily meals prepared by volunteers. As a common gathering place for locals, it was an opportunity to go straight to the patients, many of whom would never have thought they had diabetes or health issues, as well as their family members.
"It is generally males who are diagnosed as diabetic but who does the cooking in these more traditional families?" asks Nafisa. "We have to get the wife involved so we do the family approach. If we cannot get them to change their eating habits, I ask them, 'Do you want your children to have health problems later in life?' I find they change their diet for the people with diabetes but will not change their diet if there is no diabetes. No matter what, we are aiming to change for healthier communities."

80 year-old Kirpal Dhinsa, a retired Indian Army veteran, is a local farmer. Through an interpreter, Dhinsa says that in late 2015, he happened to visit Naz's Pharmacy on 72nd Avenue in Surrey to get some over-the-counter (OTC) products. He saw a free diabetes clinic being provided onsite and decided to get his blood sugar checked. The result prompted the pharmacist to send a note to Dhinsa's physician to book an appointment as soon as possible.
"When I went to see the doctor, I found out that I was diabetic," recalls Dhinsa. "It was the pharmacist who found out that there was something wrong. I used to forget to take or even understand my own medication. It was so complicated. But my pharmacist at Naz's Pharmacy would help provide a blister pack as well as advise me on exercising and keeping my medical appointments."
Nafisa's commitment to the South Asian community would go a step further, when she partnered with Fraser Health Authority on a new program geared towards healthy outcomes for South Asians. Home to more than 250,000 South Asian residents, Fraser Health created the South Asian Health Institute (SAHI), to better understand and meet the specific health needs of the South Asian population. SAHI developed the Sehat program, a health promotion campaign that teaches the South Asian community how to make healthy choices such as healthy eating, portion control and alternatives to sugar and fat. Featuring presentations, videos and brochures in Hindi and Punjabi, Naz's Pharmacy is the only pharmacy offering the health unit's education program.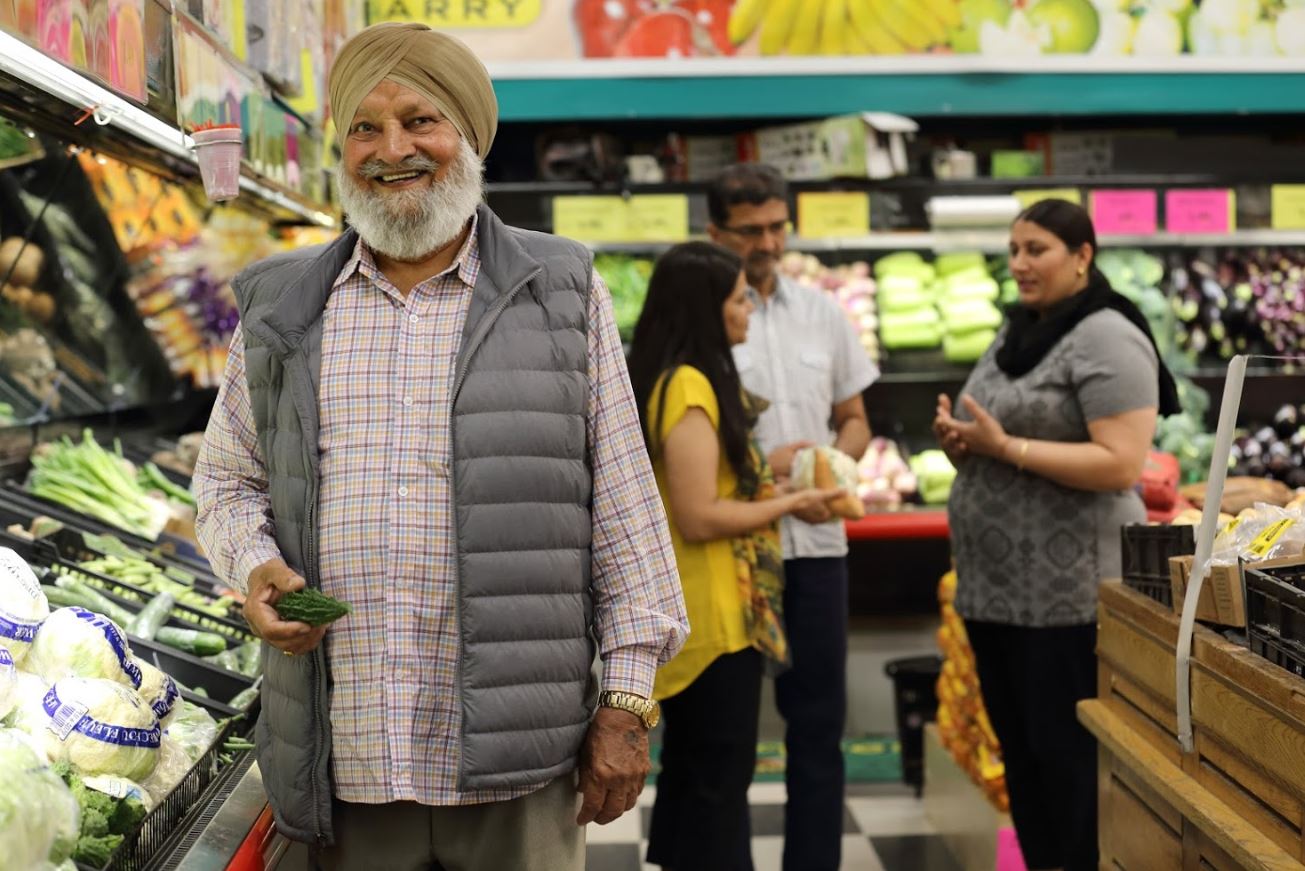 Patient Chanan Chahal, diagnosed with diabetes, at South Asian grocery store in Surrey as part of Naz's Wellness diabetes education clinic.
Educating Patients with Diabetes
Naz's Pharmacy also offers diabetes coaching on site, during monthly diabetes clinics hosted by registered dietician Harmeet Mundra. Here, she provides education, coaching and one-on-one counselling for patients seeking to gain better understanding of how to make healthy choices. Using pictures as examples to help patients understand portion size, Mundra also demonstrates what a single portion should be, balling up her fist, while pointing out common misperceptions about what a single serving size contains. She highlights the high amount of sugar found in South Asian cuisine, including many common foods and popular drinks, and provides alternative options.
For example, in Mundra's recommended dietary alterations, a single cup of tea containing four teaspoons of sugar is significantly reduced to 1.5 teaspoons. White flour roti, a baked flatbread, is replaced with whole wheat or chickpea flour. And whipping cream, a base for curries, can be replaced with low fat yogurt or low fat sour cream. It is important to demonstrate that reduction of sugar and fat, including portion size, can have healthy benefits in the short and long term, even one step at a time, says Mundra.
As part of the diabetes clinic, Mundra takes patients on a tour at the nearby grocery store selling predominantly South Asian ingredients, and shows them how to read package labels, identifying fruits and vegetables and how to use alternative options to cooking oils and fats.
One patient joining the tour is Chana Chahal, a retired truck driver. At 68 years old, he has Type 2 Diabetes, hypertension and even underwent a coronary artery bypass. Chahal had never been to a doctor or a pharmacist until a life-changing moment in 2005.
"It was a usual work day in the afternoon when I was going to the bank," recalls Chahal. "It was when I reached the door that I felt weak and then passed out. When I regained consciousness, I was in a ward at Vancouver General Hospital."
Chahal committed to a healthy lifestyle, following the incident. "My pharmacist at Naz's Pharmacy prepared a care plan for me, personally checks about my compliance and any medication issues. I keep my health-care appointments and never skip my 30-minute walks. This is my secret for staying away from hospitals," he says, with a smile.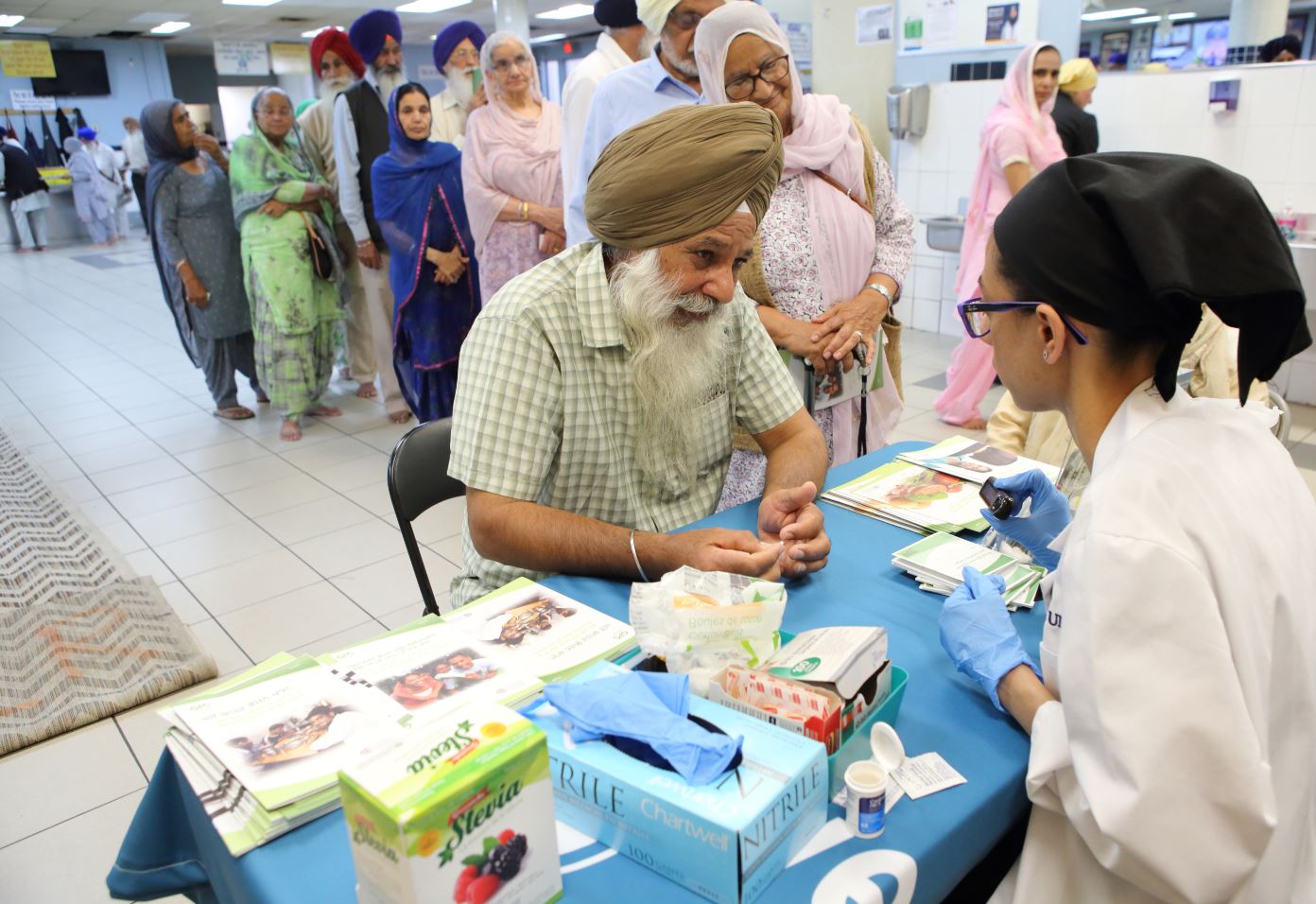 Diabetes screening clinic at Guru Nanak Sikh Gurdwara in Surrey organized by Naz's Wellness pharmacy. Fourth Year UBC pharmacy student Gurvinder Gadri provides blood glucose test to a patient.
A Growing Business
Following in his elder sister's footsteps, Zahid Merali recalls with pride at how he first got started in pharmacy.
"My initial spark was seeing Nafisa become a pharmacist. I was in ninth grade at the time but I remember her coming home happy, calling it fulfilling, doing something different everyday. So when she opened Naz's Pharmacy in 1995, I helped out after school – sweeping floors, talking to customers and, my favourite, being her assistant. I was pre-pharmacy but I knew this would be my future."
Coming from a family of entrepreneurs, Zahid knew he wanted to bring his personal experience to help grow the business. Graduating with his pharmacy degree from the University of British Columbia in 2000, he looked for opportunities to develop experience that was more advanced. He did one year of community residency at UBC, during which he worked for a time in the United States, in Washington State, as it was further along than B.C. in terms of innovations in pharmacy practice, says Zahid.
This experience proved to be eye-opening as Zahid wanted Naz's Pharmacy to be more than just a pharmacy. Six years ago, he was approached by a local physician who had been unable to provide pharmacy assistance to administer patches for an Alzheimer's patient in their home. "I saw the gap in patient care, so I went to the patient's home. I drove from Vancouver to Surrey seven days a week to change the patient's patch. My philosophy is, if you take care of the patient and their family, the rest will take care of itself."
This philosophy grew into what is known as the Naz Wellness Home Monitoring Program, now running for more than six years, providing support to patients in their own homes, including blood glucose monitoring, medication management and ongoing assessment.
"People make the mistake that they think care stops once they leave the pharmacy," says Nafisa. "I've gone to 100-year-old birthday parties, I get involved with the families. I tell my staff to get to know the patients, to talk to them. They'll come looking for you because of trust."
This article was written by Shirley Wong.