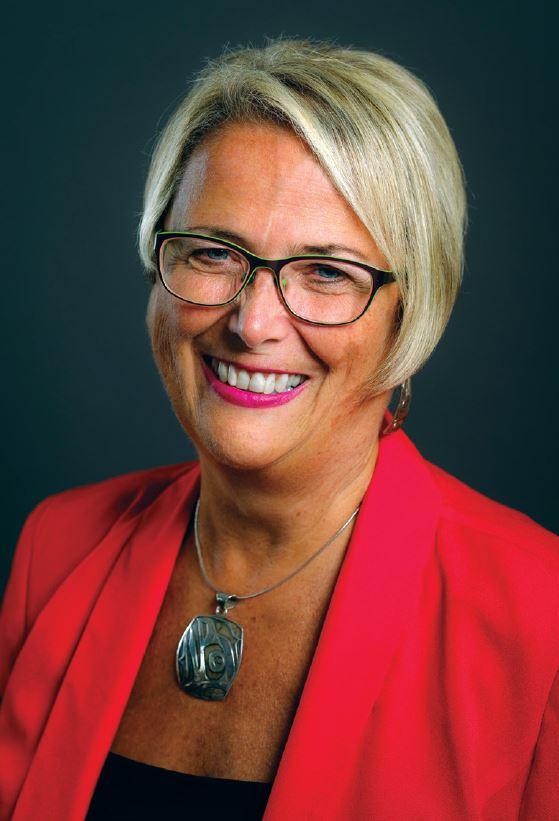 The Tablet speaks with Darcy on pharmacy's role in managing mental health and addictions issues.
The Hon. Judy Darcy has served as B.C.'s first and Canada's only Minister of Mental Health and Addictions since July 2017. An MLA for New Westminster, Darcy has been an elected official since 2013. In her current role, the minister's highest priority has been tackling the opioid overdose crisis through increased access to naloxone and expanded treatment and recovery options.
Prior to her role in government, Darcy was national president of the Canadian Union of Public Employees and secretary business manager for the Hospital Employees Union in B.C., where she negotiated an historic settlement for B.C.'s health-care workers in 2008.
Q: What role do you see B.C.'s community pharmacists play in B.C.'s opioid overdose epidemic?
JD: Community pharmacists are valued and trusted leaders in their communities. We are so grateful for the role they are playing dispensing credible and compassionate advice during this public health emergency. Over 800 community pharmacies now have naloxone available to their clients. Having these kits readily available is essential in our effort to save more lives, because we know that someone has to be alive to be able to receive treatment and create a pathway to hope and healing.
Recently, through our partnership with Save-On-Foods, we embedded our anti-stigma campaign posters and materials in each of their pharmacy locations throughout B.C. All Save-On-Foods pharmacies now offer free naloxone kits as well as training in overdose recognition and response.
From our very first day in office, we have been escalating our response to the overdose crisis every day, every week, every month. In addition to expanding access to naloxone, we also continue to increase access to opioid agonist therapy (OAT) and injectable OAT to provide people additional pathways to hope and healing and we continue to work with physicians, nurses and pharmacists on innovative ways to expand treatment options even further.
A collaborative relationship with the BC Pharmacy Association and the College of Pharmacists of BC is essential to saving lives and stemming the tide in the overdose crisis.
Q: One in five will personally experience mental health issues each year. How can community pharmacists help patients with mental health issues?
JD: Community pharmacists know too well the negative effects of stigma associated with mental health and addictions challenges and are committed to preventing their patients from experiencing stigma at their pharmacies - for that I am extremely grateful. This demonstrates respect, compassion and promotes the well-being of their patients, which is absolutely essential.
Pharmacists have an important role to play when it comes to talking about pharmaceutical options, including options that are working, ones that are not working and new options that could be of value to people living with mental health challenges.
We want to ensure pharmacists are able to help their patients navigate their options as quickly and easily as possible and we are committed to supporting pharmacists with tools to help them provide the best evidence-based advice and direction possible.
Q: There have been discussions about getting patients on OAT immediately, when needed. Access to physicians has been identified as a barrier due to shortages, long waits or incompatible hours. How do you see that pharmacists can initiate OAT therapy, like Suboxone®, to patients in need?
JD: I'm pleased to share that – in a seven-month period here in B.C. – the number of physicians that are able to prescribe opioid substitution therapy increased 60 per cent and the number of people receiving opioid substitution therapy increased 126 per cent. Nurse practitioners across the province can now also prescribe OAT.
While OAT is currently out of the scope of practice for community pharmacists, they play an important role in finding innovative ways to connect people to new treatment options. The BC Centre on Substance Use (BCCSU) is doing critical work to drive evidence-based improvements to the system of addictions care including the creation of guidelines for the treatment and care of people with addictions, including oral and injectable opioid agonist therapy. From day one as a government, we decided that our response to the overdose crisis would be a "whole of government" approach – an approach that not only breaks down the silos in government, but one that addresses the root causes and social conditions that can play such a big role in addiction.
Q: The opioid crisis has affected communities across the province, many of which have pharmacists but may not have doctors or hospitals. How do you see pharmacists helping in, what you have described as "a system of care where you ask for help once and get help fast?"
JD: As you mention, many communities do not have hospitals and many British Columbians do not have family doctors, which means community pharmacists play an even bigger part in the delivery of services on the ground and helping those in need. In some rural and remote communities, pharmacists are the only health-care professionals that people can depend on. Whether it be distributing naloxone, counselling patients about their medications, connecting with prescribers, or one of the many other important roles community pharmacists take on, they will all continue to play an active role in supporting people living with mental health and addictions challenges.
We are committed to supporting pharmacists so they have the tools to help connect people to treatment options that meet their individual needs. Moving forward, we believe pharmacists will continue to be a part of innovative solutions to expand treatment options throughout B.C.