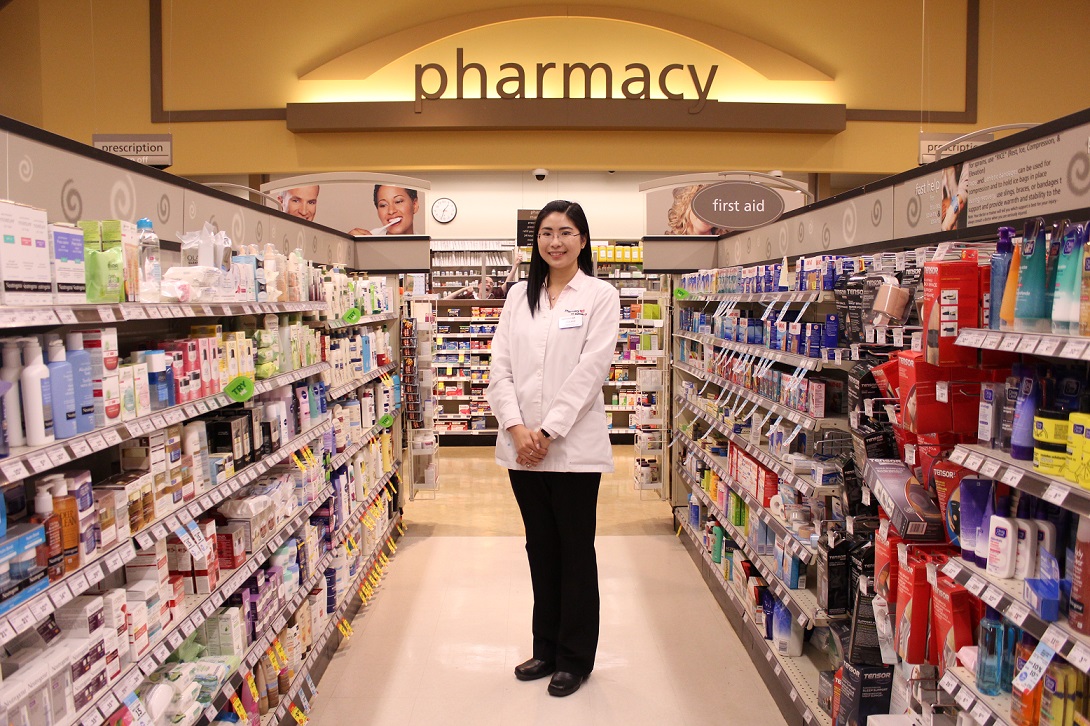 Safeway pharmacy manager Joanne Hui helped develop an injections webinar used by pharmacists in Sobeys locations across Canada.
Upon graduation in 2012, Sobeys pharmacist Joanne Hui quickly rose to become a pharmacist facilitator, teaching new students at the University of British Columbia practical lab skills.
Two years later, Hui saw an opportunity to bring refresher injections training courses to Sobeys, as many pharmacists first took their training years ago, and some were a little out of practice.
Hui estimates she has helped train at least 200 pharmacy students in classroom settings, in addition to many others through an online training webinar she developed for Sobeys to keep pharmacists' injection skills fresh and updated to current best practices.
"I wanted to bring the focus back to knowing why things are done a certain way, as opposed to memorizing it as a recipe," says Hui, currently the pharmacy manager at the Safeway location at 800 McBride Blvd. in New Westminster. "If you just remember it step by step, once you start switching the steps you don't know the consequences."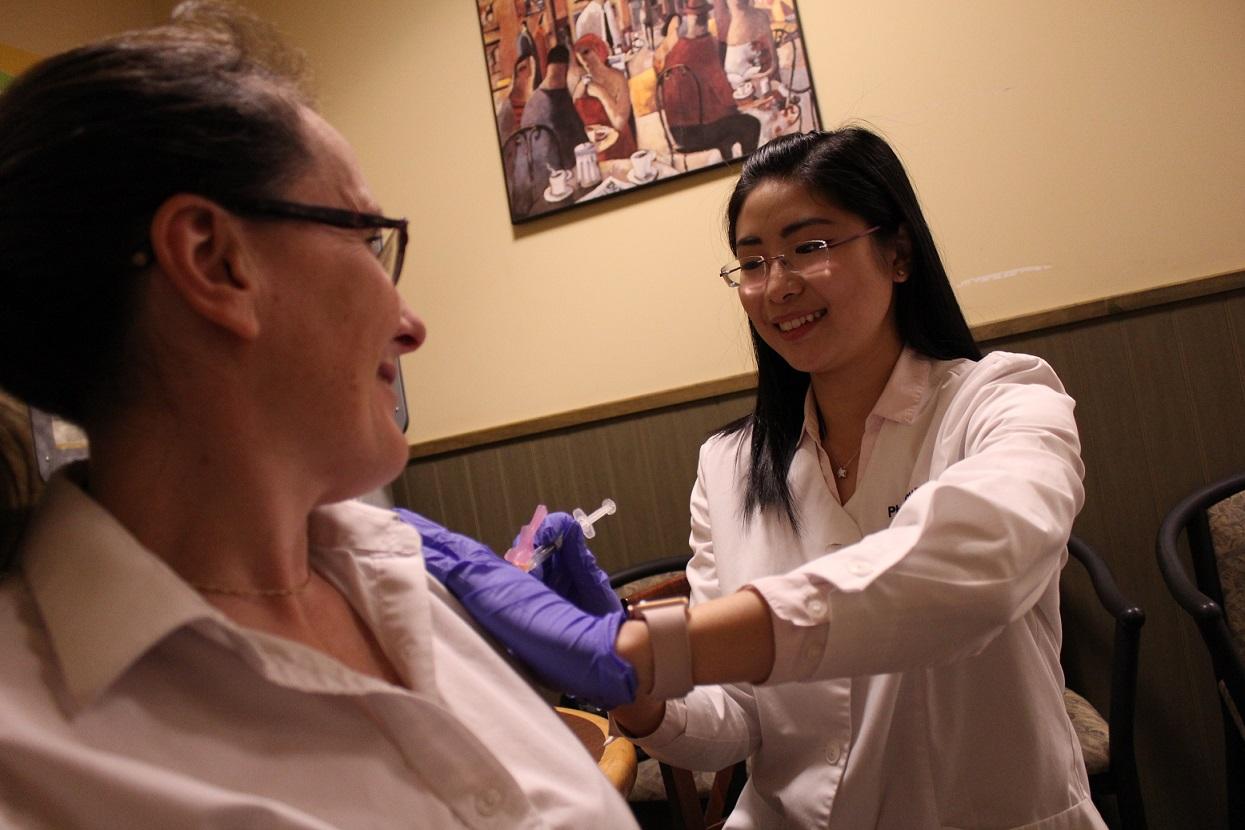 How did you become an injections expert?
During school, I always really loved and enjoyed the lab course and I always took the opportunity to mentor other students in this area. So after I graduated, a paid opportunity came up for a pharmacist facilitator. The course coordinator contacted me right away and offered me the job, which I happily accepted. I have been on their regular roster for the past six years. When they had offered me that opportunity, I was there once a week and was really quite involved with students and their learning.
In late 2014, when it was announced that pharmacists were allowed to train other pharmacists in injections—as opposed to clinical nurses—I was one of five pharmacists trained by UBC to teach other pharmacists these skills.
Up until then, they had all of their students enroll in the BCPhA course, which I took myself, too. But because of the upcoming changes with the program, they started integrating their own injections course. Instead of doing a 10-hour online module and eight hours with a nurse, they split it up into more what a university course would be. There would still be the online component, and my role was to be there for their first hands-on experience. About eight students work in pairs and start to get familiarized with the supplies, and get to the point where they are injecting each other to get the certification.
How did you bring your experience to Sobeys?
Without retraining or an opportunity to refresh your skills, you just start practicing kind of in your own bubble. Injection is not something where your other staff might be around to observe or discuss afterwards. It's a very private moment with your patient. So if you're doing great, great, you might never hear about it again. But if you don't do well, and if the feedback doesn't come back to you and it spreads, it can have a negative impact on patients and on the pharmacy.
After I was trained and it was fresh, I brought it back to headquarters. I wanted to take what I learned and I wanted to make it so that I can give back and offer something for my colleagues, so they can refresh their memory and sharpen their skills. There are pharmacists that are practicing and injections just isn't their forte. It could be for many reasons, but often it's because they just don't feel like they use it enough.
So I developed a course and a presentation. At the beginning, it was just a slide presentation. And then in 2016, we filmed a live injection, which is now used for training at Sobeys. I also recorded a webinar, which is available as an internal resource for any of our pharmacists across the country to review and that gets updated on a yearly basis.
What areas needed to be emphasized when it comes to injections training?
I think a lot of times, pharmacists focus on what is convenient for them, but sometimes those things aren't necessarily the bits that causes the patient the most comfort. Like the injection angle, why does it have to be at a certain angle? Why should we be eye level to the person as opposed to standing up and giving the injection? For example, you started off being told to sit next to your patient and be at eye level. But at the practice setting, the table is higher, so it makes sense for patients to sit and pharmacists to stand. But then what ends up happening is that your 90-degree angle is based off of your eye level, and it might not be perfect and even hurt the patient a little bit. You're going in at a different angle and they're not getting the full benefit of the vaccine.
With more people coming to pharmacists to receive vaccines each year, how has that affected your training and practice?
When I started developing this course for Sobeys, the focus was very technical—about getting your skills right, getting it down. But now, throughout more years of myself practicing, having seen more flu seasons, giving more injections, it really is the overall experience. As a pharmacist, you not only need to be able to give that shot nicely, you have to have a confident demeanor when you offer that service as well. Not just confidence in the technical skills, but also confidence in the product that you're giving. Why does someone need to be given an injection? What are the risks? All of this is now part of the training to provide the patient a more complete and more well-rounded experience. Also post-vaccination care. After you give the shot, you call them in a couple of days to see how they're doing. Call them again when the booster shot is due, because with three-shot series (zero, one and six), sometimes they just don't remember. We have tools in the pharmacy that allows us to be reminded, and therefore we can remind the patient and just provide a more complete overall experience.
How could the BCPhA offer more support to pharmacists during major vaccination seasons?
For us, sometimes when the vaccines are late, we really need to know about it. We need an accurate estimation of the vaccine availability, so we can start getting the word out there. People will come in, they might panic, think they're not getting it, and they might look around and get frustrated. If there is a way for the information to come down in one place. Some health units are better at conveying the message than others. In New Westminster, our health unit is excellent but I've worked with others that are not so proactive at getting the information out there.
It would also be helpful to continually hear of certain media outlets reporting negativity towards the vaccines. You may get patients coming in asking questions. They'll come in and say, "I heard this on the news," and if you seem like you don't know what is on the news, they kind of take a step back and think, 'Should I really be listening to you?' Being on top of the news gives us a better chance to educate the patient.
This article was edited on Oct. 29, 2019 to make a factual correction.