"I'm just focusing on the things that make a difference for people, the little things, a little tip here, making their delivery easier, all kinds of stuff. A thousand little things."—Brittany Swanson
Growing up on idyllic Malcolm Island, offshore from Port McNeill on the northeast coast of Vancouver Island, pharmacist Brittany Swanson learned the meaning of community from an early age.

"I kind of see it as what you do," says Swanson. "I grew up in a community where that kind of thing just happened, it was normal and commonplace and people just kind of came together."

Swanson was first introduced to pharmacy as a high school student at North Island Secondary School. She was given the opportunity to shadow a family friend who worked as a pharmacist at Harbourside Pharmacy, formerly known as People's Drug Mart. The experience set her on the path to pharmacy and after graduating from the University of British Columbia, she returned to her hometown pharmacy where she has worked as a community pharmacist ever since.

"It's a career that I feel suits me very well and I love it," she says. "I have a great team of medical professionals that I get to work with. Everybody comes together to make a difference in people's lives."

One of those professionals is Dr. Prean Armogam, one of the area's only physicians, who has worked with Swanson for many years. The doctor relies on Swanson's intimate knowledge of many of the north island's remote communities when advising patients, prescribing medications, and negotiating EMRs (electronic medical records). Her wealth of knowledge on where people fit in terms of their family's access to medications and drug coverages makes a big impact on patient care, he says.

"If I had to try to define what a great pharmacist would be, that's Brittany for us," says Dr. Armogam. "Knowing people, understanding where they're coming from, from a drug perspective, from personal preferences, I think it's key for being a great community pharmacist."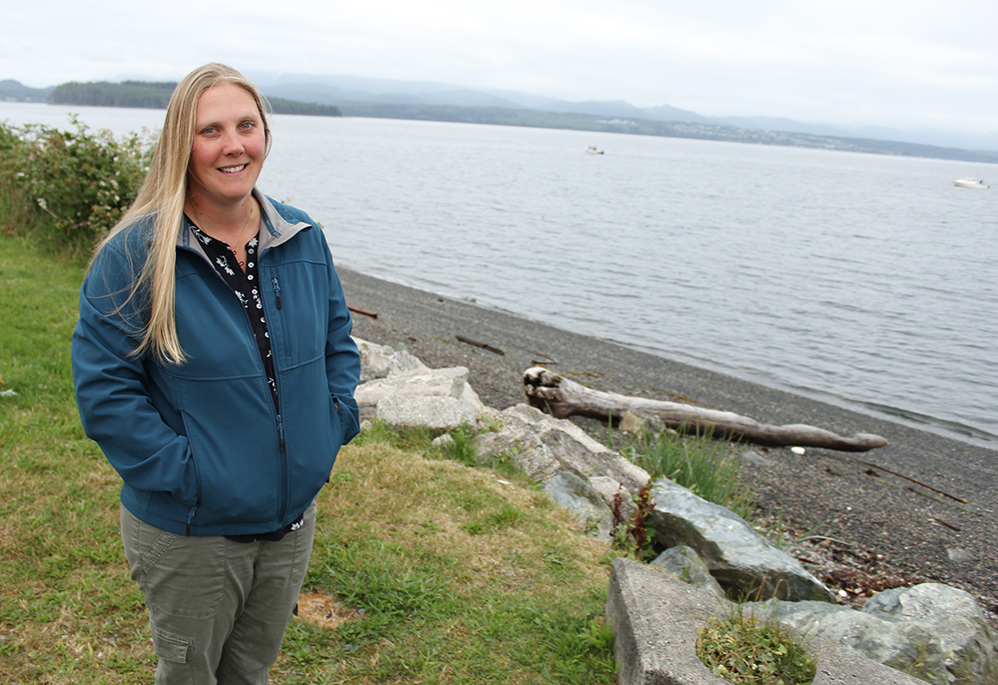 Long-time family friend and award nominator Wanda Laughlin says their Malcolm Island community of about 750 residents would not be the same without Swanson.

"Brittany is one of the few kids of her age that has come back to our community and she just gives," says Laughlin.

Swanson—who ferries daily from her home in Sointula to Port McNeill—regularly goes out of her way to use her expertise for the community's good. She routinely takes calls from fellow Islanders seeking advice, and will often deliver medications for those residents who cannot manage the trip to Port McNeill. She watches out for others' wellbeing, even convincing Laughlin to quit smoking.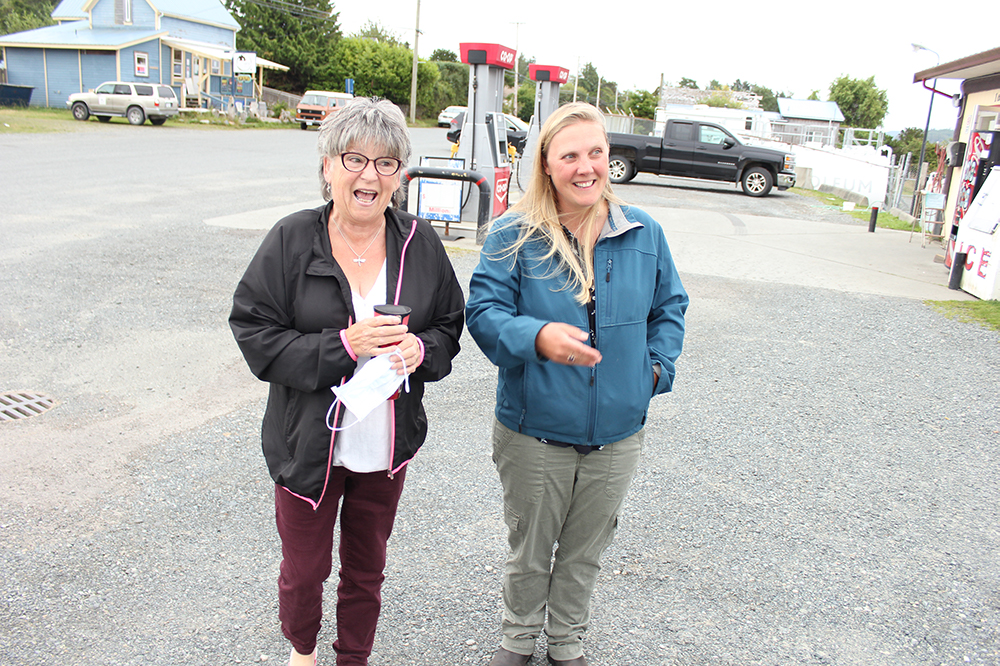 Brittany Swanson (right) with supporter Wanda Laughlin (left) in downtown Sointula on Malcolm Island.
Beyond her vital roles as community pharmacist and mother of three young children, Swanson serves as president of the Parent Advisory Council at A. J. Elliott Elementary School, where her children attend. She organizes events and activities, fundraises, and plans the annual children's Christmas party. As an avid gardener, Swanson is committed to growing as much of her family's produce at home as possible.

"She's the most giving, kind person," says Olivia Shaw, a new pharmacist working with Swanson. "She always goes above and beyond for everybody. How she does it all, I have no idea."

Overall, Swanson's commitment to her community is all about being present.

"I'm really just kind of thinking about what I would need if I was on the other side of the counter," she says. "Sometimes people are just going through a challenging time and they just need someone to listen to them or to make their life just a little easier. It's those little things that make a difference."
- profile by Angela Poon