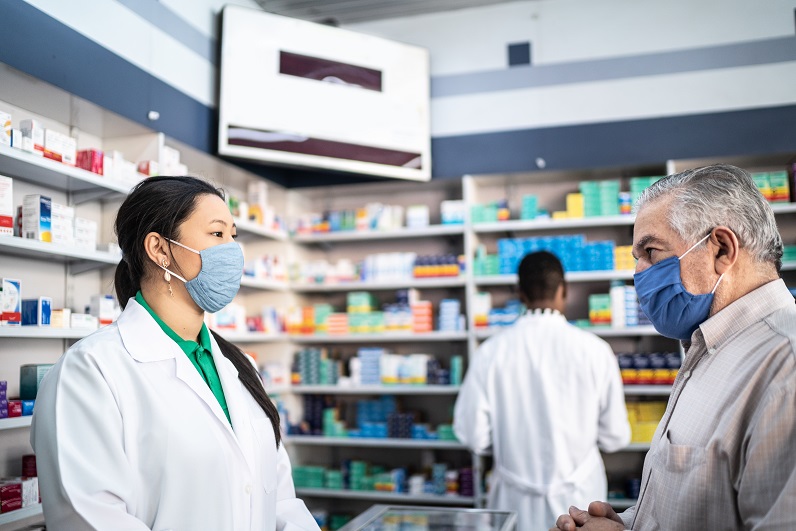 By Derek Desrosiers, BSc(Pharm), RPh

The COVID-19 pandemic is far from over and it may not be over for a long time to come. As I write this column, we are seeing a significant surge in cases throughout B.C., across Canada and in many other countries around the world.

Certain aspects of pharmacy business are already different because of the pandemic and the associated public health orders and guidance. Some of the changes we have seen will persist and some may be only temporary until the pandemic is declared over. This column will highlight some of the changes we are seeing and offer a few suggestions for your pharmacy.

Patients and customers are likely to continue to be concerned about personal safety for a long time to come. They may expect you to "manage" the behaviour of other patients and customers by strictly enforcing social distancing guidelines, personal hygiene measures and physical barriers including the wearing of masks.

Most of you have likely implemented some or all of the following measures and if you have not, it is strongly recommended that you do so.
Mark the floor of your pharmacy to guide customers for social distancing.
Require all customers/patients to wear a mask when in the store and if they don't have one you may consider providing a disposable one.
Install physical barriers at all interaction points including pharmacy counters (intake of prescriptions as well as prescription pickup counters) and all front store cashier counters.
Set up a hand sanitizing station at the store entrance with sanitizer and disinfectant wipes.
Put up signage reminding customers/patients to practice social distancing.
Begin talking about vaccine opportunities with patients so that you can easily overcome any vaccine hesitancy when a vaccine is available.
Outline new measures/procedures that you are going to implement for flu vaccinations this fall and winter.
If your pharmacy is small you may consider limiting the number of customers allowed inside the premise at one time.
Enhance your prescription delivery services.
It is very important that you overtly show patients/customers and your staff that you are concerned about their safety and well-being. In addition to in-store measures, another way you can communicate to your customers and patients is to take out a small ad in the local newspaper. It should have the name and address of your pharmacy at the top and then a statement such as, "We are concerned about your safety" followed by a bullet point list of the key safety measures you have put in place.

Something else you might consider is appointing a specific staff member as the "safety officer" for your pharmacy. That person would be responsible for making sure that all the measures you have put into place are understood and being followed by both staff and customers/patients. You may even want to give them the responsibility and authority to purchase personal protective equipment (PPE) for all of the pharmacy staff team. They could also source things like floor markers and signage.

Your staff team and your customers/patients will get used to following the measures you have implemented, as they will have become common place in many retail establishments. Many pharmacies have indicated that they will leave most of the safety measures they implemented for the pandemic in place even after the pandemic is declared over and we have widespread availability of a vaccine. The most common one is to leave the plexiglass physical barriers in place at all interaction points in the pharmacy.

Keep a close eye on your inventory and fill prescriptions accordingly to manage drug supply issues, ensuring that as many of your patients as possible can access the drugs they need when they need them. Also, make sure all pharmacists working in the pharmacy are conversant with adaptation opportunities and are comfortable with doing prescription renewals and emergency supply prescriptions when appropriate.

Post-pandemic pharmacy will look very different than pre-pandemic pharmacy as many of the changes in policy and procedures will be made permanent. You will need to constantly reassure your patients that you are concerned for their safety and well-being. This will include doing whatever you can to convince each and every patient to have a COVID-19 vaccine when one is available. Pharmacists will be integral in COVID-19 vaccine administration just as we have been for influenza vaccine since 2009.
Derek Desrosiers, BSc(Pharm), RPEBC, RPh is President and Principal Consultant at Desson Consulting Ltd. and a Succession & Acquisitions Consultant at Rxownership.ca.