"I really love the ability to feel that I'm part of the community."—Clancy O'Malley

For Pharmasave owner/pharmacist Clancy O'Malley, his pharmacy is about more than prescriptions and medical advice. It's a safe haven for members of Kamloops' marginalized and vulnerable community to rest, enjoy a cup of hot coffee, and be shown warmth and respect.

"He just cares so much about everybody, no matter what they're here for he will talk to them," says Caroline Cooper, a pharmacist at O'Malley's Pharmasave and his award nominator. "He just makes everybody feel happy and welcome."

After taking over ownership of the downtown Kamloops pharmacy in the fall of 2018, O'Malley cleared out some of the store's retail space to put in a table and chairs, where anyone is welcome to come in and sit and warm up during cold weather months, whether they are a patient of the pharmacy or not, says Cooper.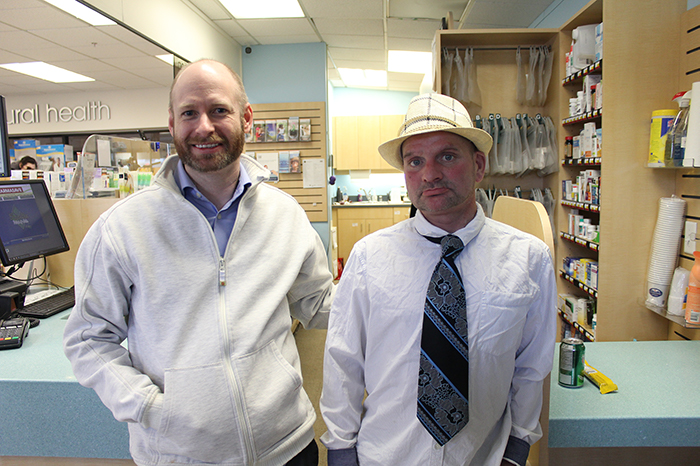 Clancy O'Malley (left) with patient Joshua Higgins.
"It's proving to people you care about them and that any problems they might have is not going to affect the care you give them," says O'Malley, on his approach to patient care.

"Some of my clientele are whom you would describe as marginalized. They're shown so little respect, sometimes active disrespect, while just trying to exist. No matter what their status is in society, they're no more or less a human being. Everything gets clearer when you start from that perspective."

Serving many of the neighbourhood's most vulnerable population, O'Malley is intimately involved in their overall care and ensuring positive outcomes for his patients. Working with patients managing mental health issues and substance use disorders—many of which are homeless or live in shared, temporary shelter spaces—he recognizes the challenges they have to face on a daily basis. O'Malley helps patients keep track of their appointments, find shelter, food and a hot shower, and takes the time to really listen to their daily concerns. He also personally delivers medications to patients in need, including youth patients in foster care whose medications he manages.
A provider of Opioid Agonist Therapy (OAT) treatment for many of his patients, O'Malley also collaborates with ASK Wellness Society, a non-profit agency that assists members of the Kamloops community with housing, health or employment. He is currently working with the organization to create a new pilot project in conjunction with the Kamloops Addictions Clinic and Interior Health for those with substance use disorder.

For many of his patients, O'Malley has provided so much more than medication; he has provided hope for their future.

Kamloops resident and member of the Micmac First Nation, Joshua Higgins, is a thankful patient of O'Malley's. After struggling with mental health, substance use and chronic pain for several years, Higgins credits O'Malley with his restored health and wellness today.

"In the last year, being an exceptional person that Clancy is, he has stuck by me through two relapses, detox, and a Hepatitis C positive diagnosis and provided me with all of my medications without judgement and genuine caring," says Higgins. "Even if he is busy with something else, he always seems to take the time to listen to me and help me in any way he can."

O'Malley sees his overall approach to patient care as critical to the overall outcome of patients such as Higgins.

"People that do have to go to the pharmacy daily, you see them more than anybody. Every day, it's an opportunity for a good experience or a bad experience."

A resident of Sun Peaks, a small resort town 45 minutes away from Kamloops, O'Malley in October expanded his business to open the community's very first pharmacy, Sun Peaks Pharmacy.

As the community continues to grow beyond just a resort town, O'Malley wanted to offer locals and tourists alike trusted pharmaceutical care without the drive to Kamloops. During shoulder seasons, when business slows, residents can still access care via O'Malley's telepharmacy based out of his Kamloops pharmacy.
- profile by Angela Poon