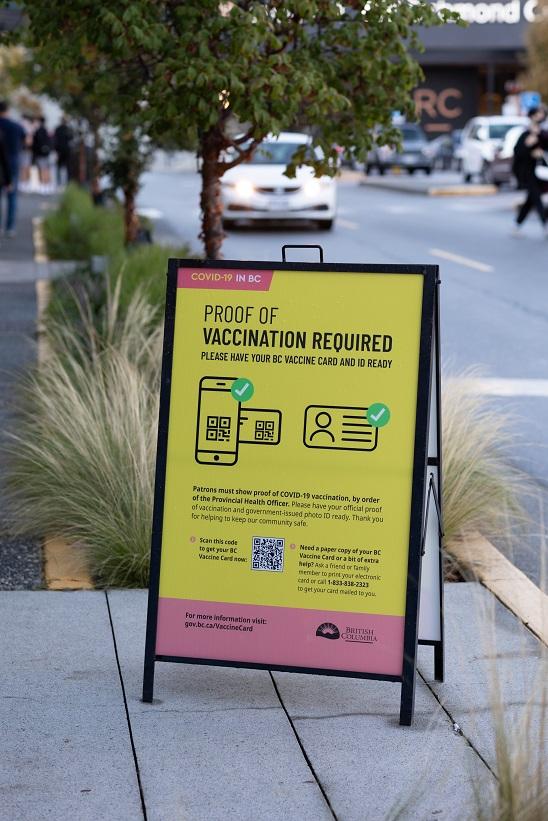 As of Oct. 24, 2021, full vaccination is required for anyone 12 years and older in British Columbia to access some events, services and businesses. Those who have not yet obtained their Vaccine Card can get one at gov.bc.ca/vaccinecard. The changes are part of B.C.'s Vaccine Card program that began on Sept. 13 when British Columbians were required to prove that they have received a first dose of a COVID-19 vaccine to access some businesses.
On Oct. 14, 2021, B.C.'s Provincial Health Officer made an order requiring health professionals to be vaccinated against COVID-19. There have been a number of conversations since that date to determine exactly who needs to be vaccinated as it relates to the operation of community pharmacies.
On Oct. 22, 2021, the College of Pharmacists of BC issued this clarification:
The Office of the Provincial Health Officer has clarified that the mandatory vaccine requirements in the Order of the Provincial Health Officer - Hospital and Community (Health Care and Other Services) COVID-19 Vaccination Status Information and Preventive Measures do not apply to all regulated pharmacists and pharmacy technicians in community pharmacies. If you are in community-based practice, it is important to review the Order to confirm how it applies to you. While the Order is largely directed at employees of certain organizations, such as health authorities, pharmacists and pharmacy technicians in community pharmacies under contract with those organizations may fall under the requirements of the Order.
On Oct. 25, 2021, the Association provided some additional clarification for members:
In general, this order does not apply to the work that happens on a daily basis by staff in a community pharmacy setting. For example, pharmacy assistants receiving prescriptions, retail clerks/cashiers ringing up customers, or even pharmacists or pharmacy technicians working in their pharmacy location, do not need to be vaccinated against COVID-19 according to Dr. Henry's order.
"The intent of this new order is to ... ensure that people employed by health authorities or contracted to deliver health care or services as defined in the order need to be vaccinated. There is not an intent to impose obligations for vaccination on people more distant from health care, such as retail cashiers or drivers, at this time," Dr. Brian Emerson, acting Deputy Provincial Health Officer, wrote to the BCPhA.
While this order does not generally require pharmacists working in community settings to be vaccinated against COVID-19, the BC Pharmacy Association supports the decision of Health Minister Adrian Dix and Dr. Bonnie Henry in the need for health care workers to be double vaccinated against COVID-19 when providing care to patients.