Direct flu vaccine distribution has come to pharmacies. We take a look at how distributors are embracing the change of bringing publicly funded influenza vaccines directly to pharmacies.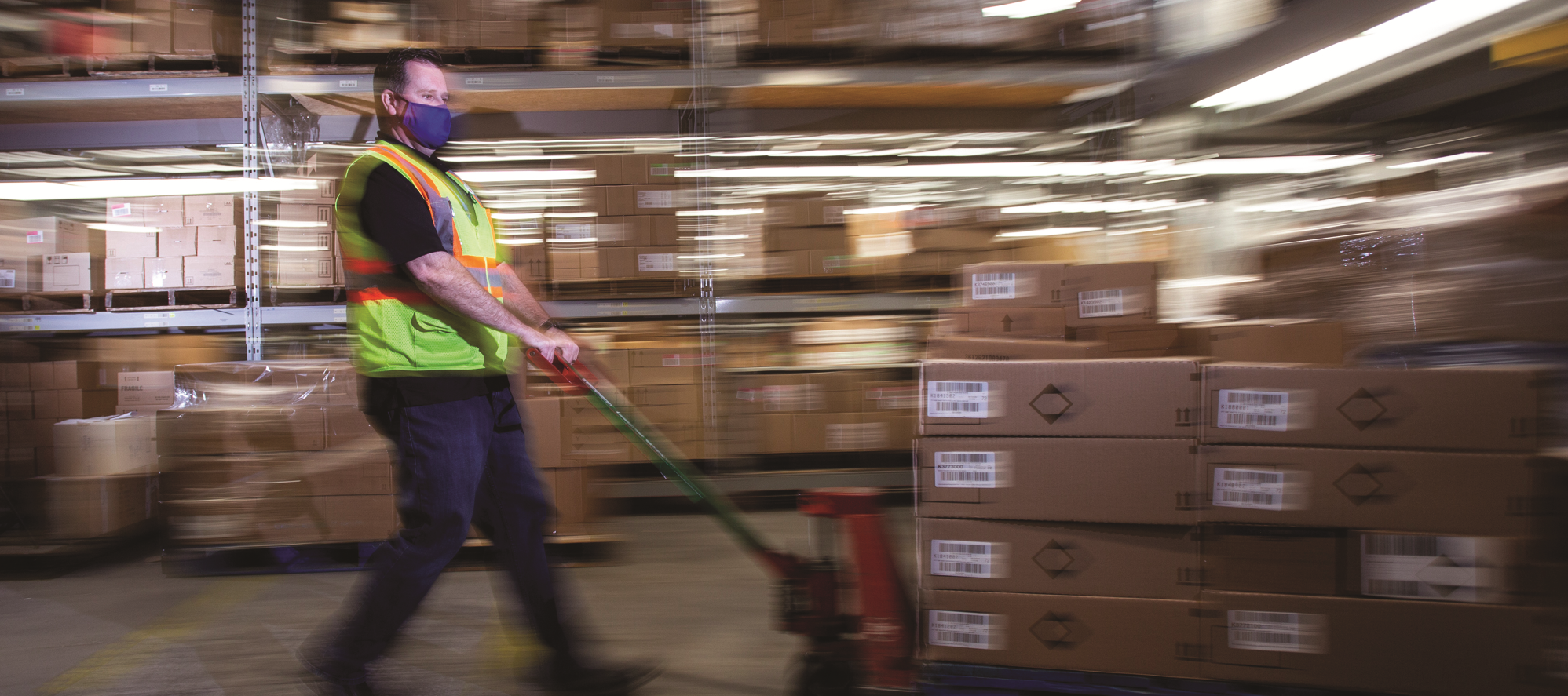 Travis Carnahan, a supervisor at Gamma Wholesale Drugs Ltd., is seen here moving a pallet of pharmacy supplies on Oct. 14, 2021.
At community pharmacies and pharmacy distribution centres, thousands of workers have been gearing up for the first year of publicly funded flu vaccines in British Columbia being directly distributed to pharmacies using the existing pharmacy supply chain.
For the vast majority of British Columbians, the only notable difference about accessing flu vaccines for the 2021/2022 influenza season in B.C. may be hearing the announcement that all vaccine providers will start vaccinations on the same date, Oct. 18.
But for those providing vaccines, this change stands in contrast to how B.C.'s community pharmacists had traditionally visited their local public health units, cooler in hand, while following a wide variety of procedures that can differ depending on your location in B.C. and public health unit team.
Behind the scenes, the BC Pharmacy Association, the BC Centre for Disease Control, regional health authorities, distributors, the Ministry of Health and of course, community pharmacies, have all been working together to meet the mid-October start date.
Every pharmacy in British Columbia is eligible to participate in the flu vaccination campaign and would have been contacted by the Association in the weeks and months leading up to the launch date.
To calculate flu vaccine allocation for individual pharmacies, pharmacies are offered amounts based on their total flu vaccine throughput in the 2020/2021 flu season, or if data for that year is not available, then the year previous, said Bryce Wong, Director of Pharmacy Practice Support and Special Projects with the BCPhA.
"Every pharmacy will basically receive at least what their 2020 throughput was, plus a percentage increase," Wong said. "On top of that, this allocation is somewhat flexible in that if you provide more vaccine over the course of the season, you will be able to potentially access more vaccine than the total allocation that you've been notified of."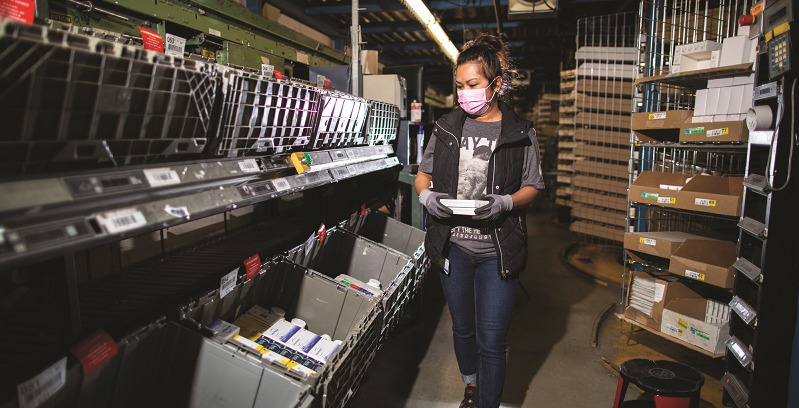 Gamma Wholesale's "carousel" distribution system for pharmacies allows workers to remain at a single location while packing supplies for many pharmacies.
The first initial allocation of vaccines was distributed to pharmacies in early October. A second shipment is expected to be delivered to pharmacies by early November.
The intention, Wong said, is that later in the flu season community pharmacies will be able to place orders for additional vaccines directly from their distributors.
"Following these two shipments, in early November, there should be enough vaccine in the system to open up and allow pharmacies to draw down supply as they need it from their distributors," Wong said. "At this point, the system would transition from a 'push' to a 'pull' model, basically for the rest of the campaign."
Last flu season, more than 1 million British Columbians received their flu shots from B.C.'s pharmacists and only a single case of flu was recorded by the BC Centre for Disease Control. This year, said the Ministry of Health's Bernard Achampong, Executive Director, Public Health Prevention and Planning Branch, there are expected to be 2.5 publicly funded million flu vaccines available in B.C.
"We're really counting on pharmacies to keep helping us like you did last year," Achampong said. "We want to increase coverage, at the very least, to administer two million doses this year. Pharmacies will have a majority of that."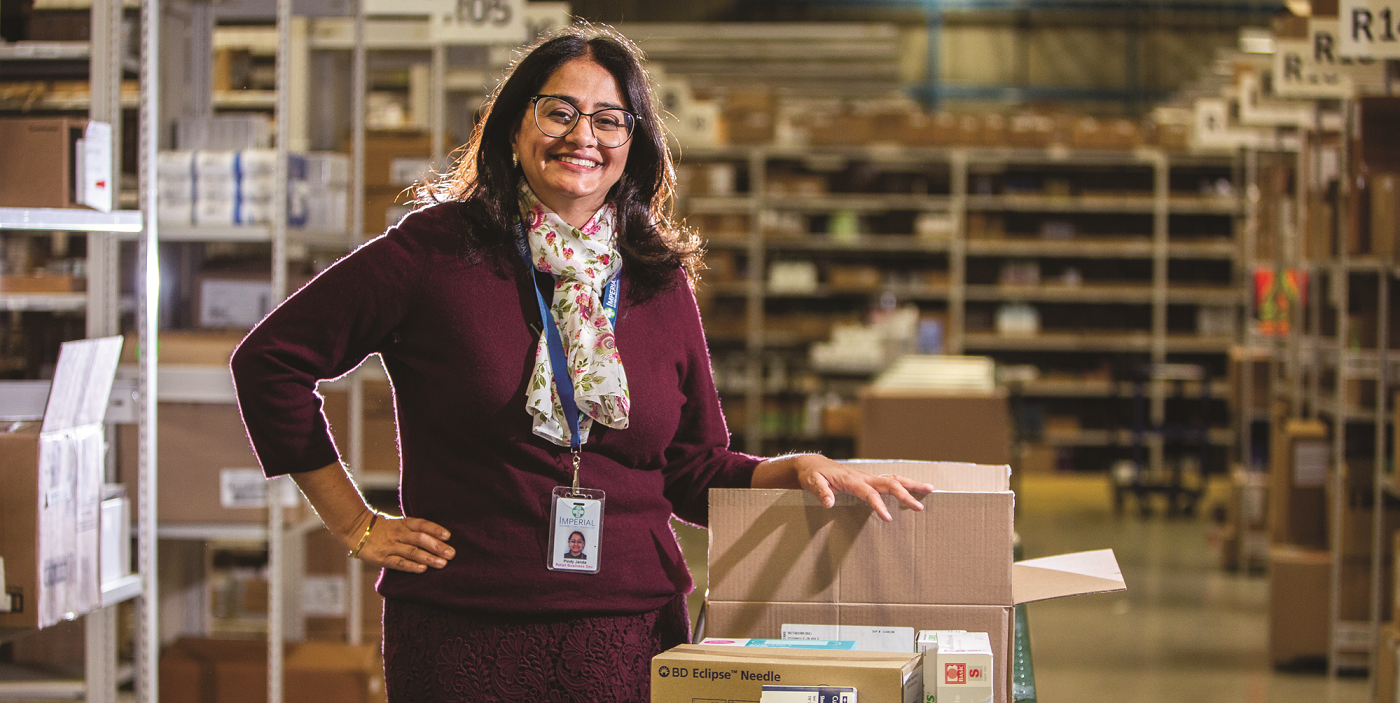 Board Director Pindy Janda poses for a photo at Imperial Distributors' Richmond warehouse.
Pindy Janda, Board Director at the BCPhA and General Manager, Clinical and Specialty Division, at Imperial Distributors Canada Inc., said having the centralized start-date for British Columbians to access publicly funded flu vaccines helps even the playing field for all pharmacies.
"Sure you might have received your doses on Sept. 30, but if you can't bill until Oct. 18, it takes away that concern or pressure from independent or smaller pharmacies who might be worried that the bigger groups got it first and have already immunized all the patients in their community," Janda said.
"On the distributors' side, the process has been proactive in that receiving vaccines in advance from the Ministry and then distributing them to pharmacies is efficient and timely, as Imperial does same-day and weekend delivery. Hence, equitable distribution to pharmacies before the official date."
One of Janda's roles at Imperial Distributors is to communicate with the British Columbia provincial government to provide them insights on how other provinces, such as Alberta, have handled direct distribution. Here in B.C., Imperial will be distributing flu vaccines to all pharmacies that have Imperial as their primary distributor.

"In the past, we've always said Alberta had a better system than B.C. because pharmacies could access publicly funded vaccines directly from their wholesaler. It just streamlines everything," she said. "For B.C., direct distribution is definitely a positive move."
Things aren't exactly the same in the two provinces, however.
While the Alberta Health Service directly oversees the administration of the distribution to pharmacies by making themselves the point of contact between community pharmacies and distributors, meaning that community pharmacists still place their vaccine orders through a central contact within the Alberta provincial government.
In British Columbia, it is the BCPhA that has taken on that intermediary role. Because of this, distributors in British Columbia, along with the Association, are asked to take on the role of making sure there is accountability in distributing publicly funded vaccines. Or in other words, ensuring that doses being delivered are actually being put into arms.
"It's actually accounted for down to the individual dose," Janda said. "It adds extra steps into our distribution workflow, but we understand it helps with accountability and tracing all the way through. The provincial government is able to follow the lot number and will know which lot came into the distributor, and which lot ended up at each pharmacy."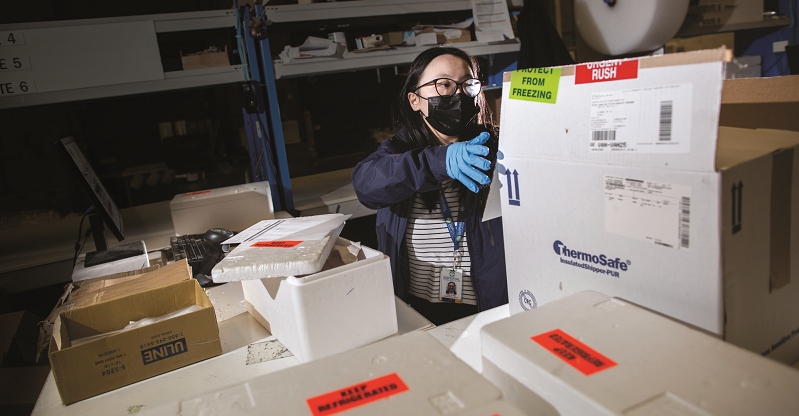 Judy Zhu, Qualified Person in Charge at the Imperial Distributors warehouse, demonstrates how vaccines would be packed for pharmacies.
As for the physical challenge, Janda said Imperial has sufficient existing capacity to accommodate the storage and shipments of this year's supply. Many distributors will already be able to meet the fridge temperature storage supply requirements – the physical work itself is very similar to how other medications requiring cold-chain management are already handled.
"The extra step is just making sure when the orders are coming in that they are properly keyed into the system. When vaccines arrive from the BCCDC, there's a temperature tracker that it arrives with, and our receivers here will record the data and continue to track the temperature of the supply while it is in storage in the coolers," Janda said.
Joey Minhas, Pharmacy Operations Manager at London Drugs Ltd., said Gamma Wholesale, one of London Drugs' pharmaceutical distributors in B.C., had recently invested in a larger walk-in cooler for vaccines and other cold-chain products, in addition to ultra-cold freezers in case they are needed for COVID-19 vaccines.
"Distribution of medications to pharmacies is not new to Gamma Wholesale. Gamma Wholesale has been around since 2008," Minhas said. "We have processes in place already to handle large volumes of supply and will distribute supply out to the stores using Gamma's delivery drivers and trucks, or using third party couriers if we need product(s) shipped quickly to certain stores."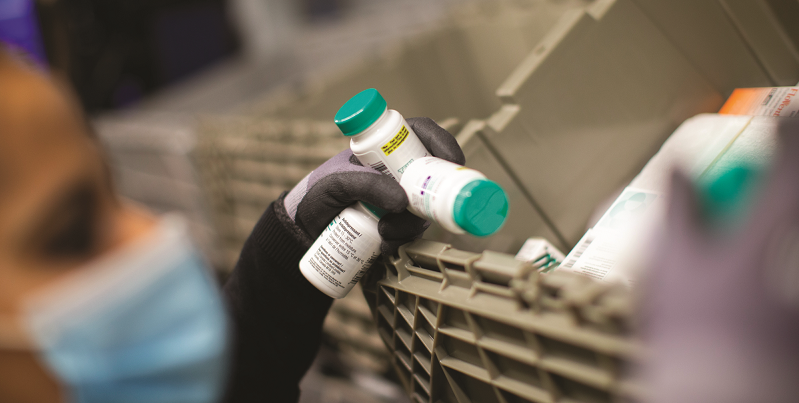 A distribution centre worker at Gamma Wholesale packages supplies into a pharmacy shipping box.
For Minhas' pharmacies, at least for the initial allocations, the supply has already been predetermined and Gamma will auto-ship these predetermined amounts to stores, where local pharmacy managers will ensure their staff are aware of cold-chain requirements and understand the process for updating individual-store inventories.
Ralph Lai, General Manager, uniPHARM Wholesale Drugs Ltd., said he's looking forward to working with community pharmacists, pharmacies and the Ministry of Health on this program.
"I am glad to see the community pharmacies are getting a more prominent role in flu vaccination in B.C.," Lai said. "Our B.C. government has made a wise decision to use the efficient pharmaceutical wholesale system to distribute the flu vaccines to community pharmacies."
Pharmacies who are administering flu shots will be able to list their locations on the BCPhA website, where pharmacies have the option of indicating whether they are accepting bookings online, by phone, or by walk-ins.
A flu clinic locator page has been created at bcpharmacy.ca/flu and is promoted to British Columbians as their one-stop shop for pharmacy flu vaccine appointment bookings. The Association has also created a regularly updated Influenza Immunization Guidance For B.C. Pharmacies page at bcpharmacy.ca/resource-centre/pharmacists/flu.