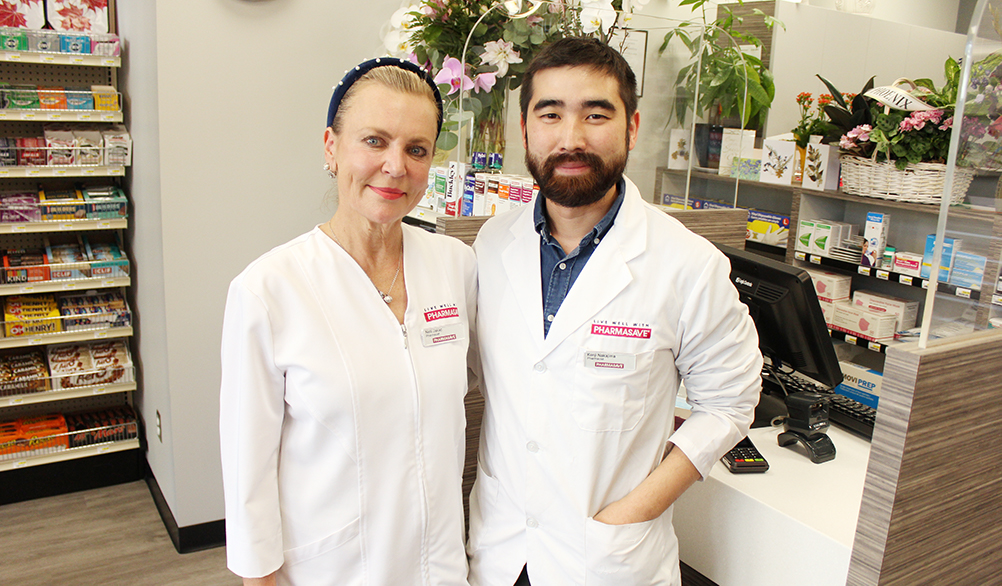 Pharmacy owner Nelli Jakac and staff pharmacist Kenji Nakajima at Phoenix Pharmasave #37.
You experienced something devastating last October, something no pharmacist or business owner should have to go through. What happened?
It was the middle of the night on Oct. 15, 2020 when I got the first "ding" on my cell phone that morning. I didn't answer. I thought, oh, it's just the alarm system. Another mouse. Then my home phone rang. It's Kenji, my staff pharmacist, and he says, "Nelli, you know if I have to phone you at this time, we got a problem."
I was thinking, oh Kenji, it's just a mouse. And it's four in the morning.
But I needed to show leadership, mouse or not. So I'm in my pajamas, driving to my pharmacy, thinking by the time I get home again it'll be just about time to go back to open the pharmacy for the day. Then I get to 33rd Avenue in Vancouver, and all I can see is the inferno.
There were three firetrucks. You can see the fire on the roof, and I can see a part of it just cave in, and there was this big gust. An inferno. I went home. Both my children were home because of COVID-19 and I had to tell them, our pharmacy is burning down.
I spent 15 years of my life building my pharmacy at Cambie Street and King Edward and suddenly, it just went into an inferno. It's something nobody can understand unless you're in these shoes.
A lot of people will say they understand, and they'll say time heals all wounds, but there are still triggers that hit me now and then. To all of a sudden wake up one morning and have nothing — I wouldn't wish that on my worst enemy.
The pharmacy clearly meant a lot to you. How did it start?
The location was a tea shop and there was already a medical clinic next door. At the time, all the tenants in that block were leaving because this was during the time the Canada Line was starting to get built on Cambie Street. Something just told me to go inside.
I talked to the tea shop owner and apparently, the landlord wouldn't let them go until they had finished their lease. So I took it over instead.
I guess what drew me in was the medical clinic. In school, they always taught us: pharmacy-medical clinic — it's a good way to source patients and customers. Another consideration was that the location was close to my kids' school. My kids at that time were in elementary school — grade 4 and 3 — and they would walk to the pharmacy after school, and I would have a little consultation room where I had crayons and everything so they could do their homework.
I remember the first day I opened was January 3 or 4th of 2006. First thing in the New Year. I was happy but I was also scared all at one time. I had just come from an online pharmacy where we were 10 pharmacists in a warehouse with 20 technicians and packagers.
And all of a sudden, it was just myself.
In the beginning, I was working seven days a week to match the clinic next door. I would open every hour with the clinic and I even stayed half an hour longer after they closed. After the first year, it started getting better. It's kind of like having a baby. When you first have a baby, you don't know what to do and you're mixing up your left hand with your right hand. But all of a sudden, things start to fall in place.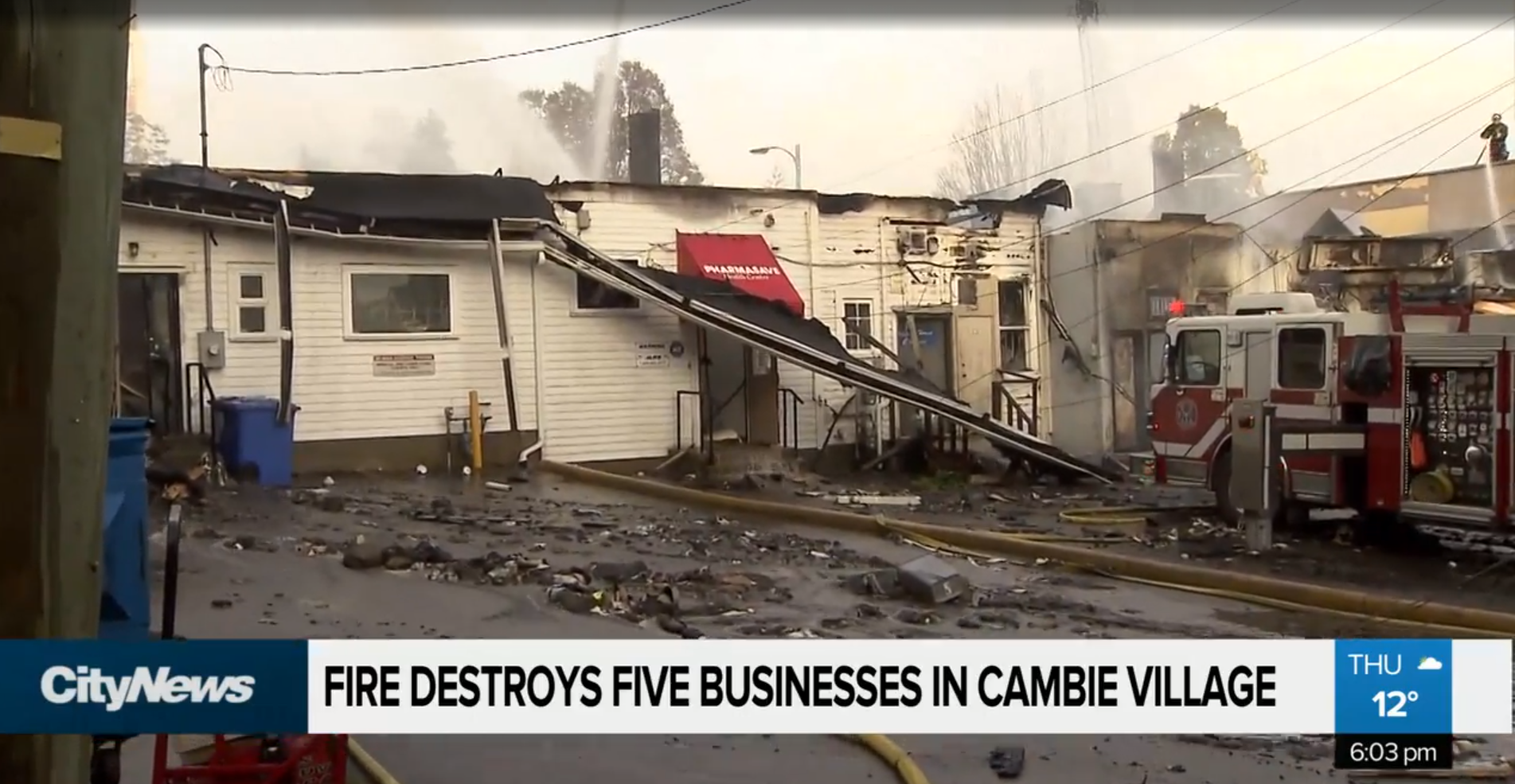 An image from CityNews, which provided news coverage of the block fire on Oct. 15, 2020. Jakac's Pharmasave can be seen in the image. (Screenshot)
How did you first build your business up?
Back in university in one of my economics classes, they always said, "whoever walks through your door is your customer." Because of the Canada Line construction going on at the time, nobody could come in through the front door. I just thought, what the hell had I gotten into.
In the first couple of years, probably 70% of the people coming into my pharmacy were construction workers from the Cambie Line. I befriended everybody. The rebar workers came in at 9:30 a.m., construction came in at 10 a.m. and the others came in at 10:30 a.m. and I would have coffee ready for them.
I'd have banana bread, muffins, and I was making 22 sandwiches a day for almost two and a half years. I probably made the best sandwiches on Cambie. I didn't use sliced bread, it was roast beef, corned beef on onion buns, Kaiser buns, hearty sandwiches. I think I was selling them at that time for $6.99.
I will never forget it. It was maybe 2010, and it was so hot that summer that half of my Coca Cola machine was stuffed with watermelon in Ziploc bags. When you're a worker doing rebar and you're underground and it's just scorching, they'll come back up, covered with sawdust and they wanted to cool down with some watermelon. I've never cut so many watermelon slices in my life.
I'd stock extra safety goggles, gloves and first aid kits because sometimes the workers would lose their equipment. I even set up a bench near where the TV was, so all the workers on their break would sit there and have lunch with a smile on their face.
Those days were not so bad for me. While other business owners complained about the Canada Line, I was doing good. The rest of my customers came from the doctor's office next door.
As the Line started to finish, all of a sudden it was the Olympics and the King Edward Station was open. A lot of the wives and the partners of these construction workers actually came down to see me afterwards because they knew I was feeding their partners.
That's the beginning. As time went on, I got to know the people who live around there and business grew through word of mouth. Over the 15 years I've known the community from people telling me they're pregnant to when they're taking their kids to school and everything in between. I've had people come out of the closet with me. I've had people tell me everything.
The little store, 1,000 square foot, was a good engine. We've been able to travel the world. I put my daughter through the London School of Economics through that store. My son is now doing his masters at UBC.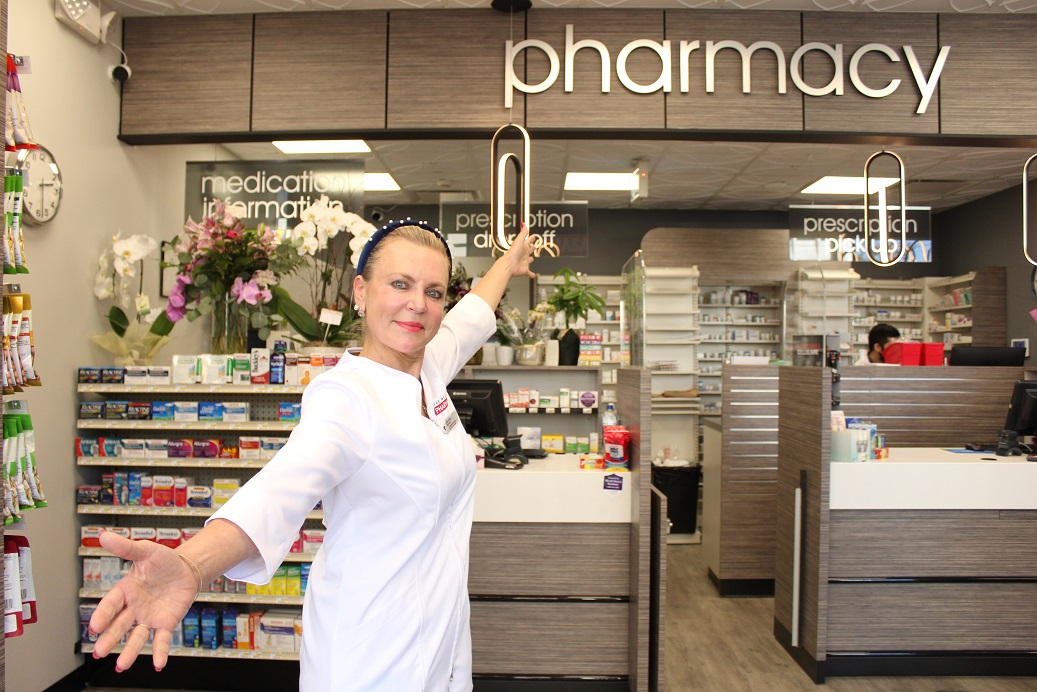 Nelli Jakac's new location at 990 W. Broadway officially opened on Aug. 11, 2021.
After the fire, what did you do?
I went home and had a shower and took my kids back to the pharmacy with me. There was nothing we could do and nothing we could save. We just watched it burn.
I remembered all of Pharmasave was down there. Greg Shephard, Christine, Dominic, my colleague Willis Mah and Rudy from Pharmasave 80 and 82. I remember Willis telling me to come set up remotely at his store, so I can continue to take care of my customers.
At this point, I was in fight mode. I knew I had to get a new computer with the Kroll software. I knew I needed to answer the phones, and I also wanted to transfer the fax lines so we could get faxes through to an email account.
I remember grabbing my son's old cell phone, running to the Telus store and transferring my phone lines to the cell phone. Pharmasave was trying to get me a computer to set up on Kroll, but it would be about 10 days before I would receive the computer. Fortunately, we managed to find a computer that met all the specifications that same day, I paid $2,500 for it, and called my staff pharmacist Kenji to report to Willis's store at Main and 30th the next day at 9 a.m.
So at 9 a.m. the next day, we answered every voice message that was left with us. Anybody who needed their refill prescription, we went in and started phoning, telling our customers that we're still here, we're over at Main Street and we have your refills. This was during COVID-19, so a lot of people wanted things delivered anyway.
And you know what? I got all my patients back. I did. It just gave me affirmation that whatever I was doing in the last 15 years had made my patients and my customers feel good enough, that they would follow me anywhere.
There are still some things I can't remember, or that my brain doesn't want to remember.
A couple months later, I asked Willis, the pharmacy owner who let me set up remotely, "how did this all get set up? How did we ever get to your store? Because I cant remember."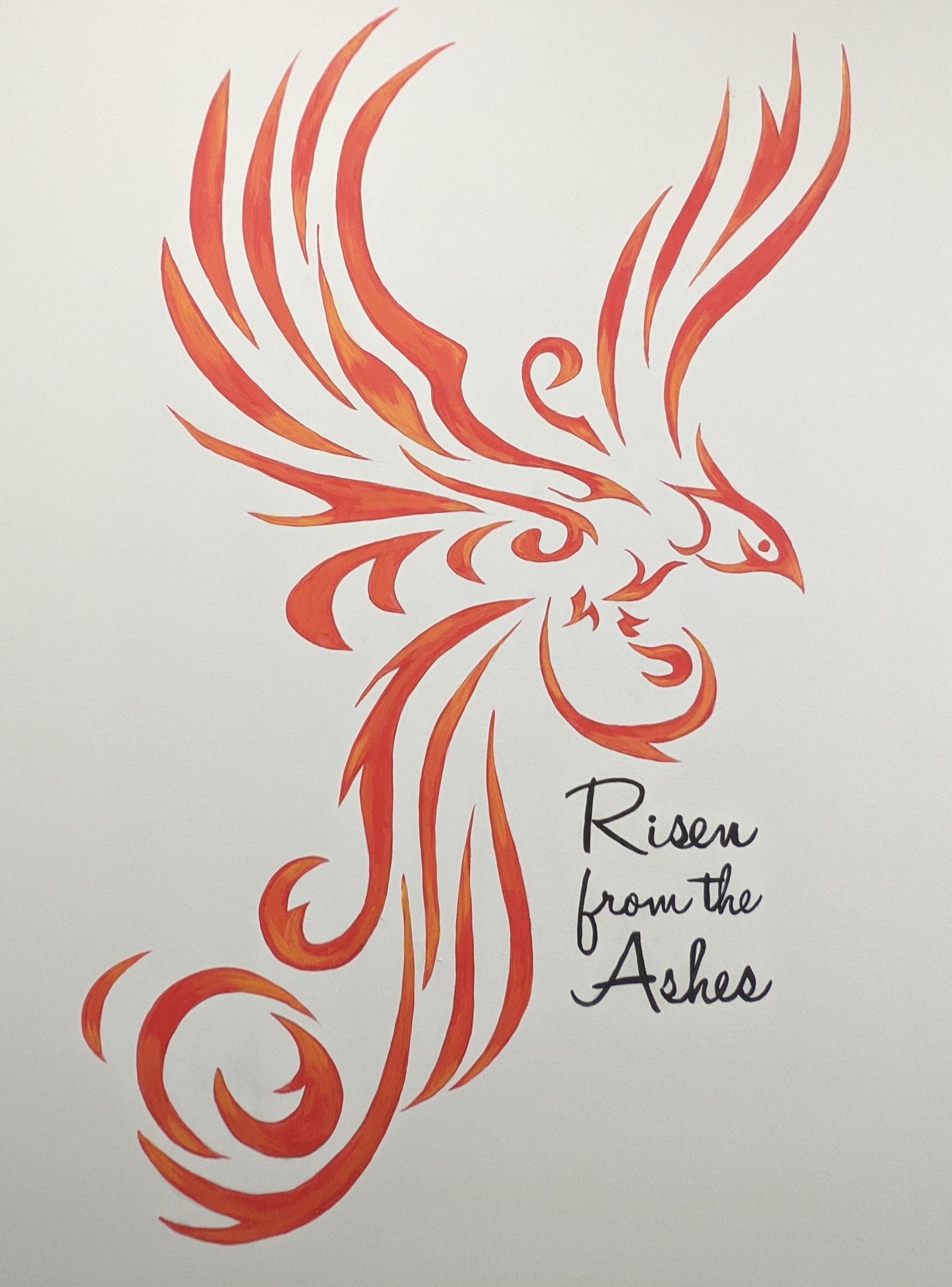 What was your strategy to rebuild your pharmacy?
My saving grace? It was having proper insurance and offsite backup of the Kroll system.
After the fire, I went right away to one of my customers and friends over the last 15 years, Peter Toigo. He connected me with his son who is in commercial real estate and I went from there.
It's amazing what you learn. The people who you thought were going to help didn't help, and the strangers are the ones who help. I never thought I would have a colleague say to my ear, come work remotely at my pharmacy. Some patients went to other pharmacies, but when the pharmacists found out I was still around, they transferred the patients right back to me.
The cause of the fire was undetermined. The damage was so bad. I had interruption insurance and that's what I lived on, and I was able to keep Kenji on the payroll the whole time. I'm still right now out of pocket $125,000 to build my new pharmacy, but my accountant tells me, Nelli, you basically got a brand new store for $125,000. So I look at it that way.
Our first day open at the new Broadway and Cambie location was on Aug. 11, 2021. I'm elated. I'm truly happy and I feel I will be able to finish my discipline and retire the way I wanted to be able to. There is hope. I received my first Pharmacare cheque last Friday and I almost went to Pluto and back again, I couldn't believe it. Kenji is also happy so that makes me happy. Our customers are coming in, and I've got my home base that have started to come back again through word of mouth.
To be able to turn around and bring my new store to fruition in less than a year? I'm really happy. I protected my family. Now I can breathe a little bit lighter.
Now I am the phoenix that has risen from the ashes.