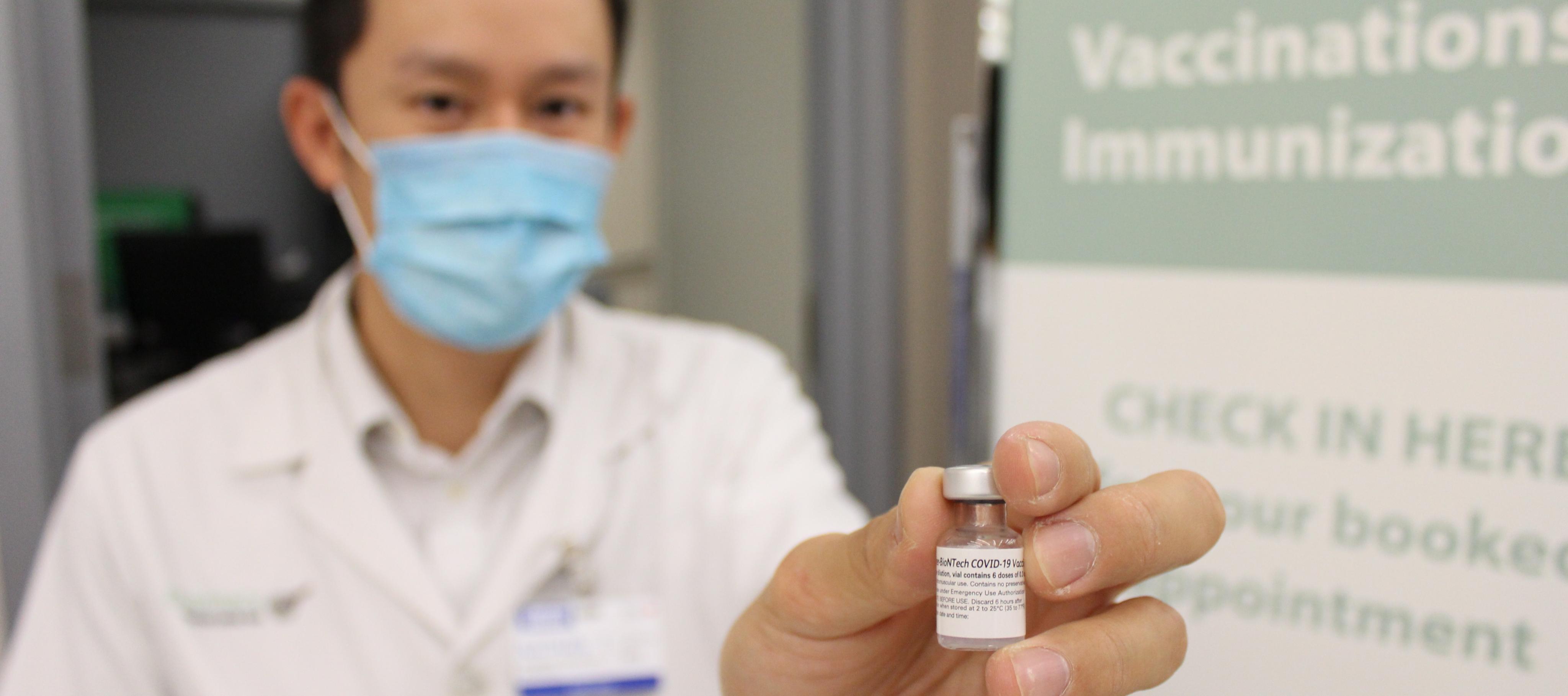 Nathan Tsai, Pharmacy Manager for London Drugs' Ladner location, holds up a vial of Pfizer COVID-19 vaccine. His pharmacy was one of about 50 pharmacies in the Lower Mainland to participate in the ImmsBC pilot project.
London Drugs
London Drugs had six of its pharmacies participate in the pilot project for Pfizer vaccines and due to its success and the company's commitment to provide COVID-19 vaccinations to the public, all six locations are continuing beyond the pilot, said Penny Lehoux, Manager of Pharmacy Managed Care at London Drugs. One of her roles is overseeing the Pfizer COVID-19 vaccine pilot program.
Lehoux described the vaccine ordering and administration process, and said London Drugs' individual stores place orders with the BC Centre for Disease, then orders are shipped to the group's distributor, where the vaccine is stored at fridge temperatures of 2 to 5 C. The Pfizer vaccines are then delivered to individual pharmacy locations the next day - a very efficient system is necessary for a product that is only stable at fridge temperatures for 31 days.
Due to the additional procedures, her teams began the pilot project by administering six doses per day initially.
"After the first day, the pharmacy teams were more comfortable with the ImmsBC booking system and procedures, and they opened up availability to every 10 minutes. To minimize wastage, only six doses are prepared at a time and stores have been keeping manual waitlists of walk-in customers to help fill in empty or cancelled appointment times," Lehoux said.
While using the ImmsBC system, appointment blocks are interspersed with other clinical services like travel consultations and influenza vaccinations. When possible, COVID-19 vaccinations are combined into one visit with other immunizations. Once the appointment blocks become active, the pharmacy location becomes visible to the public in the provincial government's booking system.
"The demand has been surprising," Lehoux said. "Even our locations that are close to large vaccination centres are filling most of their appointments. Some people prefer to trust their local pharmacist with all of their vaccination needs."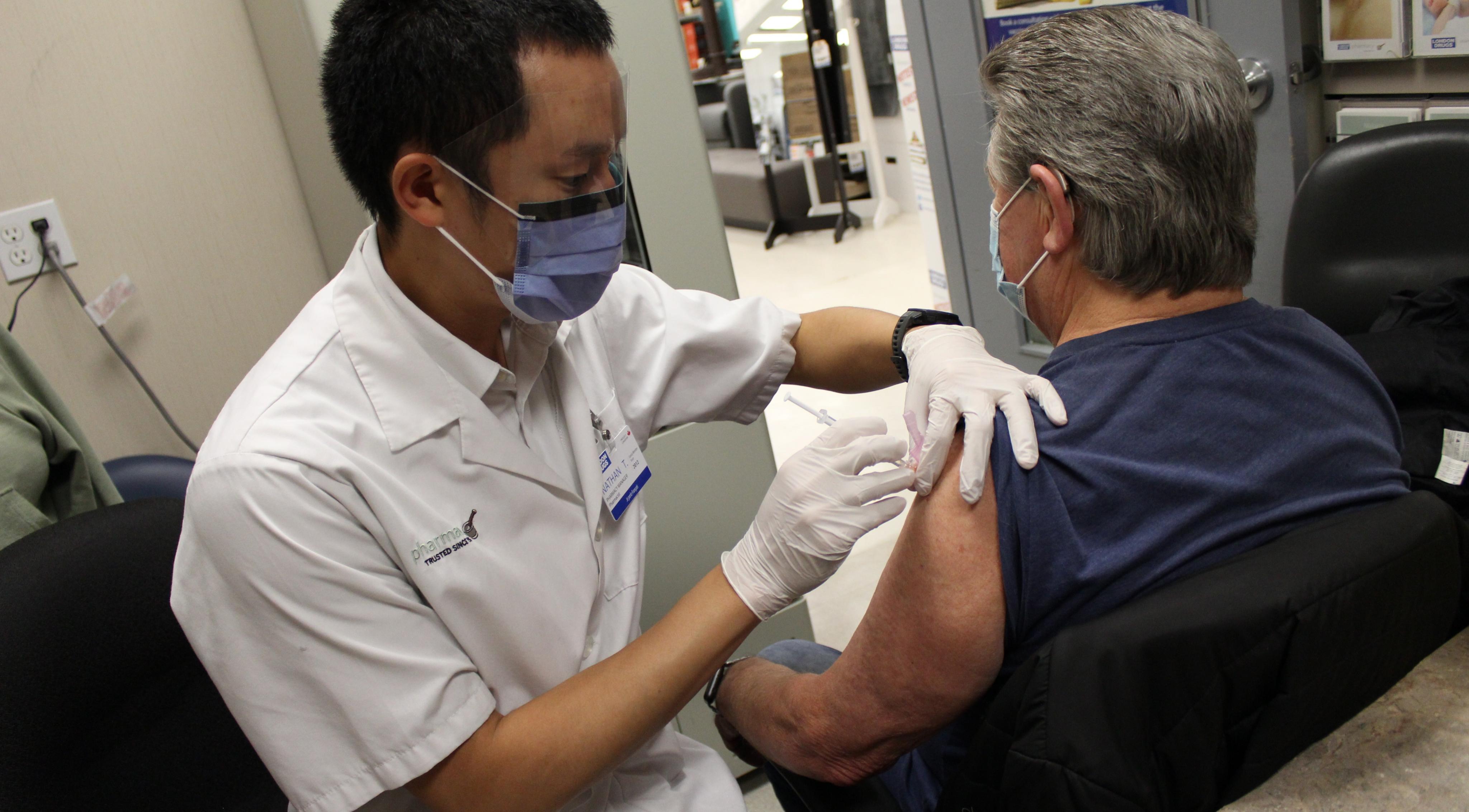 Patient Robert Blair receives his COVID-19 vaccine from pharmacist Nathan Tsai on Friday, Oct. 8, 2021.
Nathan Tsai, Pharmacy Manager at London Drugs' Ladner location, said demand particularly increased after B.C.'s vaccine passport requirement took effect. He said the process of administration was similar to that of other vaccines, with the exception of following the 31-day fridge storage and six-hour post-dilution requirements. As one way of minimizing wastage, vaccines were diluted one vial at a time, he said.
The average booking looks like this: the patient arrives at the pharmacy and checks in with staff to confirm their appointment time and identification. Next, they are directed to a consultation room where the pharmacist is waiting. The pharmacist confirms the patient's ID, obtains consent, and provides counselling on the vaccine and aftercare information.
The shot is given, recorded in the ImmsBC system, and the prescription is processed in Kroll where the arm that received the injection and lot number of the vaccine are noted. Finally, a vaccination electronic record is printed from the ImmsBC system, the patient's paper vaccination card is filled out, and the patient is asked to wait for 15 minutes to check if there are adverse effects.
Lehoux said some of the benefits of using the ImmsBC system compared to traditional booking by individual pharmacies is the larger outreach to patients and the ability to ensure appointment spots are filled.
"It is also very convenient to have a call centre to answer questions about booking procedures. Centralized booking attracts new customers to our stores, and the support provided by the BCPhA has been wonderful," Lehoux said.
In terms of challenges, the additional steps involved in working with ImmsBC did have a learning curve, she said.
"Lots of training is involved at all levels in learning a new system that is not specific to pharmacy needs," Lehoux said. "It is the same system used by large vaccination centres so there are many functions that we do not utilize. The extra step of confirming user identity with the authenticator app for all staff is time consuming, but necessary given the level of access to patient information."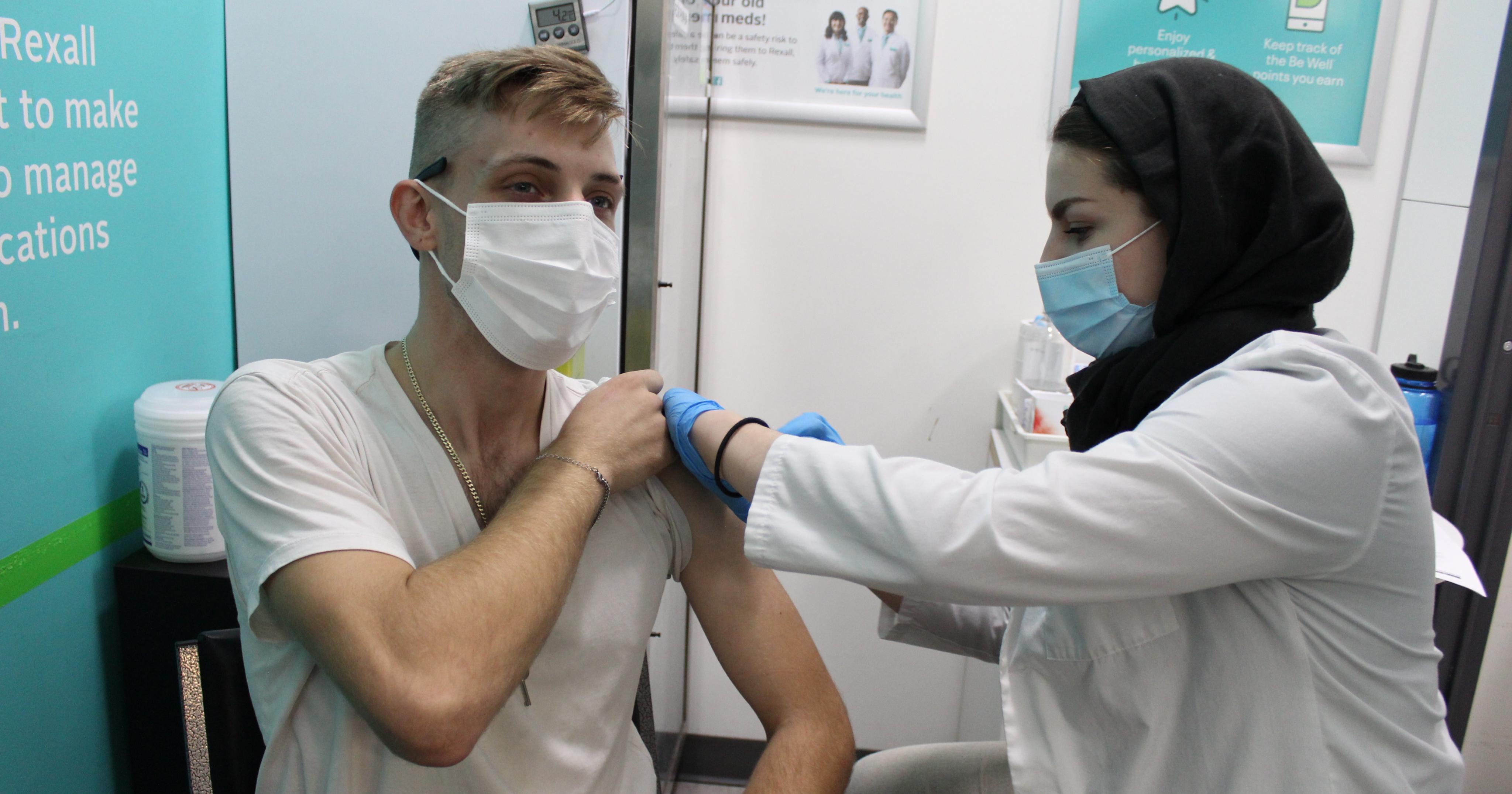 Patient Stan Chernishov receives his COVID-19 vaccine at Rexall #7159 in Vancouver.
Rexall
Rexall's Eric Lin, Pharmacy Practice Lead for B.C., said four Rexall Pharmacies participated in the pilot program.
"Our pharmacy teams have been eager to help the immunization efforts during this unprecedented time to protect our communities," he said. "Over the past year, Rexall pharmacists have administered over 700,000 COVID-19 vaccines. When access to healthcare has been difficult, our pharmacists' time and careful recommendations have brought comfort and a sense of relief to many.
"My role is to support Rexall pharmacies participating in this pilot by utilizing internal resources, knowledge, and best practice experience for administering the Pfizer vaccine in other provinces," Lin said.
While Pfizer's mRNA vaccine must be stored at ultra-low temperatures of -90 C to -60 C for longer-term storage, thawed vials prior to dilution can be kept at fridge temperatures of +2 C to +8 C for up to 31 days. It is at these fridge temperatures that Rexall pharmacies keep their Pfizer vaccines.
Each vial holds six doses, and pharmacists must dilute the vaccine with sodium chloride prior to use. Another thing to keep in mind is the short amount of time a vial may be kept following dilution. Following dilution, the vaccine must be used within six hours.
"There are several handling considerations that our pharmacy teams must take into account, leveraging best practices and learnings from provinces already immunizing Pfizer," Lin said. "While the vaccine is stable in our fridges for 31 days, this usually isn't an issue as there is significant demand. Our teams must group patients together because once we dilute and reconstitute the vaccine, we have six hours to use all six doses in that vial."
Lin said his pharmacists are conscientious to avoid wastage at all costs.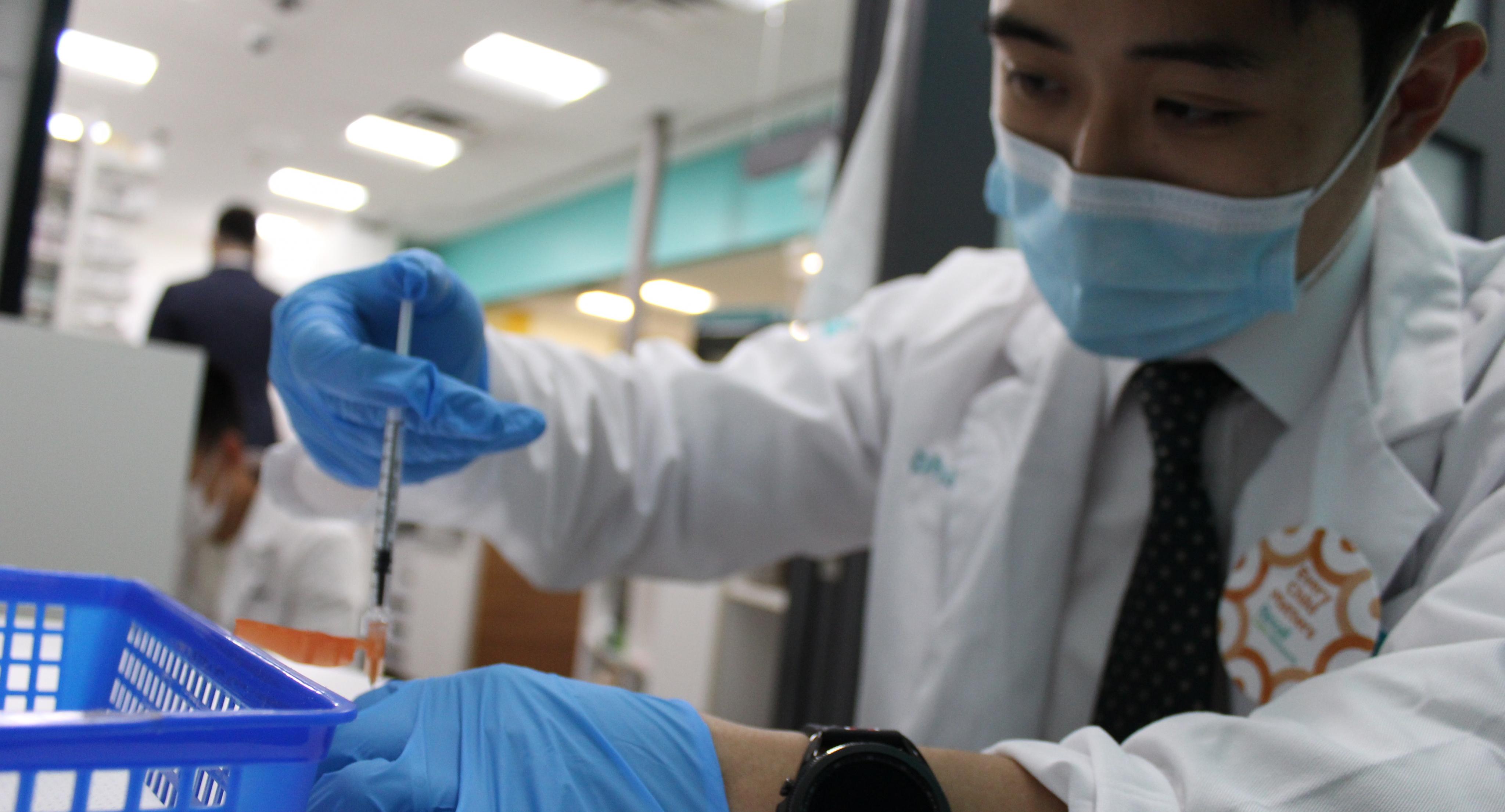 Pharmacist David Bae prepares a dose of the Pfizer COVID-19 vaccine on Oct. 1, 2021 at Rexall #7159 in Vancouver.
"Should there be a patient who misses their appointment, we actively reach out to upcoming patients requesting they come in earlier, to avoid wastage," he said. "If there are no patients available through these means, we offer walk-in vaccinations to minimize wastage. Taking into account the importance of having every patient immunized, we continue to prioritize patients actively seeking to be immunized and implement these mitigation tactics to reduce wastage to the best of our ability."
Lin said pharmacies participating in the pilot can select clinics days on ImmsBC with a start and end time, and after selecting these options, the pharmacy becomes available as an option for patients when they book either online at getvaccinated.gov.bc.ca, or by phone. Since patients usually book by selecting a geographic area, Lin's stores would show up as options if a patient is close to the locations.
Lin said his pharmacies continue to see additional patients wishing to get immunized, in part due to factors such as mandatory vaccination policies, provincial vaccine passports, and the progression of the pandemic itself.
"Our pharmacists continue to be there to advocate immunization, answer questions and provide information ensuring patients can make an informed decision to get vaccinated," Lin said.

Pharmacist David Bae demonstrates the ImmsBC provincial vaccine booking system used for the COVID-19 vaccine pilot program.
Lin also provided feedback on the ImmsBC system, where he noted the benefits of having pharmacies be able to customize booking slots during different times of day, and also the ability for the pharmacy to receive and report vaccine wastage and injection records directly to the Provincial Immunization Record (PIR).
"That said, it is more 'complex' than a traditional pharmacy-managed booking system," Lin said, pointing to how searching for patient information uses different steps, depending on the patient's registration status with ImmsBC and their method of booking. Additionally, if a mistake is made when entering information on ImmsBC, the resulting incorrect record on the PIR cannot be reversed without sending an email to the Association.
"With this initial complexity, we hope that the additional administrative tasks and time on the system will be addressed in future releases of the platform," Lin said.