By Michael Mui
Communications Manager, BCPhA
Patients' appetites for vaccines have been reinvigorated with the arrival of bivalent vaccines and the start of the flu season
A flurry of activity accompanied the fall respiratory disease season in British Columbia with the launch of the Moderna Spikevax bivalent COVID-19 vaccine and the inaugural use of the ImmsBC vaccine booking system for flu shots.
As of Sept. 9, community pharmacies in B.C. began receiving the Moderna bivalent vaccine. These new vaccines reinvigorated the public's demand for COVID-19 boosters and the work was quickly followed by the rollout of the public flu vaccine campaign just a month later, on Oct. 11, and the arrival of the Pfizer bivalent vaccine in B.C. in mid-October.
For community pharmacists, this year's flu season also had the additional weight of mandatory ImmsBC enrolment, which replaced the various vaccine appointment booking systems traditionally used by pharmacies.
Since the flu campaign launch, community pharmacists have provided a record number of vaccines: more than 330,000 vaccinations in a single week. Strong demand for both the COVID-19 bivalent vaccine and flu vaccines is anticipated to continue into at least mid-November.
ImmsBC for flu vaccine rollout
Andrea Silver, pharmacy manager at Heart Pharmacy IDA Shelbourne in Victoria and vice-chair of the College of Pharmacists of BC, said flu bookings in particular had a shaky start for the first two weeks, but things are beginning to smooth out.
"Having vaccine come from our wholesalers has reduced the administrative burden associated with coordinating pick ups from Health Units, and having the Association control allotments has made the process more transparent and therefore easier to know what and when we will be receiving so we can plan clinics accordingly," Silver said.
"Things will never go completely smoothly with so many moving parts, but generally the public has been pretty understanding."
Silver said her pharmacy continues to accommodate walk-ins, though the decision to accommodate walk-ins or not can vary from pharmacy to pharmacy.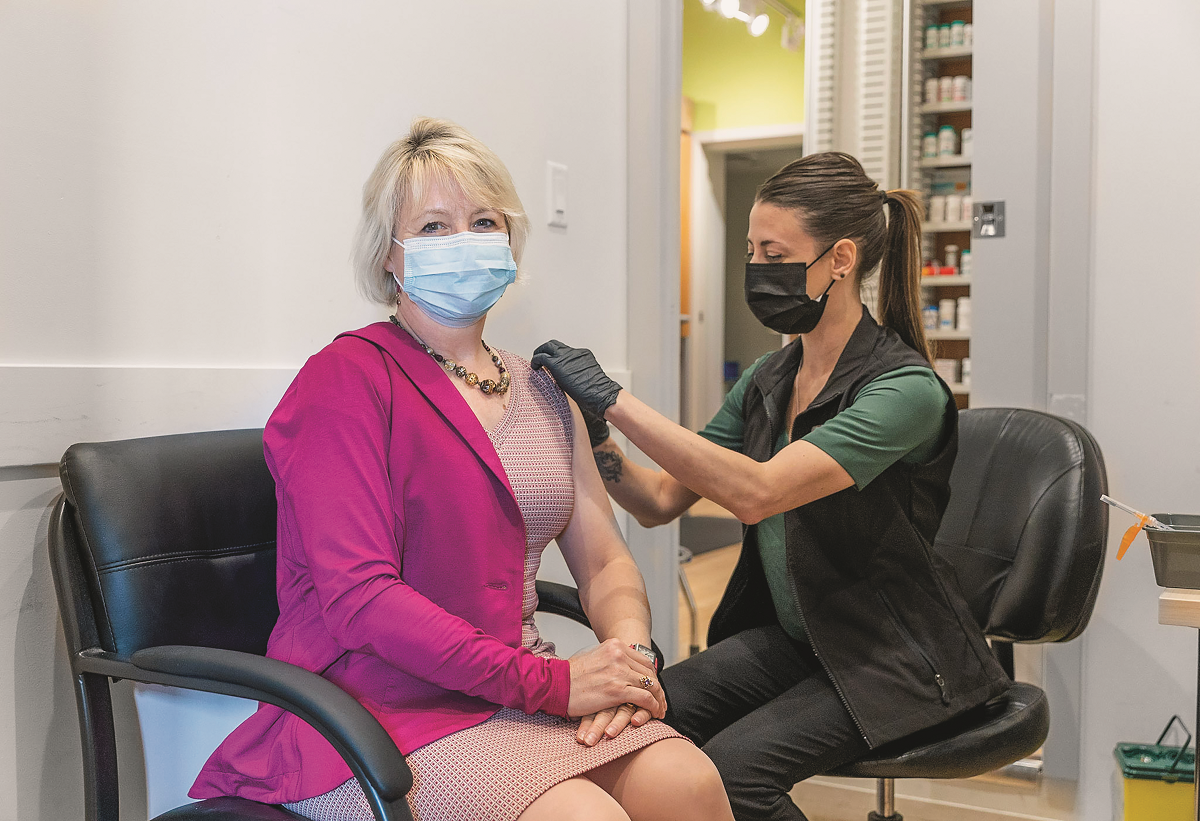 Andrea Silver (right), pharmacy manager at Heart Pharmacy IDA Shelbourne in Victoria and vice-chair of the College of Pharmacists of BC, administers a flu shot for B.C. Provincial Health Officer Dr. Bonnie Henry in October. BC GOVERNMENT PHOTO
Another pharmacist, Dennis Taruc, owner at the Town Centre Pharmacy in Coquitlam, has chosen to focus on patients who have booked through the Get Vaccinated system.
"As we get supplies sent to us in batches I need to make sure those people that have an appointment actually have vaccine available to them. Most people are understanding as they can physically see how busy I am," Taruc said. "I assure my patients that we will get to everyone eventually and the first two to three weeks of influenza vaccination season are the busiest time at most pharmacies. While I encourage people to get vaccinated as soon as they can, it just doesn't have to be on the first day."
Taruc said the change to use ImmsBC for flu bookings has resulted in his pharmacy delivering more vaccines than in the past. In previous years, the vast majority of flu vaccine bookings would be made by regular patients at his pharmacy. This year, three in four bookings are from patients who have never visited his pharmacy, who found his pharmacy when booking through ImmsBC. This meant Taruc had to come up with creative solutions to ensure his regular customers could still get their shots.
"An example I did was set appointments for every 10 minutes on ImmsBC and then inactivated every second slot. When a regular patient of mine would call to book a flu shot, I would activate a time slot of their choice and then quickly book the slot for them on ImmsBC," Taruc said.
"Unfortunately, it has alienated some of my regular patients that are used to talking to me directly and arranging an appointment. Now they are competing with the general public for time slots."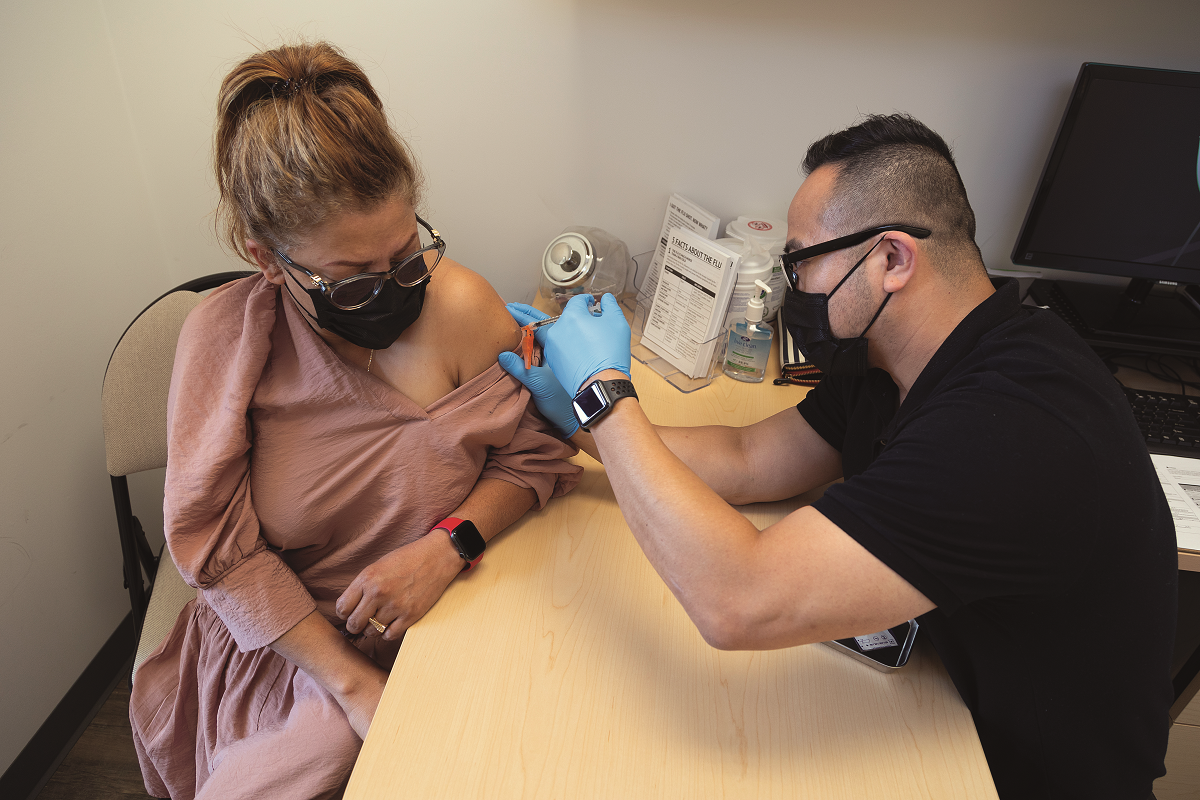 Pharmacist Dennis Taruc, owner of Town Centre Pharmacy in Coquitlam, administers a Moderna bivalent vaccine for patient Sepahpour Azarmidokht.
Stephanie Mah, pharmacist at Save-On-Foods new Sunwood store in Coquitlam, heard similar feedback from patients who were used to booking vaccines directly at the pharmacy. Her pharmacy is also accepting walk-ins depending on vaccine availability and resources. If walk-in appointments are not available, her team would direct the patient to book through the 1-833-838-2323 Get Vaccinated phone line, or have a staff member help the patient make the booking online if appointments are available.
For Mah's pharmacy, her team already had experience using the ImmsBC system for COVID-19 vaccinations, but she sympathized with pharmacists who may be learning the system for the first time, and also with patient groups who find the new booking system challenging to use.
"I suspect those stores that did not have prior experience would find it time-consuming to learn a new system, particularly when pharmacists are already busy caring for their patients during an already strained health-care system," Mah said.
"Additionally, some senior clients have difficulty with technology, and it makes it hard for them to schedule an appointment. The phone lines can be very busy with long wait times and some clients may not have the time to wait."
Silver, the pharmacist at the Victoria Shelbourne pharmacy, said other challenges included inventory management, the requirement to carry a cell phone for ImmsBC dual-authentication, and the uncertainty of whether someone who is showing up for a COVID-19 vaccine would also like a flu vaccine, and vice versa.
However, the new system also brings some advantages in administering flu vaccines, she said.
"Imms has been great for ensuring the pharmacy doesn't get too packed with people all coming in for walk-in vaccine at once," Silver said. "It is nice that all pharmacies are providing appointments using the same platform. Communication with the public, training and troubleshooting was centralized, collaboration was enhanced, and vaccinators could work in multiple sites without too much difficulty."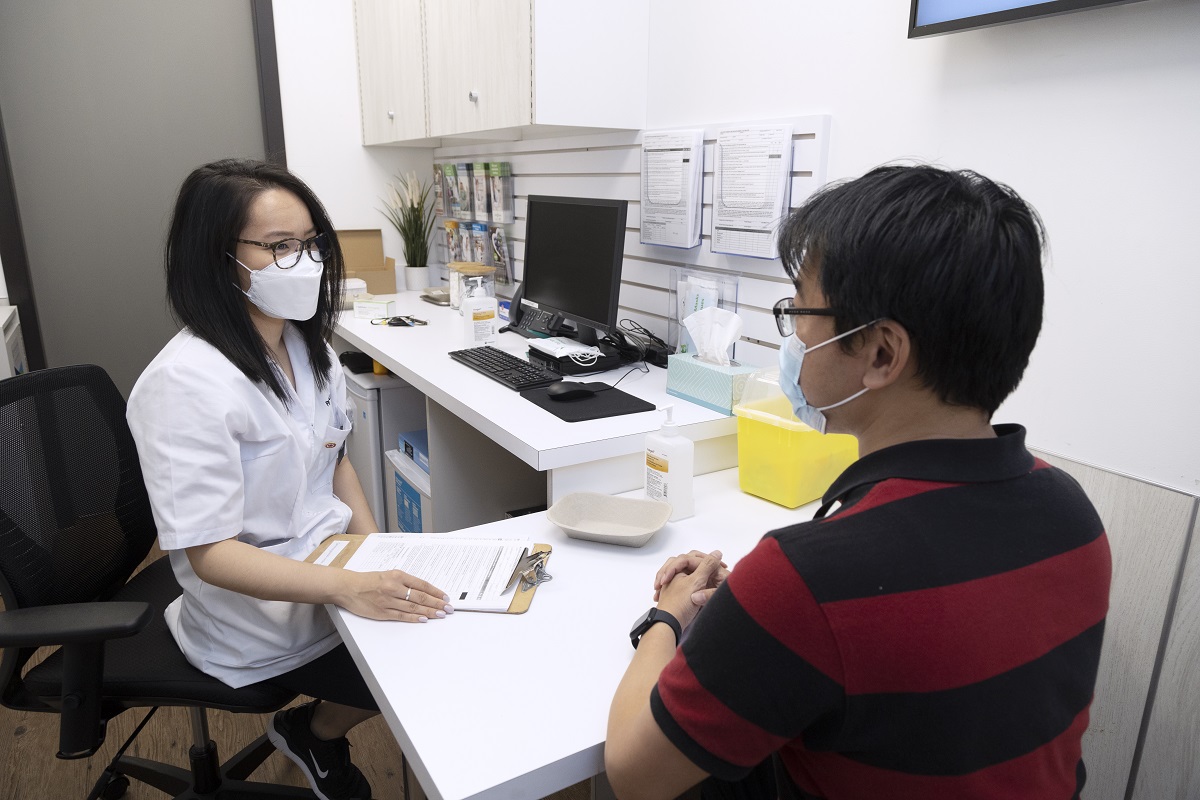 Pharmacist Stephanie Mah (left) consults with a patient at the Save-On-Foods Sunwood store in Coquitlam.
Bivalent vaccine rollout
All three pharmacists agreed the bivalent vaccines becoming available appears to have reignited the interest of the public in keeping up with COVID-19 booster schedules.
Mah, the Save-On-Foods pharmacist, said many patients are excited and would ask upon arriving for their vaccine appointments to ensure they are receiving a bivalent vaccine. She said patients have been eager to learn the types of strains covered by the two approved bivalent vaccines, the benefits of each, and whether the more newly approved Pfizer-BioNTech bivalent vaccine is more effective.
"The updated bivalent vaccines target both the original COVID-19 and Omicron subvariants, providing better protection against the current circulating subvariants in the general population," Mah said. "It's fantastic to see greater public awareness in this push to increase booster vaccination rates."
She said for pharmacists, the preparation of the bivalent vaccines is also more convenient — the vaccines are ready for use after removing from the fridge and waiting 15 minutes. Unlike some earlier monovalent vaccines, there is no requirement for the pharmacist to dilute the vaccine vial before administering the injection.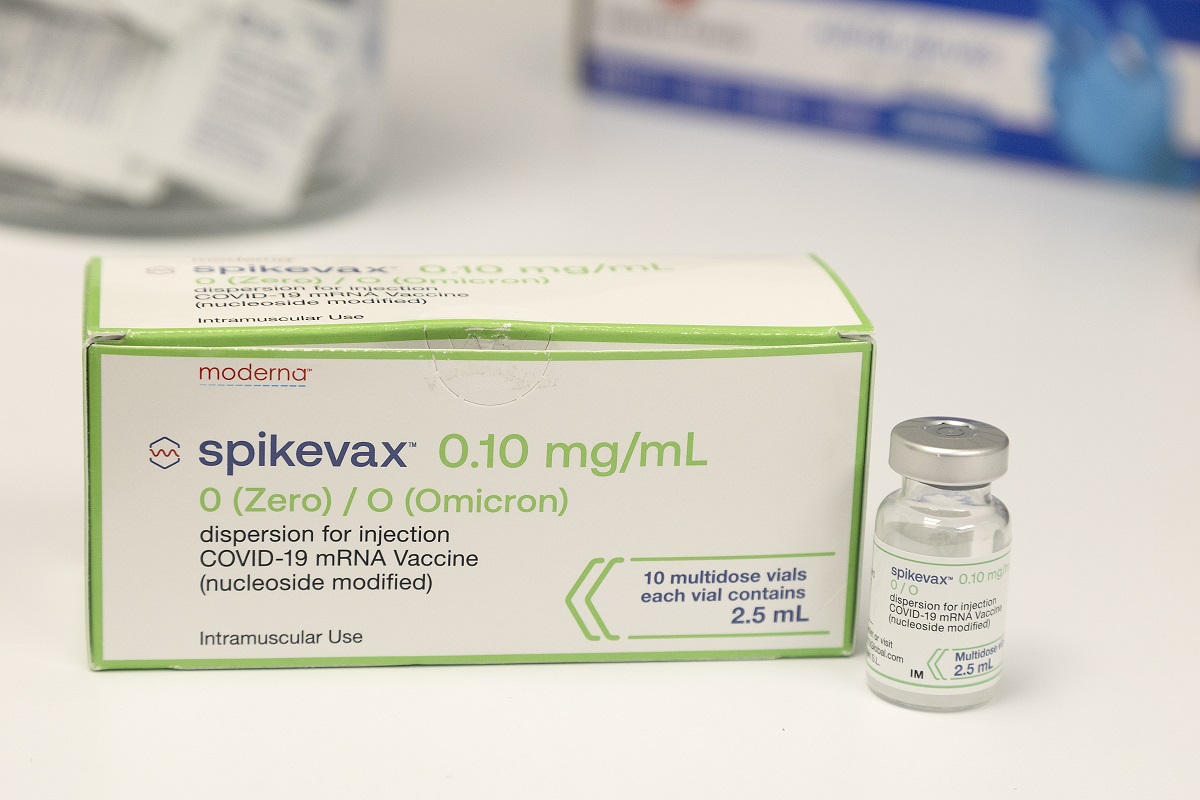 The Moderna Spikevax vaccine, in its box and vial.
Silver, the Victoria pharmacist, said many of her patients believe the bivalent vaccines offer better protection against COVID-19.
Silver noted it is a sign vaccines are working as there are now reduced reporting of new cases, reduced media coverage, fewer hospitalizations, and more people are recovering naturally.
"Overall, I think more people got a second booster than there would have been if a bivalent vaccine had not been available, but I have a feeling less people overall received their fourth dose," Silver said.
Taruc, the independent pharmacy owner, said most of the questions he has heard from his patients are about whether there are issues switching from the Pfizer to the Moderna vaccine, or from the latter to the former. Some patients, he added, believed that side effects can be more severe with one vaccine versus the other.
"I tell them that current clinical guidance shows us that there is no issue with switching," Taruc said. "While personal anecdotes are not always evidence based, I often share my personal vaccine history as well and how I did not get negatively impacted from switching vaccines.
"Again, these are just personal anecdotes; but it tends to sway the conversation."