What is Trauma Informed Care?
Trauma informed care, along with concepts such as cultural safety or harm reduction, are topics that have been gaining prominence in health care. These concepts focus on safety and engagement with our patients at the forefront of patient care delivery. The BC Trauma Informed Practice Guide explains that trauma informed health care services "take into account an understanding of trauma in all aspects of service delivery and place priority on the individual's safety, choice, and control"1. In essence, practicing in a trauma informed manner is more about the overall way we interact with our patients, and not a specific set of techniques or maneuvers.
Why is Trauma Informed Care important?
Canada's colonial history has caused deep historical and intergenerational trauma in its Indigenous communities across the country. Colonial practices — like residential schools, which saw an estimated 150,000 Indigenous children forcibly removed from their homes and families to assimilate to European practices and religion — caused massive group trauma. Even though the last residential school closed in 1996, the generational repercussions are immense2.
We are now at a place in clinical research where we can see clear negative connections between trauma and health, and especially trauma that occurs in childhood. One of the largest studies on childhood trauma and later-life health, the CDC-Kaiser Permanente Adverse Childhood Experiences (ACE) study (1995)3, clearly noted the correlation between traumatic childhood experiences and later health and well-being, listing extensive outcomes, such as worsened mental health and increased frequency of all kinds of chronic and infectious diseases.
Trauma informed care finds an important place in pharmacy practice when we see the clear link between historical trauma and the resulting health gaps. Understanding Canada's colonial history means we need to be mindful that Indigenous peoples have experienced this historical trauma and act accordingly. Our Indigenous patients require us to intentionally practice new ways of delivering health care services to begin addressing the harm from centuries of European focused delivery methods.

Basic Trauma Informed Care Principles
While trauma informed practice recommendations are broad, there are some very basic principles we can focus on and implement into patient care. We work towards the goal of creating an environment where patients do not experience further traumatization or re-traumatization by being trauma aware, working to create safety and trust, collaborating with our patients and empowering them to take control of their health.
1. Being Trauma Aware
Trauma informed care begins with an awareness of what trauma is and realizing pharmacists have the potential to ease or exacerbate a person's capacity to cope with trauma. We have already begun working on building trauma awareness by discussing the commonness of trauma, how trauma impacts development and its relationship with substance use, physical health and mental health.
Another action that could be taken is cultivating a more in-depth awareness of the colonial practices, such as how residential schools caused Indigenous children to be subject to loss of family, language, language and culture and exposed to ritualized abuse, including neglect, physical and sexual abuse. It's often not mentioned that Indigenous parents and other community members also deal with the trauma from the incredible loss of their children.
2. Safety and Trustworthiness
Safety, including physical, emotional and cultural safety, is central to trauma informed care. Trauma survivors often feel unsafe, are likely to have experienced abuse of power in important relationships and may be in currently unsafe relationships or environments. Pharmacy professionals should be intentional about cultivating safety in every interaction.
Ways we can do this include:
Demonstrating predictable expectations and being consistently trustworthy and empathetic to your patients. This can look like doing what you say you're going to do and following up about why you did or didn't do what you said.
Adapting physical environments to be less threatening. Examples include putting up inclusive posters, opting not to wear your white coat, leveling physical counters to patient-height. At work, I wear a medicine wheel pin on my nametag lanyard.
Ensuring informed consent or explaining why we're asking sensitive questions. For some patients who have experienced trauma related barriers to trusting others, a "sensitive" question may turn out to be almost every question we ask.
3. Choice, Connection and Collaboration
Safe environments foster a sense of self-determination, dignity and personal control for those receiving care. The goal is to level the power differential between pharmacist and patient and create a meaningful sharing of power and decision-making. Pharmacists understand the way in which Indigenous peoples have been historically diminished in choice and voice, and have been frequent recipients of coercive treatment, such as with Indian hospitals. Having the opportunity to establish safe connections with treatment providers, families, peers, and the wider community has shown to be reparative for those with early/ongoing experiences of trauma1.
Ways we can do this include:
Use open-ended questions for people to tell us their story in their own words, and allow for the expression of feelings without fear of judgment. I have witnessed multiple care situations in which a "difficult" patient who expresses emotions, such as frustration, distrust or apathy, receives a lesser standard of care than their "non-difficult" patient counterpart. This isn't trauma informed because we are penalizing patients for the expression of feelings, which may often be associated with trauma.
Following a shared decision-making model in which the patient actively helps to determine the plan that they need to heal and move forward.
If someone refuses a medication or test, or if they're upset about something (like vaccinations), we should respond with compassion and work with them, rather than attempting to force them or becoming annoyed.
4. Empowerment and Strengths Focus
There is a focus on an individual's strengths and experiences. There is an inherent belief in the importance of the people being served, in their resilience, and in their ability to heal from trauma. Pharmacists are facilitators of health and recovery, not controllers of it.
Ways we can do this include:
Work to empower our patients to actively participate in their treatment plan. We can use motivational interviewing, a technique to elicit behaviour change, for this.
Affirming our patients to acknowledge their efforts and successes and offer appreciation or understanding. I often affirm my daily witnessed opioid agonist therapy patients for prioritizing their health when they choose to come in day after day.
Conclusion
Indigenous peoples have experienced a lot of trauma over the last few centuries. Making health care a safer place, where it has traditionally failed us, is a major step towards reconciliation. Trauma informed care expands beyond Indigenous peoples, into every Canadian who has ever experienced trauma from the death of loved ones, displacement, homo or transphobia, sexism, racism, war, and poverty.
Be aware of trauma, make a safe and trustworthy space for patients, give them choice in their care, and empower them to make decisions at a pace that feels safe to them. Every health care professional can do their part to become more trauma informed when dealing with patients — and by reading this article, you have already taken the first steps to become trauma informed in your practices.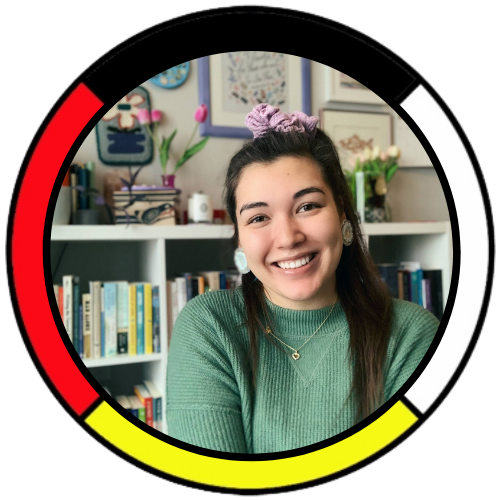 About the Author
Gezina Baehr is a member of the Songhees First Nation from Victoria, B.C.
She currently lives and practices as a pharmacist in Alberta. You can find her working in the hospital as well as a community pharmacy in the inner city or with the brand new Indigenous Pharmacy Professionals of Canada (IPPC).
Gezina can be reached via her website: gezinabaehr.com
Further Resources
This article can only skim the surface of the essential skills of trauma informed care and I invite you to access further resources to deepen your understanding and continue implementing these skills into your practice. Some of my favourites include:
Canadian Centre on Substance Use and Addiction (CCSA) Essentials of Trauma Informed Care Guide5
Native American Motivational Interviewing: Weaving Native American and Western Practices6
Trauma-informed practice (TIP) guide by the BC Provincial Mental Health and Substance Use Planning Council (2013)1
Introducing the Indigenous Pharmacy Professionals of Canada
Indigenous pharmacy professionals from coast-to-coast-to-coast have come together to create the Indigenous Pharmacy Professionals of Canada (IPPC)—a new association with the goal of building a supportive community for the country's Indigenous pharmacy professionals, while making a positive impact on the lives of all Indigenous Peoples across Canada.
First announced at the Canadian Pharmacy Conference in June by IPPC co-chairs Jaris Swidrovich and Amy Lamb, the association will help build a foundation for anti-racism, anti-oppression and cultural safety in the delivery of pharmacy care to and by Indigenous Peoples in Canada.
"Recognizing that pharmacy professionals are among the most accessible health-care professionals and knowing that the greatest gaps in health outcomes experienced by people in Canada are between Indigenous and non-Indigenous Peoples, we are well positioned to lead the way in identifying and addressing the historical and ongoing policies, practices and racism that are at play in creating and re-creating these gaps," said Swidrovich.
The IPPC plans to offer mentorship and support to Indigenous pharmacy professionals, develop education and resources for non-Indigenous pharmacy professionals and create standards for developing safe spaces for both Indigenous pharmacy professionals and patients.
In addition to improving the pharmacy care delivered to Indigenous patients, the IPPC wants Indigenous Peoples across Canada to see themselves reflected in the profession and feel a sense of belonging throughout their educational and career journeys in pharmacy. The association will support work to recruit and retain Indigenous pharmacy professionals, including scholarship programs, training and mentorship.
More information is available at pharmacists.ca/ippc
BC Provincial Mental Health and Substance Use Planning Council. (2013). Trauma-informed practice (TIP) guide: https://cewh.ca/wp-content/uploads/2012/05/2013_TIP-Guide.pdf
Baehr, G. (2020, February 21). Trauma Informed Care (page 18-19). Issuu: The Mortar & Pestle Winter 2020: https://issuu.com/a.macisaa/docs/ua_pps_mortarpestle_winter2020_issuu
Centers for Disease Control and Prevention. (2021, April 6). About the CDC-Kaiser Ace Study. Centers for Disease Control and Prevention: https://www.cdc.gov/violenceprevention/aces/about.html?CDC_AA_refVal=https%3A%2F%2Fwww.cdc.gov%2Fviolenceprevention%2Facestudy%2Fabout.html
Baehr, G. Songhees First Nation (ləḱʷəŋən). Living in Treaty 8 territory. Traditional Indigenous knowledge.
Canadian Centre on Substance Use and Addiction (CCSA). Trauma-informed Care (The Essentials of ... Series) (2014): https://www.ccsa.ca/trauma-informed-care-essentials-series
Venner, Feldstein & Tafoya. Native American Motivational Interviewing: Weaving Native American and Western Practices; A Manual for Counselors in Native American Communities (2006): https://casaa.unm.edu/download/nami.pdf