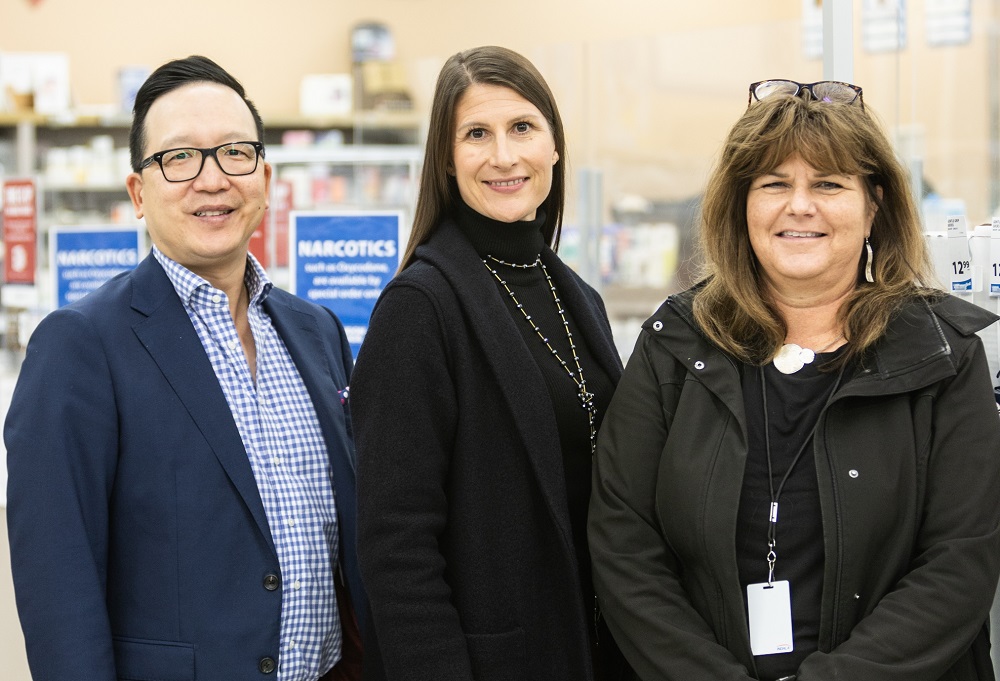 L-R: College of Pharmacists of BC leadership team members Colin Wong, Director of Communications and Engagement, Heather Biggar, Deputy Registrar, and Suzanne Solven, Registrar and CEO.
Let me start by saying how honoured I am to join the College as its Registrar and CEO and to have the opportunity to lead such an important and noble profession.
As I say these words, I realize that I have now been in this role for nine months! The time sure has flown. I want to take this opportunity to thank everyone who has offered a congratulatory word and made me feel welcome back at the College. It is so exciting to be here at such a pivotal moment for B.C.'s health care system.
I'd also like to thank B.C.'s pharmacists and pharmacy technicians for the vital role you have played in responding to dual public health emergencies. From ensuring continuity of care by keeping your doors open when other businesses shut down; to providing vaccines to millions of British Columbians, your unwavering commitment to clients is at the core of our province's response to both COVID-19 and the toxic drug crisis.
And your commitment and resilience are just as important today as you continue to provide critical assistance to the approximately one million B.C. clients without access to a primary care provider.
As was recently announced, our staff and Board have been hard at work alongside the Ministry of Health and the BCPhA to optimize the services available at community pharmacies to help alleviate our province's primary care crisis. This included removing restrictions on adapting prescriptions and drug administration by injection and intranasal route; and extending prescription expiry dates from one year to two.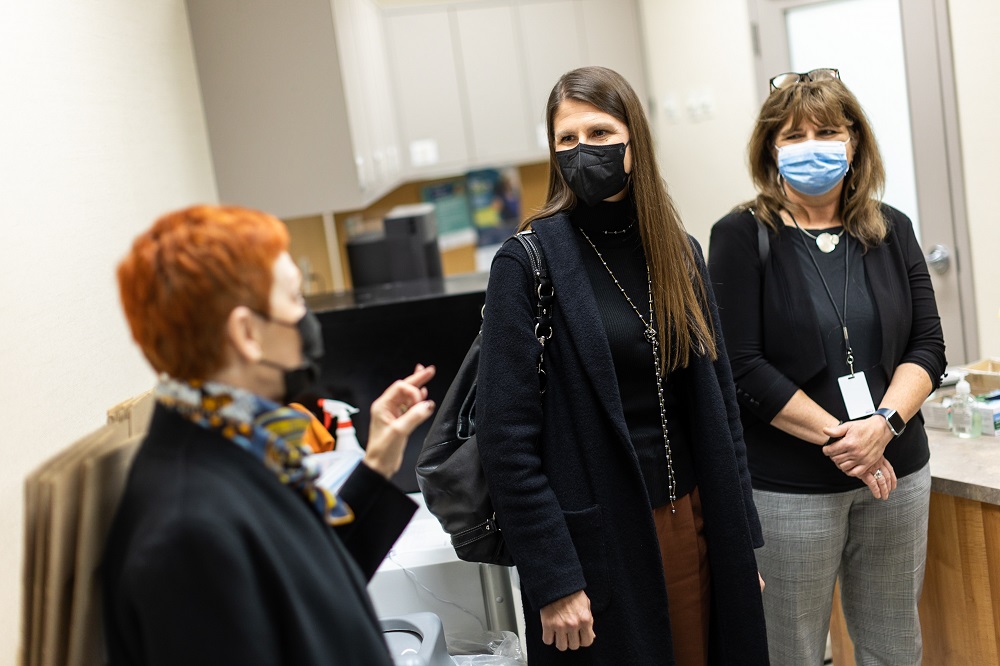 BCPhA CEO Geraldine Vance (left) meets College Deputy Registrar Heather Biggar and Registrar Suzanne Solven during a pharmacy tour in October.
I look forward to continuing to build on this incredible progress as we develop the requirements for Pharmacists Prescribing for Minor Ailments and Contraception by Spring 2023.
In my first nine months as Registrar and CEO, I have also been fortunate to work with a passionate Board and dedicated staff on several other priorities to enhance the health of British Columbians including:
Modernizing the College's Strategic Plan and Organizational Values to ensure that we are more responsive to emerging health issues and that we continue to apply Right Touch Regulation to every decision that we make as a regulator.
Adopting the Indigenous Cultural Safety, Humility & Anti-Racism Standard of Practice which sets clear expectations for B.C. pharmacy professionals to provide culturally safe and anti-racist care for Indigenous patients and clients.
To that end, I encourage everyone to learn about the trauma experienced by Indigenous peoples in Canada and how pharmacists, as health professionals, can incorporate greater cultural safety and humility into their practices to end Indigenous-specific racism.
Thank you to Geraldine and the team at BCPhA for their continued support and collaboration, and for the opportunity to address their members. I look forwarding to strengthening our collaborative relationship as we continue to work toward advancing pharmacy care for British Columbians.
Suzanne Solven
Registrar & CEO
College of Pharmacists of BC