By Mike Huitema, BSc(Pharm)
When the Minor Ailments and Contraception Service (MACS) first arrived in British Columbia, like many pharmacy teams, our team had to come up with ways to integrate this service into our existing pharmacy workflow.
Originally, we tried to do sit-down consults for all MACS conditions. We soon saw that most prescriptions were for urinary tract infections (UTI) and contraceptives. For the other 19 conditions, we often did what we would have done in the past, whether that's recommending a patient an over-the-counter product, referring them to visit a doctor, or simply providing them the advice they needed before sending them on their way.
It took some time to realize that these consultations with patients were MACS assessments. Every time we referred to an OTC product or sent someone to the doctor's office, we did so after using our professional judgement to assess the patient's situation. This meant that until this point, we were turning numerous opportunities away, simply because we were in a rush and wanted to do what we've always done.
These days, I try to start all relevant counselling interactions by first asking for the patient's Personal Health Identification Number. Patients actually appreciate this once they understand that we are offering them a MACS service.
By explaining right at the start that I need to do a brief assessment, people are more than willing to get their CareCard out. Some patients will ask why, and I would explain that the government now compensates pharmacists to perform minor ailment assessments, and that following the consultation I may prescribe a prescription-only product, or simply offer OTC options as well. Just like at the doctor's office.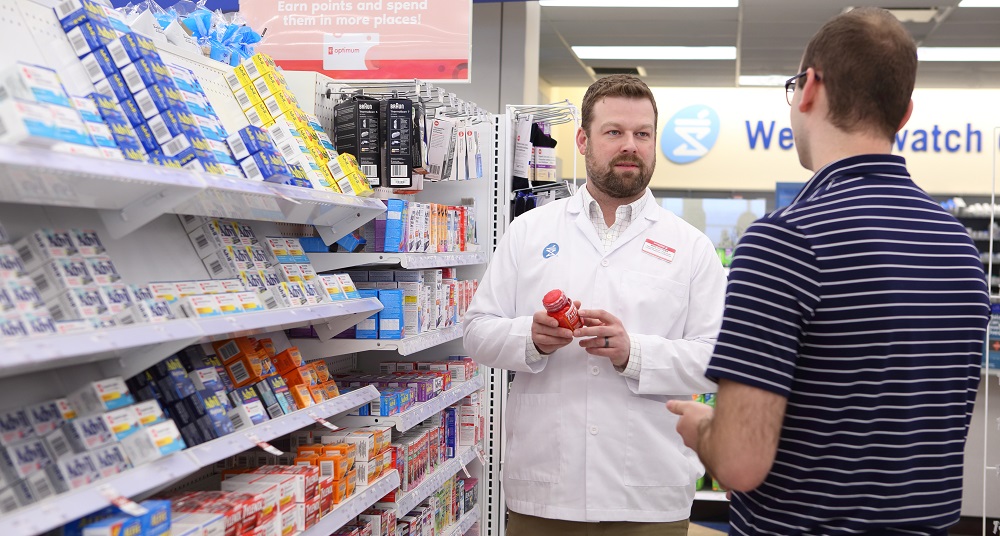 Mike Huitema (left) is associate owner at Shoppers Drug Mart #248 in Salmon Arm and a Board Director of the BC Pharmacy Association.
The shift to this procedure in our pharmacy has been very positively received. To assist with these assessments, especially the quicker ones, I prepared a stack of generic forms at the pharmacy counter so I can quickly write down their PHN by hand, do the consultation, and fill the rest of the form in later. For the more complex ones, I would ask the patient to sit down and use our pharmacy's algorithm-based computer program.
The important takeaway is that MACS is not something that should be done when a patient comes in asking for a specific outcome. It needs to be offered whenever the opportunity presents.
Beyond making sure this service is being properly documented, there are additional reasons pharmacists should consider:
We do not want it to appear that we give out antibiotics or other prescriptions to every patient who comes in looking for one. For example, there are many times where antibiotics are not appropriate after a UTI assessment.
Performing the assessment is very helpful to the patient to understand why we did not prescribe anything, as otherwise they may just be sent away without understanding the rationale.
I like to share this anecdote about a patient who came in looking for help with a UTI.
It was a 54-year-old man who came to the counter and explained that he felt he needed antibiotics for a UTI. My initial instinct was to send him to the emergency room. All walk-ins were full for the day and it was already quite busy at my pharmacy. Still, I felt I should do the assessment for this patient as he took the time to come in, so I went ahead and asked the standard questions I use for UTI.
Fairly quickly it became apparent that he was likely suffering from benign prostatic hyperplasia, and a visit to his family doctor sometime in the next couple of weeks would suffice. This interaction saved this man a long unnecessary wait in the emergency room, saved the emergency room capacity for someone who needed it, and potentially saved the system very expensive resources — all because I spent an extra three minutes to do the assessment instead of diverting him elsewhere because he wasn't eligible for a prescription.
As a profession, we need to change how we and the public view the MACS program. Many of the interactions pharmacists have on a daily basis with our patients are in fact MACS.
This new service isn't about prescribing. Pharmacists are not paid to prescribe, we're paid to assess.
Mike Huitema graduated from the University of Alberta with a BSc in Pharmacy in 2007. Growing up with both parents owning various small businesses, Mike has been involved in small community business his whole life. Since graduating from university, he lived and practiced in Kamloops until 2020, when he moved to Salmon Arm, where he is now associate owner of Shoppers Drug Mart #248.