By Ishika Jain
Communications Coordinator, BCPhA
Curtis Fieseler, pharmacy manager at Pharmasave Highway 97/Ellis in Kelowna, found himself among those touched by the McDougall Creek wildfire in August 2023. From an early age, Curtis has been a passionate advocate for health and fitness, driven by a deep desire to share the significance of well-being with his community. This article chronicles Fieseler's experiences during this emergency, shedding light on his dedication to his community and his crucial role as a health-care professional.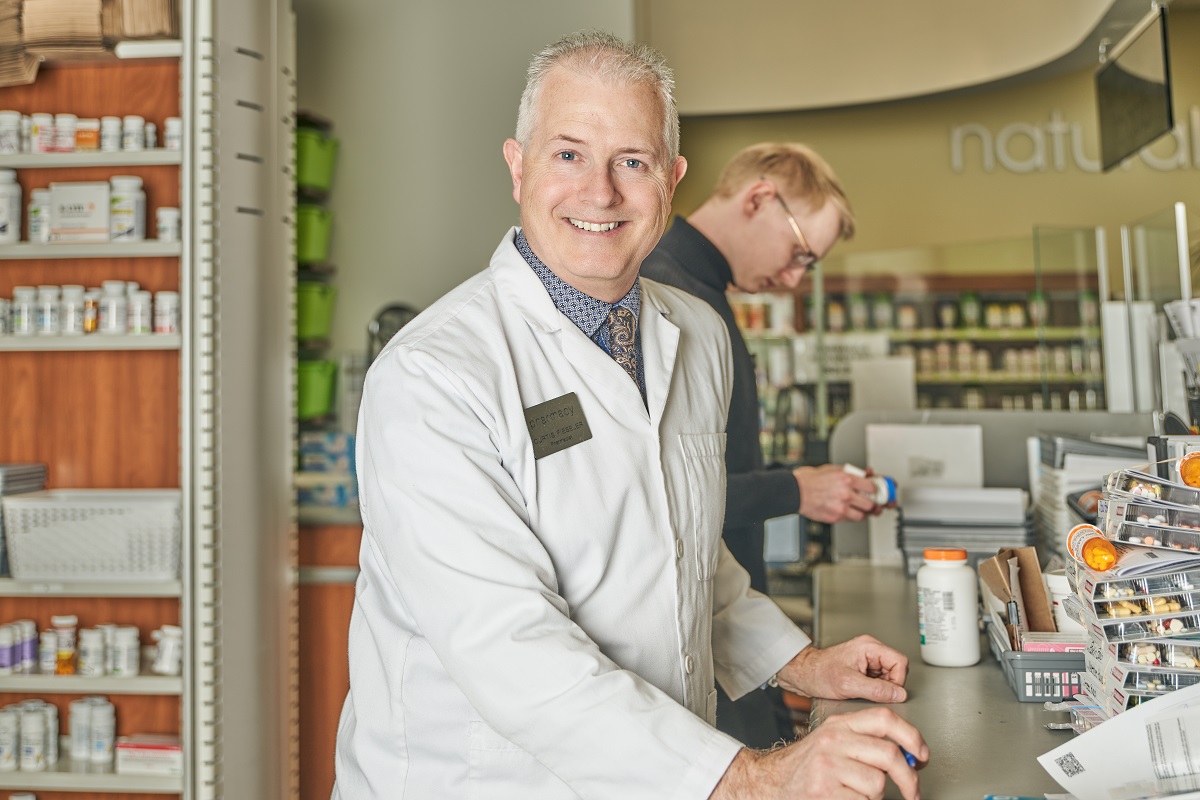 Curtis Fieseler is the pharmacy manager at Pharmasave Highway 97/Ellis in Kelowna.
How were you and your family affected by the evacuation?
I was away on a camping trip when I heard of the wildfire's outbreak. We have seen many wildfires over the 20 years we have lived in the Okanagan, so we were not too worried. The next day, while I was at work, the wildfire had grown substantially. I would periodically go outside to see the growth of the wildfire. By the end of the workday the fire had grown significantly and had approached neighbourhoods. When I got home, we had friends already evacuated and we moved them into our house and RV. Shortly thereafter, we were evacuated as well and all of us had to quickly evacuate to another friend's house.
Where did you go?
We ended up at a friend's and there were a total of five families staying at the property. We stayed in our RV on their property for two days and we were lucky to end up getting into a hotel for the next five days. This change in accommodation was a relief, particularly because we had three pets that were very agitated at night, causing sleepless nights for all of us. People were displaced so quickly, and it was a mad scramble in the community for shelter, clothing, food and medication.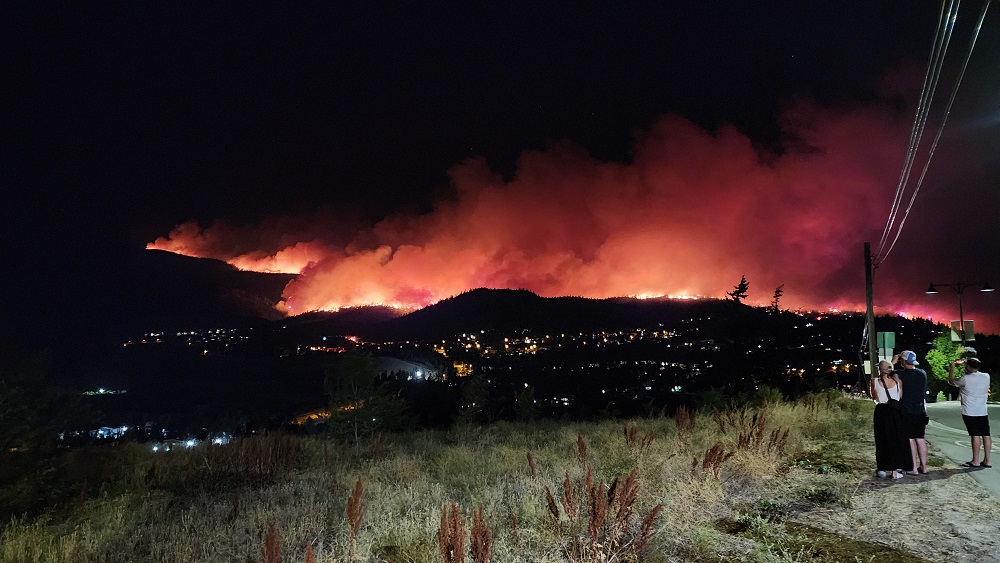 Sleepless residents anxiously watch the MacDougall Creek wildfire burning near some homes in the West Kelowna area.
What was work like during the wildfire evacuation?
When I was staying in the RV, I was riding my bike to work. It worked out well on the first day, but on the second day I found that the area I used was now closed and I had to find an alternative route. Work was comparatively slow, everyone's priorities understandably shifted during the crisis, with immediate needs like groceries taking precedence. We were dealing with individuals requiring critical supplies such as N95 masks, medications relating to breathing and lung conditions such as inhalers, and medications left behind during evacuations.
Do you recall any memorable moments while you were at work?
Helping strangers. There were people walking-in that were displaced and had no medications, so I would look over PharmaNet and provide emergency supplies. They weren't our regular customers, some were visiting the Okanagan, others had been evacuated from their homes. We also had some patients that were displaced from their nursing home without their medications and their pharmacy had been evacuated as well. We were able to help most of these people.
It felt nice helping the community. Since work was slow, I also went to the emergency services and offered the ability of 24/7 on-call pharmacy services. Some people were getting displaced late in the evening. They didn't have medications for the night and there were no pharmacies open overnight in Kelowna. Others didn't know that pharmacists could do emergency fills by looking up their medications on PharmaNet.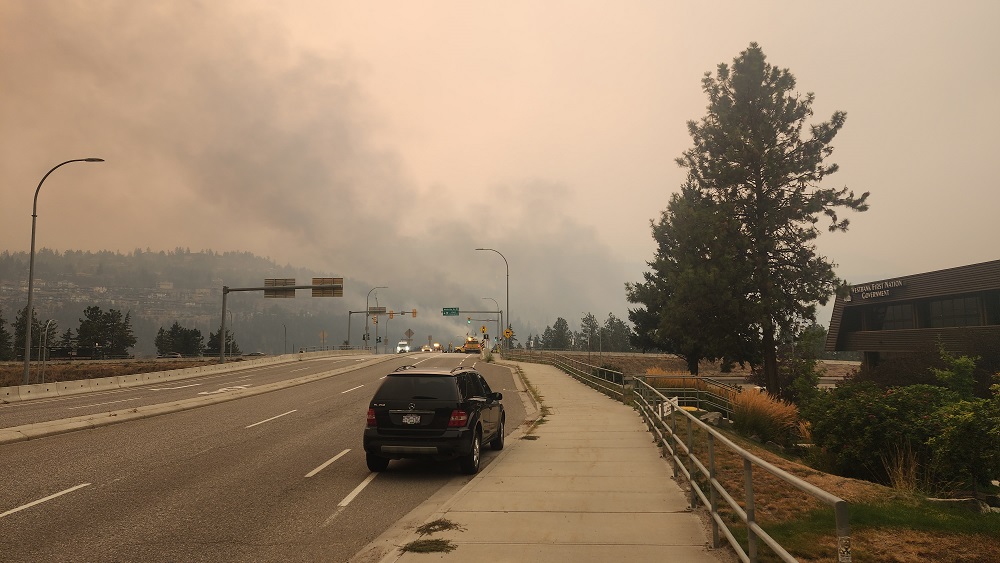 A photo of Kelowna's Westside Road during the day. Clouds of smoke can be seen in the distance.
Why did you decide to continue working during the evacuation?
I had free time, so it made sense that I'd offer help. I also let emergency services know that all pharmacies could do emergency fills, so they could help the community understand what to do to help people who did not have their medications.
What advice do you have for other health-care professionals who find themselves in similar situations?
Having been on evacuation notice several times over the last two decades, I have learned to not worry too much about the stuff in our home. We were lucky to be able to grab a few things and got our family to a safe place. Despite being displaced, I was also able to continue to work and help serve the community, which I am glad I was able to do. It would also be prudent to reach out to emergency services if you have time and you are available, and let them know how pharmacists can help during a crisis.
Looking ahead, what lessons have you personally taken away from this experience?
As a pharmacist, I felt good that I was able to help the community within our scope of practice. Emergency fills were important, as well as being accessible to the community during a crisis. I also realized that due to living in a region suffering from many wildfires, it would be prudent to keep smoke related supplies on-hand like N95 masks so we are not scrambling to find supplies when a crisis arrives.