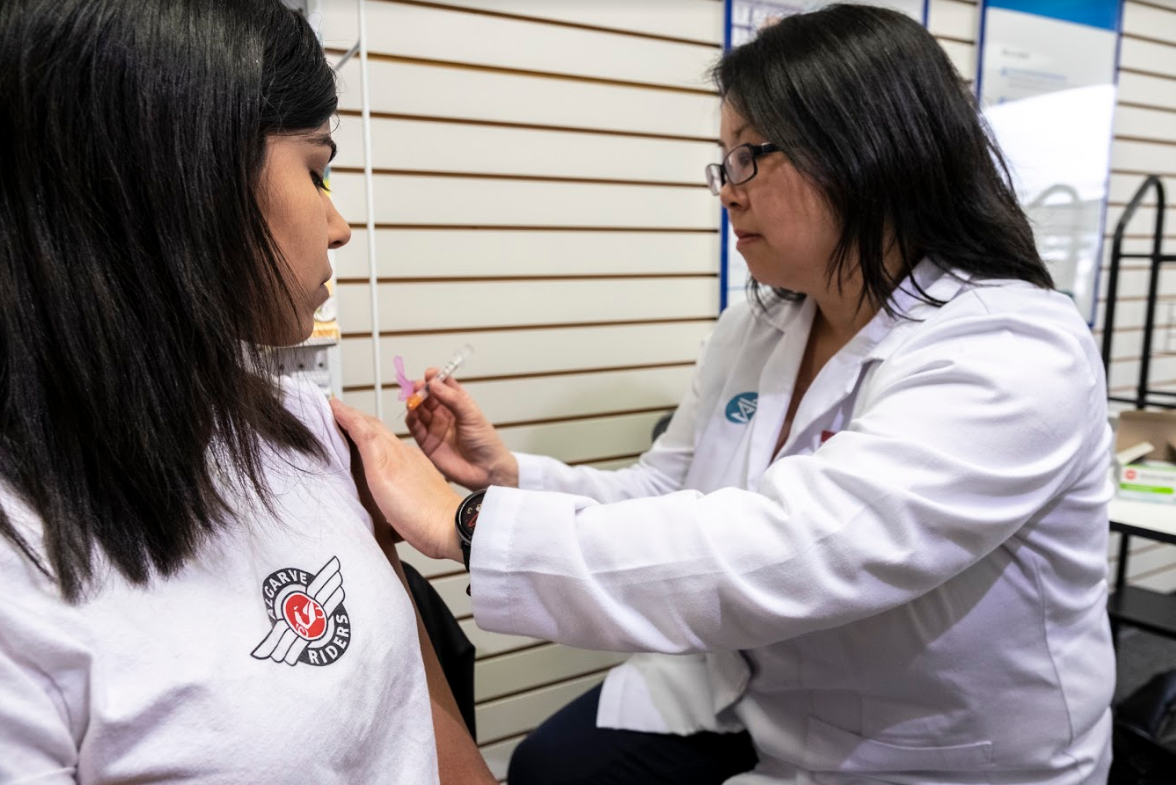 Shoppers Drug Mart pharmacy manager Elaine Louie prepares to administer an immunization to patient Ria Gill.
BC Pharmacy Association urges government for more reliable access to publicly funded vaccines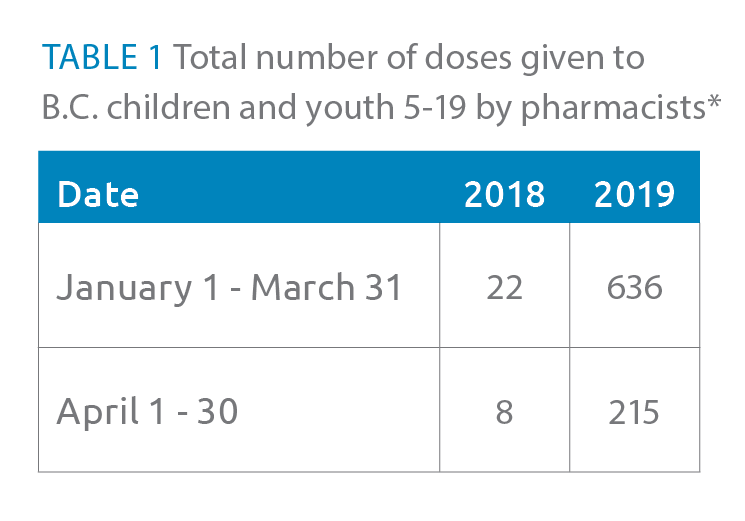 When Vancouver pharmacist Elaine Louie heard about the city's measles outbreak at three local French-language schools in mid-February 2019, she jumped into action.
With one of the affected schools — École Anne-Hébert Elementary — just a few blocks away from her Shoppers Drug Mart in Vancouver's Killarney neighbourhood, she quickly stepped in to offer an immunization clinic for anyone at the school in need of a measles, mumps, rubella (MMR) vaccine.
As pharmacy manager of a small community pharmacy, Louie was accustomed to servicing a modest but consistent immunization clientele and expected a handful of people to attend her pop-up clinic on Saturday, Feb. 23, 2019. She was surprised, however, when at the clinic and in the days immediately following, she and her staff provided publicly funded MMR vaccines to more than two dozen patients — 20 per cent of whom were children — before running out of stock only a week later.
She learned later the school's principal, Johanne Asselin, had publicized the MMR clinic to not only the school's roster of parents but also the members of a local French club that meets on school grounds. Patients both young and old responded to the invitation, citing different reasons for their visit. Some were new to Canada and unsure of their health records and others could not produce documentation to verify their immunization status, choosing to err on the side of caution.
The turnout confirmed a fact she already knew well. "Pharmacists are more accessible to the public," says Louie, adding her flexible hours, weekend availability and drop-in opportunities allowed members of the public to update their vaccination status in an easy and approachable way.
As the threat of measles loomed over B.C. this winter and spring, pharmacists are playing a vital role in the B.C. government's newly launched measles immunization catch-up program, which launched in April and runs until June 2019. With the goal of immunizing as many school-age children as possible before the end of the school year, the province purchased a $3 million-supply of the MMR vaccine — the amount usually procured for a full year.
As health-care's most accessible avenue for patient care, pharmacists are best poised to make an immediate impact in the success of this vital public health program. Children and adults can be immunized by pharmacists (children age five and up), as well as by their family physicians.
Pharmacists are up for the task. Following the measles outbreak in Vancouver in February, pharmacists administered more than 1,000 MMR shots to British Columbians of all ages. In April 2019, as part of the province's catch-up program, pharmacists administered 215 doses of measles-containing vaccine to children and youth aged 5-19, compared to just eight doses during the same time period in 2018 (see Table 1).
However, while pharmacists have become widely recognized as a go-to source for flu immunizations — administering more than 700,000 flu shots last year alone — pharmacists' ability to reliably source publicly funded vaccines from local public health units has been impacted by low supply and complex distribution channels.
At Shoppers Drug Mart, Louie unfortunately turned numerous patients seeking vaccinations away throughout March and April due to the unavailability of the MMR vaccine from her local public health unit.
That's why since late February, the BC Pharmacy Association has been working with the Ministry of Health, the BC Centre for Disease Control (BCCDC) and Canadian Association for Pharmacy Distribution Management (CAPDM) on wholesaler distribution of the publicly funded MMR vaccine to community pharmacies.
"We are in full support of the government's plan to increase rates of immunization through this catch-up program," says Geraldine Vance, CEO of the BC Pharmacy Association. "As the most accessible member of health care, we know pharmacists can help make this happen."
The Ministry of Health has been supportive of funding the direct distribution of MMR vaccines to pharmacies to help in alleviating issues of patient access and wait times for the vaccine. They have assured the Association that this will happen. While wholesaler distribution plans are put into place, the Association has remained in constant contact with the BCCDC on next steps, and continues to encourage pharmacists to place their orders for MMR vaccines through their local public health unit until further information is available.