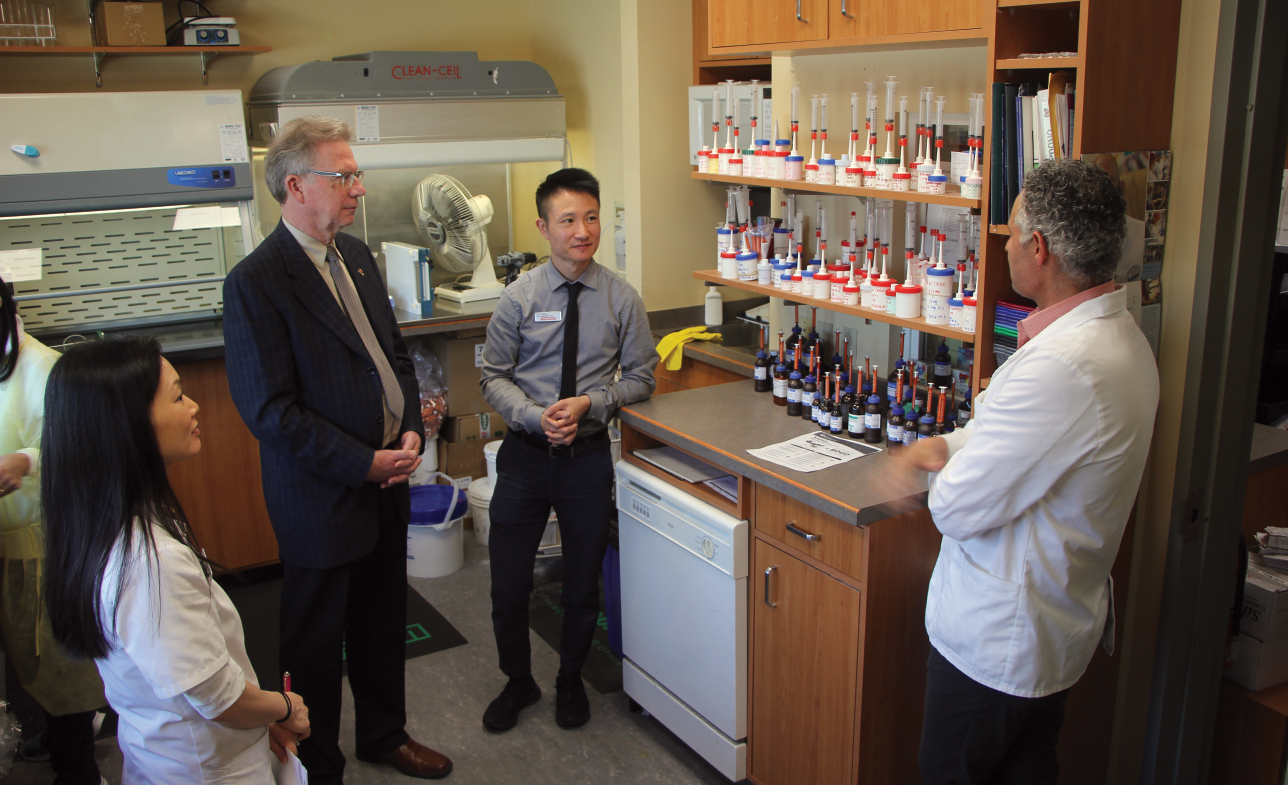 Surrey-Cloverdale MLA Marvin Hunt (second from left) speaks to Fred and Christine Cheng and pharmacy staff of Cloverdale Pharmasave during his MLA Outreach Program tour.
BC Pharmacy Association program offers pharmacy tours to MLAs
One of the biggest challenges facing pharmacy has been the lack of understanding that government decision makers have about the value pharmacists provide by interacting with patients on the front-lines.
The problem, at least according to Ralph Sultan, the Member of the Legislative Assembly (MLA) for West Vancouver-Capilano, has to do with how many still don't understand what a pharmacist does for the patient because they hadn't previously thought about the profession.
Unfortunately, it's that lack of attention that is currently undermining the sector. But a growing number of politicians who have taken educational tours of local pharmacies are now taking a closer look through the Take Your MLA to Work program.
"I think many people regard the pharmacists as sort of a retail clerk, you go up there, you give a prescription, they give you a bottle of pills, you pay your money and that's the end of it," says Sultan, who recently participated in the BC Pharmacy Association program.
The program invites pharmacists in the community to take their local MLA to work for tours with the goal of showing these decision makers that pharmacists are key members the of health-care team as a whole. Over the past two months, MLAs have toured pharmacies in their local ridings all over the Lower Mainland, including pharmacies at the Marpole Safeway in Vancouver, the Park Royal London Drugs in West Vancouver, the Madison Centre Save-On-Foods in Burnaby, the Burquitlam Safeway in Coquitlam and the Cloverdale Pharmasave in Surrey.
"The population is becoming more sophisticated. They demand access, they demand competent advice," says Sultan. "Here we have an existing network that does provide certain types of treatment, certain types of advice. Unfortunately, they aren't used more extensively."
Another MLA who took part in a tour, Rick Glumac, who represents Port Moody-Coquitlam, says he learned that pharmacists do a lot more than the average person knows.
"It is a lot more," he says. "My advice to people that go to the pharmacy is to take a moment to talk to your pharmacist, get to know them. They're health advocates, and you can learn a lot in talking with them."
For the most part, politicians are willing to listen, says Marvin Hunt, the MLA for Surrey-Cloverdale, but this is the first time they've heard from front-line pharmacists.
"One of the big things is that (pharmacists) need to help people like me, who don't normally have much of an interaction with them at all, but yet are in government ... to understand how frank and educated they are on the whole issue of drugs and the drugs involved," Hunt says.
"The reality is, that we as legislators, I'm just going to say this really bluntly, we're ignorant."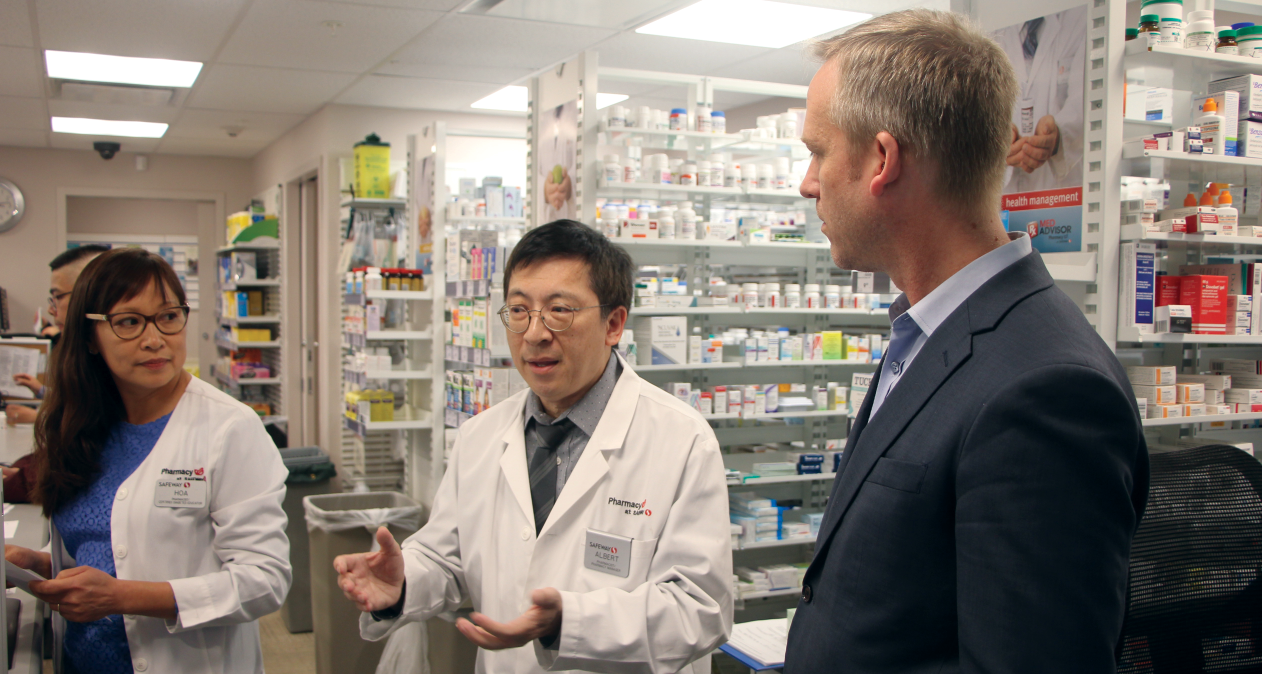 Burquitlam Safeway pharmacy manager Albert Wong (centre) speaks with Port Moody-Coquitlam MLA Rick Glumac (right) during a MLA Outreach Program tour.
"The reality is, that we as legislators, I'm just going to say this really bluntly, we're ignorant."
BC Pharmacy Association CEO Geraldine Vance says the program is a unique opportunity for pharmacists to make sure their voices are heard. The Association plans to continue its outreach to local politicians. Seven additional tours are already being planned, with the goal of eventually covering every provincial riding in B.C., and hopefully generating wider public and media exposure for pharmacists.
"This is an opportunity to take MLAs behind the scenes and see what happens behind the dispensary, to really make a difference in terms of developing their understanding of pharmacy," Vance says. "That, in turn, leads to government being better able to support pharmacists' practice."
Linda Tam, pharmacy manager at the Madison Centre Save-On-Foods, meanwhile, says she felt the visit from her MLA was very valuable. The MLA she spoke with asked many questions, she says, and promised that the information learned from the tour would be brought back to the legislature. Tam says she had an opportunity to educate the MLA on services in addition to dispensing that pharmacists provide, such as injection services, medication reviews and training patients on technology devices.
"Each area of B.C. has its own challenges that pharmacies and pharmacists encounter, so hosting their MLA will provide an important opportunity to voice their concerns, discuss potential solutions, educate their MLA on the pharmacy profession and the cooperative relationship we have with other health-care professionals," Tam says.
Albert Wong, pharmacy manager at the Burquitlam Safeway, says he felt the MLA he met with was receptive and wanted to know more. He says other pharmacists should consider becoming involved in outreach efforts to showcase their work.
"It's a very good experience in terms of pushing our profession forwards. If we were to get more recognition at the government level, in terms of the funding they can provide pharmacists in general, I think these visits all help," Wong says.
Hoang Nguyen, pharmacy manager at the Marpole Safeway, says she told the MLA she met about how pharmacists in B.C. have a limited scope of practice compared to other provinces, such as being unable to prescribe for minor ailments.
"MLAs must see that pharmacists can play an important role in providing better health care for the people of B.C.," Nguyen says. "If we are permitted to expand our scope of practice, we could help to reduce wait times at doctor's offices and at emergency departments across B.C."
The Take Your MLA to Work Program is a component of the MLA Outreach Program. If you are interested in joining the MLA Outreach Program, please contact Angie Gaddy, Director, Communications, at angie.gaddy@bcpharmacy.ca.