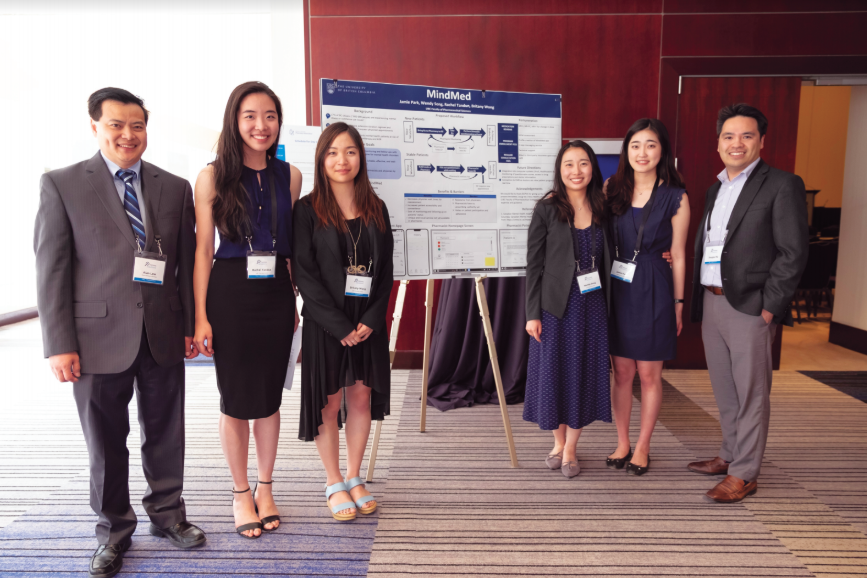 Members of the winning student competition group, MindMed, stand in front of their poster presentation at the 2019 BCPhA conference. From left to right: Competition facilitator Dr. Alan Low, students Rachel Tandun, Britany Wong, Wendy Song, and Jamie Park, and mentor Douglas Ma.
Four University of British Columbia pharmacy students were named the winners of the 5th annual BC Pharmacy Association Student Sponsorship Competition, selected by delegates at the Association's Annual Conference on May 11, 2019.
Wendy Song, Jamie Park, Britany Wong and Rachel Tandun of the group, MindMed, received first prize in the annual student competition where pharmacy students are tasked to imagine themselves as consultants to a community pharmacy and develop a unique clinical service offering to distinguish themselves from others, benefit their patients, and help advance the profession.
The winning group's vision was enhanced pharmaceutical care for mental health patients through the use of an app-based platform called MindMed. The app is designed to bridge the gap of primary care in B.C., allowing patients greater access to health-care and pharmacists a greater role in monitoring depression and anxiety.
The student competition began on Feb. 6, 2019, when seven teams presented their innovative ideas to a panel of judges and their peers at UBC's Faculty of Pharmaceutical Sciences building, hosted by pharmacist and clinical associate professor Dr. Alan Low. Teams were judged based on their presentation quality, creativity, feasibility of their ideas and if their idea met patient needs and supports the profession.
In total, five out of seven teams were selected to be sponsored by the BCPhA to attend the Association's conference (including full conference registration and shared accommodation), and participate in the competition's final round of presentations to conference delegates. Selected teams included first round winners Women's Pharmacist Clinic (Michelle Ebtia, Doris Stratoberdha, Jenah Alibhai, Tina Shafiee), Mastermind (Joo Hwan Oh, Bryan Ng, Ryan Tse, Solomon Chow), Inclusivity Rx (Manrose Mann, Amanjot Saini, Deepi Mann, Manvir Mehanger), Community Allergy Testing (Randeep Dhillon, Tejeshwar Dhadial, Jonah Khanna, Manrubby Dhillon) and final round winners, MindMed.
After the first round of presentations, all five teams were matched with a mentor from the competition's judging panel, which included Justin Dovale, Douglas Ma, David Masaro, Kamran Salehi, and John Shaske. The mentors helped students fine-tune their ideas and transpose their presentation into a poster for the second part of the competition, held at the BCPhA conference.