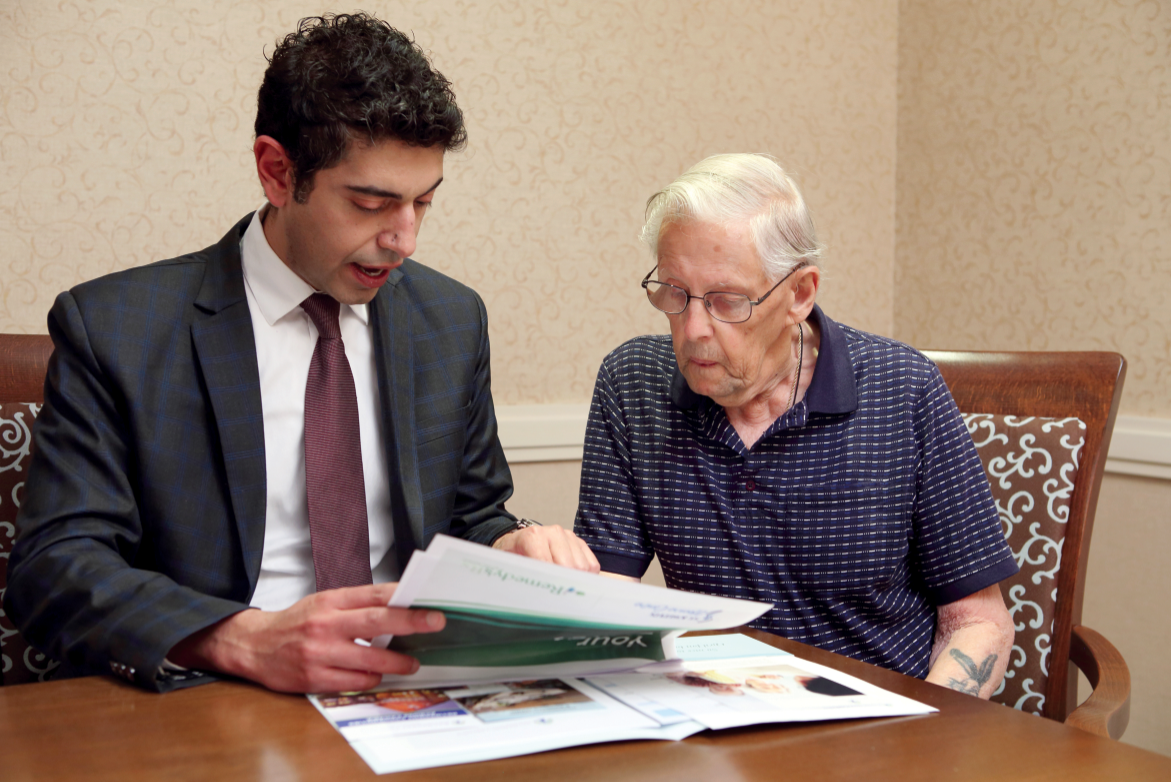 Omar Saad speaks with a resident of the Langley Seniors Village, an assisted living facility where he oversees pharmaceutical care, as the Senior National Director at Remedy Holdings Inc. Specialty Pharmacy.
Initially torn between engineering and pharmacy when applying to university, Omar Saad's fascination with the science behind medicine — how it works in our bodies and how each person responds to medication in their own unique way — tipped the scales in pharmacy's favour. Omar has since graduated with a Bachelor's degree in Pharmacy and went on to pursue a Master's degree in BioMedical Technology, and has practiced in various settings in Ontario, Alberta and B.C.
Homing in on his passion for specialized patient care, he soon left the frontline pharmacy to provide strategic management for specialty pharmacy services. Now the Senior National Director of Specialty Pharmacy with Remedy Holdings Inc., based in Vancouver, Saad is responsible for managing the pharmacy chain's specialty pharmacy portfolio across three provinces — B.C., Alberta, and Ontario— and also volunteers as a Board member with AIDS Vancouver.
Why did you pursue a master's degree in biomedical technology?
When I graduated, biomedical technology and genetics were just taking off. At that time, I felt I had a solid background on traditional medication — pills and creams. I wanted to stay up-to-date with what I thought at the time, would be the near future of therapeutics. I was captivated by gene therapy, and how you can add a gene to a virus, insert into cells, and potentially cure the medical condition at hand. I am confident gene therapy and biomedical technology will be the future — we are already seeing the value of genetic screenings and this is just the beginning.
What does you role as Senior National Director at Remedy'sRx Specialty Pharmacy entail?
Remedy Holdings Inc. is an independently owned, multi-province pharmacy provider with three lines of business — community pharmacy, specialty pharmacy and HumanisRx. Remedy's Holdings Inc. Specialty Pharmacy is one of the top five largest specialty pharmacies in the country. I am responsible for the growth and sustainability of our specialty division through business development and managing our existing accounts. I am also responsible for the quality of services of our division, and bringing innovation in technology and clinical programming.
Why are medication management programs important for group care settings?
Some of our most vulnerable Canadians requiring assistance with their day-to-day activities reside in supportive living environments, such as long-term care, assisted living communities, transitional care units and rehabilitation homes, group homes and addiction treatment centres. These homes are staffed either by nurses or care aides or a combination of both. There are various legislative requirements that need to be met, in addition to best practices and accreditation standards and lots of medications being handled every day. Individuals in these living environments typically have complex medical conditions and complex medication therapies, which require a higher level of support and monitoring. This is where specialty pharmacy comes into the picture. Our clinical pharmacists work within an interdisciplinary team model on optimizing each resident's medication to align with the resident's positive health care outcome objectives.
But this is only one part of what a specialty pharmacy does. We have to build a medication management program, along with policies and procedures to ensure medication processes are not only compliant with legislative requirements but are also safe — reducing risk of medication-related incidents — and are efficient for staff. Every hour you can save through building an efficient system is an hour dedicated back to direct client care. We can achieve this through the introduction of technology and innovation. From there, we develop educational programs on medication management in addition to therapeutic topics to support staff care for their residents and clients, and partner with homes on broader clinical initiatives, such as falls prevention programs or antipsychotic reduction initiatives that would benefit the residents of the home.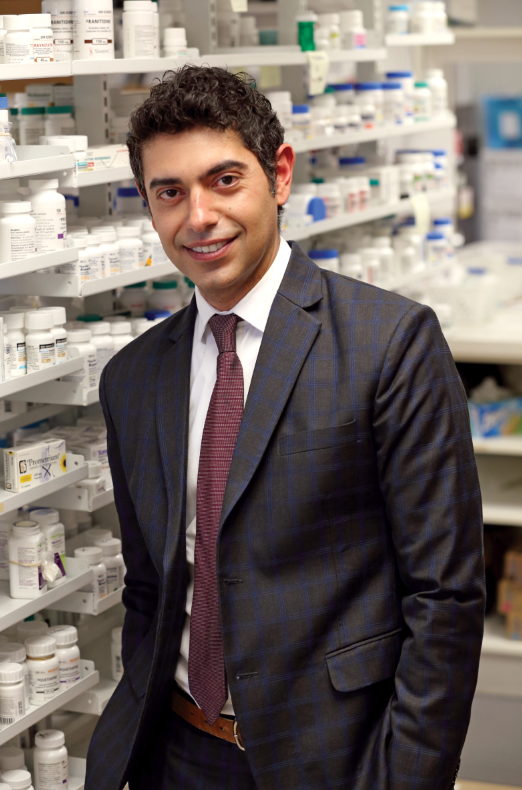 You also volunteer as Vice Chair at AIDS Vancouver. How do you champion the role of pharmacy within this position?
AIDS Vancouver is an organization dedicated to providing supportive services to HIV-positive and AIDS patients in addition to supporting individuals who might be at a higher risk of contracting HIV. We have a number of case managers interacting with our clients on a daily basis, and a big part of that interaction is to provide them with support on maintaining the integrity of their medication supply chain. Members on the Board of Directors provide guidance and act as a sounding board for the leadership teams of non-profit organizations. The diverse background of the Board is of critical success to continuing to innovate in the services provided to the clients benefiting from the organization.
You are passionate about serving Canada's vulnerable populations. What can you share with pharmacists who are caring for HIV patients or individuals at high risk of contracting HIV?
The first step is education, on multiple topics such as HIV and medications, resources available, harm reduction and ending stigma. Pharmacists are the most accessible health-care professionals and there is a need to be able to identify individuals at high risk of contracting HIV and guide them to available support services. There are plenty of educational resources and tools available for pharmacists, including modules of the Educate To Empower: Train the Trainer program. Developed by Dr. Tasha Riley, this is the only HIV/AIDS curriculum that has been approved as a resource for teachers in B.C. schools. Available for a nominal fee, anyone interested in obtaining these prevention education materials can contact Volunteer Resources Coordinator Anoop Gill at anoopg@aidsvancouver.org or 604-893-2201.