Shortly after the University of British Columbia introduced its Faculty of Pharmacy in 1946, Fred Wiley entered the program, graduating in 1953 and beginning his pharmacy career in Vancouver.

Over the course of his 40-year career in both independent and chain pharmacies in Greater Vancouver, Wiley was an integral member of the B.C. pharmacy community as a practicing pharmacist, respected preceptor, and frequent committee member, including a term as president of the BC Pharmacy Association (then known as the British Columbia Professional Pharmacists' Society) in 1977-78.

Speaking with The Tablet, Wiley reflects on how far pharmacy has come since his humble beginnings as a part-time employee at Bayswater Pharmacy while attending UBC.

"It's amazing how elementary it all was," he recalls. "We knew more and more what the drugs did, but often not how! Cash registers were not electric and "sticky tape" not yet available, so we used paper to wrap items and string to tie bundles."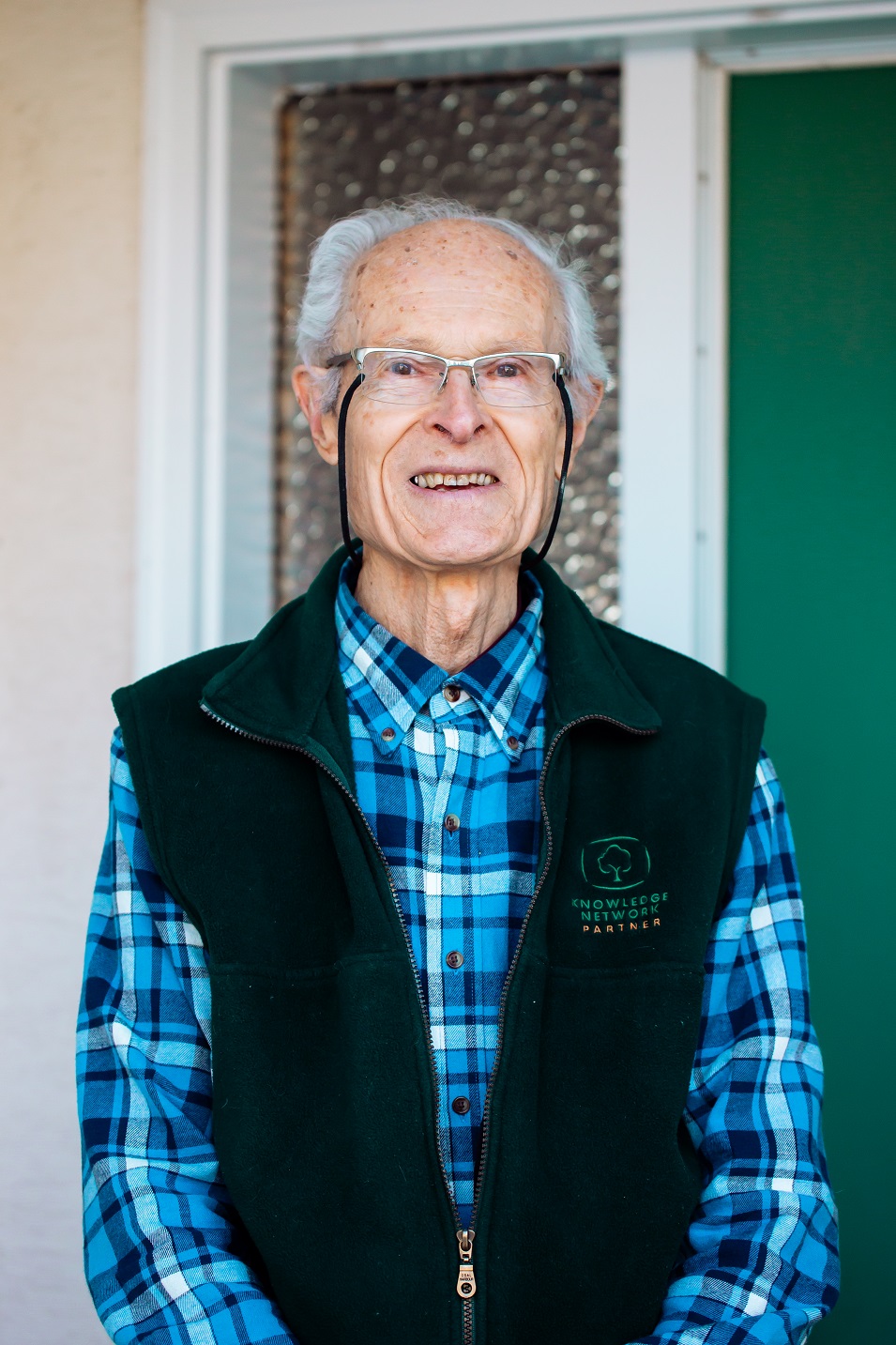 Fred Wiley served as the BC Pharmacy Association's president in 1977 and 1978. Back then, the Association was known as the British Columbia Professional Pharmacist's Society.
By Angela Poon
How did you get your start in pharmacy?

In 1945, I met with a school counsellor who wanted to know what I wanted to do for a living. At the time, I had no idea. I discussed this with classmates, one of whom worked part-time in a pharmacy and one with a pharmacist father. I was welcomed to visit the pharmacy to observe and ask questions. The pharmacist was polite to me and to customers and that seemed like a good choice to me, helping people. When I shared my decision to the counsellor, he laughed at me! He said I was more suited to be an accountant. His response consolidated my determination to become a pharmacist and prove him wrong. I just got through pharmacy by the skin of my teeth, but I did.
How were you involved in advancing pharmacy in the 1950s and 1960s?

I graduated from UBC in May 1953 and I began working full time at Bayswater Pharmacy in Kitsilano. I worked with the owner/pharmacist and a 1952 UBC grad and friend. That friend had become active in The Pharmaceutical Association of British Columbia (now known as the College of Pharmacists of BC) and he felt I, too, should become involved. I did and was soon chair of the student preceptor manual committee. I wrote the report and presented at the Association's AGM in June 1953. I chaired, wrote and presented as many as six annual reports in succeeding years.

While at that first pharmacy, the polio vaccine became available. It was in relatively short supply, but each pharmacy could access about 10 vials a month. This was an outreach new to pharmacy and many were not "selling" their pre-emptive need and value. At our pharmacy, we quickly responded and gathered then distributed to local physicians as many as we could to use as quickly as feasible. At that time, I also began to promote group buying by local, small independent pharmacies in order to have new products with lower investment costs to all.

I became president of the UBC Pharmacy Alumni Association for 1955-57 and pressed for more and more professionalism in pharmacy. It was an uphill battle. My class of 1953 was the last to have any great number of Second World War veterans—about 20 of our 43—and they were not eager to take orders, nor regulation or direction easily. The Association was inactive for a few years before reactivation in the early 60s when I was again elected its president for two years.

Around 1960, the dean of pharmacy at UBC, Whit Matthews, requested the Pharmaceutical Association registrar, Gibb Henderson, and a pharmacist study and evaluate the possibility of developing a PhD preparatory program at UBC. I was chosen and agreed. The dean sent us study results and evaluations from the USA, Great Britain, New Zealand and Australia. If initiated, such a huge step forward would require the pharmacy course to advance from three to four years. After at least two years of study and trying to sell this to first the Pharmaceutical Association, then to pharmacists and pharmacy owners, the Association did see its value—though resistance was vocal and vigorous—and I was chosen to sell the need to pass a motion to accept this move forward. It was a raucous and hostile AGM, but I did win the motion's acceptance.

About 1968, I was asked to serve as one of the first four pharmacy preceptors in a new practicum undergrad program for UBC. I was a preceptor and then a clinical instructor until 1994.
How did you become involved with the BC Pharmacy Association?

I became a charter member of the British Columbia Professional Pharmacist's Society, as it was known then.
In 1972, I was asked to take on the role of employee pharmacist representative with the Society Senate (now known as the Board of Directors). Over the next two years, I was asked to run for a senior role, which I was unsure about. But in 1976, the pharmacist elected as vice president resigned after a few weeks. The Society president asked me to replace him, our Senate agreed, and that eventually led to my term as president for 1977-78.
What was your major accomplishment as president?

That year we pushed members throughout our province to re-evaluate, then begin to use the "fee-for-service" model to price all prescriptions. Many pharmacists priced compounded prescriptions ridiculously low, often using those as a loss-leader. It was difficult to convince B.C. pharmacists to do so but several hundred personal phone calls led to much support. This project took two or three years to consider accomplished by succeeding Society Senates.
As a retired pharmacist, what are some of the more recent changes you are most excited about?

How pharmacists are continuing to deliver services and needs to the public. One of the early services was the morning-after pill, then pharmacists being trained to give injections, then to dispense emergency medications, and then to alter prescriptions, if needed. The genomic research, myDNA kit outreach, increasing use of satellite pharmacy services, and overall the new PharmD program will ensure the application of these new practice directions. Pharmacists are ever more able to truly be the most accessible health-care contact and provider.
What would you say to a young pharmacist today just starting their career?

Do not be afraid to innovate. Think about your idea, investigate it well, do trial runs, have others evaluate your findings, seek any weaknesses, revise, and critique your own work. Not all ideas work but do try to extend your reach and goals. Be ever optimistic. Advancing your profession is expected of you!