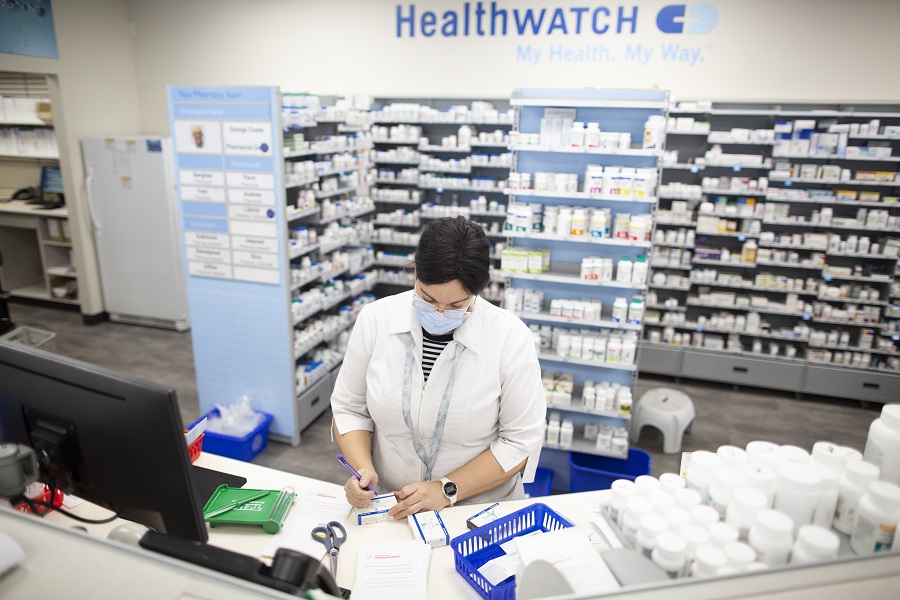 Pharmacy Assistant Julianna Messere is among the many pharmacy team members serving patients during the COVID-19 pandemic.
By Angela Poon
Pharmacists across the province are playing a critical role in the fight against the spread of COVID-19 in British Columbia. As the global pandemic continues to grow, with the number of cases worldwide—and in British Columbia—rising daily, patients have looked to pharmacists for support and expertise as the most accessible members of B.C.'s health-care system.

"This public health crisis has forced all of us to play an important role in battling the coronavirus, from social distancing and cancelling events and public gatherings to juggling work and family responsibilities from home," says Annette Robinson, vice president of the BC Pharmacy Association. "However, pharmacists have made an outstanding contribution as front-line health-care workers. Through ingenuity, prudent decision making, and countless hours on their feet, pharmacists are providing medications, medical supplies, and health-care advice for all patients in need."

The novel coronavirus began making international headlines in January, when news of an outbreak in Wuhan, China spread across the globe. The coronavirus, which emerged from a seafood and animal market in Wuhan, had spread to hundreds throughout the city and quickly began claiming lives.
Stockpiling supplies

The respiratory virus' spread in China had an immediate impact on pharmacies in B.C., sparking the panic-buying of face masks and hand sanitizer thought to provide protection against the virus. Pharmacist Andre Lo experienced an immediate spike in sales, which he says peaked following news stories of new cases and virus-related deaths. As the owner of Crystal Pharmacy and Medical Supplies at The Crystal Mall, a shopping centre in Burnaby that serves a primarily Chinese clientele, Lo's customers were following the news of the outbreak in China closely.

"As soon as the news broke out this new virus was spreading in mid-January, my clients—mostly Chinese population—started coming in buying large quantities of face masks first, then in the coming weeks, also buying large quantities of hand sanitizers," Lo says. "When hand sanitizers were out of stock in the first week of February, clients started buying up all kinds of alcohol."

Pharmacist Anthony Chiam of North Vancouver's Northview Compounding Pharmacy says his pharmacy was similarly inundated with requests for hand sanitizers and masks around mid-January.

"It was largely by Asians who were mailing them home to relatives in Asia to protect against the virus spread," he says. "Later there were lots of charitable groups in Vancouver buying large orders and sending them freely to hospitals in China and Asia to help block the spread there."
By early March, customers began stockpiling masks and sanitizers for their own use, he says.

At Victoria's Heart Pharmacy, staff proactively removed many of the store's cleaning and antibacterial products for the use of their most vulnerable patients, says pharmacist Andrea Silver. She manages the pharmacy's Heart@Home program, an in-home caregiving service for elderly clientele.

"We are the primary caregivers for many of our clients, but these clients are also some of the most vulnerable of all," she says. "We had the good sense to pull our hand sanitizers, antimicrobial wipes, gloves, and other cleaning equipment from our shelves for homecare use before they all became unavailable from wholesalers. I'm so relieved that we had the foresight to do this."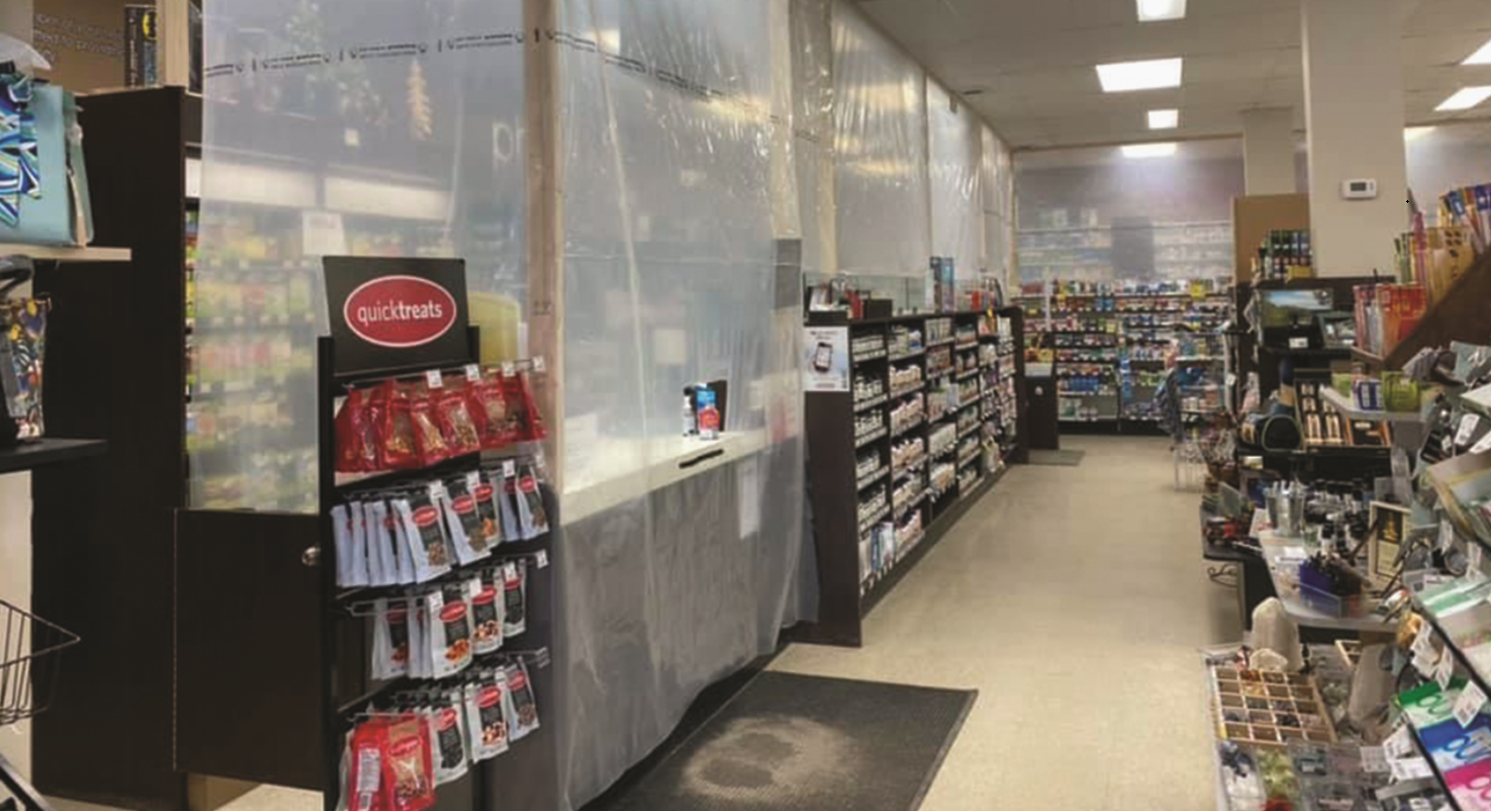 Many pharmacies across British Columbia and Canada came up with their own social distancing measures to protect staff and patients.
Coronavirus hits B.C.

On Jan. 28, B.C.'s provincial health officer Dr. Bonnie Henry confirmed the province's first case of COVID-19. At the same time, she confirmed plans were in place to control the spread of the virus through screening and that it was not necessary for the general public to take special precautions beyond regular hand washing, coughing or sneezing into your elbow sleeve, and avoiding contact with sick people.

Less than a month later, many pharmacies began experiencing an increased demand for extended medication refills, due in part to comments made by Canada's Health Minister Patty Hajdu on Feb. 26, encouraging Canadians to stockpile food and medication in case they or a loved one needs to self-isolate due to coronavirus.

The BCPhA immediately reached out to the provincial Ministry of Health and the BC Centre for Disease Control, asking for planners to take into consideration the potential for drug shortages around COVID-19 and the message on stockpiling.

"We do have pharmacies that are reporting that patients are requesting increased supplies or quantity of their medications, some even requesting a full year of medications," says Robinson, regional pharmacy manager for Pharmasave's pacific region. "At Pharmasave we are suggesting that patients that need chronic medication make sure their prescriptions are up to date, but not to stockpile as we are worried about drug shortages."

Chiam says his pharmacy began receiving consistent calls from patients asking for three to six months of medications. Many were happy to pay out of pocket where insurance would not cover the early refills. "The pharmacy phone was ringing off the hook," he says.
Canada's first death to COVID-19

By early March, things quickly took a turn for the worse, as the number of reported COVID-19 cases continued to rise, and B.C. reported Canada's first COVID-19-related death on Mar. 7—a resident of North Vancouver's Lynn Valley Care Centre.

Retirement residences and long-term care centres were particularly vulnerable to the spread of this highly infectious disease in B.C. At the senior living homes and long-term care pharmacies serviced by Remedy's Holdings Inc., protocols were developed with resident care and staff well-being as foremost priorities, says Omar Saad, a national senior director with the company.

"The focus becomes how do we protect our residents, how do we care for our residents, and how do we support front-line staff caring for our residents," Saad says.

Long-term care pharmacies began working diligently to help support long-term care workers, whose job demands increased dramatically, says Saad. Pharmacy teams have developed innovative solutions to help decrease the time spent on medication administration through initiatives such as medication compression, decreasing mid-week order changes, and the training of unregulated care workers to help support front-line nursing staff, if necessary.

Despite these solutions, lack of medication supplies has greatly impacted pharmacy teams, he says.

"Staff are spending more time trying various methods of procuring pain medications for palliative residents or inhalers for COPD residents," says Saad. "Most residents are not able to travel to various community pharmacies. They entrust us that we will maintain their medication supply."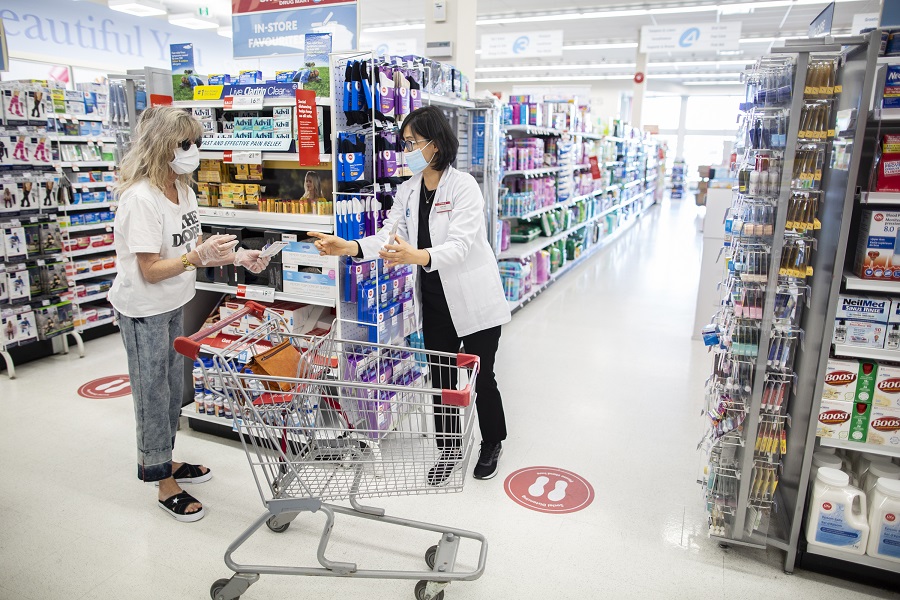 Pharmacy team members are often relied on by patients seeking medication advice or over-the-counter medications.
A global pandemic

On Mar. 11, the World Health Organization officially declared COVID-19 a pandemic, leading Henry to urge British Columbians to begin practicing social distancing and avoiding large gatherings of people. News and public health guidelines evolved daily, with public gatherings such as sporting and performing arts events being cancelled, schools being closed indefinitely, and all British Columbians—apart from health-care and non-essential workers—being asked to stay home for the foreseeable future.

The Association began providing daily updates to members, to help keep pharmacists and pharmacies abreast of the ongoing changes impacting B.C. pharmacies, as well as to help advocate for the needs of pharmacists. The BCPhA, along with other pharmacy associations in the country, began advocating for medication supply limits to prevent COVID-19 drug shortages from impacting patients.

This idea received some support from the provincial government and the College of Pharmacists of BC.

On Mar. 13, both the Ministry of Health and the College issued updates on ensuring continuity of care during the pandemic, suggesting pharmacies should use their judgment to help reduce non-essential physician visits for older and immunocompromised patients. Additionally, public health officials urged pharmacists to utilize prescription adaptations using Professional Practice Policy-58 Medication Management (Adapting a Prescription). These protocol changes encouraged pharmacists to begin providing a suggested maximum of a 30-day supply on emergency and/or early fills.

But for many patients—especially seniors living on a fixed income—this was an unwelcome change. Some patients even took out their frustrations on their pharmacists.

"We have had to deal with extremely angry, upset patients and also very reasonable patients," says George Cloete, associate owner at Shoppers Drug Mart #273 in White Rock. "I have instructed my staff to fill 30 days if appropriate, but not to fight a battle and make this a super stressed experience for the employee."

Mona Kwong, pharmacy manager and owner at Howe Street Pharmasave, says her team has been working hard to educate patients to help keep them informed of the bigger picture.

"I get it, every penny counts," says Kwong, who adds many patients are pensioners concerned about costs. "I call seniors on a rotating schedule when I am able to alleviate their fears and to answer questions on what is going on. We have educated on how supply chain works, that there are thousands of drugs on shortage in Canada even before COVID."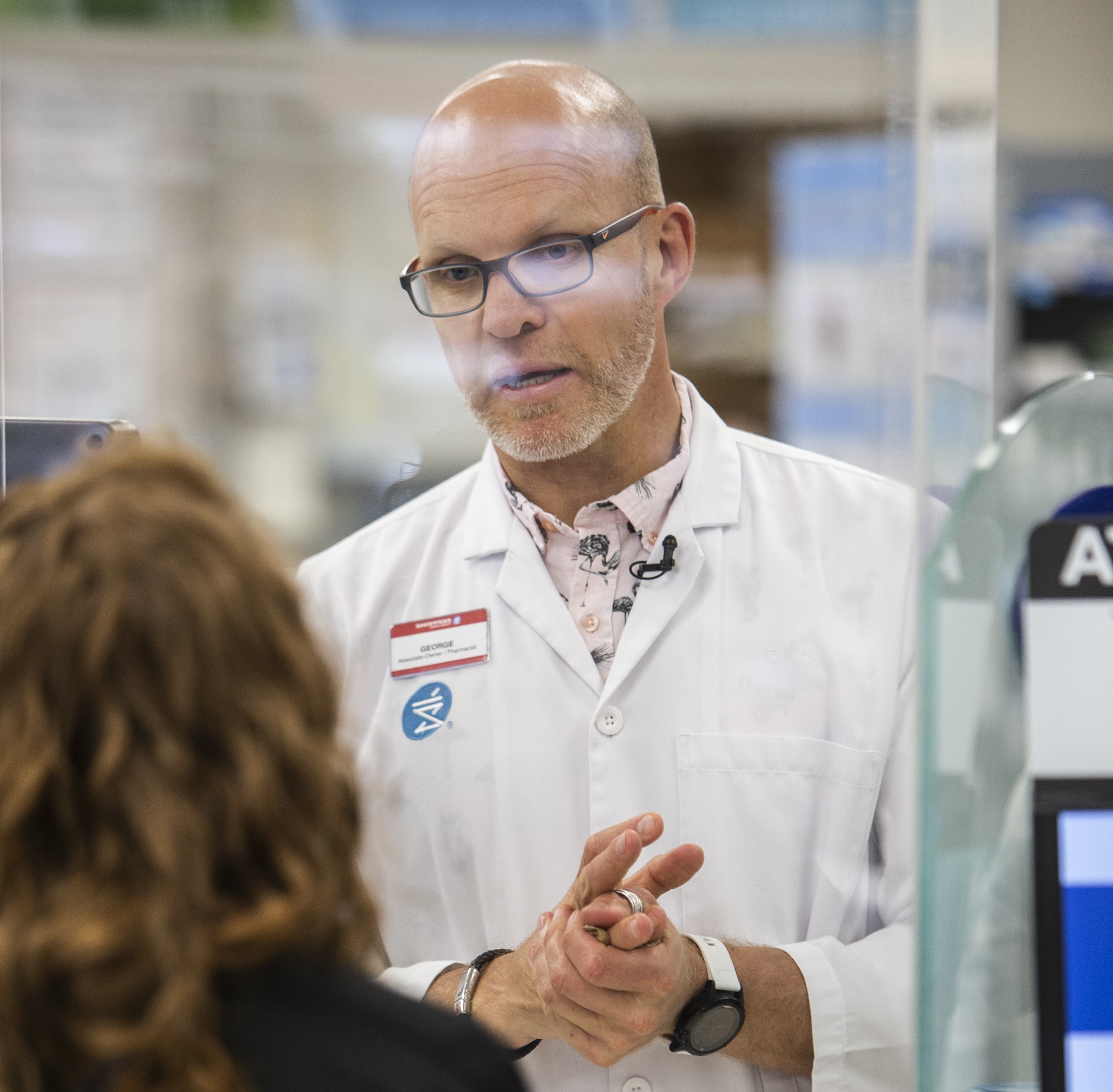 Pharmacist George Cloete assists a patient at his Shoppers Drug Mart pharmacy.
Social distancing

By mid-March, many pharmacies began implementing creative solutions to help protect their most vulnerable patients, as well as their staff.
Kelowna's Lakeside Medicine Centre Pharmacy created a dedicated reserved parking spot for at-risk patients needing to visit the pharmacy.
The pharmacy's co-owner Graham Foster notes his pharmacy serves many elderly and immunocompromised patients. The parking spot allows at-risk patients to call the pharmacy and have their medications delivered to their car, without having to come into the pharmacy.

At Victoria's Heart Pharmacy, Silver says staff used reporting software to identify high-risk populations served by the pharmacy based on the medications they are prescribed for conditions such as cardiovascular disease, type 2 diabetes and renal disease, to proactively encourage them to make use of the pharmacy's free delivery service provided all year round.

In Penticton, patients at City Centre Pharmacy were asked to enter the store one at a time, says pharmacist and co-owner Travis Petrisor.
"Upon entering the store customers are kept in the front area behind a barrier while the pharmacy staff collect the items they require," he says. "If more than one person attempts to come into the store at a time, they are politely asked to wait outside until the first person finishes their purchase."

As the pandemic grew worldwide and at home in B.C., safety for both patients and pharmacy staff members became a priority. Association members sought clarity on standard operating procedures for pharmacy during the outbreak, including guidelines for proper cleaning and disinfecting of pharmacies. A record number of members attended a live webinar hosted by the Association on Mar. 24, which detailed best practices for protecting pharmacists and staff members during the COVID-19 outbreak. The BCPhA created patient-facing health and safety posters in English, Chinese, Farsi and Punjabi, to help educate patients arriving at pharmacies on how to prevent the spread of COVID-19.

By mid-March, some pharmacies across Canada and in B.C. began taking more concrete actions to protect both patients and pharmacy staff during the pandemic, including the installation of plastic barriers at pharmacy counters, as well as markers on pharmacy floors, to encourage customers to practice social distancing while waiting in line for their prescriptions. The Association compiled a list of suppliers available to sell transparent barriers to pharmacies looking to adopt this safety solution.

At Heart Pharmacy, Silver's team began using the COVID-19 B.C. self-assessment tool to screen staff members.

"We have a zero-tolerance policy for any respiratory symptoms with a mandatory, paid, seven-day isolation for any suspected illness," she says. "Consequently, we also use that screening tool for patients requiring injection administration or other consultations where pharmacists will be in close contact with clients."

Mabel Yan, general manager with the Naz Wellness Group, says the pharmacy group created a policy in alignment with BCCDC guidelines for its pharmacy and nursing team to take precautionary measures when working with the public.

Chiam says his team at Northview Compounding Pharmacy began regularly wiping every surface down with an alcohol spray and all pharmacists and staff wear masks, following the revelation that they had served several patients who tested positive for COVID-19 in March.
At London Drugs, general manager of pharmacy, Chris Chiew, shared with customers that dedicated sanitation staff were cleaning pharmacy and store service areas, shopping carts and shopping baskets every hour. He encouraged pharmacy customers to order prescriptions online and arrange for home delivery, to avoid attending in person.

At City Centre Pharmacy in Penticton, staff members began staggering their shifts, to allow a pharmacist and registered technician to come in after the store was closed to work on compounding and blister pack checking. This minimizes their exposure to the public and allows staff to practice proper distancing, Petrisor says.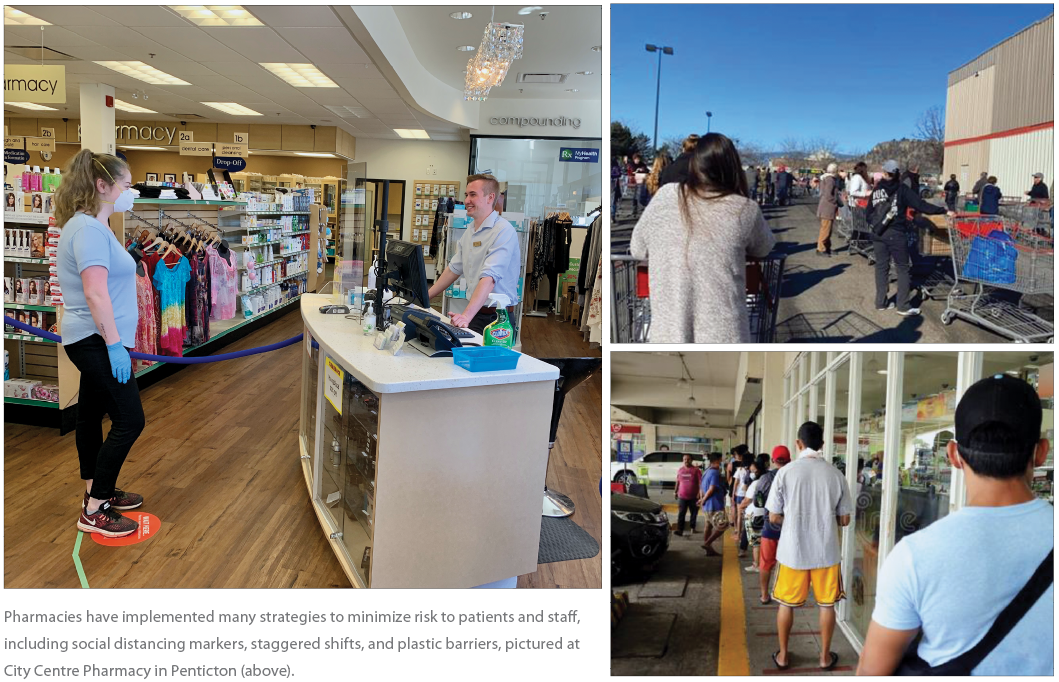 The fight for personal protective equipment

Concern continued to grow regarding the spread of COVID-19 infection to pharmacists and their lack of access to personal protective equipment (PPE). The BCPhA advocated for public health officials to consider the needs of community pharmacists as front-line health-care workers in their allocation of PPE supplies, and shared their concerns through engaging with local media on April 1, 2020.

Pharmacist Yan Xia is concerned about the quality of masks available to pharmacists, as well as those sold in pharmacies to customers. He has been working on sourcing potential manufacturers of masks in China, in the hopes that he can help supply more masks in B.C.

"It is important for pharmacy staff to wear a mask during their shift to reduce transmission, both for themselves and for their patients," says Xia, who works at two independent pharmacies in Maple Ridge. "Every day, we get numerous questions either in person or by phone about the availability of masks, and we feel very sorry to turn them away."

At Howe Street Pharmasave, Kwong's staff have strategically saved their supply of masks—procured through a premium cost of $2 per mask—in order to continue home deliveries and daily treatment for at-risk patients receiving OAT therapy. She's currently waiting on a shipment of more masks to help with future treatments such as injections.

Jason Cridge of Cridge Family Pharmacy in Victoria has had to stagger shifts at his pharmacy due to both a lack of protective equipment and increased workload. Staff now work either early morning or late-night shifts and have limited store front hours to avoid exposure to the public as much as possible.

"Lack of PPE has been very challenging," he says. "We have staff that are in the pharmacy on the front-line every day interacting with sick patients. Not only do we worry about our staff becoming compromised, but we worry about those staff becoming vectors and infecting patients with compromised immunity."

At Cloete's Shoppers Drug Mart, all available supplies were sold to customers by February and early March, leaving his staff unprotected until early April, when he was able to source materials for staff, which he says would last just a few weeks.
"Even sourcing out proper cleaning supplies has been a challenge," adds Saad, for his long-term care pharmacies across B.C. "We resort to local retailers and unreliable online vendors and hope every day that we will get the supplies we ordered."

At University Pharmacy located at the UBC campus, lack of PPE has caused staff shortages, says pharmacy manager Mario Linaksita.

"The lack of PPE from traditional sources has been a strain on our staff," says Linaksita. "This has necessitated changes in cleaning practices, protective barrier installation, customer line up management and a reduction of working hours. Though comforted by these changes, some of our staff still felt the need to take a leave from work during these times, causing many shifts to be unfulfilled. We took the liberty of purchasing our PPE for our staff early in the crisis, however this too has run low. Something must be done to normalize this supply for front-line workers."
Pharmacists continue to rise to the challenge

Despite challenges that continue to arise in this unprecedented global health crisis, pharmacists are showing up like never before.

"Pharmacists are meeting an increased demand for medications, services and supplies, while working longer hours and split shifts, and following more complex safety and cleaning protocols," says Geraldine Vance, CEO of the BCPhA. "Recently retired pharmacists and student pharmacists are stepping up. UBC Pharmacy students are offering to help with pharmacy deliveries. Every pharmacist is playing an important role in caring for all British Columbians. Your resiliency during this difficult time is nothing short of heroic."

For more information and regular updates on what the COVID-19 crisis means for pharmacists in B.C., visit bcpharmacy.ca/COVID-19.