What you need to know about the different variants of COVID-19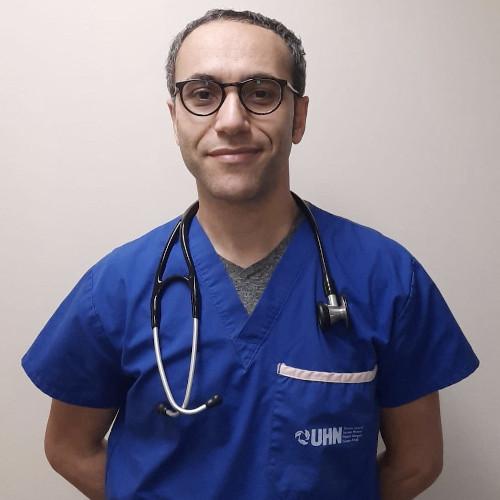 Dr. Abdu Sharkawy is an Assistant Professor of Medicine at the University of Toronto and an Infectious Diseases consultant at the University Health Network. Having amassed more than 20 years of experience on the front lines, he routinely appears on multiple media outlets around the globe for his expert analysis, key insights, and recommendations regarding the COVID-19 pandemic; including serving as the principal Infectious Diseases resource lead for CTV News in Canada.
"The variants can't outrun us if we are intelligent and responsible enough to do what we're supposed to be doing—the same things we're supposed to be doing from Day 1. They may be more sticky. They may, in some circumstances, be scarier in terms of what happens when we get them. But they don't have a different mechanism of transmission. So, if we follow public health guidance with a real sense of discipline and a real sense of commitment, they can't get us." — Dr. Abdu Sharkawy
D614G variant
Considered one of the "early" variants of SARS-CoV-2, this mutation emerged in January 2020 and eventually became one of the dominant variants of COVID-19. According to the World Health Organization, D614G replaced the initial strain identified in China within months, and by June last year became the dominant form circulating the globe.
The variant was able to do this because it could transmit itself more efficiently compared to the original virus, since the mutation occurred within the virus's spike protein and enhanced the virus's binding to our cells' ACE2 receptors, says Sharkawy.
"Although it was much more transmissible, it was more susceptible to our neutralizing antibodies," Sharkawy says. "The good news is, early on with the Pfizer and Moderna trials and every vaccine since, they've all been universally effective against the D614G mutation."
Sharkawy says this early D614G variant gave researchers a foundation to understand how mutations might affect changes in vaccine susceptibility and viral properties.
B.1.1.7 U.K. variant
Sharkawy says the U.K. B.1.1.7 variant took over as the dominant strain in the United States in March 2021, owing to not only a higher affinity for our cells' ACE2 receptors, but also the fact that this variant carries as many as 14 mutations. As of late March, according to the British Columbia Centre for Disease Control, this variant has become the most common in B.C.
It's not only more infectious than the D614G variant, but also more deadly, Sharkawy says.
"The good news is the AstraZeneca vaccine… shows that it works very, very well," Sharkawy says. "That's important because this is a U.K. vaccine, largely, and this is a variant that was ultimately endemic in the U.K. before it spread elsewhere."
B.1.351 South African variant
This South African variant is notable due to being very transmissible, and somewhat resistant to vaccines compared to other variants, Sharkawy says.
One of the reasons why this variant is a concern is due to the presence of the E484K mutation within the variant. According to the British Medical Journal, E484K is known as an "escape" mutation due to how it helps the virus evade the immune system.
Sharkawy says this ability to evade the immune system also creates a new problem—that in theory, someone who was previously infected with another strain of COVID-19 could potentially become reinfected with B.1.351. Additionally, vaccine efficacy seems to be lower when working against this variant.
"This variant has really led to challenges in terms of vaccine efficacy," Sharkawy says. "The Janssen vaccine seems to have an efficacy of somewhere around 57% compared to just over 70% against other strains. The Novavax vaccine… has about a 60% rate of efficacy compared to 95% against other strains, and really importantly, the AstraZeneca vaccine is effectively ineffective, almost useless, against this with an efficacy of only 10.4%."
B.1.1.28/P.1 Brazilian Variant
First reported in Japan but later identified in Brazil, Sharkawy says this variant is also a concern due to its ability to reinfect those who have already recovered from another variant of COVID.
"Because of global travel, it's unavoidable that we're going to see almost every variant across the world including right here in Canada," Sharkawy says.
The concerns for this variant very much echo those present in the South Africa variant, in that not only is this variant more transmissible compared to early variants of the virus, it's also more devastating. The BCCDC has also noted that for P.1, "some current treatments and vaccines may not work as well."
"We're seeing this (variant) unfold really disastrous consequences right now in Brazil, with their health-care system really on the brink of collapse and thousands of people being affected and dying from this," Sharkawy says.