Jamie Wigston, BC Pharmacy Association Board Director and pharmacist at West End Medicine Centre in New Westminster, has been seeing a much greater demand for vaccines over the past year. Wigston's pharmacy has so far administered 200 doses of the COVID-19 vaccine to his community.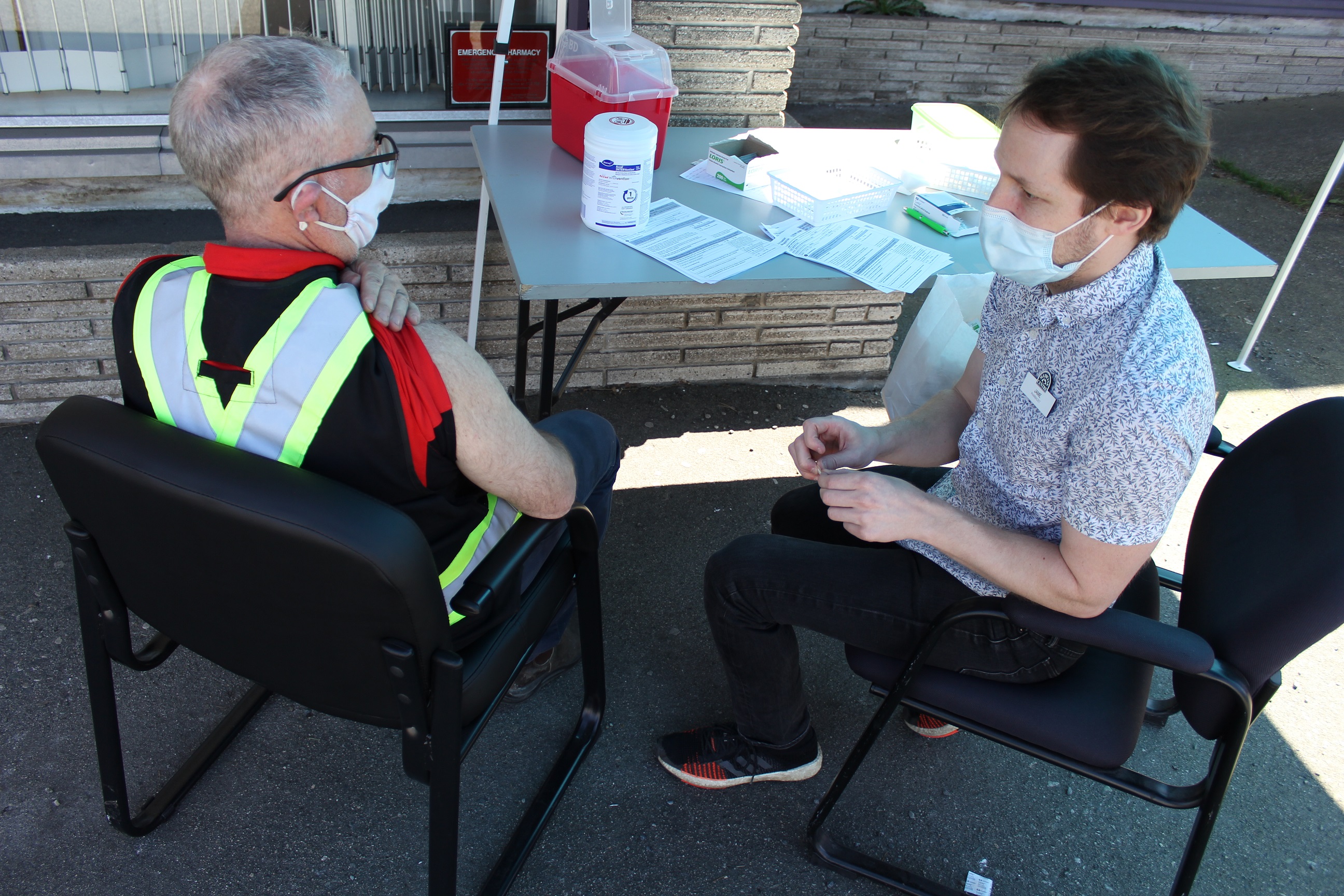 Jamie Wigston (right) is a pharmacist at West End Medicine Centre and is also Vice-President of the BC Pharmacy Association.
1. How has the demand changed with the move to eligibility to include those 40 and over?
It's almost hard to keep up with the answering machine messages as they come in. We started administering vaccines one week after that initial 14,000 got released that were expiring. There's that same high demand as when it opened for 55+, so I imagine you're going to see that same high demand—lots of people calling in this week, then maybe taper off after that.
2. How did you prepare for the delivery of COVID-19 vaccines in pharmacies?
Everything happened extremely quickly. We're a little lucky here because we have three pharmacists who work here and so we're a little more flexible in coming in for additional hours. At some other places, it can be harder to get more people to come in on short notice. It's a lot of volume in a short period of time. During the flu season, people knew they were coming a few weeks ahead of time and there were appointments made well ahead of when you were going to get the vaccine, so it was more structured.
3. What is the appointment booking process like at your pharmacy?
So we're doing walk-in, call-in or email bookings. We didn't have a large enough number of vaccines to require an online booking system. We had 200 doses in total throughout the course of this program so far. The first shipment we received was 100 doses and once we ran out, we started putting patients on a waitlist for when we got more.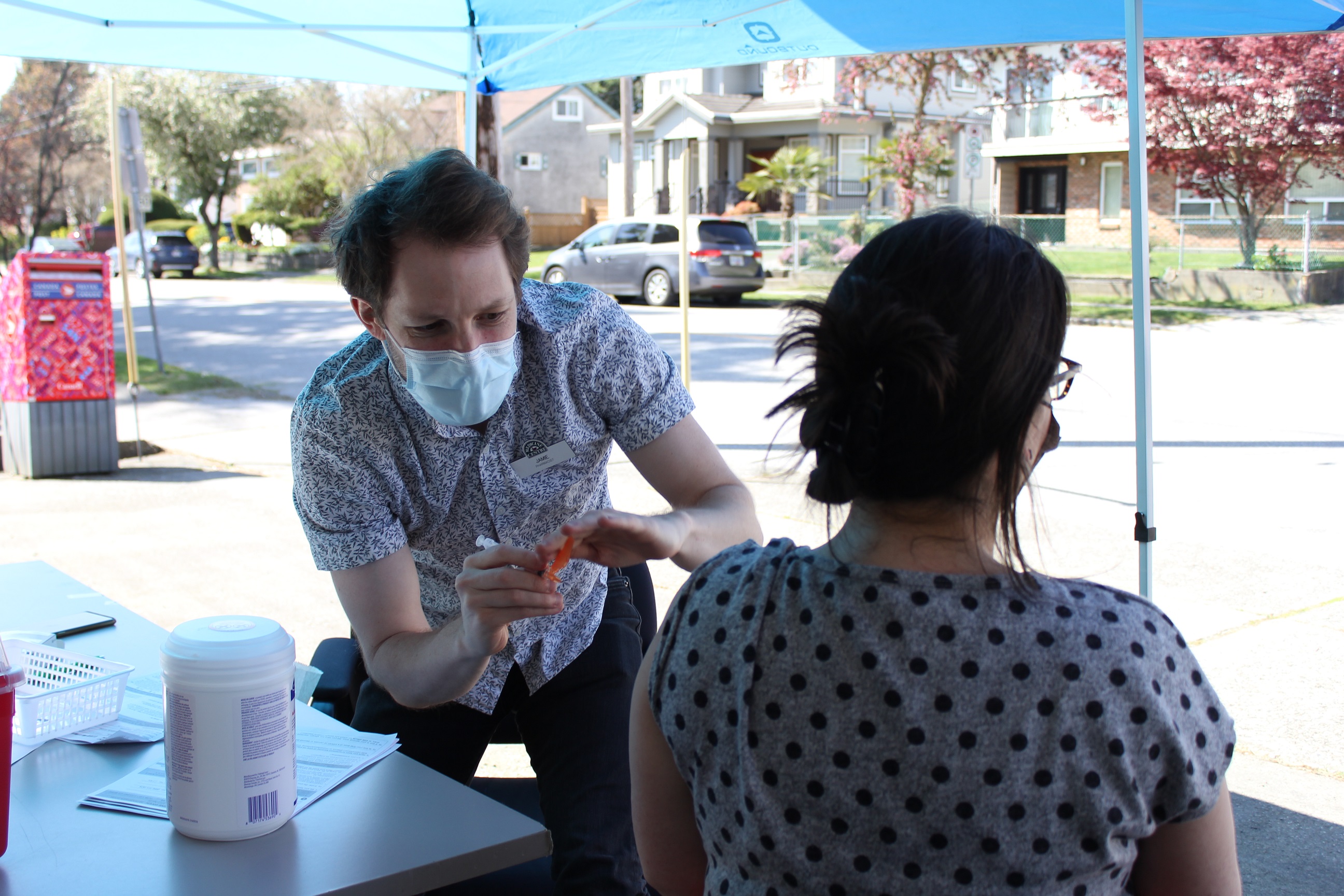 West End Medicine Centre had an outdoor COVID-19 vaccine administration area to ensure social distancing for patients.
4. What types of questions have you been getting from patients?
You've got the different types of people, the ones that are going to get it, the ones who can be convinced to get it, and the ones who just weren't going to get it regardless. Patients might ask me if they should be concerned about the risk of blood clots. Typically, I'd tell them: you have a much higher risk of getting blood clots from many other kinds of activities. For example, have you been on birth control before or a flight over four hours before? Those activities, when you compare them with taking the vaccine, the vaccine has a negligible rate of blood clots compared to activities that you might do much more.
5. Are most of the people booking vaccines your regular patients, or from out of town?
A lot of what we saw, especially with the flu vaccine clinics in the fall this past year, we were getting a lot of people who weren't our regular patients. I think that was because we had a lot more people who got the flu vaccine, who didn't typically get a flu shot every year. So we're seeing that similar kind of thing with the COVID-19 vaccines. Some patients registered for waitlists with several pharmacies, so some of them are coming to us because they were a bit higher up the list with us compared to the other pharmacies they registered with.
6. As a pharmacist, is this type of high demand a sign of vaccine acceptance?
It makes you feel good—patients clearly want the vaccine. But at the same time, it's hard to do since we're getting so many calls and we really want to answer the phone. So in order to focus on our work, sometimes we're not able to take every phone call.
This past year, there was a lot more demand for the flu shot as well. I think people really, really didn't want to get the flu or COVID-19 and that was a big factor.
For advertising inquiries, please contact angie.gaddy@bcpharmacy.ca